Stay grounded: Faster than flying, better for the planet
It can be a common perception that taking a flight is the fastest way to get from A to B. There's no doubt that flying can be a quick and efficient way of travelling. But it also has a significant impact on our environment. When you look at the end-to-end journey time, it's not always as quick as it seems: think about the time spent standing in the queue at check-in or for security—or the times you've had to wait for luggage and at the departure gate.
The good news is: travelling by train or coach can be just as fast as taking a plane. And, long-distance trains and coaches in Europe are modern and comfortable. Most even have WiFi, plug sockets and refreshments—and then there's the much bigger luggage allowance!
We have identified 25 routes in Europe from the 100 most popular trips, where taking a train or coach is quicker than flying. To help you travel more consciously, we've calculated the CO2 saving possible by switching wings for tracks or road.
Ground rules: 25 routes that are quicker by train or coach
Route
Mode
Train/coach
duration*
Flight
duration*
Saved time
train/bus vs.
flight
CO2 (kg)
flight
CO2 (kg)
train/coach
Saved
CO2(kg)
train/coach
vs. flight
1
London - Brussels
Train
116
304
188
55
25
-30
2
Paris - London
Train
137
318
181
58
26
-32
3
Rennes - Paris
Train
87
236
149
52
24
-29
4
Rome - Florence
Train
72
207
135
39
18
-22
5
Paris - Bordeaux
Train
126
254
128
85
38
-46
6
London - Leeds
Train
133
247
114
46
21
-25
7
Paris - Marseille
Train
187
297
110
112
51
-62
8
Valencia - Madrid
Train
98
206
108
51
23
-28
9
Paris - Lyon
Train
117
224
107
67
30
-37
10
Manchester - London
Train
125
229
104
45
20
-24
Click here to get access to the full routes included in the research.
How the ranking works
Omio researched all European routes included in the ranking. The ranking is based on the 100 most popular routes for trains, coaches and flights booked on Omio during summer 2019 (15.08.-30.09.2019).
Stay on the ground: Get there with Omio
Ready to go? Get there with Omio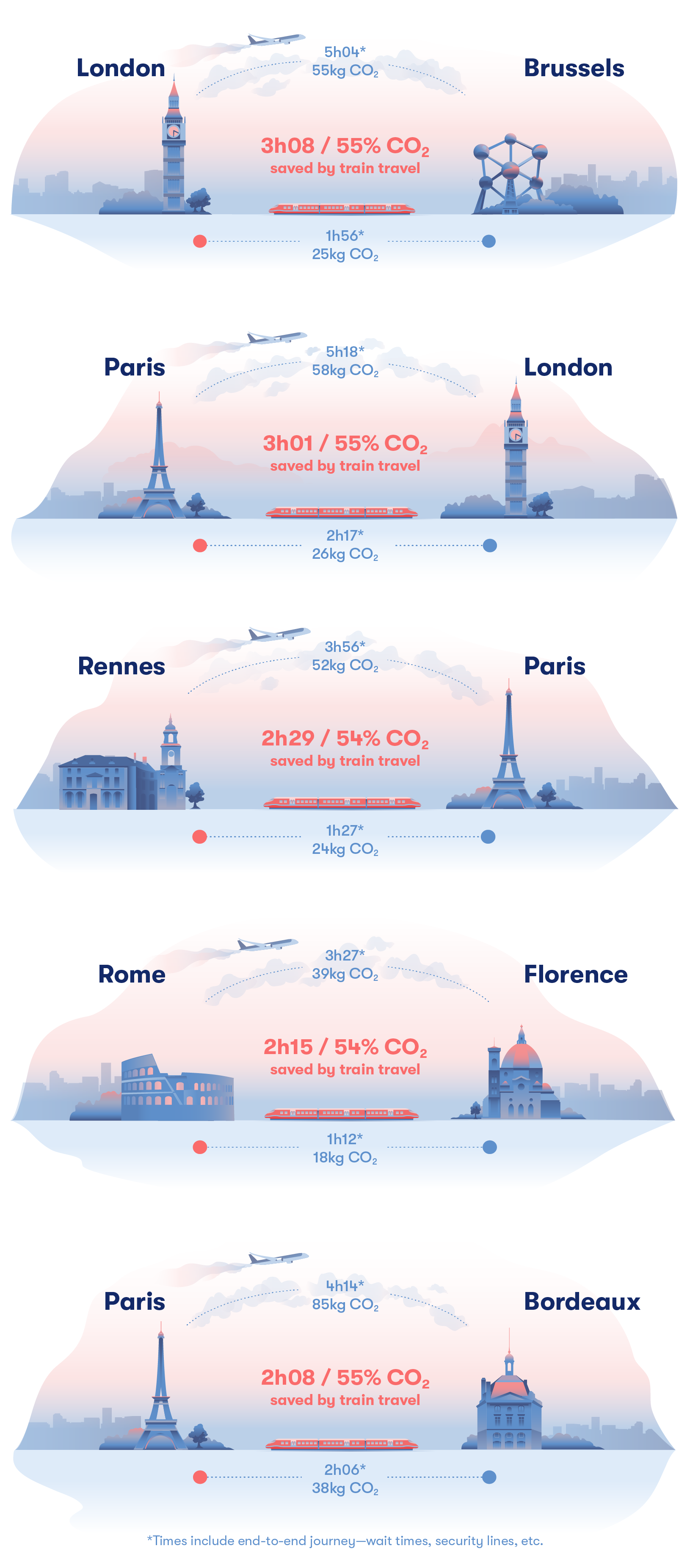 Search and compare major train companies in 15 different countries—all in one place
Train travel in the UK
Popular train routes in the UK
Travelling by train in Great Britain is a great way to see the country. Here are some of our favourite routes from London to help you get inspired.
Train Providers in the United Kingdom
There are a a lot of different train providers in Great Britain. But don't worry, we work with all of them, including Virgin Trains, LNER and even Eurostar. So, no matter where you're going, we get you there.
Travel by train in Europe
Discover more about train routes in Europe with Omio
It's a great alternative to flying as trains can emit up to 90 percent less CO2 per journey and with more countries offering high-speed trains, it can often be quicker, too.
Catching the train affords more leisure time than travelling by flight. You can check out the scenery as you work on your laptop and there are no liquid restrictions and fewer stringent security checks.
Next time, skip flying, sit back and relax as you travel by train.
Popular Destinations with Trains in Italy
Train Companies in Europe
Everything you need to know about European Train Travel
Omio have partnered up with more than 800 providers in Europe and helps you find your best train ticket to get around Europe. We work with european train companies from Sweden in the north to Portugal in the south.
European train fares, companies and ticket types FAQs