About National Rail
National Rail is the leading British train service provider operating throughout Britain, Wales and Scotland there are numerous destinations and routes on offer with their fleet of regional and high-speed trains. When booking your tickets on National Rail, you can either scroll the train schedules on Omio online or on the Omio app. Here you can see a list of available destinations, pricing, routes and class options. Make your booking in advance, and your tickets will be delivered immediately to your app. Simple and easy to navigate. If you want to find your booking online, simply visit the Bookings Section and your ticket itinerary and details will be safely stored online.
Find cheap National Rail train tickets with Omio
Finding cheap train tickets on National Rail is easy if you plan well in advance. If you book in advance, you can get early bird tickets. There are certain peak times of the year, like the December holidays, where train ticket prices increase, so if you have the luxury of travelling outside of these peak times, you can save some cash. Booking a standard class fare will also get you better-priced tickets. If you search the Omio train schedule, you can get an idea of what dates and times are the cheapest and then book accordingly.
Services offered on Board National Rail include:
Safe, reliable and secure train travel with informed staff.
Free Wi-Fi is available, charging power points for laptops and mobile phones.
There are large information screens with departure and destination arrival times.
National Rail trains offer different classes like First and second class but check the details before you book your journey to see which trains offer what services.
Assisted passenger service is available for travellers with reduced mobility. Some trains have extra large seating, but depending on your type of train and destination, this might differ.
There are certain routes where you can get a catered service; if not, you can generally bring your own snacks for the trip.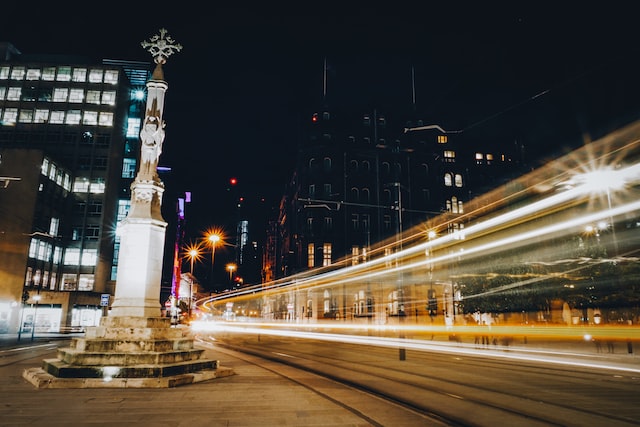 Manchester Downtown. Source: Unsplash
Routes on National Rail on Omio
Finding the best fastest routes for booking your train journey with National Rail, check the times on Omio in advance and find the best routes. The trains travel throughout the whole of the UK using major stations and smaller stations, so if you are travelling close or venturing further to Scotland or Wales, you can find the best route to suit you. Keep in mind that stopovers add an extra 30 minutes or so to your travel time, so only choose journeys with a stopover if you have time.
National Rail tickets can be purchased directly with Omio
The best way to book your National Rail Tickets is through Omio. This way, you can search through all the options available to you. Here you can conveniently check the Omio Train Schedule, what dates and times are available to you and what it costs. You can book the train tickets up to two months in advance on Omio and compare prices with various train times and dates. Don't forget that you can set an alert for prices and get a notification if any special deals arise. That way, you can grab discounted tickets quickly.
Sustainable Train Travel with National Rail
National Rail has sustainable and eco-friendly travel at the heart of its business ethics and strives to use newfound technology where possible. Travelling by train emits fewer fuel emissions than a single car and goes a long way to decongesting busy roads and highways. Choosing National Rail train journeys is a responsible decision and takes the stress of busy roads and parking off your plate. With the cost of fuel, the train is your most economical means of travel, so take advantage of the many routes and exciting destinations available.
Can I travel with pets on board National Rail journeys?
National Rail allows animals to board their trains, but they must be within certain size requirements. If not travelling in a cage, your dog must wear a muzzle. All animals cannot harm any other animals or passengers. Assisted guide dogs are allowed. Your animal can travel with you for free, but you cannot allow them on any seats unless you pay extra.
Booking National Rail through Omio is simple and fast
You can book tickets for your journey on National Rail directly on Omio. Here you can put in your dates and travel routes, and if you book in advance, you are guaranteed cheap train tickets. You can use the OmioApp or website to help you make an informed decision on your journey. If you want to test out some new British destinations, consult the Omio Travel Guide The Window Seat for an array of articles to inspire your travels. Travelling to London is always an adventure, so get reading and inspired.
British Destinations available on National Rail?
Britain is as vast as it is interesting, with hundreds of stations connecting you to quaint villages, major cities, countryside and beachside towns. Some of the top destinations to visit with your cheap train ticket on National Rail are Brighton, for a seaside stroll, Manchester for a football game, Liverpool to discover the famous home of The Beatles or the beautiful village town of Cotswolds in Oxford town. Oxford is also world-renowned for its beautiful Oxford University grounds and excellent high-end shopping boutiques. From traditional English pubs to famous chef restaurants like Jamie Oliver's Italian, there is plenty to do for a jam-packed day of exploring. Travel further into Wales and visit Cardiff or the revered Glasgow or Edinburgh. This is a ticket to a wonderful journey, all easily booked online through Omio.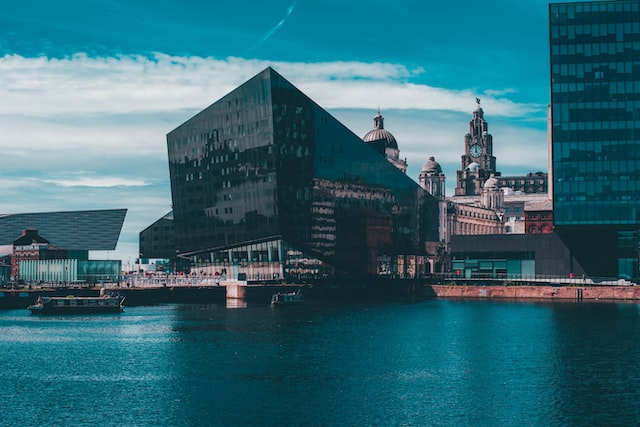 Liverpool. Source: Unsplash
When is it best to book your National Rail train tickets?
When planning to book cheap train tickets, there are a few cash-saving tips to consider. Check the Omio timetables to see how early you can book, but trains are normally added to the timetables up to two months in advance. Consider booking a non-peak hour journey where you can save cash and have a more peaceful, quieter train trip.
Boarding your National Rail train before your journey
Keep in mind to check what time your train is departing and give yourself at least up to 30 minutes prior at your chosen train station to check in, grab any last-minute snacks and prepare for your trip. You can board the trains up to 5 minutes before departure, but these destination stations are almost always busy and full, so give yourself some extra time in case of any long queues or issues that might arise at the station. Prepare in advance and make a checklist of what you will need for the journey. Your train ticket booking with Omio will email you a list of all the documents you require before you travel.
What are the National Rail train stations equipped with?
Most major British stations have all the essential services for your journey. Some bigger stations will offer a selection of bars and restaurants, and some small ones only provide the basics like ticket offices, toilets, assisted passenger staff, newsstands, convenience stores and cash machines. Depending on where you are travelling to, National Rail has a wide selection of world-class stations to make your train trip enjoyable.
National Rail Train Ticket Prices
As there are so many train destinations and journeys to consider, the prices depend on how far you travel. If you are booking a short regional train ticket, you should be able to get reasonable rates, and if you book in advance, this will be even cheaper. There are some different ticket classes available on some trains, so book a standard class if you want to save money. First class does come with its comforts and luxuries, but you should be able to search on Omio to find the best deals for your route. Tourist peak seasons and December tickets generally come with a higher price tag due to the popularity of travel at this time of year. If you can avoid these high-peak seasons, you will be guaranteed a better-priced train ticket.
Night trains National Rail
All the train trips around Britain and even as far as Glasgow do not exceed 4 hours, so there are no sleeper overnight or night trains servicing these routes. There will be some night journeys, but you won't be sleeping on the route overnight. If you want to take in the scenery, booking during the day will ensure you get spoiled with endless British rolling hills and country cottages.
Do you have any questions about National Rail? Join the Omio Family social media community and get experienced travel advice
If you are looking for some friendly advice from our Omio social media handlers or our great Omio community, then why not join the Omio community on Facebook and ask some advice from our network of experienced and trusted travellers. This way, you can get hands-on experience before booking your train trip with National Rail. There are many travel guides online, and if you email or speak to us on social media, we can help you make an informed decision. If you're unsure about any small details about National Rail, our Omio Family, who have travelled with National Rail, might be able to help.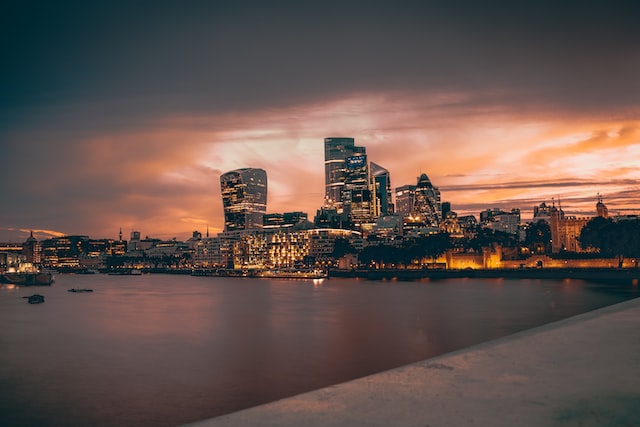 London Downtown. Source: Unsplash
FAQs about National Rail and Omio
Where can I buy my National Rail tickets?
You can book directly on the Omio website or app.
Do I need to print my Omio Booking?
You can print the ticket if you like a paper trail, but you do not need to print the booking info as you will have it all saved on your Omio app on your mobile phone. You can also access your booking via email info when you confirm the ticket booking.
How many pieces of luggage can I take on National Rail?
You can carry up to three items of luggage and handbags with you on National Rail. Make sure you stick to the weight and size regulations. If you want to travel with any sports or musical equipment, you can just make sure you check the details before you book.
Can I take my bike or scooter with me on National Rail?
Foldable bikes and scooters will be allowed on board, but they should be wrapped and not get in the way of other passengers.