Buses from Naples to Sorrento
Travelling from Naples to Sorrento by bus is a cheap and efficient way to make the journey. It is a direct trip that averages about 1h 30min. The distance travelled covers 16 miles (25 km) from beginning to end. Two buses make this trip every day and they run seven days a week.
Naples to Sorrento Bus Time: Daily Departures
The bus running in this route runs 7 days a week except for major holidays. There are two buses a day that run this route from only one service provider. You can go direct or you can pick a trip that has one or two stops if you would like to do some site seeing or if you are on a budget. The earliest bus leaves at 10:45 a.m. and the last bus leaves at 4:40 p.m.
How long is the journey by bus from Naples to Sorrento?
When looking at making this journey from Naples to Sorrento we recommend that you put aside at least 1h 45min for the total travel time of the trip. The quickest bus available will take 1h 35min and the longest 1h 45min. The trip can take a bit longer if you book one that has a change over in it but mostly they are direct trips.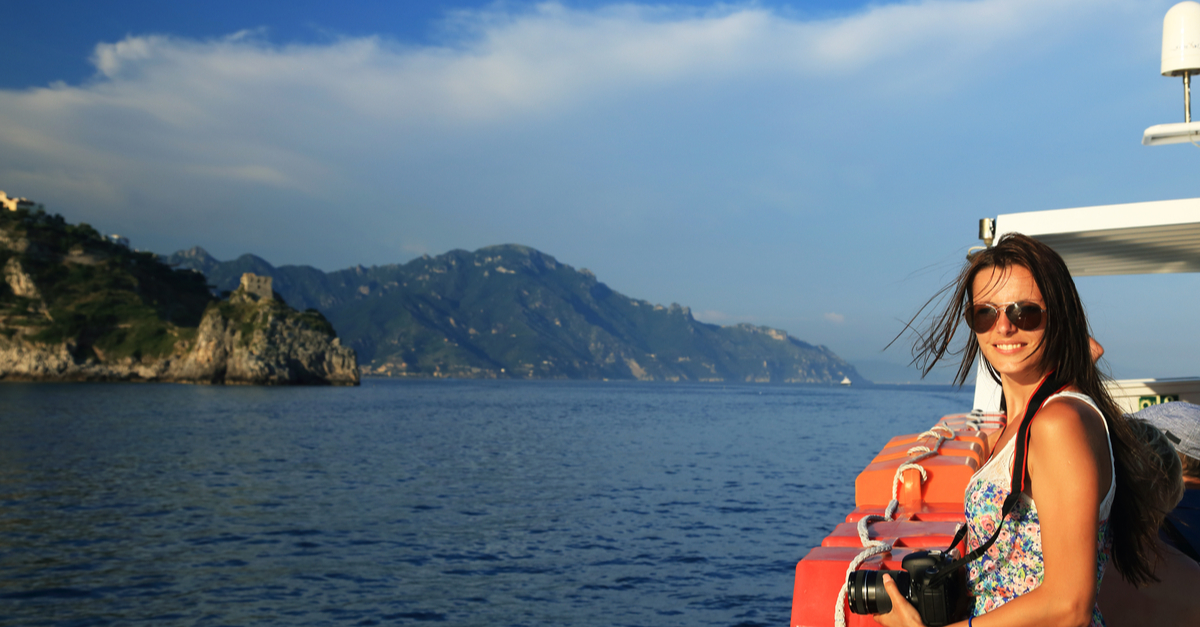 Sorrento Boat. Source: Shutterstock
What is/are the departure and arrival stations for buses from Naples to Sorrento?
Departure bus station: Napoli Centrale is the departure station from your travels from Naples to Sorrento. This station offers a waiting room, pre-paid bathroom facilities and food kiosks are available. To get from Piazza del Plebiscito which is the city centre of Naples to the bus station Naples Centrale you should lay out an additional 15min for your overall travel time. You can get to the station via taxi, bus, or bike ride.
Arrival bus station: The arrival station we are looking at when discussing travelling by coach from Naples to Sorrento is the Corso Italia which is situated 0.3 miles (0.54 km) walk away from the city centre of Sorrento, Piazza Tasso. This trip is only a 7min walk. Near the station, you can find an ATM, coffee shops and a few hotels. This bus station does offer a language storage facility and you are able to buy a bus ticket on-site, although it is recommended you book your ticket online in advance through Omio.
Which bus companies travel from Naples to Sorrento?
Flixbus is the company that handles bus trips on this route. The company has been travelling this route since 2013. This company has Europe's biggest intercity bus network. The Flixbus company was one of the first companies to offer live tracking of their buses which makes for peace of mind when travelling. One of the best features of this company is that they do allow you to make changes to your booking up to 15min before your scheduled departure without charging any penalty fees. This fleet of buses is also dedicated to making sure they run an environmentally friendly service, and they take a lot of pride in trying to be a self-sustaining company by running all their buses on clean Greenpeace approved Eco-friendly fuel.
Flixbus buses from Naples to Sorrento
Flixbus offers its passengers several services that will make your travels more convenient and comfortable. Firstly you are able to reserve seats ahead of time, so if you have a preference of where you would like to sit, or if you need to be close to an exit for medical reasons it is easy to secure your preferred seat. The company offers travel insurance with each ticket booked as an additional extra.
If you have left a personal item behind on one of the buses, not to worry, they offer a 24h lost property helpline. A great way to pass the time is to access the entertainment portal created by the company. This online service will provide you with games, movies, e-books and a vast selection of available music play lists.
Bus Naples to Sorrento: Services on Board
The onboard services of the Flixbus company are highly welcome. Firstly you will have free onboard WiFi constantly that runs at 4G speed. There are bathrooms on board every single bus. The seating offers extra legroom which is welcome on this slightly longer trip. You will be allowed to buy snacks and drinks at reasonable prices, and keep all your devices fully charged as there is a charging socket at every seat. You can take your bike with you on a Flixbus as they do have bike carrier units at the back of the buses. We recommend you book that in advance as there are only 5 spaces available per bus. Unfortunately, you are not allowed to travel with your pets for safety and hygiene reasons. You are allowed two pieces of luggage when boarding the bus, one being a hand luggage case and the other will be your checked-in bag. For safety reasons, you will be asked to store your hand luggage piece under the seat or in the overhead storage compartment. We recommend labelling your check-in bag clearly so it's easy to find when leaving the bus. You will load your check-in bag before the trip begins with the assistant of the bus driver.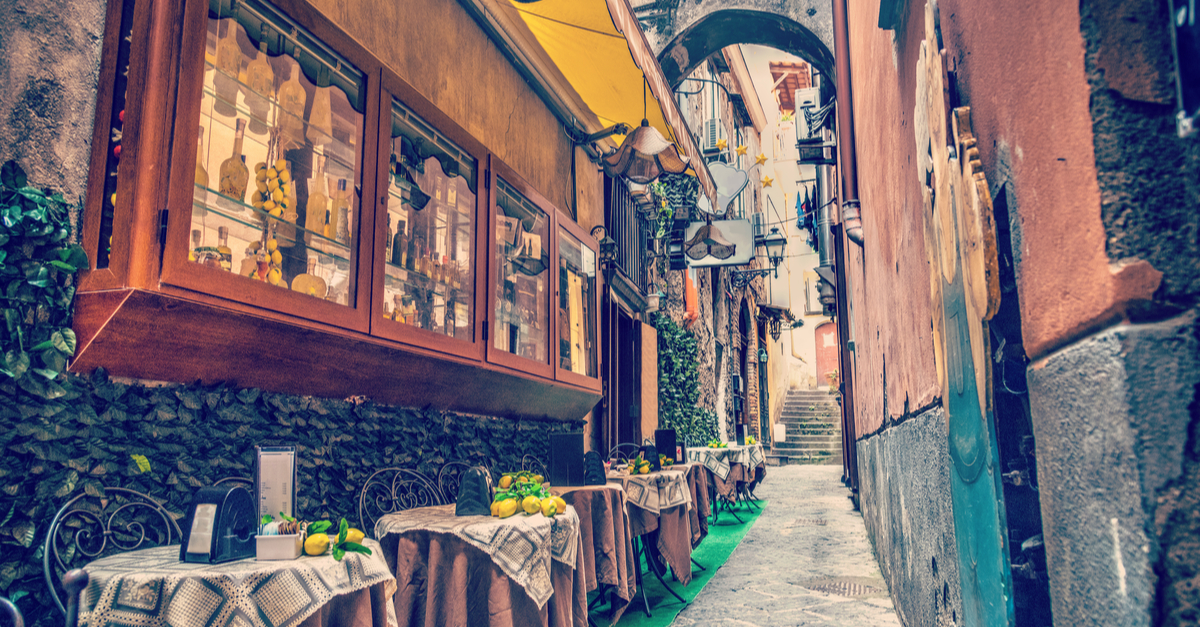 Sorrento Old Town. Source: Shutterstock
How to find cheap bus tickets from Naples to Sorrento?
When wanting to not miss out on the best available ticket deal we recommend that you check well in advance of your intended travelling date to make sure you find any advanced ticket deals. If you are looking at travelling this route multiple times, you might want to see if there is a weekly or monthly ticket that will allow for a frequent traveller discount. Check the schedule and search for tickets on varying days.
The more flexible with the travel dates you are the more likely you are to find the most off-peak day to travel which will definitely save you money when booking cheap bus tickets from Naples to Sorrento. It is also worth looking if the route offers a longer trip that has more than one stop in it generally these trips will be cheaper.
To Sorrento by bus - travel tips
Catching a bus to Sorrento highly recommends as an efficient and cheap way to get to the city, and we recommend carrying on the trend when you reach the city. There are so many wonderful sites to see in Sorrento as the bus service in the city is a world-class service that has a comprehensive network of routes and stations making your site seeing super simple! This relaxing little town has the air of a beach holiday and the charm expected from ancient Italy.
Catch a bus to the 14th-century Correale Palace, and the rare 13th-century Veniero Palace or the famous 16th-century Sedil Dominova and marvel in the historic architecture. Being a beachfront town, the place is renowned for its fresh seafood and boasts some of the best shellfish in the world. You absolutely cant beat the perfect combination of shellfish, cream, garlic and herbs in a traditional style Italian pasta from one of the cities top bistros, Bistro Sorrento is situated in the centre of town nearby the main square of Piazza Tasso.