Trains from London to Brussels
Trains from London to Brussels run up to 4-5 times a day and the travel time for the 199 mile (320 km) journey is approximately 2h 5min maximum. The main train connections depart from London St Pancras International railway station and arrive in Brussels-Midi International railway station. Pricewise there are options for standard, standard premiere and business premiere tickets each with its own specified extras.
London to Brussels Train Times: Daily Departures
Train journeys can differ from day to day and are available on peak and non-peak travel times. Train trips vary from 2 – 5 trips per day starting from morning to late afternoon for the final departure time. On weekends or public holidays the frequency of train journeys may be less, with 2-3 per day, so plan accordingly. If you consult the Omio booking calendar you will get an idea of average train trips and costs per day.
How long is the journey by train from London to Brussels?
The journey from London to Brussels by train is 199 miles (320 km) and takes on average 2h 3min but you can reach your destination in 2h 1min on the fastest trains. There should be no planned delays on your journey as all trains now run direct to Brussels station with no changes, which should make your journey stress free and more comfortable. If you choose the fastest trains your ticket price will be more expensive, but if you choose the slower trains, the difference is not worth noticing.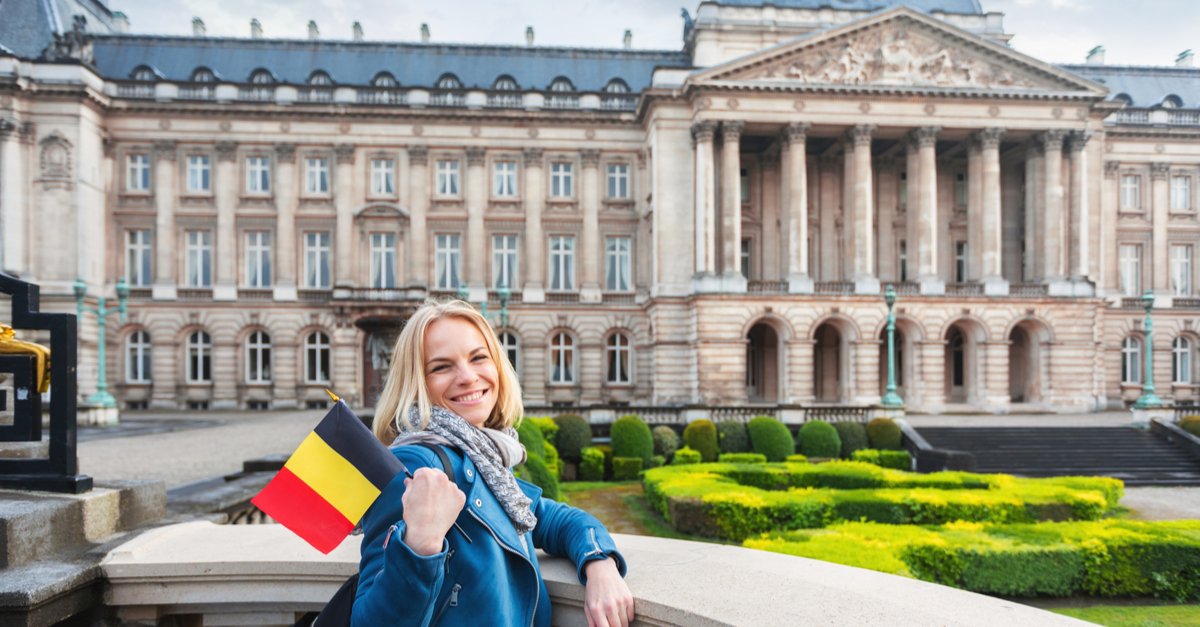 Brussels Royal Palace. Source: Shutterstock
What is/are the departure and arrival stations for trains from London to Brussels?
Departure train station: The departure Railway station for the London to Brussels train is St Pancras International. Travel time to St Pancras International from London city centre is 17min by subway, approx 22min by car and 30min by bus, taking into consideration traffic issues. Give yourself some spare time and explore the station when you arrive where you can shop, dine in international style and grab some farewell drinks with friends or family at one of the numerous bars.
< strong>Arrival train station: The arrival station for your train trip from London to Brussels is Brussels Midi. This is one of the main train stations in Brussels and is close to Central Brussels. Travel time to city centre is around 11min by bus, with buses leaving every 7min. The station facilities include a vast array of cafes, bars and coffee shops for you to catch a moment to freshen up, and an on site hotel if you plan to catch a connecting trip the next day. Highly convenient and central, the Brussels Midi is your entry point into an exciting adventure into Brussels life.
Which train companies travel from London to Brussels?
The main train company running from London to Brussels is the famous high-speed international train company Eurostar. Priding themselves on fast, seamless no nonsense travel from one city centre to the next, Eurostar is a train company you can trust. If you're in a hurry, then Eurostar is faster than flying with lots of benefits. Travelling with Eurostar has many advantages, including a choice of classes, no major luggage restrictions, easy check ins, comfortable seating with beautiful views and no restrictions on carry on liquid, food and toiletries. It's not always just the destination in life, but also the journey and travelling with Eurostar is always an exciting treat.
Eurostar trains from London to Brussels
Eurostar is the leading intercity high-speed train company connecting travelers direct from International city to city. Eurostar runs frequently with up to 4-5 train trips per day at different times throughout the day, with no change overs adding to ease of travel. The journey is no longer than 2h 5min and has different speed trains and varying ticket prices. Eurostar offers options for standard ticket class, premiere class or business premiere class tickets allowing the traveler to choose their degree of luxury and comfort and their unique price code. Eurostar offers seamless high-speed travel by train that is comfortable, practical and above all enjoyable.
Train London to Brussels: Services on Board
There are many perks to travelling with Eurostar and you might even choose train journeys over flights for your future travel plans. Some of the Eurostar trains are faster than others and all have different priced class tickets to choose from, including standard, standard premiere and business premiere. The train trip is a short distance journey direct to Brussels via the Channel Tunnel with no stopovers.
Extra advantages to the Eurostar are you can travel with 2 large luggage options and there are no liquid, food or toiletry restrictions. Offering superb luxury views together with a comfortable, relaxing and speedy ride, you can't go wrong. If you have any physical disabilities then the Eurostar is more convenient than a flight as they offer ease of entrance and exits, disabled toilets and plenty of areas to sit. Guide dogs are allowed on trains with prior arrangement. Bicycles are no longer allowed on board but you can bring a folding bike or kids bike unless they don't exceed 85 cm length and are in a protective bag.
How to find cheap train tickets from London to Brussels?
The best tip to finding cheap train tickets is firstly to book as far in advance as possible. Last minute trips are more expensive and will add heavily on your price of ticket, so planning ahead is your best friend. Try and avoid major peak times and if you are in no major rush, you can choose the slowest trains which will be cheaper than the fast trains.
If you spend some time browsing the Omio booking calendar you will figure out the cheapest tickets you can get that will suit your travel arrangements and plans. If you are flexible, then you will be able to find an array of cheap seats to suit your needs and weigh less heavily on your wallet. Planning a trip properly is what makes your journey budget friendly and enjoyable, so spend some time on the Omio website to help you find the perfect route to suit you.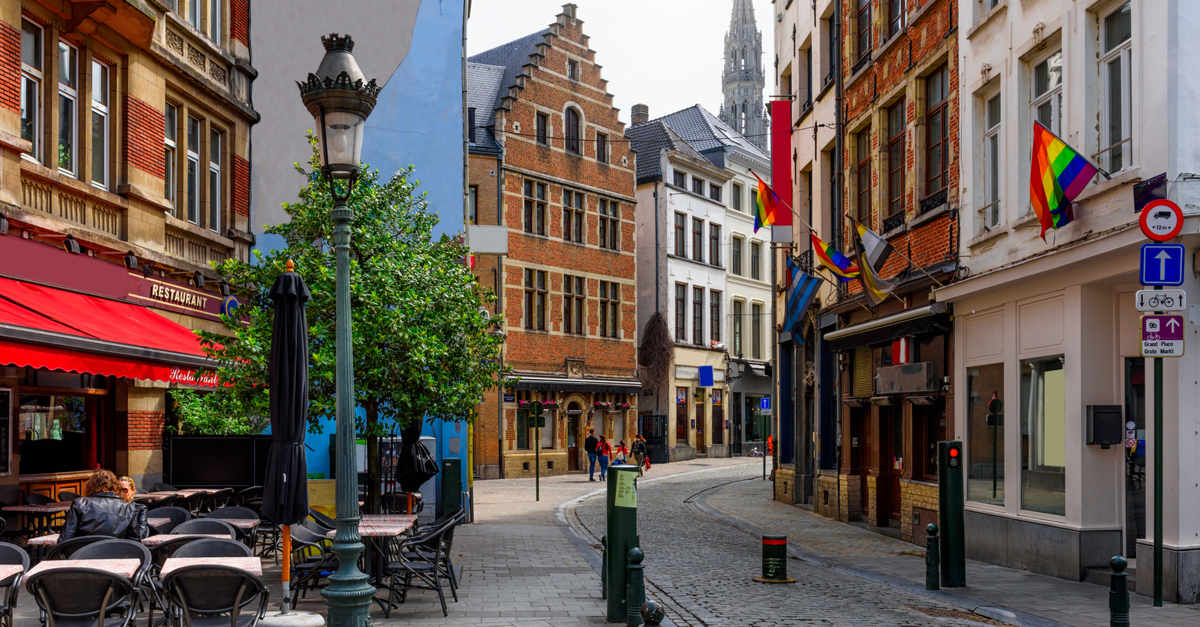 Brussels Old Street Terrace. Source: Shutterstock
To Brussels by train—travel tips
Brussels is a bustling historical city that will leave you spoiled for choice with incredible sightseeing activities, delicious food, drinks and rich culture. Take a walk down the narrow cobbled streets admiring the architecture, ranging from Baroque, Gothic and medieval buildings and end up at the centre of town to view the breathtaking Grand Place, the main square of the City of Brussels, famous for its aesthetic grandeur and stunning architecture. You will need to stop and take a moment to breathe it all in.
If you're a fan of museums then your choices are endless, ranging from the Magritte Museum, dedicated to the work of the Belgian surrealist artist, René Magritte, City sewer history museum, the Belgian Brewers museum or the Belgian Comic Strip Center. There is something for everyone. World renowned for their delicious Belgian chocolates, indulge yourself at the chocolate museum and afterwards rest your weary legs sipping on a famous home brewed beer.
Embrace Brussels by trying their traditional street food or feasting on some mussels and fries at a street café whilst people watching in the streets. If you've come for a shopping spree, you wont be disappointed strolling down the main shopping street Rue Neuve where you can find an array of international brands and designer boutiques. With activities to suit all, young and old, Brussels is a must see destination.
Eurostar Trains from London to Brussels
The Eurostar is a high-speed train company connecting the UK to continental Europe and beyond.
When planning trips to Eurostar destinations, consider checking back for offers on Eurostar tickets. Speak to the Customer Care team at the Omio help centre for cancellations or changes to your ticket from London to Brussels.