Flights to Berlin
Berlin is the capital of Germany and the largest city by population within the European Union. A world leader in science, technology, and politics it is also recognised as a cultural juggernaut and is home to several world-class educational institutions as well as multiple World Heritage Sites. The city has one modern international airport: Berlin Brandenburg Airport (BER) which generates and receives flights from across the globe. There is a long list of airlines operating flights to Berlin from London metro airports such as London Heathrow Airport (LHR) and London Stansted Airport (STN) and these include a mixture of direct and one-stop flights. Direct flights are more likely during the summer period from June to September when the number of carriers on this route are increased by the presence of low-cost operators such as easyJet and Ryanair.
Direct flights to Berlin are available from all major European cities, making it an ideal airport to reach from anywhere in the world. Major airlines serving Berlin include Lufthansa, and British Airways. Berlin Tegel Airport is found to the north-west of the city which can be reached via Jet Express Bus, or via local buses which give you connections the U-Bahn train network after a short journey. Schönefeld Airport is found in the south-east of Berlin; from here, passengers can travel the city centre by Express Bus or via local buses which also join up with the U-Bahn train network. Taxi services are also available from both airports, 24 hours a day.
British Airways to Berlin
Passengers can travel by flight to Berlin aboard the UK flag carrier which operates direct air service several times a week pretty much year-round from London's Heathrow Airport to Berlin Brandenburg Airport. These flights average about one per day generally in the morning hours and require about two hours to complete the journey.
Lufthansa to Berlin
Lufthansa, the German national carrier also operates flight service out of London Heathrow Airport en route to Berlin Brandenburg Airport, but these flights involve one stopover with a transfer at Frankfurt am Main Airport (FRA) before continuing on to the German capital city. Stopovers at Frankfurt am Main Airport can last anywhere from about 5h to as many as 24h in some cases so be advised.
Ryanair to Berlin
Ryanair operates flight service from London Stansted Airport to Berlin Brandenburg Airport with direct flights which commence from around June 1st and continue, at least once per day, through the end of the year. This airline is one of the few operators with air hubs at both point of origin (London Stansted Airport) and point of destination (Berlin Brandenburg Airport). Ryanair offers the most affordable ticket prices on this route due to its popularity as a premier low-cost airline and these flights generally last about two hours in duration.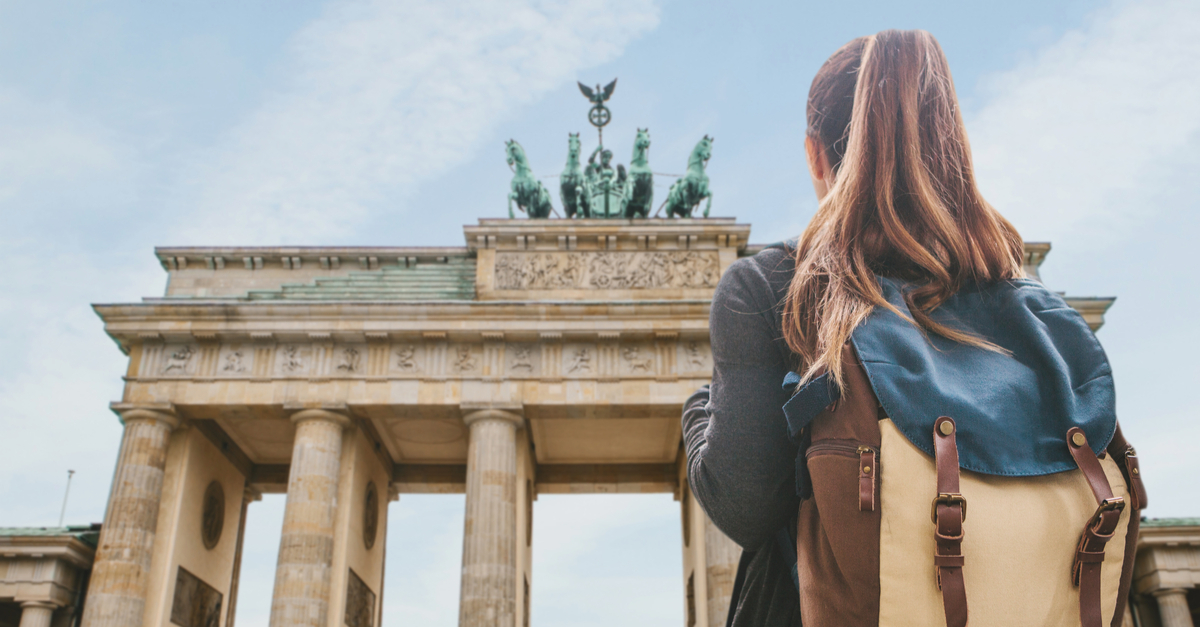 Berlin Backpacking. Source: Shutterstock
Main flight stations in Berlin
Berlin Brandenburg Airport is the single international airport in the capital with the closure of Berlin Tegel and Berlin Schonefeld airports and is located about 18 miles (30 km) south of Berlin in the German state of Brandenburg. It ranks as the third busiest airport in the country by passenger volume and is one of the busiest in Europe. Passengers destined to Berlin by flight should know that Berlin Brandenburg Airport has two functional terminals: Terminal 1 handles regular international and domestic traffic while Terminal 2 is a purpose-built facility for housing low-budget airlines which account for significant numbers of traffic across the European continent. This airport offers a comprehensive list of facilities and passenger services such as a modern onsite rail station, ATM and currency exchange offices, medical centre and pharmacy (chemists), and onsite airport hotels and car hire centre to name a few.
Onboard facilities
Due to the brief duration of these flights it is unlikely you will find in-flight entertainment on British Airways flights from London to Berlin, so it suggested that you travel with your own music, movies, and other entertainment and use headphones so as not to disturb nearby passengers. Food and beverages are served on short haul flights and you may have to request a pillow and/or blanket if needed. First and Business Class passengers usually enjoy greater benefits than Economy Class passengers in terms of seating, entertainment, and refreshment options. There are limited options in terms of food and refreshments on Lufthansa short haul flights. Water, hot/cold beverages and a snack may be served on flights lasting two or more hours. Pillows and/or blankets are not provided on flights of short duration and should be requested by individual passengers. Also, there is no in-flight entertainment on short haul flights so it is suggested you travel with your own media and use headphones so as not to disturb fellow passengers.
First and Business Class passengers do enjoy upgrades when it comes to refreshments, seating, and entertainment options. Passengers on Ryanair flights to Berlin will be provided a choice of hot or cold beverages and a sandwich on short haul flights but you are encouraged to bring your own meals onboard if you prefer. There is no in-flight entertainment due to the brief duration of these flights so travel with an electronic device to enjoy your time onboard as long as you use headphones in consideration of nearby passengers. Portable DVD players, MP3 players, and tablets or e-readers are allowed.
Flight tickets to Berlin
British Airways offers four Euro Traveller ticket types for travel within Europe. Basic and Plus Euro Traveller tickets are non-refundable and are the cheapest options while Plus Flex tickets are fully refundable and Club Europe versions can be changed at any time as long as you pay the fare difference if applicable. British Airways does not allow the use of e-tickets so you will need to print your boarding pass to be allowed on the plane. There are kiosks where this can be done at London Heathrow Airport, just bring along the debit/credit card used for purchase and have your confirmation number handy.
As always, make sure you have the proper ID and/or passport with you before you leave home. On Omio buying flight tickets to Berlin is fast and easy and can store them in your Omio account. Lufthansa passengers can fly Economy Class, Business Class, or First Class to Berlin. Economy Class tickets are generally non-refundable if not used on date of travel so refer to the terms and conditions before you purchase. Premium class tickets can either be refunded or changed for a later date with the price difference being paid by the customer.
Lufthansa does not allow the use of e-tickets so you must print your boarding pass to be allowed onboard. There are kiosks at London Heathrow where you can do this as long as you have possession of your confirmation number and the credit/debit card used to make the purchase. Proper ID/passport is required for international travel so be sure to have them before you leave. On Omio buying flight tickets to Berlin is fast and easy and can be stored in your account. Ryanair passengers on flights to Berlin can fly either Economy Class using Value, Regular, Plus, or FamilyPlus tickets or Business Class using a premium FlexiPlus ticket.
It is recommended that you use the online Advance check-in service which is available from 60 days -2 days prior to the date of your flight to avoid the check-in fee. E-tickets are valid for travel on Ryanair flights from London to Berlin and don't need to be printed as long as you have your confirmation receipt and number but you must produce a valid ID or passport for international travel. On Omio buying flight tickets to Berlin is fast and easy and you can store them in your Omio account.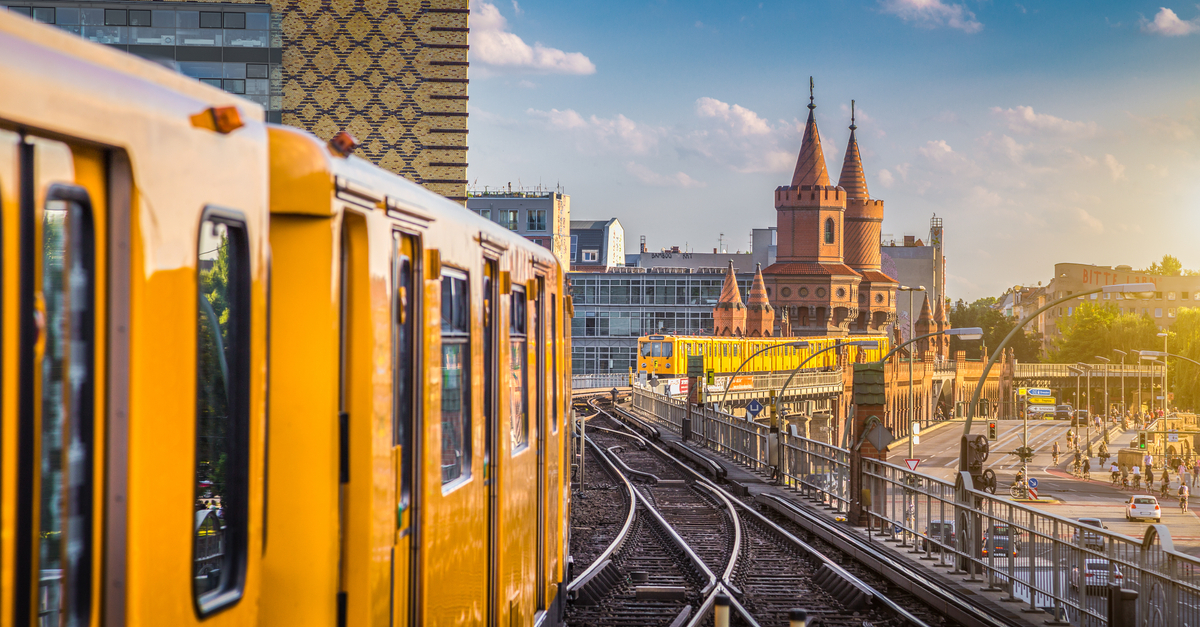 Berlin Train. Source: Shutterstock
To Berlin by flight: travel tips
Berlin has long enjoyed the status of being one of the world's most important cultural centres whose history stretches back to the Middle Ages. This large metropolitan city hosts a plethora of sightseeing delights for the casual tourist and a number of unique places of interest which best exemplify the rich urban and contemporary heritage it has to offer.
The Urban Nation Street Art Museum is free to all and offers an interesting perspective into the counterculture that continues to thrive in the city's urban districts. Monsterkabinett offers an offbeat collection of animatronic designs you won't find in any modern museum and the Parliament of Trees memorial in honour of the Berlin Wall are worthy of your time and attention. Berlin has an extensive road network and the Berlin Transport Company (BVG) provides a system of metro, express, and night buses which use them to transport passengers across the city limits from the Central Bus Company or ZOB in the Westend district.
Berlin Hauptbahnhof is the city's largest and primary railway station where Deutsche Bahn operates Inter-city Express high-speed trains to domestic cities like Stuttgart, Frankfurt, and Munich. There are also tram and ferry services in addition to increasingly popular bike-sharing facilities serving the city's residents.
If you prefer to restrict your sightseeing explorations to more familiar places you won't be disappointed with the sheer number and variety of offerings Berlin has in store. The Brandenburg Gate is perhaps the city's most iconic landmark whose stature has increased in the years since reunification. The German Historical Museum is another exciting structure with a window into the city's historic past and you can go on guided tours to discover many of its collections and exhibitions.
Another impressive building is the Charlottenburg Palace and Park which features a central dome 164 ft (50 m) high and a State Dining Room where former Prussian Electors entertained foreign heads of state. The German Museum of Technology showcases several industrial and technological marvels or you can head over to East Berlin and tour the Berlin Television Tower and savour its spectacular panoramic views of the city from 984 ft (300 m) in the air. Fans of street food should try a currywurst snack while enjoying the attractions or stop by Café Mugrabi to enjoy their Mediterranean Brunch menu.
Alternatively, you can reserve a seat at affordably-priced Malakeh for some Syrian cuisine or splurge a bit on fine German dining at Kumpel and Keule.
| | |
| --- | --- |
| Flights to Berlin from London | |
| Flights to Berlin from Manchester | |
| Flights to Berlin from Edinburgh | |
| Flights to Berlin from Liverpool | |
| Flights to Berlin from Birmingham | |
Flights to Belrin - FAQs
What are the cheapest and most expensive months to book flights to Berlin? The cheapest period to travel to Berlin is between October and November. The most expensive flights to Berlin are in June.
Which airports have direct flights to Berlin? Most cheap airlines have direct flights to Berlin including easyJet, Ryanair and Flybe.
How far in advance should I book flights to Berlin for the best price? The best time to book flights to Berlin in advance is 12 weeks before planning to travel.
What are the main airports in Berlin? Berlin is home to two airports: Tegel Airport and Schönefeld Airport.
How to get from the airport to Berlin city-centre:
Address: Zufahrt zum Flughafen Tegel, 13405, Berlin
Connecting buses: The TXL towards Alexanderplatz, and the 128 towards Osloer Straße.
How to get from Berlin Tegel to the city centre: Travellers landing at Tegel airport need to catch a bus into the city centre, which takes around 25 minutes. There are no trains running from Tegel, but if you need to get on the overground train (S-Bahn) then you can change after just 2 stops on the TXL bus, alighting at Beusselstraße S-Bahn Station .
Address: Flughafen Schönefeld, 12521, Berlin
Connecting buses: The number 171 goes to the south of the city.
Connecting trains: Take either the S-Bahn number S9 into the centre, or take regional train number RE7.
Schönefeld Airport has more transport options than Tegel, although it takes around 40 minutes to reach the centre. If you take the RE7 it will be faster. You can take the S-Bahn from the airport platform to easily get into the city centre.