Trenitalia to Venice
Most trains to Venice from other other locations in Italy are operated by Trenitalia, the trading name for the Italian State Railways. They operate routes to Venice from Verona, Trieste, Bologna, Florence, Rome, Milan, Naples, as well as Zurich in Switzerland using a mix of Frecciargento and Frecciarossa high speed trains, as well as regular regional trains. Frecciarossa trains can travel up to 186 mph (300 km/h) and Frecciargento trains travel up to 155 mph (250 km/h).
Italo to Venice
The other option for operators of trains to Venice is the privately owned Italo. Like Trenitalia, Italo has their own high speed trains- the 186 mph (300 km/h) AGV trains, and the 155 mph (250 km/h) EVO trains. Italo has slightless less frequent service than Trenitalia, but both companies stop at Venezia Santa Lucia station on islands of Venice. Both also use Roma Termini station in the city centre when departing from Rome, and Milan Centrale station from central Milan, but some Italo trains do also go to the less convenient Rome Tiburtina station and Milan Porta Garibaldi station.
Main train stations in Venice
Venice has two train stations, but only one is in the floating city of Venice itself. Venezia Santa Lucia station sits on the banks of the Grand Canal, 27 minutes away from St Mark's Square by walking, and 20 minutes away from the Rialto Bridge. Venezia Mestre station is located in the neighbouring city of Mestre, which is in the municipality of Venice, but on the mainland instead of off-shore. Almost all trains will also stop at Venezia Mestre station before continuing to Venezia Santa Lucia station, taking around 10 minutes to travel from one station to another.
Venezia Santa Lucia station is a terminus with 23 platforms, and as expected, a very busy one- seeing roughly 82000 people passing through everyday. As a tourist hotspot, it has plenty of shops and amenities, including information points, a food court, a pizzeria, and even a piano. Venezia Mestre station is the smaller, but still very busy station, with roughly 77000 people passing through each day. It has 13 platforms and everything you would expect from a smaller station such as basic shops and eateries.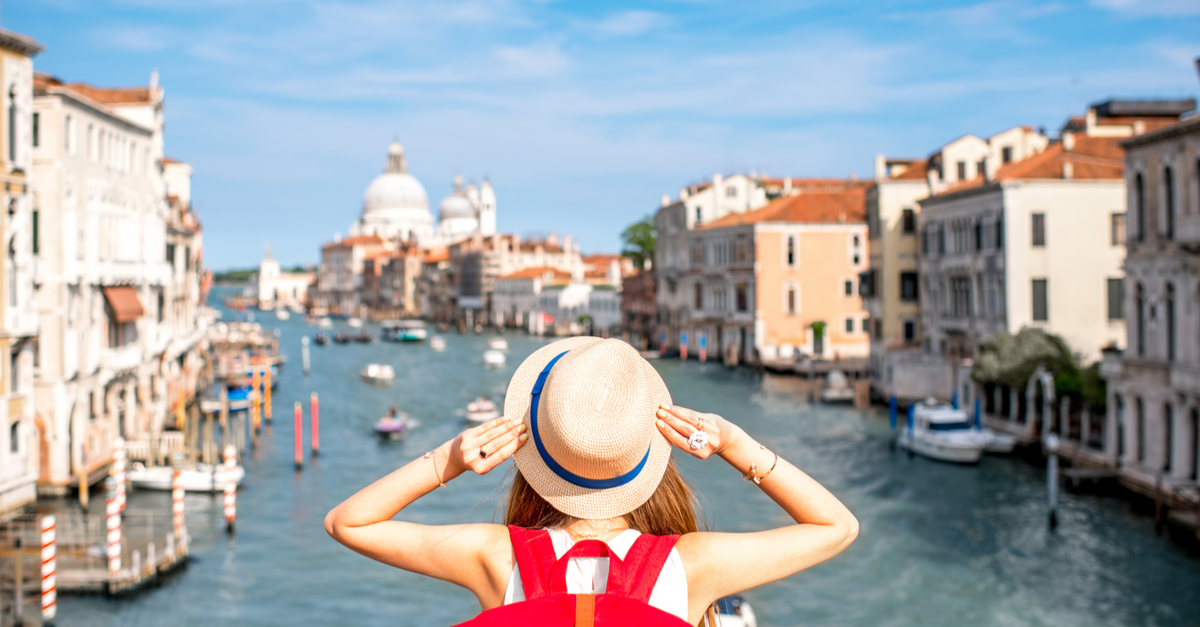 Venice. Source: Shutterstock
Onboard facilities Venice
The onboard facilities you'll find on your train will depend on the operator used as well as which of their trains you board. Trenitalia's Frecciarossa trains have 4 classes- Executive, Business, Premium, and Standard. Starting with the Standard class, you will find free Wi-Fi and power sockets for charging devices at every seat, overhead racks for storage, and space for large luggage at the end of each car. Premium class will get you everything from standard, in addition to leather seats and a complimentary welcome drink of prosecco, coffee or soft drink. In addition to everything from the previous two classes, Business class passengers will see more elbow room, larger leather seats, and a table for every seat.
Executive class has only 8 seats on each end with plenty of space around, leather reclining seats, a complimentary meal, and a dedicated steward, in addition to everything from Standard and Premium class. Frecciargento trains have only the Standard and Premium class. Both trains have a cafe bar carriage. Italo's trains also have 4 classes- Smart, Comfort, Prima, and Club Executive. The basic Smart class already features leather reclining seats, free Wi-Fi, power sockets for charging devices at every seat, vending machines for drinks and snacks, overhead racks for storage, and space for large luggage at the end of each car.
TV screens showing films are available in one carriage. Comfort class has seats with extra leg and elbow room. Prima class offers the same seating as comfort, plus complimentary wine or prosecco, and snacks and meals sold at your seat, in addition to everything from Smart class. Finally, Club Executive has just 11 seats in the car, and hence plenty of space, complimentary snacks and drinks throughout the journey served by a steward, a TV for each seat, and everything from the other classes.
Train Tickets to Venice: uUseful to know
It pays to plan your journeys ahead of time, as train tickets for Trenitalia's and Italo's long distance trains come with a seat reservation included, so it is possible for tickets to be sold out. Additionally, as with most forms of public transport, tickets are significantly cheaper when booked in advance on long distance journeys, but usually with restrictions to changes or cancellations.
Booking for high speed trains generally opens up to 4 months in advance, outside of mid June and mid December during timetable changes. Local and regional trains, on the other hand, have a fixed price regardless of when you book, but it is still advisable to book in advance to save time and be prepared. It is fast and easy to buy train tickets to Venice on Omio, and your Omio account very conveniently stores all your tickets. Check the Omio magazine for more tips on how to travel.
To Venice by train—travel tips
Venice is not only one of the most unique cities in the world due to its use of canals instead of roads, but also one of the most beautiful, with Renaissance and Gothic palaces, gilded cathedrals and ornate bridges. Since there are no roads on the island, transport will be either in the form of one of 159 types of water-craft, or walking (maybe running if you're late for your boat). Vaporetti are the water buses of the islands, which transport you around the Grand Canal and take you to and from the mainland as well as to Lido, Murano, Burano, and Torcello.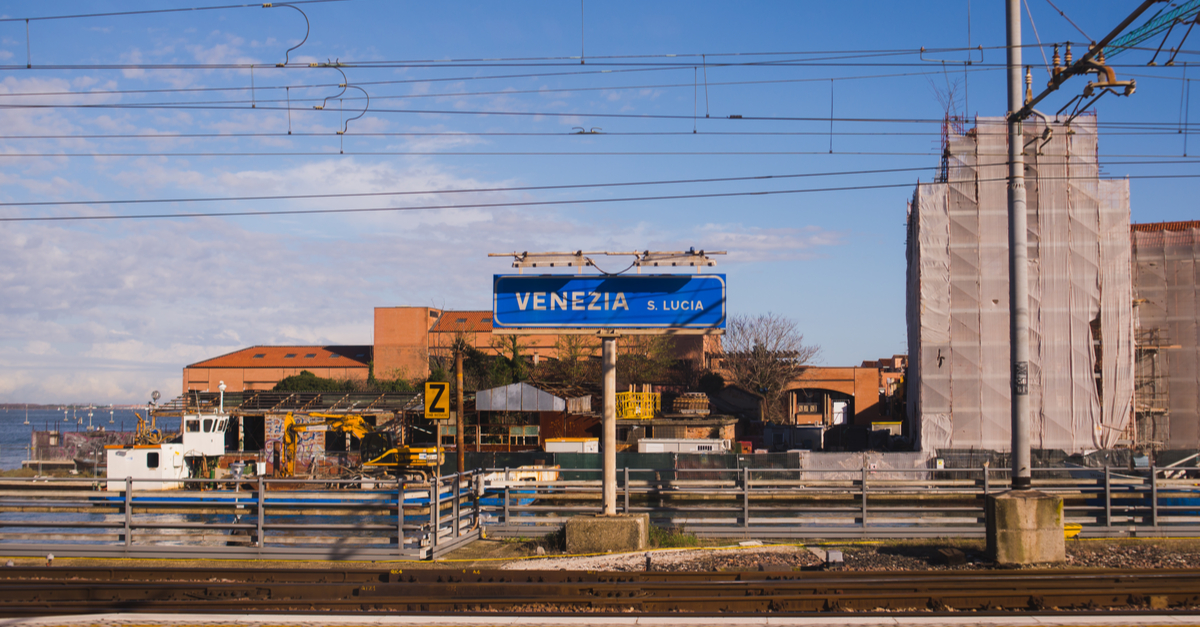 Venice Train Station. Source: Shutterstock
To Venice by train—travel tips
One of the most famous pieces of architecture in Venice is St. Mark's Basilica, a church full of Byzantine detail, golden mosaics and ornate sculptures. You'll find the Basilica and its bell tower in Piazza San Marco, a large square that is spectacular in its own right and also home to Doges Palace and the National Archaeological Museum. The Rialto is undoubtedly one of the most famous and iconic bridges of Venice along with the Bridge of Sighs.
The bridge crossing the Grand Canal is lined with shop fronts on both sides, and the bridge's highly detailed design makes it the most visited (and crowded) bridge in Venice. Walking along the Riva degli Schiavoni, not only will you be witness to the magnificent view of gondolas bobbing by the docks with San Giorgio Maggiore across the sea in the background, but you'll also find the famed classic viewpoint of the beautiful Bridge of Sighs.