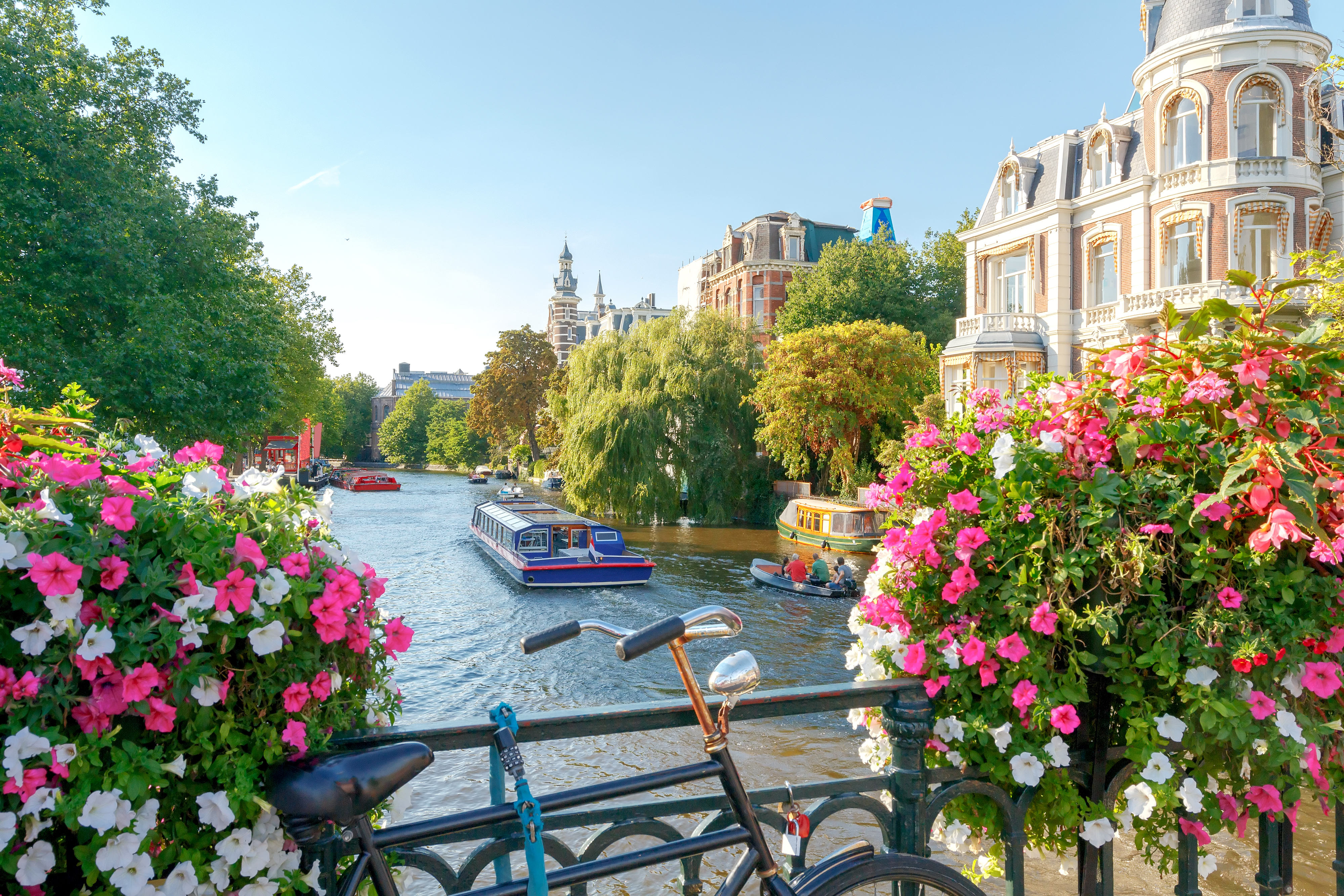 Travel by Eurostar to Amsterdam. Credit: Shutterstock
Popular Eurostar trains: a closer look
Eurostar: London to Paris
London to Paris are two titan cities, each containing its own unique blend of art, music, food, landmarks and culture. With the high-speed Eurostar trains between London and Paris getting you from city centre to city centre in just 2 hours 15 minutes, there's no need to confine your weekends to just one city. Visit the Tower of London and have a spot of lunch along the Southbank on the River Thames, then hop on the train to Paris for some afternoon shopping and dinner near the Moulin Rouge.
Eurostar to Amsterdam
Eurostar's London to Amsterdam direct connection departs from St. Pancras International in London and arrives in Amsterdam Centraal in around four hours. As not all London to Amsterdam connections are direct, it's possible you'll have a stopover at Brussels-Midi/Zuid, which can add another hour to your journey. For eco-travellers looking to start explore Amsterdam and continue on the journey by train to Germany, the Eurostar to Amsterdam is a great way to travel while reducing your carbon-footprint. For some inspiration on things to do in Amsterdam on the Window Seat, Omio's online travel magazine.
Eurostar and sustainable travel
Eurostar is seriously committed to creating sustainable train travel. To this end, the company has its own 10-point "Tread Lightly" environmental and sustainability policy. Additionally, Eurostar works with ReforestAction, the Woodland Trust, and Trees For All, planting a tree for every train trip it makes with its Trees for Travel campaign. Over 20,000 trees were planted in 2020 alone. Salient points of the Tread Lightly plan are the elimination of fossil fuels by 2030, reducing plastic consumption by 50%, and switching to a fully electric train fleet. In the Netherlands Eurostar trains have been powered by 100% wind since 2017, and as of 2023 that figure is 40% in the UK. Another strategy is working with the Sustainable Restaurant Association to improve its sustainable food credentials.
Eurostar FAQs
Ask the Expert about travelling on the Eurostar
"When I travel on the Eurostar, I always take a good read, my headphones for any digital entertainment (and to block out any chatty passengers), a bottle of water and a snack in a tote bag that I can tuck under the seat in front. By the time you've settled in, flicked through a magazine and munched on some crisps, you'll be in France!"

"I must give a shout out to the wonderful staff, who remain unflustered despite the thousands of passengers they deal with every day. On my last trip, even though I've travelled via Eurostar plenty of times, this so-called 'professional' traveller managed to leave her backpack at security. I only noticed as I sat down in my seat, 10 minutes before departure… yet, the helpful platform guard stayed calm (much calmer than me) and got the bag sent up without a fuss. Another happy customer!"
Emma Sparks, Deputy Editor at lonelyplanet.com
At Omio we want to make travelling as fun and as stress-free as possible. That's why we teamed up with travel expert Emma Sparks to see what it's like to travel on the Eurostar. Click here if you would like to read more about her experience travelling by train from London to Paris.