Buy Cheap Train Tickets with Omio
Omio is a travel website site that compares trains, buses, flights and ferries, all in one place. At Omio, we specialise in finding the best routes and prices for our customers. When searching for cheap train tickets in the United Kingdom, our search engine compares all the UK's biggest transport companies, routes, times and prices so you can find the best choice (and most affordable) for your trip.
Cheap train tickets in the United Kingdom, are out there and we've made it our mission to help you find them. When it comes to cheap train tickets, one rule is more important than the rest—book in advance! By doing so, you can get great prices for destinations all over the UK including London, Manchester and Edinburgh—you can even find cheap tickets to European destinations, too! Left things too late to book in advance? Don't panic! We've got plenty of other tips to help you find last-minute cheap UK train tickets.
How to Buy Cheap Train Tickets in the UK
There's a knack to finding cheap train tickets and luckily for you, we're pros—from the obvious (booking in advance) to the more subtle (opting for super off-peak times), we're here to guide you through the best hacks to finding cheap train tickets online.
The best way to get cheap train tickets is to book well in advance. Usually the earlier you book the better the prices you are offered. Another way to maximise your price choices is to be flexible around when you travel. If you are free to travel on quieter days or during off-peak hours you can make significant savings on train travel—meaning you can still find last minute cheap train tickets. You can also buy travel cards that, once purchased, can help you save every time you travel.
What buying an Advance ticket means:
Advance tickets go on sale way before the day of travel (usually around three months).
The earlier you buy an Advance ticket, the cheaper they are, however, they are non-refundable, so be sure to book the right journey!
Advance tickets can only be bought as singles and are only valid for the train the ticket was booked for, making them non-flexible.
If you buy an Advance ticket with Omio, it means you won't have any stress at the station as your ticket will already be on your phone. We'll also remind you about your upcoming trip, so you don't have to overthink it.
What Types of Train Tickets Are There?
You can buy peak and off-peak tickets for the UK rail network. Peak times are generally between 6:30 a.m. to 9:30 a.m. and 4 p.m. to 7 p.m. Monday to Friday. Off-peak tickets are any services running outside these hours and generally have better availability and can be cheaper too. You also have a choice of standard and first-class tickets on most journeys.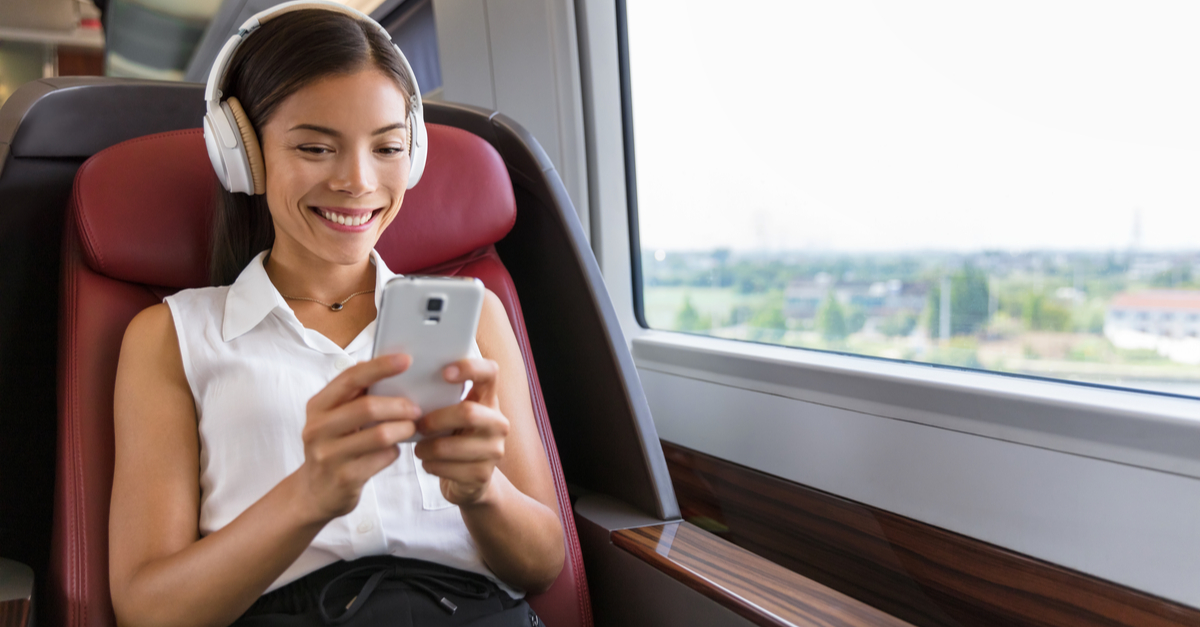 Train. Source: Shutterstock
Save Money, Buy a Railcard
With Omio you can add a railcard or discount card to your search or save it to your profile so that discounts can be factored into the ticket search. This is particularly helpful with the UK rail network as it offers a very wide range of railcards that secure discounts. These include youth, student and senior railcards. In addition, anyone aged 26-30 years can save one-third of their ticket price by getting a card. Similarly, groups that travel together can take advantage of the Family and Friends railcard, which gives children up to 60% off the original fare prices. Four adults and four children are eligible for each card. All railcards cost £30 per year except for the disabled person railcard, which is £20.
Choosing the right railcard can seem daunting but once you do, you can get up to 50% off each journey, which helps you save money in the long run. Best of all, you can use your railcards on Omio!
With many different railcards available, it's important to find the right one for you—take a look at the different types below.
| Railcard | Annual cost | 3-year cost | Who's it for | Discount |
| --- | --- | --- | --- | --- |
| 16-17 Saver | £30 | N/A | For anyone between the ages of 16 and 17 | 50% off |
| 16-25 Railcard | £30 | £70 | For anyone between the ages of 16-25 and mature students in full-time education | ⅓ off |
| 26-30 Railcard | £30 | N/A | For anyone between the ages of 26-30 | ⅓ off |
| Senior Railcard | £30 | £70 | For anyone aged 60 or over | ⅓ off |
| Two-Together Railcard | £30 | N/A | For two people, aged 16 or over, who travel together often | ⅓ off when travelling together. |
| Family & Friends Railcard | £30 | £70 | For up to four adults travelling with four children aged 5-15 | ⅓ off for adults / 60% off for children |
| Disabled Persons Railcard | £20 | £54 | For anyone with a disability that makes travel difficult | ⅓ off for you and a friend |
| Network Railcard | £30 | N/A | For anyone in London and the south-east, aged 16 or over | ⅓ off |
Other Ways to Save Money on Train Tickets
If you travel on the same route frequently you can save money by buying a season ticket that will cover the route or region for a specified period of time, allowing you to make as many journeys as you need. Family tickets are also a great way to save so if you are travelling as a family make sure and check out the discounts available.
Off-Peak and Super Off-Peak—What's the T(icket)?
Off-Peak tickets are available outside of commuter hours and are a great way to get discount train tickets. Their availability varies on the route, time of travel and day of the week.
Buy at any time—both in advance and on the day of travel. If you've bought in advance, you can change the date for a fee—this makes them semi-flexible.
Good news! You can find Off-Peak tickets during the weekend, great for day trips or weekends away. Off-peak returns are available, too.
A rare beast, the Super Off-Peak ticket works in the same way as Off-Peak but with more restrictions on when you can travel.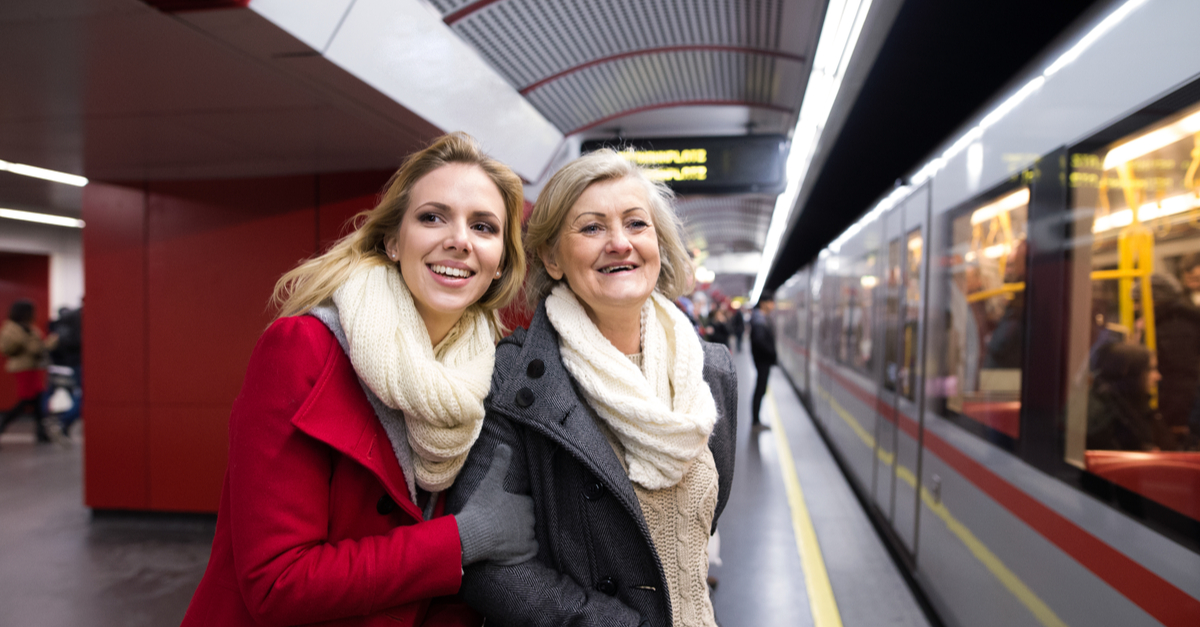 Waiting for the Train. Source: Shutterstock
Explore the UK by Train
Ever since the United Kingdom's first railroad came into operation in 1825, travelling the country by train has been a popular alternative to cars. With more than 20,000 miles of track throughout the country, you can travel to both big cities and smaller towns and villages. So, leave the car at home and discover some of these UK places by train.
The UK's train network is extensive and very well resourced. You can travel to a diverse range of destinations including the highlands of Scotland, the coast of Wales, the Midlands and Lakelands or the south coast and onward to mainland Europe using the Channel Tunnel. Find journeys to cities such as Edinburgh, London, Cardiff, Manchester, Brighton and Aberdeen for cheap. The UK countryside is also very well connected with smaller market towns and villages being easily accessed by train.
London
The UK capital needs no introduction. One of the busiest metropolises in Europe, it's also one of the country's most popular destinations. Well connected to the rest of the country and Europe by train, travelling to London by train means you'll arrive right into the heart of the city so you can start exploring straight away. From walks down South Bank to finding a quirky bar in SoHo to exploring popular markets such as Portobello in Notting Hill and Broadway Market in Hackney—there's plenty to discover! And we haven't even mentioned the many museums and theatres!
Brighton
Just an hour away from London on the train, Brighton is the place to go when the sun makes an appearance. With the colourful Lanes, vegan eateries, and colourful street art, Brighton is great for alternative types. No matter what your style, you can't help but love the seafront. The Brighton Pier is a throwback to the golden era of the British seaside holiday and is lovingly preserved, the Pier is a great place to get some fish and chips, play arcade games and watch the sunset. Just watch out for the hungry seagulls!
Manchester
One of the most popular cities in the North of England, you can get to Manchester by train from London in just over two hours. This old industrial city, which is now a hub for students, is known for its warm hospitality, lively nightlife and being home to some of the UK's biggest bands—like Oasis and the Stone Roses. Take a stroll around the small but perfectly formed city centre before heading to the Northern Quarter, where you'll find cool shops and cafes in old factories.
Cheap Train Tickets in Europe
Omio covers rail travel in the UK but also in Europe. You can book train journeys on the platform with as much ease as if you were booking in the UK. Simply enter your travel details and Omio will provide you with detailed and clear options around the best routes, journey times, fares and discounts available on European trains.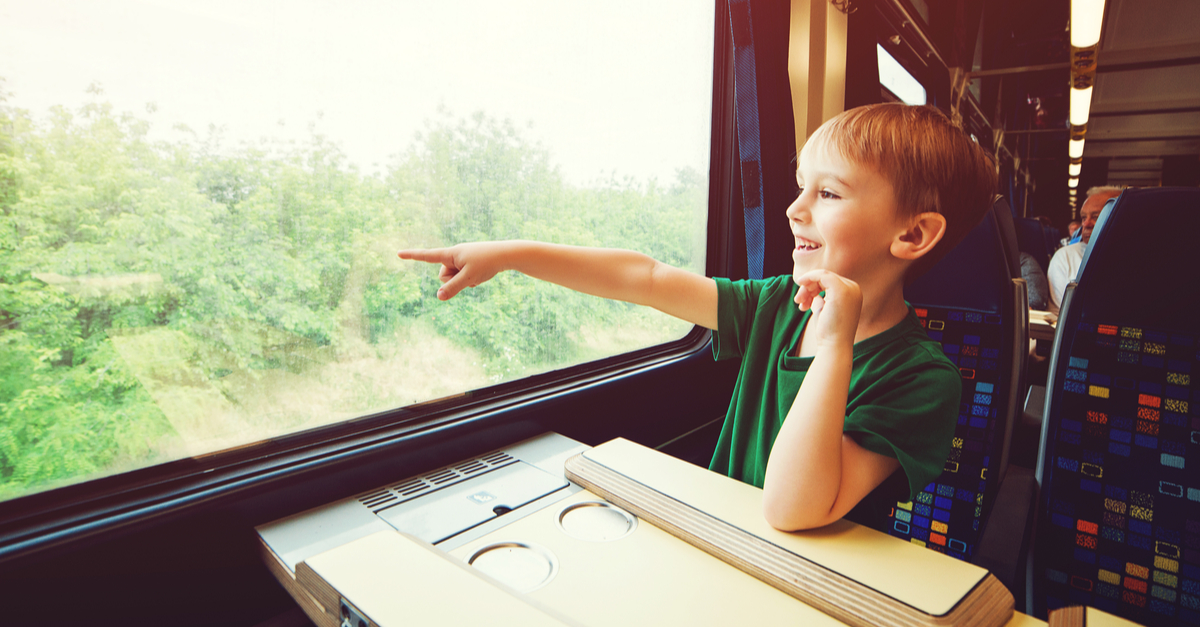 Train. Source: Shutterstock
FAQs: Cheap Train tickets:
You can use the booking reference provided by Omio to collect your ticket from a machine in the departure station. You may also choose to have the ticket emailed to you for use with your phone or have it stored within the Omio app.
No, in the majority of cases you will not need to print your ticket. You can save it to your phone or other device or to the Omio app.
Bank holiday train times tend to be similar in frequency to Sunday hours. On Sundays there are generally fewer trains and connections can take more time. If you need to travel on a bank holiday make sure and check your train times and connections in case they change radically.
The higher price between first class and second class purchases a more comfortable, quiet and more attentive service. First class passengers tend to have more legroom, dedicated staff for their carriage and a higher quality food and drink service. The first class carriages tend to be quieter also.
To get the cheapest train ticket you should travel at off peak times and on quieter days of the week, such as Mondays.
Peak times are generally between 6:30 a.m. to 9:30 a.m. and 16:00 p.m. to 19:00 p.m. Monday to Friday.
Anytime train tickets are completely flexible train tickets that can be used at any time and on any service on the route the ticket applies to. They are an alternative to peak or off-peak tickets which can only be used during designated times. They are best for people who are unsure of their travel times in advance and may need to change their plans.
Yes, you can make significant savings by booking in advance. The earlier you book the better fare choices you will be offered.
Some services do allow you to buy a ticket on the train but you will not be able to avail of any special offers or ticket discounts.
Children under the age of five travel for free on all UK rail services.
From the age of 60 you are eligible to purchase a Senior railcard. You can use this card while booking your ticket to avail of discounts on your tickets.
Trains in the UK have a very wide range of ticket prices. They go up in price the closer you get to the departure date. If you are buying your ticket for same day travel then it will be a lot more expensive than if you bought it in advance.
A season pass suits people who are travelling in the same region or on the same route repeatedly. It allows you to travel that route or series of routes as many times as you want for a flat fee for the season pass price.
There are more than 30 different rail companies in the UK, making it a complicated network to book tickets for. Omio simplifies this by giving you the clearest information around operators for all the routes you need to travel. The rail network is organised on regions and routes, so particular companies service different routes such as ScotRail, Transport for Wales and Hull Trains.
National Rail then has relevance to all operators and regions. Some of the biggest operators are LNER, which manages a large region that stretches from London through the Midlands and as far north as Edinburgh in Scotland. East Midlands Railway intersects with this region but it's mostly found in cities, towns and counties northeast of London. The high-speed Heathrow Express company is one of the busiest given its destinations - Heathrow Airport and London city - but is also limited to that route.
Each network operator is very specific. CrossCountry, owned by Arriva UK Trains, manages routes from Scotland, northern England, as well as parts of southern Wales and England. They don't operate in London. Each of the operators manages their own passenger amenities but there is general equity between areas like comfort onboard, ticket and railcard discounts, disability access and general standards of UK rail.
With 28 different train companies, train travel in the UK can be hard to navigate. The good news is they all offer the same ticket types so if you're looking for cheap tickets, you'll know which ones to look for. Below, you'll find a list of the most popular train companies in the UK and what they offer.