Trains from New York to Philadelphia
Trains from New York City to Philadelphiacover a distance of 80 miles (129 km). A journey covering that distance will take an average of 1h 30min to complete. There are around 25 trains per day between New York City for Philadelphia, and all of them are direct trains.
New York City to Philadelphia Train Time: Daily Departures
There are 25 direct trains per day and 166 trains per week that depart from New York Penn Station and arrive at 30th Street Train Station in Philadelphia. The amount of trains leaving per day is more frequent on weekdays, especially during the early morning rush hour and the later evening service. Over the weekends you will find that the average amount of trains is about 17 per day. The first New York City to Philadelphia train departs at 04: 58, and the last departing train leaves at 23:25.
How long is the journey by train from New York City to Philadelphia?
When booking train tickets from Philadelphia to New York, you will find that all the trains available are direct trains. You will not need to allocate travel time to incorporate a changeover in the journey. The overall duration of the trip is around one hour and 30min. However, if you are flexible with your departure times, you can find faster trains. The fastest route takes an hour and 10min.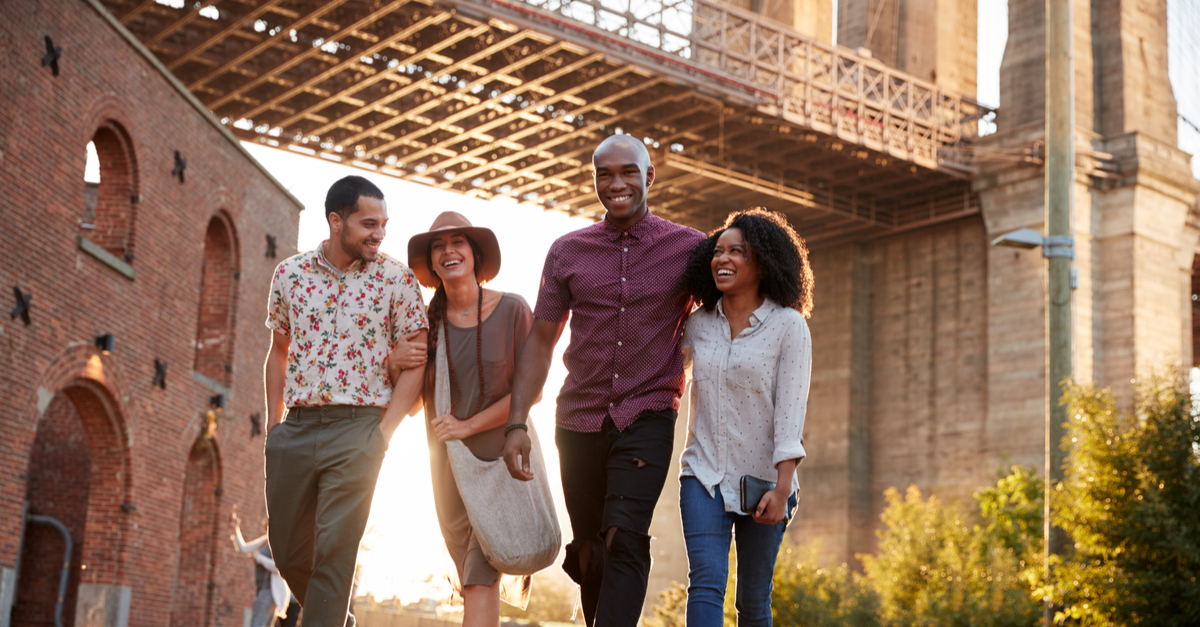 Trains from New York to Philadelphia: friends in Brooklyn, New York. Source: Shutterstock
What are the departure and arrival stations for trains from New York to Philadelphia?
Departure train station: When arriving at your departure station for your train trip from New York City to Philadelphia, you will be departing from Penn Station, New York. Heading to the station from the city centre of New York is easy with the different public transport options available. There are two different subways routes you could take, one being on Line 2, which will take about 18min, and the second also runs along Line 2 but does make one stop at Chambers St. Catching a bus is a great option for those of you who would like to take in the sites and sounds of the city as you go. The bus departs from New York city hall and takes around 30min to complete the journey.
Arrival train station: When you arrive in Philadelphia, you will be at 30th Street Station. You might need to head to the city centre of Philadelphia for the next leg of your trip or to reach your accommodation. The city centre is easily accessible on the different public transportation modes available. Firstly you could catch a train. The journey is about 5min long and leaves every 10min. A slightly longer option would be to catch the subway. If you are travelling on a budget, the cheapest option is to hop on the tram. The trip will take about 12min to reach the city centre. Two different buses run this route, and both will take less than 20min. The fastest and most direct option would be to catch a taxi.
Which train companies travel from New York to Philadelphia?
When catching the train from New York to Philadelphia, you will be travelling by either Acela, a division of the Amtrak train company. Acela is Amtraks signature high-speed train service operating along this route and many others along the Northeast Corridor (NEC). All the trains operated under the Acela umbrella running from New York City to Philadelphia are direct trains. The only factors that will affect your trip's duration are which days and times you book your departing ticket.
Night trains New York City
Trains running the route between New York City and Philadelphia operate during the night; however, there are no specific night train services offered for this route due to its short distance.
Acela trains from New York City to Philadelphia
Acela trains are specifically designed for speed and service. The name Acela comes from blending the two words acceleration and excellence. The whole idea of these high-speed trains was to provide no-stop train travel, and so you will find that all the trains operating this route are direct. When planning your train trip from New York to Philadelphia, you should allow for around 1h 30 min travel time. However, if you check the schedule, you will see shorter train journeys available. The quickest option will be 1h and 10min.
Trains from New York City to Philadelphia: Sustainability travel
Traveling on Acela trains operated by Amtrak trains are 46% more energy-efficient than travelling by car and 34% more energy-efficient than domestic air travel. In terms of energy consumption, use of space, and noise levels, trains are far more sustainable. The amount of carbon emissions made by train travel is substantially less than that of any other mode of transport, except for biking or walking.
Train New York City to Philadelphia: Services on Board
When you book a ticket on an Acela train, you will be able to upgrade from a standard seat to a first-class seat. Acela First-class customers enjoy amenities, including personalized attendant service with complimentary food and beverages. You will find that the seats are reclining and wider than the usual seating, with more spacing between seats. The luggage requirements on Acela trains allow you two carry on bags or two personal items that are considered carry-on bags. The maximum bike allowance is two bikes per train, so book your bike on the trip in advance. They permit Pets in Coach Class and Acela Business Class. For those passengers travelling with mobility issues or other disabilities, you will receive a 15% discount on your tickets and can request assistance during your travels.
How to find cheap train tickets from New York City to Philadelphia?
When you plan your trip to Philadelphia from New York City, there are some key factors to consider when looking for cheap train tickets. Firstly you should be flexible with your travel dates. Travelling over a weekend can sometimes be more expensive. Travelling close to or on a public holiday or festive season at a high traffic time will be more expensive. Moving your dates one or two days on either side of your planned travel dates can reduce your ticket price by up to 50% in some cases. This same concept applies to travel times. If you want to travel during high peak times, your tickets will be more expensive. Booking in advance is a sure-fire way to ensure cheap tickets. You can book tickets up to six months in advance on Omio. Generally, the faster the journey, the more expensive the ticket. In this case, catching a slower train only increases your travel time by about 10 mins so picking a slower train could save you some money. For more ideas on how to find the cheapest tickets, be sure to log onto the Omio Magazine for travel tips alone this route.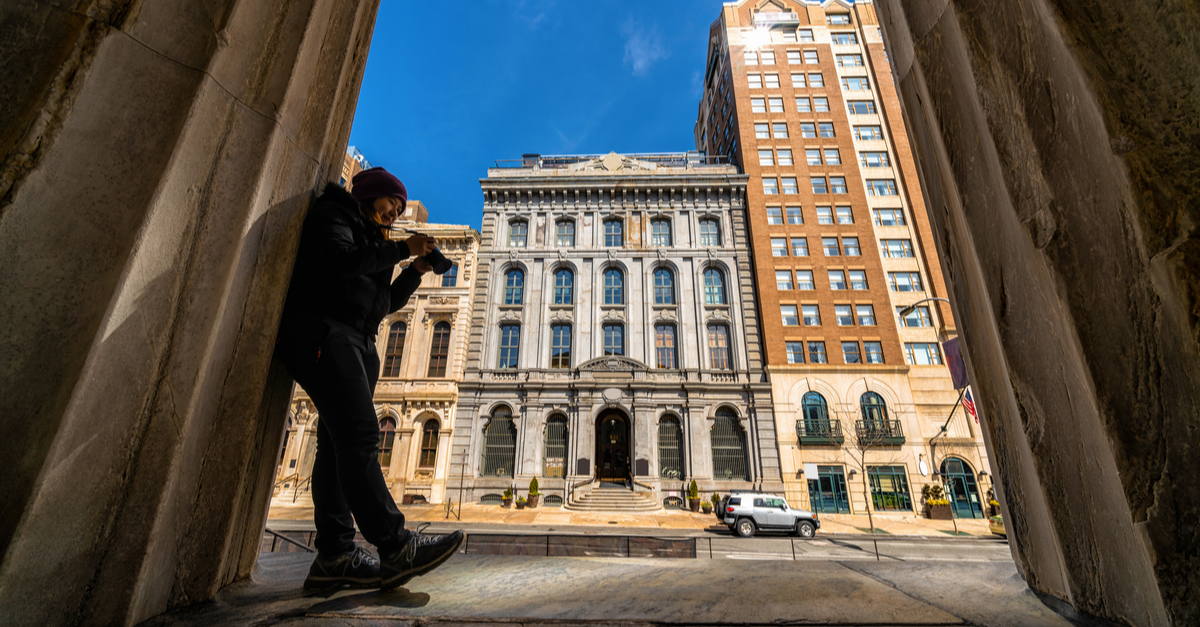 Trains from New York to Philadelphia: photographer in fron of the Bank of Philadelphia. Source: Shutterstock
To Philadelphia by train—travel tips
Philadelphia is rich in attractions that tell America's story. The city has so much to offer for travellers who enjoy diversity. You can look forward to a wide range of ethnic and global cuisines pulled off in style by some of the worlds top chefs. The streets are rich with artistic expressions from all corners of the globe. Stroll around any of Philadelphia's streets, and you will come across murals, mosaics and art museums. Lovers of the great outdoors will not feel trapped by a big city feel. Philadelphia's park system spans over 10,000 acres and is teaming with walking, hiking and biking trails. Hike through Fairmount Park or Wissahickon Valley Park, stroll Race Street Pier along the Delaware River. If retail therapy is top on your holiday activities list, shop your way through international brands and locally owned boutiques in Rittenhouse, considered the shopping capital of the area.
East Passyunk Avenue
South Philly Barbacoa
King of Prussia Mall
Barnes Foundation
Museum of the American Revolution