Buy your sleeper train tickets on Omio
With Omio, you can search and book a range of night trains across Europe, so you can take in the magic of the continent after hours. Buying a ticket for an overnight sleeper train on Omio is easy, after you've booked your tickets are sent directly to your mobile. Whether you plan to rest up, read the Omio magazine, Window Seat for inspiration, or simply enjoy the view, you can travel in style on a range of iconic night train routes in Europe.
Night trains connecting Europe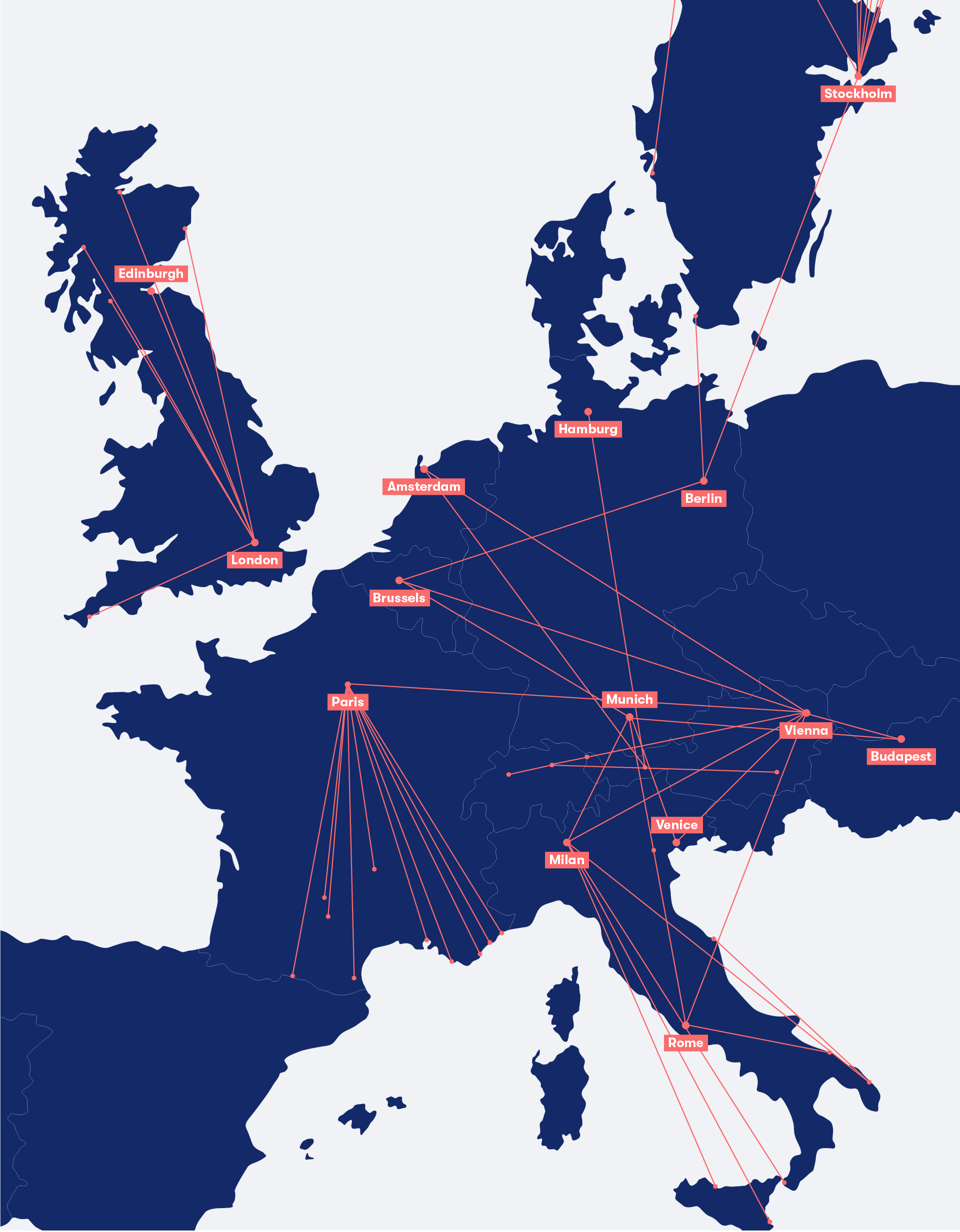 Night trains exude the charm of times gone by, yet they're more convenient than ever—and practical. Depending on the fare, you can expect a comfortable bed or recliner, snacks and breakfast in the morning. In the evening, make yourself at home and let the gentle hum of the train lull you to sleep. In the morning, you'll wake up refreshed at your destination and can start exploring right away.
The advantages of a night train are clear: you save both time and a night in a hotel, plus you don't have to worry about luggage allowance. Night trains are also environmentally friendly, something that is becoming increasingly important to many travellers around the world with irreversible climate change on the horizon.
Discover how to make your trip by night train an unforgettable experience. Check out our tips and tricks for a pleasant overnight journey!
How to buy cheap sleeper train tickets in UK
It's easy to buy cheap night sleeper train tickets with Omio. With tickets going on sale as far as six months in advance of the departure date, you'll be able to search for cheap tickets well before your trip. If you are flexible with the date of your journey then you may also find this helps you find cheaper night train fares in Europe, as travelling a few days either side off your preferred date might cost less. If you are travelling on a shoestring then you can opt for the cheaper seating option on the overnight sleeper train rather than cabins, which tend to be more expensive.
Night trains are more sustainable than flights
Travelling on overnight sleepers in Europe is more sustainable than if you were to make the same journey flying. Studies have shown that flying releases more carbon dioxide per passenger than if you were to take the train on the same route. You will also find that taking a night train contributes less to noise pollution compared to flying, which not only has a positive impact on local wildlife, but also the welfare of urban and rural communities living close by to the tracks. With many trains running on electric energy too, compared to fuel in aeroplanes, it's clear that overnight trains are the winner when it comes to sustainable travel.
Sleeper trains in the UK
Fall asleep in one city and wake up in another—sounds like a dream to us. The UK might be small but there are still night trains to enjoy, such as the Caledonian Sleeper, which travels from London to Edinburgh and vice versa. Alternatively, you could also travel overnight from London to Penzance with Great Western.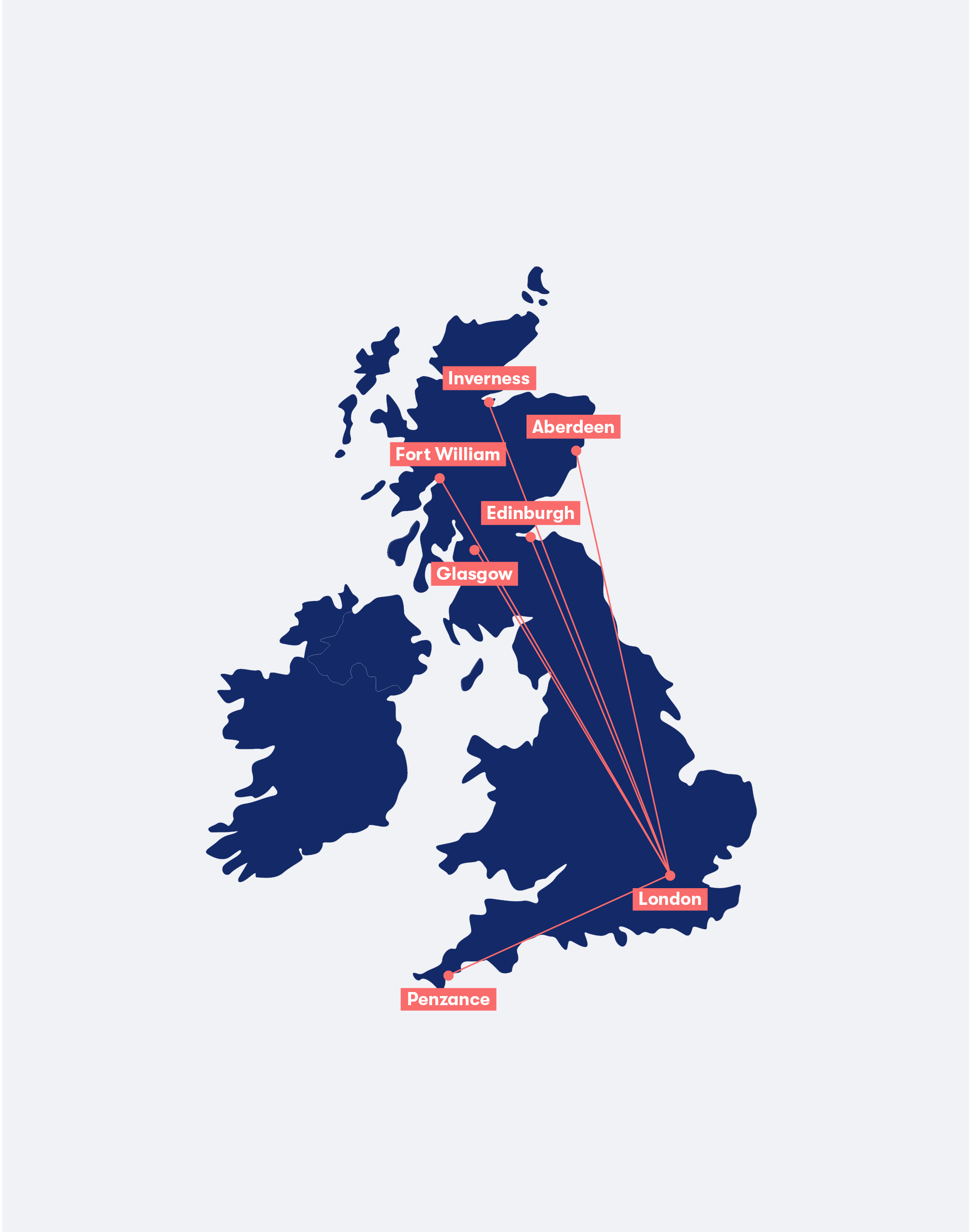 Popular sleeper train destinations in the UK
Whilse there aren't too many night trains in the UK, there are two main routes that operate nearly every day of the week. You can travel on the Caledonian Sleeper from London to Edinburgh, which leaves at around midnight and arrives in the early morning, taking roughly 7hr 40min. Alternatively, if you're heading to the southwest of the country, you can take a Great Western Railway train from London to Penzance in Cornwall. These night trains operate on a near-daily basis, departing just before midnight and arriving in Penzance in the early morning, in total this route takes about eight hours.
Night trains in Europe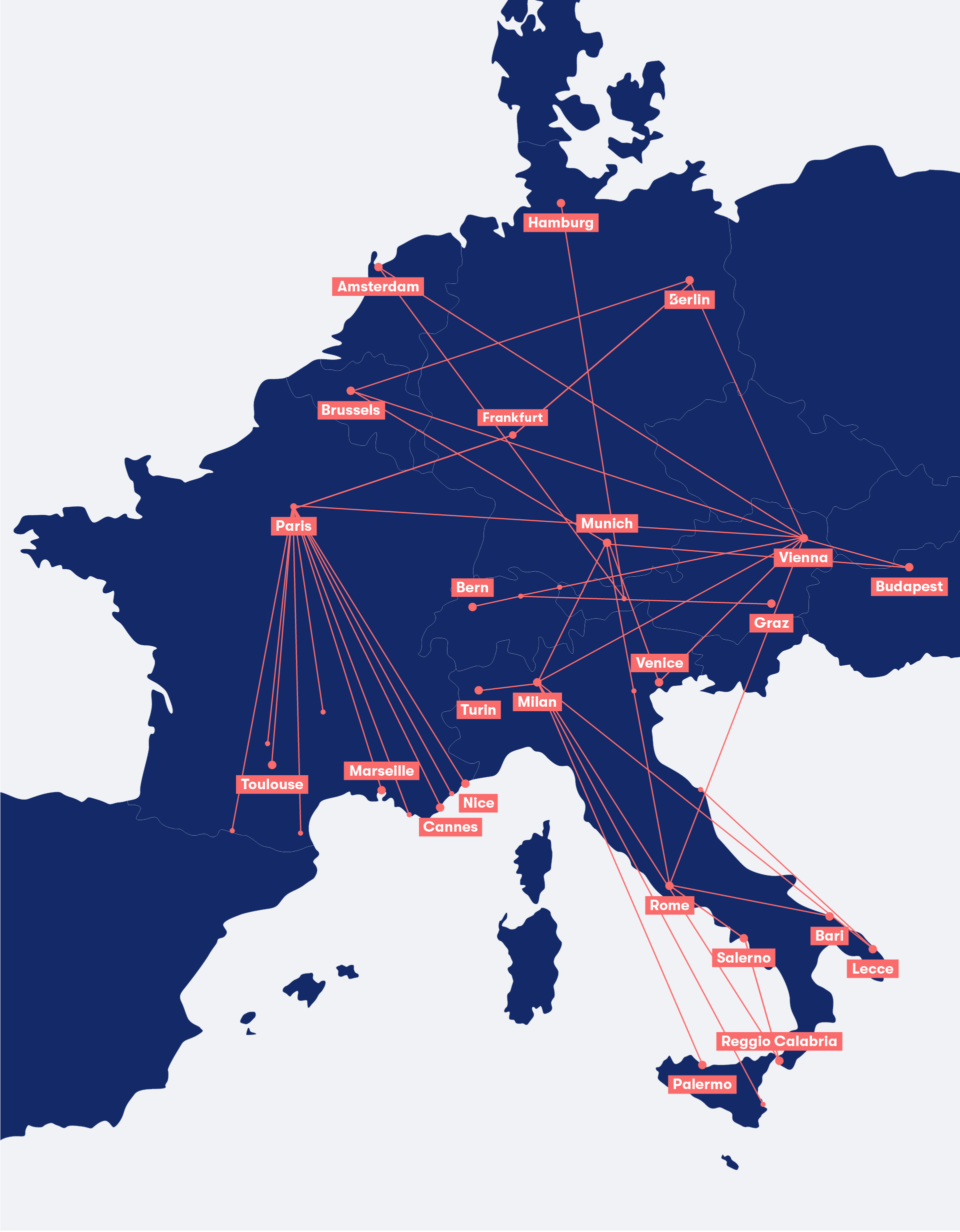 Enjoy the romance of a night train in Europe, with one of many night train companies on the continent. No matter if you're travelling with Great Western Railway or the Caledonian Sleeper in Britain, or with the Intercity from SNCF in France, there are a great range of overnight sleeper trains for you to enjoy. Travel from Germany and Austria, with DB and the OBB Nightjet respectively, to numerous locations across Europe, such as Vienna to cities such as Rome, Hamburg, and Amsterdam.
In Italy, you can choose between Trenitalia's Intercity Notte train or the Frecciargento night train, both of which will get you to various locations with ease—Palermo to Milan is a particular popular night train route. SNCF in France is another night train operator which has a range of routes including those from Paris to Nice. You can also take a night train from Malmö to Berlin with the Swedish operator Snalltaget, whilst another Swedish company, SJ, operates night sleeper trains on routes such as Stockholm to Narvik. Germany also has a very comprehensive schedule of night train routes with DB. All trains that operate these routes provide the option of a sleeper cabin or comfy seating, so you will arrive at your destination feeling well-rested.
Popular sleeper train destinations in Europe
Take an overnight sleeper train to a city of your choice and explore Europe in style—and more efficiently, too! Opt for an overnight sleeper from Berlin to Vienna with DB. These trains depart every evening and arrive around mid-morning, taking just over 12 hours.
In Sweden you can travel with Snalltaget from Malmö to Hamburg on a night sleeper train, taking just over 7 hours. SJ in Sweden also operates internal night trains from cities such as Stockholm to Kiruna. These trains depart in the early evening each day, arriving at Kiruna in the morning, taking around 15 hours.
There are also a lot of sleeper trains in Italy with Trenitalia, so you can explore this fascinating country with ease. For example, you can jump on a train from Milan to Lecce, with there being two-night trains that operate daily. The earlier train from Milan to Leece takes in the region of 11hr 35min, whilst the later train takes a bit longer at about 12hr 47min. You can also travel from Rome to Padova on an overnight sleeper train, with a night train departing every day.
France also operates many sleeper trains throughout the country, with SNCF Intercity operating two sleeper trains daily to Nice from Paris, both of which leave in the early evening and arriving before noon the next day, both sleep trains take an average of 15 hours. You can also catch these same night trains from Paris, if you are going to Cannes, with the trains arriving slightly earlier. depending on which one you take. Travel with OBB if you want to go from Hamburg to Basel on an overnight train, with there being daily sleeper trains taking about 10 hours.
Travelling by sleeper train in Scandinavia Scandinavia has many options for night trains, especially if you are travelling from Sweden. One of the main night routes from Malmö in Sweden is to Hamburg in Germany. This route is operated by Snalltaget daily and takes just over seven hours, departing in the evening, arriving in the very early morning. If you want to travel internally in Sweden, you can take a night train on a popular route from Stockholm to Abisko, which departs in the early evening daily and arrives the following day in the mid-morning. This journey tends to take approximately 16 hours, so you'll have plenty of time to enjoy the ride.
Couchette vs Sleeper
When you take an overnight train in Europe, you'll get the option of travelling in regular seating, a couchette or a sleeper carriage. What's the difference between a couchette and a sleeper carriage? Well, a couchette is normally a seating compartment by day, which is converted into a bunk bed style sleeper by night. Sleeper carriages on the other hand are normally more luxurious, with there being freshly made beds and a sink for you to freshen up in.
If you're on a budget, it's cheaper to opt for a seat rather than a couchette or sleeper cabin on a night train. The seats are normally larger than on normal trains, making them comfier and better for sleeping. Couchettes and sleepers will ensure better sleep but the costs are much higher. They're definitely worth it though, especially if you're planning on exploring your arrival city as soon as you get to the train station.
Tips for travelling on a night train
Travelling on sleeping trains can be a very exciting experience, especially if you've not travelled on one before. To make sure you get the most out of your experience, follow these simple tips. If you're a light sleeper, take some earplugs and an eye mask with you, this will ensure a more peaceful nights sleep. To enhance your comfort, why not take a blow-up pillow with you? Besides, no one wants to have a cricked neck when they wake up! Also, remember to dress comfortably, so you can stretch out to your heart's content. Lastly, bring plenty of water onboard the train with you as well as some snacks, just in case you get the urge for a midnight feast.
FAQ: Night trains in Europe
You can book the night train on the Omio App, where you can search different routes and get the ticket delivered directly to your account.
You can use your e-ticket on your mobile phone to travel, which is great for the environment as it saves paper. Should you want to print your ticket, you will also have the option to do so.
Night trains offer you the chance to travel between two locations without wasting the day. It also saves on hotel costs for the night as you'll get to sleep on board the train.
Night trains travel during the night, whereas regular trains travel during the day. Night trains also tend to take longer and provide comfortable areas for you to rest your head during the journey.
You can travel on night trains if you have a disability or mobility issue. However, you should contact the train company ahead of your journey so that they can arrange assistance for you to board and alight the train.
Children under certain ages get a reduced fare for sleeper trains. This reduction may vary depending on which company you travel with.
Children under the age of 16 are not normally allowed to travel alone on sleeper trains in Europe.
Luggage policies vary depending on which operator you are travelling with. A good rule of thumb is that you can take one large suitcase and one bag of personal belongings with you. It's important that you check with the luggage policy of the train company that you are travelling prior to departure.
The good news is you can take your furry friend on most night trains in Europe, but it's always a good idea to double check first before you book your tickets.
Many of the sleeper trains in Europe allow you to take your bike on board, which is great for cyclists. Some operators have different rules though, such as requiring the use of a bike bag, so it's best to check before you arrive.
Not all night trains provide Wi-Fi, although many do. If you need access to the internet while travelling, check with your train operator prior to booking, or take a Wi-Fi dongle just in case.
You will need to book either a seat, a couchette or a sleeper when you travel on a night train. These can be chosen when you book your ticket.
Night trains are often cheaper then trains that complete the same route during the day. If you book in advance you are especially likely to find a great sleeper train deal. You also have the bonus of saving on accommodation, which can help keep costs stay down.