Flights to Paris
You'll find yourself falling in love with the beauty of Paris as soon as your flight lands on the runway of Paris Charles de Gaulle Airport (CDG.) It has lots of attractions on offer and sights to appreciate and doesn't just provide fun for couples on their romantic breaks, but it also provides loads of fun for families too. The city of Paris and the Paris Charles de Gaulle Airport can be reached from most airports in the UK, and you can expect most airlines to fly here. Enjoy the likes of EasyJet, Vueling, British Airways, and others, on your short-haul flight of only an approximate 1h 20min. Since the flight is so short to Paris you will find direct flights to this destination. It is very unlikely that you will have to transfer flights along your trip. Paris Charles de Gaulle Airport is located only 18.6 miles (30 km) from the city centre of Paris.
British Airways to Paris
Flights to Paris with British Airways will reach the airport of Paris Charles de Gaulle (CDG.) You will have the comfort of flying with one of the world's leading airlines with the promise of great service. British Airways promise to be accommodating to all passengers. If you're a passenger with reduced mobility, then expect British Airways to go above and beyond in their efforts to help passengers. You can expect access to and from the aircraft as they make your flight as comfortable as possible. If you're travelling with British Airways, then you can also use the eco-friendly use of an e-ticket. The airline offers a great number of facilities in the price of their budget-friendly fare and facilities include charging points, comfortable seating, along much more! Travelling with British Airways will also mean that you're travelling with an airline that offers efficient, punctual, and efficient travel.
EasyJet to Paris
Travelling with EasyJet means that you have budget-friendly fares at a low cost. In your budget-friendly ticket, you will find access to lots of onboard and useful facilities like charging points, spacious room for your hand luggage, and much more! You can expect great service from staff during your flight and even when you are offboard the aircraft. If you have reduced mobility access, then you can expect that EasyJet staff will help you onto the aircraft and can help you with any additional help that you may have. Travelling with EasyJet means that you can also use an e-ticket. Your ticket will allow you onto a flight with an airline that promises efficient and on-time travel. Flights to Paris with EasyJet will reach the main airport of Paris, Paris Charles de Gaulle (CDG.)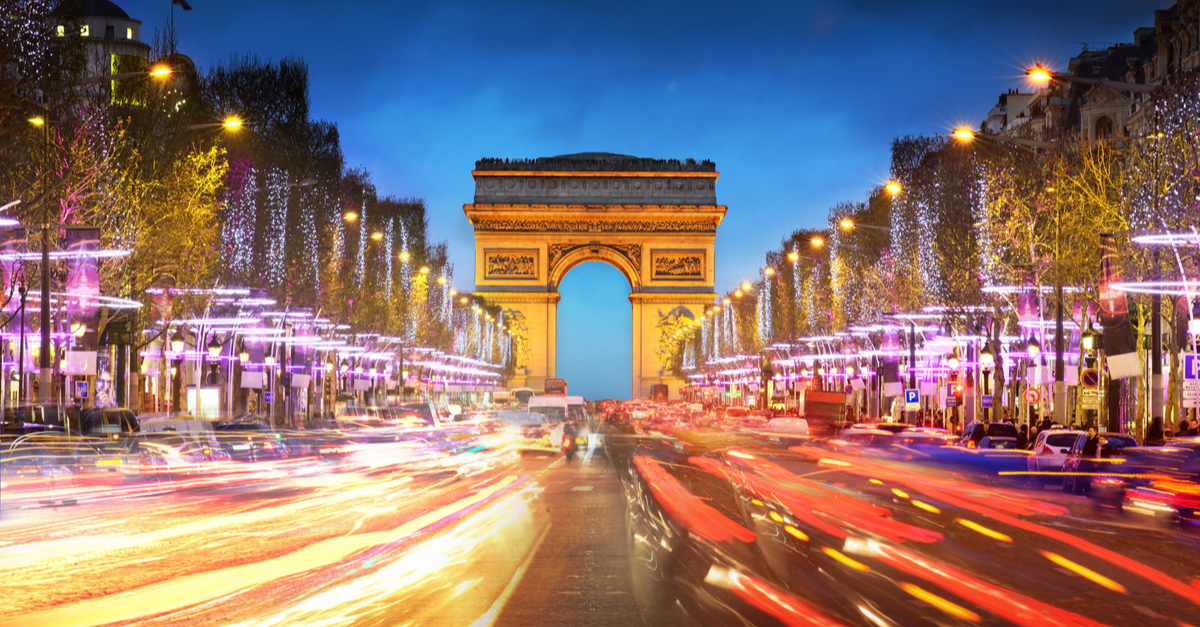 Paris Night Lights. Source: Shutterstock
Main flight stations in Paris
Flights to Paris will reach the airport, Paris Charles de Gaulle (CDG.) This airport serves the city of Paris and sees in flights from most major places around the world. The airport is easily accessible and can be reached from most airports in the UK. It is very uncommon that you won't find an airport that will reach this airport. The short-haul flight averages at approximately 1h 20min and can be done so by airlines like Vueling, EasyJet, British Airways, and others.
Most airlines will fly to Paris, and you will almost always find direct flights to Paris Charles de Gaulle as the trip is short and easy to reach. You will find the city of Paris at a close distance of 18.6 miles (30 km) and it can be reached from most forms of public transport or by taxis that are situated in the taxi rank outside of the airport. Paris Charles de Gaulle Airport is unique in its qualities and is highly entertaining with its large gaming facilities that are located inside the airport and accessible to all guests that travel through here.
Onboard facilities to Paris
Despite the fact that the journey to Paris is short from the UK and at an approximate time of 1h 20min, flights to Paris offer a large variety of onboard facilities for you to enjoy included in the price of your ticket. You may not be promised the use of television screens but this short flight but on rare occasions, you might be gifted them! Facilities are similar onboard your trip to Paris but can sometimes slightly differ depending on the airline that you're travelling with so it's best to check beforehand.
Airlines like Vueling, British Airways and EasyJet who commonly fly to Paris will offer you comfortable seating, lots of additional space for you to store your hand luggage. All tickets with these companies are budget-friendly and they offer great service to those onboard their flight and even before they board the aircraft. The airlines are accommodating to all passengers and also offer additional help to those with reduced mobility.
Flights to Paris: Useful to know
Flights to Paris can be reached by a large number of airlines as the trip is short, quick, and convenient from the UK. Flights will reach the main airport of Paris, Paris Charles de Gaulle Airport (CDG), and can be done so from airlines like Vueling, British Airways, EasyJet, and others. These airlines offer the convenient and paperless use of e-tickets that can be shown on any electronic device of your choosing. Don't worry about your electronic device running out of charge because at the airport you're travelling from, as well as on the aircraft of these companies, you'll find a large number of charging points that will allow you to keep your electronic battery high.
Buying flight tickets through Omio is quick and easy. You can find great prices and you also have the ability to sort and file your future flight tickets in your Omio account to make travelling stress-free and organised. When using an e-ticket make sure that your passport always matches the name given on the ticket. If the ticket name doesn't match then you could be refused access to your flight.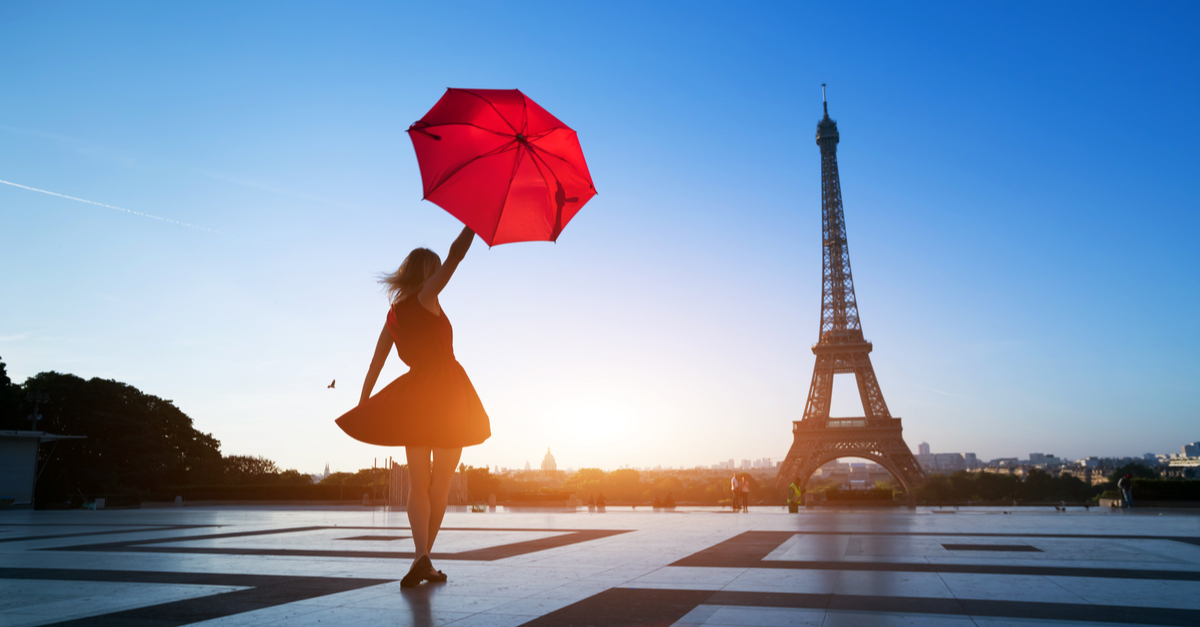 Paris Girl. Source: Shutterstock
To Paris by flight – travel tips
Paris doesn't get the name as the most romantic city in the world from just anywhere. Paris is a perfect trip for couples to enjoy that much needed romantic getaway, but it also offers attractions that the whole family can enjoy. Visit and appreciate some of Paris's biggest attractions like the Eiffel Tower and reach the top of the attraction to enjoy the breathtaking views at the top. Or perhaps you want to see the famous artwork of the Mona Lisa at the popular Louvre Museum.
Alternatively, visit the landmark of the Arc de Triomphe. There's lots to do and ways that you can spend your time in Paris. If you're planning on visiting a wide range of the attractions and sights available, you can do so through the public transport available in the city. You will find that train is one of the easiest forms of transport and you can find that the city is aligned with lots of railway stations.
Paris is gifted with the ability of lots of attractions and landmarks that's well-suited to the entire family, as well as just couples. People watch at the window of bars, restaurants, and cafes, that align with the city of Paris. Enjoy a typical hot drink as you watch the city go by. There's so much to see and so much to do that you'll undeniably be spoilt for choice on how to spend your time here.
Enjoy the views at the top of the Eiffel Tower or visit the attractions and landmarks that hold hidden secrets to the city. Or perhaps, you're visiting Paris to declare your love through a lock on the lock bridge. Even before you've left the city, you'll be instantly wishing to come back as you already plan your return. And when you do, Paris will be happy to have you.