Types of Avanza buses
Avanza has a range of fleets with different facilities across their bus services, depending on your travel route. When booking your Avanza bus tickets, look out for the following options:
Normal: reclining seats with individual air-conditioning and lighting, adapted for passengers with reduced mobility and with safety belts.
Express: in addition to the 'Normal' seat offering, they have amenities such as free Wi-Fi, WC, low-emission engines, more space between seats, a DVD-video system and plugs.
Multimedia: the multimedia fleet is the most modern in Avanza. In addition to the comforts of other types of buses, they offer USB ports, air-conditioning and space to travel with your pet.
Multimedia Plus: like Multimedia but with more services, such as more space between seats, extra tinted windows, a baby changing table in the WC and real-time monitoring of the route.
Multimedia VIP: onboard assistant, luggage control system and catering service on board. Only available for lucky passengers travelling between Madrid and Segovia.
Avanza: Services on board
Passengers travelling on Avanza bus services can book Standard Class tickets for bus trips across Spain.
Express services on selected routes feature seats upholstered in leather and offer seat-controlled air conditioning, newspapers and free Wi-Fi for additional passenger comfort.
Passengers are allowed to bring two items of luggage in the hold that do not exceed 30 kg in total and one small backpack or bag on board.
If you have restricted mobility and need assistance boarding, contact Avanza 48 hours before you travel. Avanza has a fleet of 75 buses with access ramps and lifting platforms for wheelchairs.
Passengers will need to pay an additional fee if you are travelling with a bicycle. You will need to remove the front tyre before your bike is placed in the hold.
Pets must be placed in a pet carrier and will travel in the hold of the bus.
Passengers are not permitted to eat on Avanza buses. Some services will stop at rest areas along the way where you can have a light snack.
Discover new Avanza bus destinations
Avanza connects some of the most important Spanish cities in the centre of the country to smaller destinations along the coast or in the mountains.
Take an Avanza bus from Madrid to Segovia
Planning a trip from a href="// www.omio.co.uk/coaches/madrid/segovia">Madrid to Segovia? Omio have put together a snapshot of all the important information to make planning easy. When you're ready to book, just head to our handy search tool and we'll find the best ticket for your journey.
The journey can take from 80 min to 1h 45 min.
The first bus departs around 6:30am and the last bus leaves Madrid at around 11pm.
At least two coaches depart every hour.
Buses depart from Madrid Moncloa, the Universidad Complutense Madrid, the South Campus of the Universidad Politécnica de Madrid and a few other university bus stops.
Avanza buses Spain arrive in Segovia at the Estación de Autobuses Segovia and the bus stop at Jose Zorrilla 132.
The Avanza bus route from Madrid to Valencia
Thinking of heading for a weekend out by the Mediterranean sea? Travellers can easily get from Madrid to Valencia on an Avanza coach, for an affordable last minute option to get out of the city and onto the beach.
The trip can take from 4h 15 min to 5h 30 min.
The first bus departs from Madrid at around 6:30 am and the last bus leaves at around 6 pm.
Around 10 Avanza buses depart from Madrid to Valencia every day.
Avanza coaches depart from Madrid Estación Sur and Madrid Barajas Airport.
Buses arrive in Valencia at the Valencia Bus Station.
Travel from Málaga to Marbella with Avanza buses
This short bus journey between two top holiday destinations takes passengers along the coast from Málaga to Marbella quickly and inexpensively. Great for a day trip or if you're hopping along the Spanish coast for your holidays this year.
Travelling by bus from Málaga to Marbella usually takes between 40 min to 90 min.
The first bus leaves Málaga at around 6:45 am and the last bus departs around 8:20 pm.
About seven Avanza buses travel from Málaga to Marbella daily.
Coaches depart from Málaga bus station and Málaga Airport and arrive in Marbella at the Marbella Bus Station and at the roundabout near the Hospital Costa del Sol.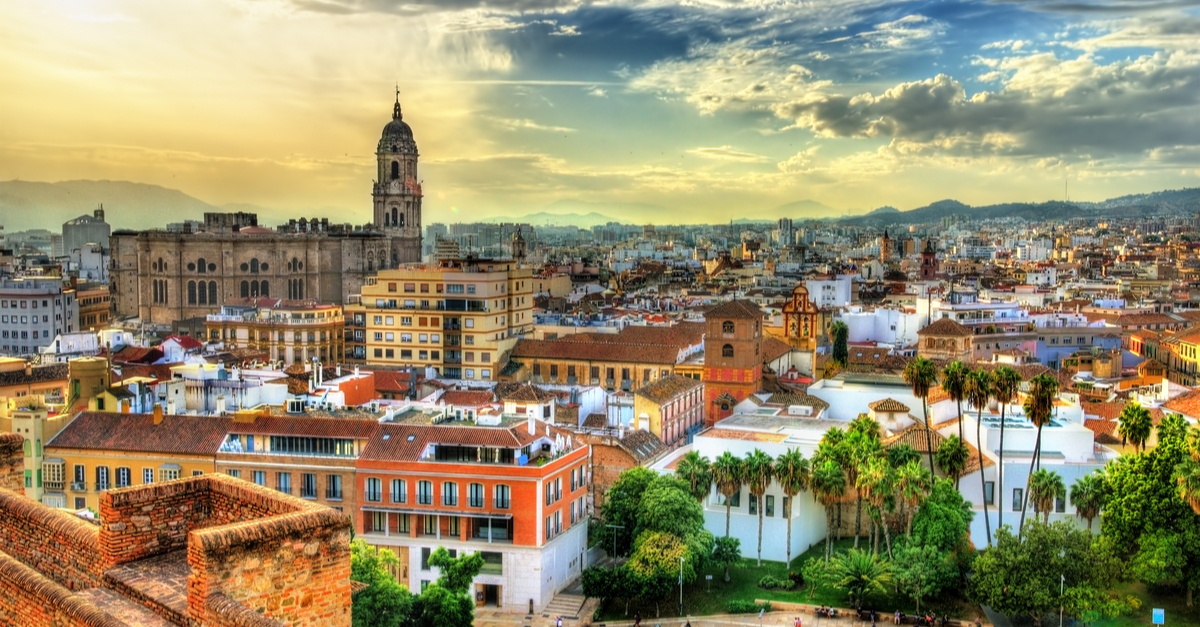 Aerial view of Malaga and the cathedral. Credit: Shutterstock
Discover Spain by bus with Avanza — Travel Tips
Travelling by Avanza bus is an excellent way to discover Spain and connect to the local people, food and culture.
Spend a few days in Madrid, the capital city of Spain, where you can admire historical buildings and museums, visit a real Egyptian temple and dine at the oldest restaurant in the world.
The Costa del Sol is a stunning stretch of Mediterranean coastline in the south of Spain with plenty of sun-drenched beaches, seaside towns and historical attractions.
Barcelona is famous for its iconic architecture, from the Sagrada Família Basilica to Jean Nouvel's Agbar Tower. Find out more about this city in our city guide for Barcelona in The Window Seat travel magazine.
Valencia is the home of paella as well as a thriving hub for art and culture. Top attractions include the Museo de Bellas Artes and Ciudad de la Artes y las Ciencias.
Known as the Golden City, Salamanca is famous for its sandstone buildings and UNESCO World Heritage-listed historic centre.
Avanza: Sustainable travel
If you are looking for a sustainable way to travel around Spain, bus travel is one of the cleanest modes of transport. Buses can transport up to 55 passengers, compared to a 4-person car, which reduces emissions per person while cutting congestion and saving fuel. Bus travel is also cheaper than maintaining a private vehicle, buying petrol, paying for parking and travelling through clean air zones within city limits. Learn more about sustainable travel in the Window Seat travel magazine.
FAQs for Avanza Bus