Trains to Brighton
When it comes to Britain's best seaside resorts, the city of Brighton is one of the country's oldest and grandest places to spend your summer holidays and hosts a plethora of exciting attractions, activities, and other amusements for the entire family. Brighton is the focal point of the Brighton Main Line which connects the city to Central London via London Victoria Station, London Bridge Station, and London St. Pancras International. Southern Railway and Thameslink are the principal providers of service from Central London stations calling at Brighton Railway Station. London Road (Brighton) Station is the other main station in the city along the East Coastway Line. Additionally, you can also get Eurostar service from Amsterdam to Brighton with connections via London St. Pancras International.
Southern Railway to Brighton
Southern Railway or Southern is a subsidiary of Govia Thameslink Railway which also owns Thameslink, Great Northern, and Gatwick Express. One of the main operators in the south of England Southern provides intercity train services from its central terminals at London Victoria Station and London Bridge Station to cities including Chichester, Portsmouth, and Southampton. It also provides regional and commuter railway trains to locations in Surrey, Kent, and East and West Sussex.
For travel by train to Brighton, you can avail yourself of Southern trains offering direct service several times per hour daily departing from both Central London locations with a few indirect connections at Three Bridges or East Croydon before continuing to Brighton. You can also enjoy hourly service for trains to Brighton at the weekend and holidays but these schedules offer fewer train than during the week, The earliest trains departures you can get usually leave from London Victoria and London Bridge stations from 5:00 a.m. with the final departures generally at 11:00 p.m. You should expect an average travel time of about 1h on direct routes and an average of about 1h 30min for connecting service.
Thameslink to Brighton
Thameslink has been in operation since 1988 and has since become an integral component of the local train networks serving London and the southern region of England. It provides service 24h daily including weekends and holidays to destinations along the Brighton Main Line such as Cambridge and Bedford as well as commuter service to areas like Sutton and Luton along other lines including the Chatham Main Line. Thameslink also provides all-important connections to virtually the entire London Underground network mainly from London Bridge Station, London St. Pancras International, and London Blackfriars Station. Train service to Brighton departs from these Central London locations multiple times per hour from around 4:00 a.m. to about midnight and you should expect train times Brighton of about 1h 30min from Central London.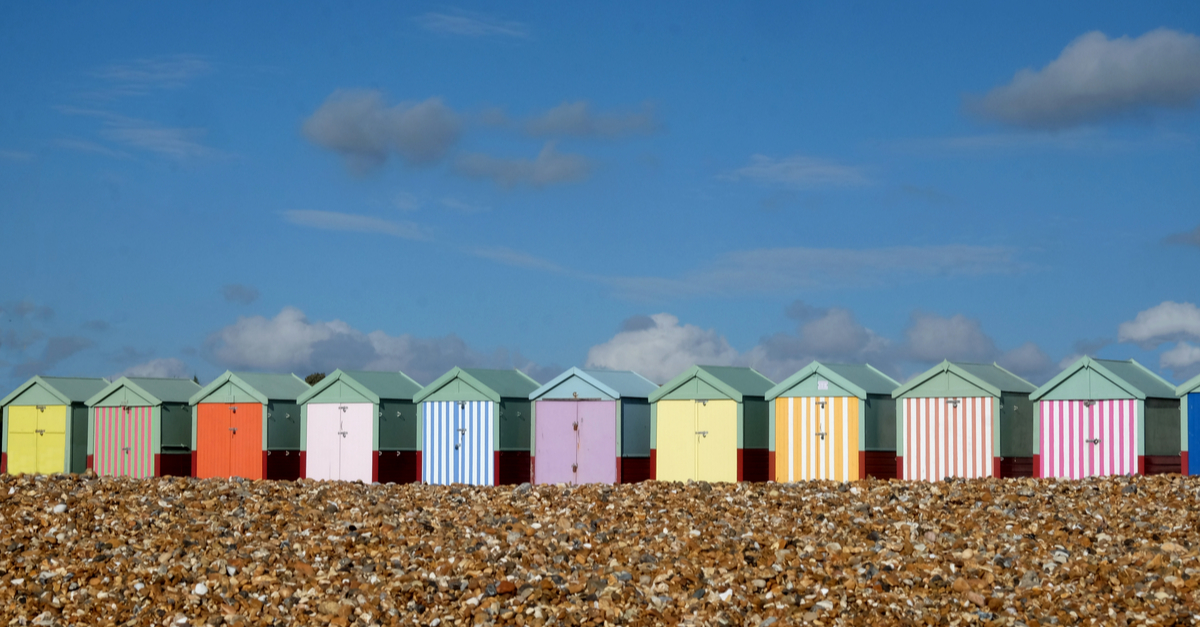 Brighton Beach Huts. Source: Shutterstock
Main train stations in Brighton
Brighton Railway Station is the main terminus for railway trains to the city as well as the point of origin and termination on the Brighton Main Line and is centrally located within the city centre so there's no further transport necessary once your train arrives. If you travel to Brighton by train you can expect to find the following facilities at this station: ticket office with ticket vending machines, ATM, shops, WC (with baby changing facilities for families with infants), free Wi-Fi, refreshment facilities and public phones. Brighton Railway Station has hours of operation Monday through Sunday from 3:45 a.m. to 1:45 a.m. and this station is accessible to disabled passengers.
London Road (Brighton) Station is the secondary railway station serving the city and is located about 1.5 miles (2.4 km) north of the city centre. Passengers using this location should expect to find very limited facilities there beyond a ticket office, ticket vending machines, and waiting rooms. Be advised there are no WC at this station so you will have to use those onboard the next arriving train if it becomes necessary. The ticket office at London Road (Brighton) Station lists hours of operation from Monday through Saturday from 6:55 a.m. to 1:30 p.m. but is closed on Sunday and most likely holidays as well. This location is accessible to disabled passengers.
Onboard facilities
Passengers on trains to Brighton are permitted to travel with luggage cases and a personal bag as long as luggage cases are stored in the available luggage compartments, overhead racks or under the seat. You can carry up to two pets onboard Southern trains as long as they are transported in appropriate carriers and dogs are kept on a lead for the duration of the trip. Note however that if you are required to have an assistance or service animal they are allowed to travel without any restrictions attached. Additionally, folding bikes are welcome but in the case of full-sized bicycles space will have to be reserved prior to travel as storage for them is limited and there are prohibitions against carrying bikes on Southern trains during rush hour time periods.
Refreshments or meals may not be provided as part of the onboard service so you should travel with a light snack or beverage just in case but complimentary Wi-Fi is provided so you will have internet access for entertainment purposes. Some Southern trains are inaccessible to disabled passengers so you should make enquiries when you purchase your tickets. When you travel aboard Thameslink train you can install your luggage cases in one of the luggage compartments or overhead racks if they do not fit under your seat but note that oversized bags may incur penalties.
It's permitted to carry two small pets with you as long as they are placed in suitable carriers and dogs are kept on the lead while onboard the train however Thameslink does make exceptions for assistance and service animals travelling with disabled passengers. Folding bikes are also permitted and must be stored appropriately while non-folding bicycles should be reserved when you book your tickets since storage space is limited on all trains. Furthermore, non-folding bikes are not allowed on certain train routes during peak hour travel. Thameslink does not serve or offer refreshments for sale so you should bring along any food or beverage items you require for the duration of your journey but all trains are equipped with Wi-Fi access which is free to all passengers. Thameslink trains are also accessible to disabled passengers using most mobility aids.
Train tickets to Brighton: useful to know
If you decide to travel with Southern you can choose from among basic fare types such as Advance, Off-Peak, and Super Off-Peak or Anytime tickets which are classified as Standard or First Class fares. Basic fares carry less flexibility than Anytime fares and some like Advance tickets are not eligible for refunds so review them all before selecting the most ideal one for your travel purposes. Southern also offers a variety of promotions including DaySave, GroupSave, and Kids for £2 to save you money on your ticket purchases and if you are a senior, student, or disabled person there may be additional ways to save to make a few enquiries before you purchase your tickets.
Oyster cards and debit/credit cards can be used as Contactless forms of payment on most Southern trains for a modern and convenient way to travel without the hassle. On Omio buying tickets to Brighton is fast and easy and can be stored in your Omio account. Thameslink also offers Advance, Off-Peak, and Super Off-Peak as basic fares with a choice of Standard or First Class Anytime tickets. You should be aware that basic fare types are limited in flexibility and some like Advance fares are non-refundable while you can enjoy unlimited flexibility with Anytime tickets in terms of travel while terms and conditions apply to all classes regarding cancellations and changes.
You can also take advantage of GroupSave fares if the family is travelling together or the Kids for £2 special which is available for kids between the ages of 5 and 15 as well as Student Connect which reduces season ticket prices for full-time students. Additional specials may be available to seniors and the disabled so you should make some enquiries while you're browsing the tickets section. Oyster cards and debit/credit cards are contactless forms of electronic payment which are accepted on Thameslink train so you don't need to travel with paper tickets for ease and convenience. On Omio buying tickets to Brighton is fast and easy and can be stored in your Omio account.
Brighton Prech Rock. Source: Shutterstock
To Brighton by train: travel tips
Among the contemporary additions to the attractions at Brighton is the British Airways i360 tower whose observation deck (actually a moving platform) stands 531 ft. (162 m) above the ground and provides the most panoramic views as far as the eye can see in every direction. Illuminated by light at night it is truly a sight to behold from seal level anywhere along this stretch of coastline.
Built-in 1872 and listed as "the world's oldest aquarium" Sea Life Brighton is another resort gem with its vaulted arches and spectacular lighting where you can view marine sea creatures from around the world. The Brighton and Hove Bus Company operates the public bus system in the city but others including Metrobus and The Big Lemon mean that getting around town without a car is easier than you might think. Stagecoach South also provides service to the city centre and surrounding areas and there's Brighton Airport as well should you choose to fly home from there.
The resort city of Brighton is one of the most cherished holiday destinations in the UK and provides eager tourists with a cornucopia of sights, sounds, and tastes to make for an unforgettable experience especially if you visit the summer months when all it has to offer is there for the enjoying. Among its best-loved treasures would have to be the magnificent Royal Pavilion which was erected as a royal seaside home for King George IV while he was still Prince of Wales. This stunning structure is Britain's version of the Taj Mahal and is available for tours, but it's a hot ticket so book early to avoid the rush.
Brighton Palace Pier is also a beloved favourite for the masses whether local or tourist and is great for a sunset or summer afternoon stroll while the kids enjoy the arcades, rides and other amusements to be found there. If you're looking for adult evening entertainment Brighton Centre hosts some of the biggest names in theatre, comedy, and music with a full schedule of events during the summer season and should certainly make you're a-list of things to do while in the city.