Trains from Manchester to Brighton
When looking for trains from Manchester to Brighton, you will have to consider at least two changes on your route. The first leg of your journey will be to London Euston Station and will take about 2h 30min direct. From there, you'll need to go on the London Underground and make your way to either Victoria Station (about 10min on the Victoria Line) or London Blackfriars (about 25min on the Northern and District Lines, with a change at Embankment). From both stations, it's about a 1-h journey to Brighton Station. The entire trip takes around 4h 30min, although this may depend on transfer and waiting times between trains. These trains are usually available several times a day on weekdays, with more limited services on weekends.
Manchester to Brighton Train Time: Daily Departures
Trains from Manchester to Brighton (via London Euston and Victoria/Blackfriars) are quite frequent and plentiful, with varying frequencies throughout the day. For the first few services of the day, trains depart every hour, then every 45min after 10:00 and roughly every 20-35min until the last service.
How long is the journey by train from Manchester to Brighton?
First trains from Manchester to London Euston usually depart from Piccadilly station at 08:00, with services leaving every 45min and arriving in London in 2h 30min. Your connecting train will leave between 45-60min later from either London Victoria Station or London Blackfriars station and take another hour to Brighton Railway Station. Last trains depart from Manchester Piccadilly at around 17:30 daily, although this can change at weekends and on bank holidays.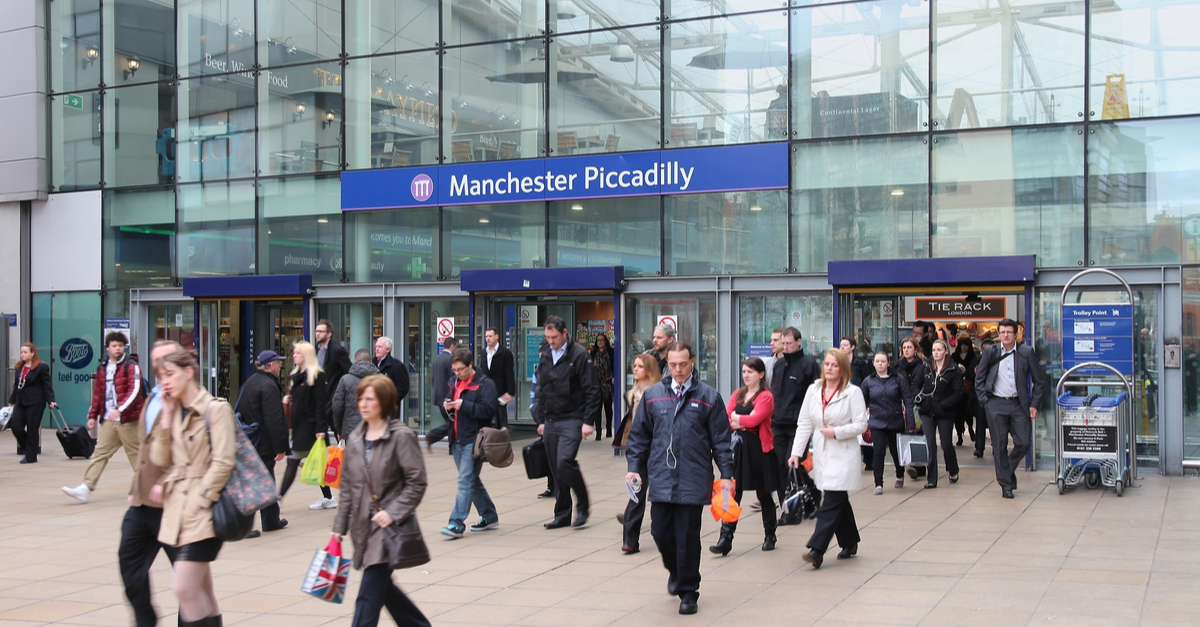 Man on a train from Manchester. Source: Shutterstock
What are the departure and arrival stations for trains from Manchester to Blackpool?
Departure train stations: Trains depart first from Manchester Piccadilly station, located 1 mile (1.6 km) from the city centre, a short 7-min train ride or 15min by bus from Manchester Deansgate station in the city centre. In London, you'll depart either from Victoria station or London Blackfriars. All stations have accessible toilets and designated seating areas, passenger assistance services which can be booked in advance, as well as plenty of shops and food & drink options.
Arrival train station: You'll arrive at Brighton Railway station, less than 1 mile from the city centre and Brighton beach, a short 15-min walk or 5min by bus plus a 6-min walk. Brighton railway station has accessible toilets and baby changing facilities, as well as a number of food outlets, coffee shops and stores. It has step-free level access to all the platforms, and wheelchairs are available for passengers with disabilities or reduced mobility upon request. There's also a heated passenger lounge where you can comfortably sit and wait for your train.
Which train companies travel from Manchester to Brighton?
In the first part of the journey to London Euston, direct trains are operated by Avanti West Coast, taking you to London in about 2h 30min. From London Victoria, your direct train to Brighton will be operated by Gatwick Express. From London Blackfriars, you'll also take a direct journey which is operated by Thameslink.
Night trains Manchester
There are no night trains from Manchester to Brighton. The earliest trains depart in the morning from 08:00, and services finish in the evening, around 17:00-18:00.
Avanti West Coast trains from Manchester to London Euston
Avanti West Coast is the main provider for trains from Manchester to London Euston, with plenty of direct trains leaving every 20-45min, depending on the date and time of your trip.
Gatwick Express from London Victoria to Brighton
Trains run by Gatwick Express from Victoria to Brighton run approximately every 15min, so if by any chance you miss your connecting train, you can always hop on the next one.
Thameslink trains from London Blackfriars to Brighton
Operated by Thameslink, direct trains from Blackfriars to Brighton usually depart every 10-15min and take on average 1h 10min to their destination.
Trains from Manchester to Brighton: A sustainable option
Choosing to travel by train is a smart way to save on time, effort and to cut down on harmful carbon emissions. Trains are the most environmentally-friendly way to get around, and you'll actually be able to enjoy the journey either resting or keeping yourself entertained: read a book or watch a movie on your tablet or phone. As it turns out, sustainability is pretty relaxed too! Grab yourself a great deal for trains from Manchester to Brighton on Omio or get inspired by our online magazine, The Window Seat.
Train Manchester to Brighton: Services on Board
Whether you're travelling with Avanti West Coast, Gatwick Express or Thameslink, you can opt for seats in Standard or First Class, the latter of which offers you Wi-Fi and catering services on most trains. If you're travelling with lots of luggage, bear in mind that while there are luggage racks available on all trains, they can get filled up quickly due to demand. Alternatively, there are overhead racks for smaller items. Animals are also permitted on board these services, with a limit of two pets per passenger. While you don't need to reserve a place for your pet in advance, you do need to book a space for your bike, as there is limited storage availability. Should you or someone in your group require assistance during your journey, you can also reserve this service in advance with all companies; they have staff equipped to help elderly and disabled passengers, as well as those with reduced mobility.
How to find cheap train tickets from Manchester to Brighton?
To find good deals on your upcoming journey to Brighton, it's best to avoid peak-travel times (from 06:00-09:00 and 16:00-19:00) and book your journey in advance. Midweek journeys are also more affordable than travelling at weekends and around school and bank holidays. Being flexible with your travel dates is another way to secure a bargain price on your trip. Additionally, choosing a return ticket is more cost-efficient than booking single journeys separately.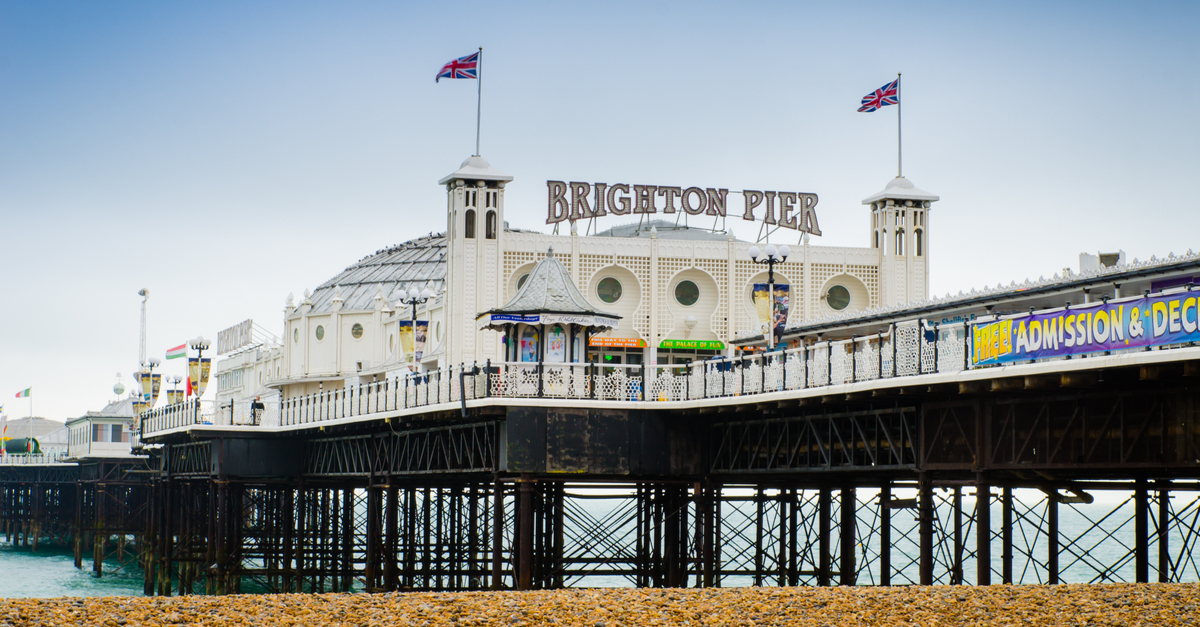 Brighton Pier. Source: Shutterstock
To Brighton by train—travel tips
A beautiful city on the English seaside, Brighton attracts thousands of visitors each year, all looking to discover its pebble beaches (the most famous being Brighton Beach) and explore the Brighton Pier amusement park. If you're looking for green spaces around Brighton, pay a visit to the Devil's Dyke National Trust, a park full of natural beauty to be enjoyed in the warmer months. Located only 6 miles (10km) from Brighton Beach, you can easily get to the park in 30min with bus no 77 departing from Palace Pier, or 20min by car or taxi. End your day with a stroll on the Undercliff Walk and explore Brighton Marina. Despite being a popular city to visit during summer, there is also lots to do in Brighton, even in the colder months. Here are five things to see and do in Brighton any time of the year.
Discover the Royal Pavilion, an extraordinary palace with a rich history at the heart of Brighton;
Be enchanted by the different species of marine life at SEA LIFE Brighton;
Watch a theatre production at the Brighton Dome;
Find out more about local culture at the Brighton Museum & Art Gallery, Brighton Toy and Model Museum and Booth Museum of Natural History;
Get lost in the Bohemian neighbourhood known as The Lanes, full of unique shops, restaurants and bars.