Trains to Ipswich
The Suffolk town of Ipswich in the East of England benefits from super handy railways links with London, as well as Norwich, Cambridge, Colchester and other towns and cities across East Anglia. Fast, frequent and direct services run between London Liverpool Street and Ipswich Train Station every half hour or so. The journey takes just over an hour and is a popular way to travel between the two cities as it's cheap and cuts the drive time by half. Ipswich is also a handy springboard from which to explore the beautiful Suffolk, Norfolk and Essex coastlines, as well as being a fascinating town to spend a day or two in itself.
Why travel by train to Ipswich?
Trains to Ipswich from London Liverpool Street are frequent, with at least three services per hour, which includes a number of fast options. The fast services take just 1 hour, much less than half the time it would take to drive. Good public transport links from the station make it easy to find onward travel to your final destination in Ipswich.
London to Ipswich Train Time: Daily Departures
There are usually three or four direct trains that run between London Liverpool Street and Ipswich Train Station every hour. These operate daily, departing every 15min during the week (Mon-Fri) and roughly every half hour on weekends (Sat-Sun). Services start from 6:00 a.m. and run up to midnight. All are operated by Greater Anglia Railways.
How long is the journey by train from London to Ipswich?
Train journeys from London Liverpool Street to Ipswich Train station take on average 1h 15min. The journey is direct and doesn't require any changes, making this a popular route for those who travel regularly along the Great Eastern Main Line for work or recreation. Evening services tend to run a bit slower; for example, it can take up to 1h 30min to reach Ipswich from London when travelling after rush hour. The overnight train from London to Ipswich takes 6h 30min and requires changing trains at Colchester.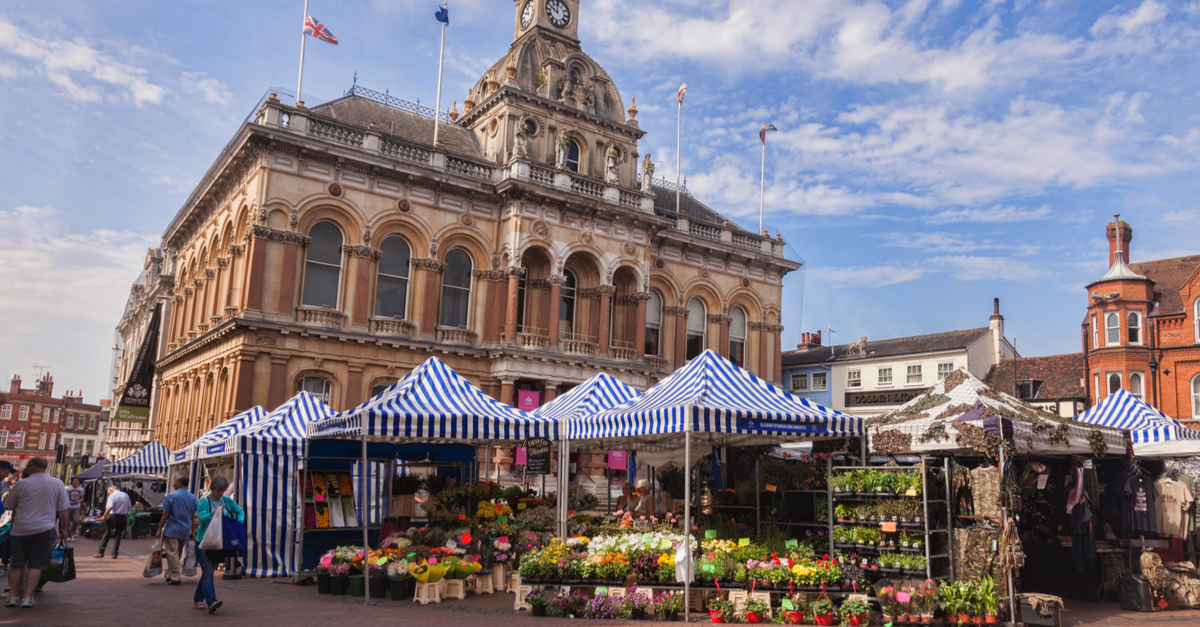 Ipswich Flower Market. Source: Shutterstock
What are the departure and arrival stations for trains from London to Ipswich?
Departure train station: Train journeys between London and Ipswich leave from London Liverpool Street Station, travelling along the Great Eastern Main Line. The station is situated in the Bishopsgate area of east London, in the City of London financial district, and just a 10min taxi ride from central London. The station is connected to the London Underground transport system via Liverpool Street Underground Station, with access to the Circle, Central, Hammersmith & City and Metropolitan line. Facilities at the station include a ticket office and machines, toilets and baby change, ATMs, currency exchange, telephones, luggage storage and pay-as-you-go Wi-Fi. There are also a number of shops, selling everything from stationery to skincare, as well as food and drink to takeaway and a couple of pubs to enjoy a pint and some pub grub in.
Arrival train station: Train services between London and Ipswich arrive via Ipswich Train Station on Burrell Road, just south of the town centre. From the station, it's just a 10min walk to the town's pedestrianised shopping district. Buses regularly depart from outside the station to the city centre, stopping at the football stadium, marina and university before travelling out to the surrounding suburbs. Facilities at the station include a shop, café, waiting room, toilets and baby changing.
Which train companies travel from London to Ipswich?
Greater Anglia are the only company to run trains between London Liverpool Street Train Station and Ipswich Train Station. These are direct and leave regularly.
Greater Anglia trains from London to Ipswich
Greater Anglia trains depart from London Liverpool Street Station for Ipswich roughly every 30min, seven days a week. The journey is direct and takes around 1h 15min. Services starts at around 6:00 a.m. and last until midnight, when there's an overnight train to Ipswich. This takes 6h in total and requires changing trains at Colchester Railways Station, towards the end of the journey.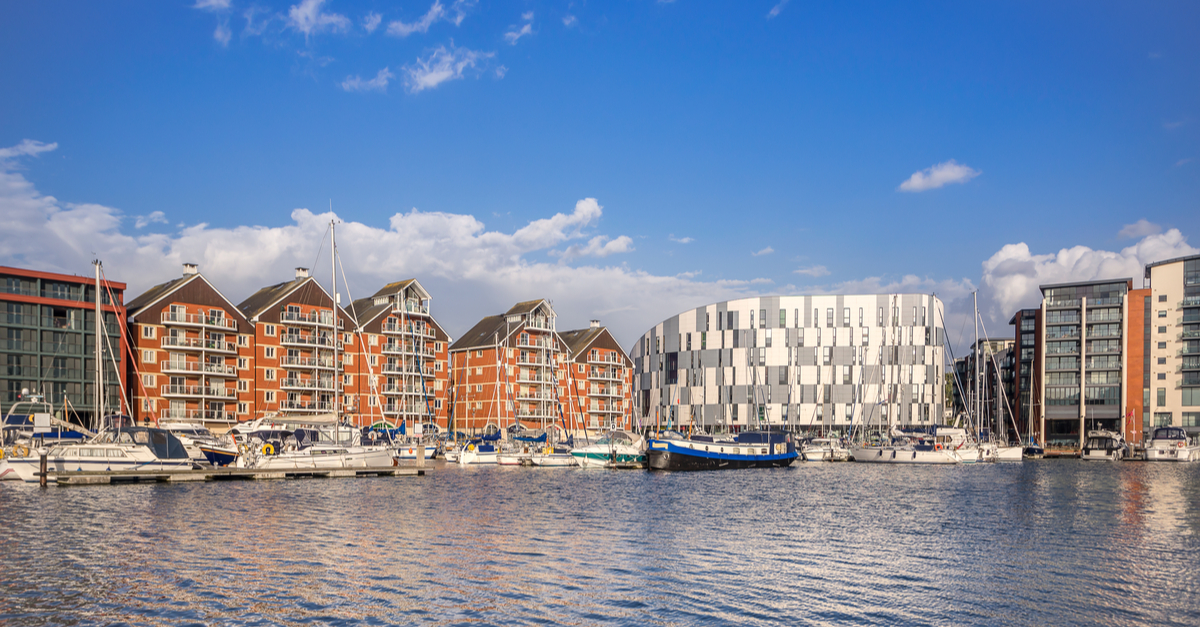 Ipswich Marina. Source: Shutterstock
<2>To Ipswich by train—travel tips
Ipswich is the county town of Suffolk and, on first appearances at least, has little to set it apart from other market towns in the East of England. Scratch the surface, however, and you'll find plenty to see and do here. The Waterfront, near the University of Suffolk, has a fun, trendy vibe and is where you'll find the liveliest clubs, cafes and bars.
Enjoy afternoon tea with avant-garde flair at the off-beat Salthouse Harbour Hotel whilst admiring the yachts bobbing on the River Orwell. Whilst here, check out the programme at Jerwood Dancehouse, hosting everything from art exhibitions to family-friendly workshops and modern dance recitals. The Cornhill is the town's historic square and is surrounded by grand Victorian buildings, reflecting Ipswich's growing prosperity thanks to Suffolk's blooming trade in wool and textiles.
A short walk from here is Christchurch Mansion, a handsome Tudor building that's home to the largest collection of Gainsborough and Constable paintings (both painters have strong connections with Suffolk) outside of London. The park it sits in has a variety of woodland and landscaped gardens and is a pleasant place to stroll or catch a summer music concert. Or, check out the lesser-known Holywells Park, a wildlife haven of trees and ponds with a children's play area modelled after the Ipswich-built galleon The Discovery, which set sail to North American in 1607 to found the first English settlement of Jamestown.
There's also a walled garden with a space for open theatre and a maze. Ipswich is also a fantastic springboard from which to explore the Suffolk Heritage Coast including coastal towns like Southwold and Aldeburgh and wildlife spots like RSPBminmere and Orford Ness National Nature Reserve.
Train London to Ipswich
You can use Omio to buy either Standard or First Class tickets on all journeys to Ipswich. There aren't any limits on how much luggage you can take, although you should make sure it's properly labelled. Bicycles are allowed on board, however, space might be limited during peak times. Folding cycles can be stowed in the overhead luggage or behind a seat and must not be in the way. You can also take up to two pets with you for free – either cats, dogs or other small domestic animals – so long as they do not occupy a seat.

Each additional pet must be paid for i.e. half the adult fare for the type of ticket held for the journey. Disabled travellers should contact Greater Anglia before at least 6h before travel via their Disabled Assistance Helpline. Greater Anglia's Passenger Assist service allows you to request assistance at any point during the journey, book dedicated wheelchair spaces and arrange onwards travel assistance. Assistance dogs are welcome free of charge and can travel on any part of the train.
There are plenty of ways to save money when booking a train to Ipswich. Generally, the further in advance you book your ticket, the better your chances are of getting a good deal. Tickets go on sale on Omio about three months before a journey's departure date. If you know the exact date you want to travel, then booking your ticket ahead of time will often save you money. Another way to save money on your train fare is to travel off-peak (i.e. outside the hours of 6:00 a.m.-10:00 a.m. and 3:00 p.m.-7:00 p.m.). Travelling in the middle of the day is often cheaper than travelling during rush hour, as is travelling on weekends. Finally, if you can be flexible with your travel dates then you might find it easier to find a good deal.