Trains to Norwich
Norwich railway station is a popular destination that receives trains from across Britain, and some of the most popular routes arrive from London, Manchester, and Liverpool. Trains from London are frequent, leaving from London Liverpool Street at 30min past each hour and then again about 15min later, and they take between 1h 50min and 2h 30min depending on whether you need to make a change or not. Trains from Manchester take about 4h 30min on average and while there is a flurry of trains that leave every 15min in the morning, the average wait between trains is one hour throughout the day. Trains from Liverpool take about 5h 30min on average and leave every hour per day.
Norwich station is the city's only mainline railway station, in an imposing 19th century building. It's a ten minute walk, or a bus journey of about equal length, into the city centre. The bus stops are just over the river from the railway station. At the station itself, there's a range of facilities, including an ATM, along with a shop, a cafe and public toilets. Public wi-fi is also available at the station.
Trains to Norwich: daily departures
Trains arrive in Norwich from a variety of locations, but the most popular ones are form London, Manchester and Liverpool. The trains that leave London depart from London Liverpool Street every 30min from 6:00 to 10:00 a.m. and then on the half hour of every hour after that. There is another train that leaves about 15min later. The first train leaves London at 6.25 a.m. and the last one leaves at 11.30 p.m., arriving at Norwich railway station at 1.34 a.m.
The trains from Manchester leave from either Manchester Piccadilly station or Manchester Oxford Road station, and they leave every hour, alternating between the stations. The first train leaves Manchester Piccadilly at 6.15 a.m. and the last train leaves at 10.24 p.m. and arrives at 8.11 a.m. the next day. Trains depart from Liverpool Lime Street every hour and the first one departs at 8.11 a.m. and arrives in Norwich at 2.11 p.m. The last train leaves at 11.38 p.m. and arrive sin Norwich at 9.15 a.m. the next day.
Why travel by train to Norwich?
There's not a more relaxing way to travel to Norwich than by train. The frequent direct services from London's Liverpool Street station take just under two hours. There are also direct rail services from Liverpool and Manchester, among others. Where there are no direct services, many trains to Norwich connect via London.
How long is the journey by train to Norwich?
The shortest train journey from London takes around 1h 46min and the longest takes 2h 32min, because you will need to change trains. The shortest journey from Manchester takes 4h30 with no changes needed, and the longest takes 9h 47min, travelling overnight and requiring at least one change. The shortest train journey from Liverpool takes around 5h 17min with no changes, and the longest journey takes about 9h 37min, travelling overnight and you will need to change three times.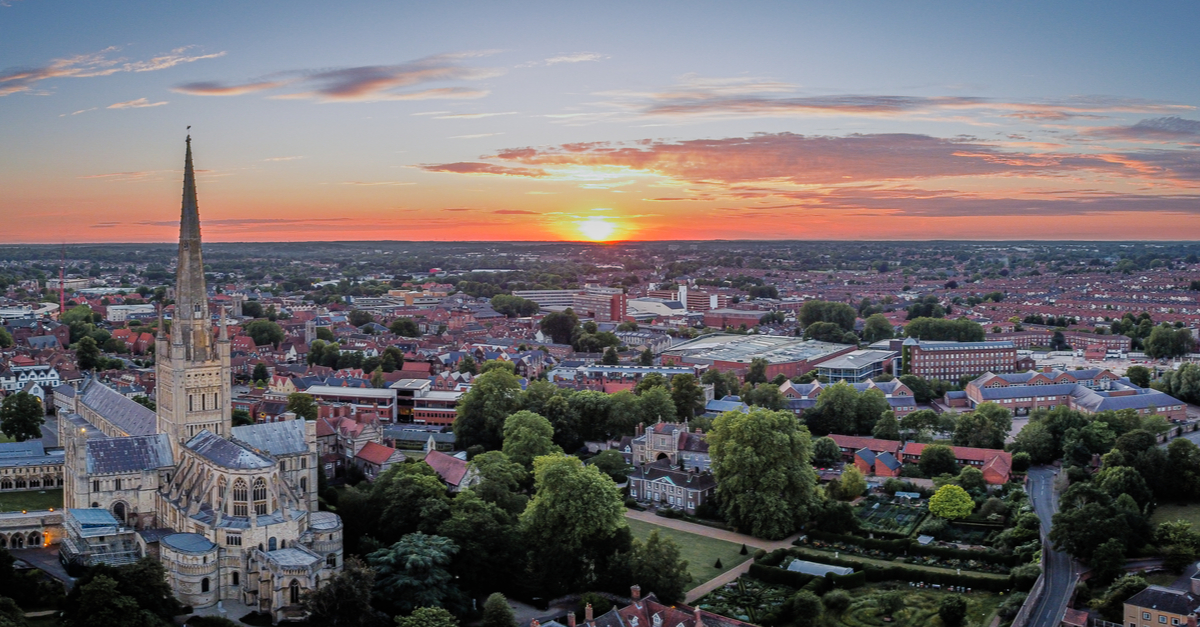 Norwih City Sunset. Source: Shutterstock
What is/are the departure and arriving stations for trains to Norwich?
Departure train stations: In London, the train to Norwich departs from London Liverpool Street. The station has toilets and baby changing facilities as well as photo booths and a water fountain. In Manchester, there are two stations where you can catch a train to Norwich. The first is at Manchester Piccadilly Station and the second is Manchester Oxford Road station. While both offer free toilets, and Manchester Piccadilly has baby changing facilities, the station at Oxford Road does not. The train that departs from Liverpool to Norwich leaves from Liverpool Lime Street, and the station offers free toilets, baby changing facilities and there is a first-class waiting room for passengers who travel first class on Avanti West Coast trains. London Liverpool Street station is 2.5 miles (4 km) from the city centre and there are lines on the London Underground (tube) that take between 12 and 17min, or another option is to hop on the Line 8 bus, which takes about 30min to complete the journey.
Arrival train station: Norwich railway station is the northern terminus for the Great Eastern Main Line, which starts in London Liverpool Street. The station is managed by Greater Anglia, and has public Wi-Fi, ATM machines, a mini kiosk where you can buy magazines and refreshments, and toilets and baby changing rooms. Norwich railway station is 0.8 miles (1.2 km) from the city centre, and there is a bus that takes around 6min to complete the journey as well taxis that take less than 5min.
What train companies travel to Norwich?
Greater Anglia is the main company that operates the trains from London to Norwich and it is also the company that manages Norwich railway station. East Midlands Trains company has the most frequent trains travelling from both Liverpool and Manchester to Norwich. However, there are some alternate companies that travel from Manchester and Liverpool, such as the London North Eastern Railway (LNER), Avanti West Coast, and the First Transpennine Express, although trains are less frequent than those of the East Midlands Trains company.
Greater Anglia trains to Norwich
Greater Anglia manages the most frequent and fastest train journeys from London to Norwich. Their trains leave every half an hour in the early morning, and then from around 10:00 a.m., they change to leave at around half past the hour and then 15min later again. They offer direct trains as well as routes where you are required to change, and the journey will take somewhere between 1h 50min and 2h 30min.
East Midlands Trains to Norwich
East Midlands trains is the most frequent option for trains that travel from Liverpool or Manchester and arrive in Norwich. Trains leave every hour in Liverpool, and there are some journeys that are direct, and there are others where you will need to make three changes. The journey can take anywhere between 5h 17min and 9h 37min, depending on when you leave. The trains that leave from Manchester leave every hour, but if the first one leaves Manchester Piccadilly at 6.15 a.m., then the next one leaves from Manchester Oxford Road about an hour later. There are direct routes as well as ones where you will need to change, and the journey can take between 4h 30min and 9h 47min, depending on what time you leave.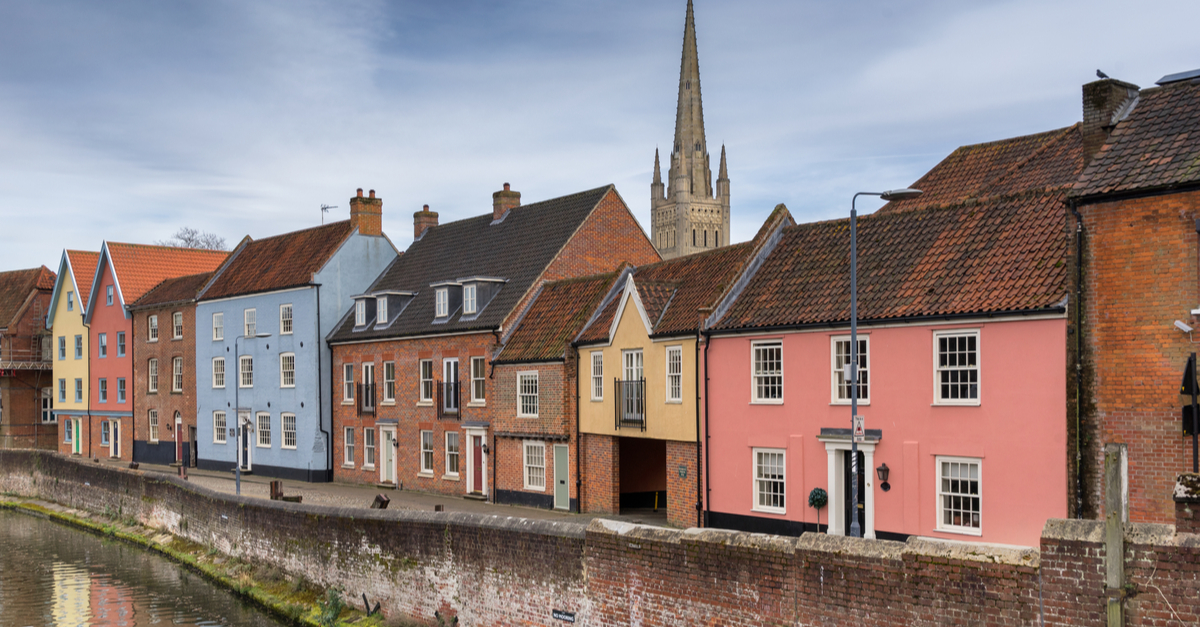 Norwich Quayside. Source: Shutterstock
Before you travel to Norwich by train - good to know!
Norwich is an ancient city with much to attract the visitor. Many go directly - and with good reason - to Norwich Cathedral, whose walls contain an astonishing 900 years of history. There's Norwich Castle to enjoy too, where one tip is to arrive an hour before closing time when you can enter at a discounted rate. Water loving visitors may want to rent a boat along the famous Norfolk Broads, while art lovers may want to head to the Sainsbury Centre for Visual Arts, housed in the first public building designed by Norman Foster, best-known for his "Gherkin" skyscraper in the City of London. The Sainsbury Centre is a half hour's bus ride from the railway station and houses a world-class art collection including works by Francis Bacon and, in the grounds, numerous sculptures by Henry Moore.
Norwich is a popular destination where you can explore some of the Norman history in England, as well as visiting some interesting art locations. The Cathedral in Norwich has the largest cloisters in England and is a great example of Romanesque architect as it was built by the Normans. If you are interested in visiting some art displays, then we recommend that you check out the Sainsbury Centre for Visual Art, which was built in 1973 and is home to works by famous artists such as Picasso, Degas, Henry Moor and Sir Francis Bacon.
Visiting the Norwich Market is an absolute must, as it hosts around 200 stalls, and it was founded in the 11th Century. At the market you can find anything you want, including local produce, such as fruit and vegetables, jewellery, artisan crafts and clothes. Norwich has some fantastic places to eat as well, including the famous Finnie's Juice Bar, which has something for everyone, amongst its pizza, brisket, curry and focaccias, and of course, don't forget to try one of the juices.
Train to Norwich
The Greater Anglia trains and the East Midlands Trains both offer the same services on board the train journeys to Norwich. Ramps are installed to help travellers with reduced mobility board and disembark from the train, and the trains are all fitted with audio visual information. There is wheelchair space available, as well as priority seating, and there are first class tickets available with both companies. You are allowed two pieces of big luggage and one small hand luggage on board, and bikes can be brought on, but you may need to reserve a space for it. Both trains have refreshment services, and baby changing facilities on board.
A savvy way to find cheap train tickets is to try and book in advance, as tickets are generally cheaper if you book them earlier, as well as the fact that you may have more choice about where you sit on the train. Another trick to find cheap train tickets to Norwich is to try and be flexible with your dates of travel. There are plenty of trains that travel to Norwich every day, from a multitude of places around Britain, so you have a lot of options to try and choose the cheaper tickets. Another option is to consider that generally, the slower journeys, with more changes are probably cheaper than the more direct ones, so if you are not too worried about how long the trip will take, then taking the slower trains is a good trick to save money.