Trains from Norwich to London
Trains taking off from Norwich to London cover the 97 mile (157 km) long route in approximately 1h 43min, with esteemed travel partners such as Greater Anglia and Great Northern. Typically, 16 trains operate each day, including direct services. Travellers taking the Norwich to London route exit most habitually from Norwich Railway and arrive at London Liverpool.
Norwich to London Train Time: Daily Departures
As recorded by Greater Anglia, about 31 trains depart from Norwich to London Liverpool Street from Monday to Friday, while it's about 30 trains on Saturdays and 17 on Sundays. However, this train frequency may be subject to change on bank holidays. The first train departs from Norwich station at about 05:00 Monday to Saturday and at about 07:00 on Sunday.
How long is the journey by train from Norwich to London?
The approximate journey time by train from Norwich to London is around 1h 51min, based on the number of stops. The fastest journey between Norwich and London Liverpool Street is about 1h 30min. Travel between Norwich and London is easier because several trains depart from these two cities.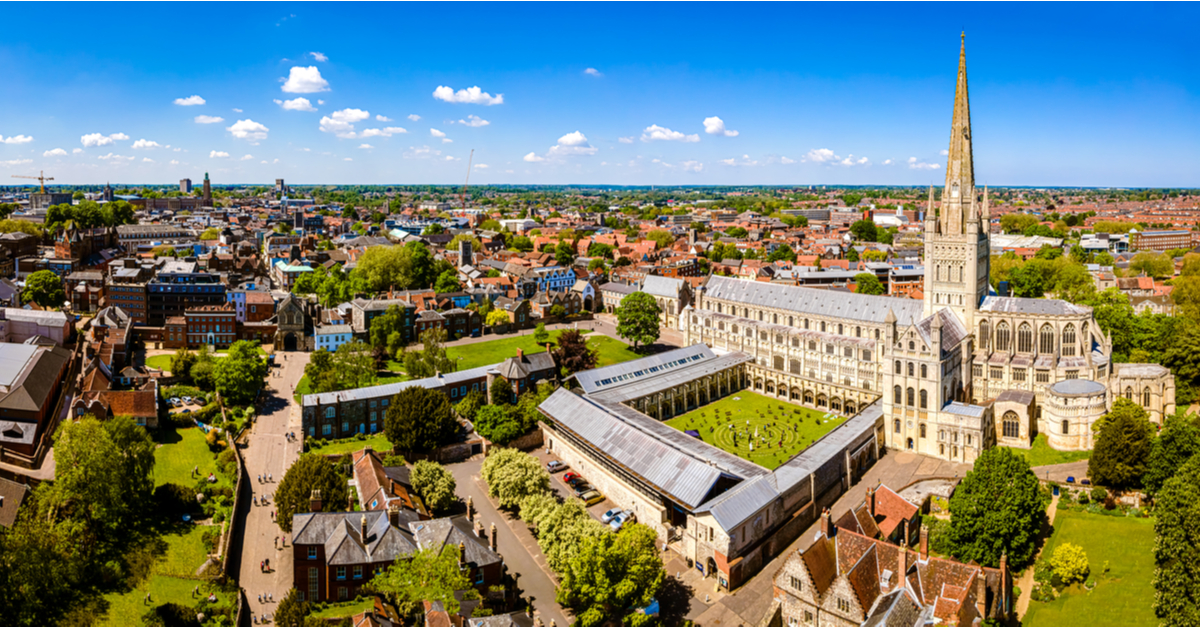 Trains from Norwich to London: cathedral in Norwich. Source: Shutterstock
What are the departure and arrival stations for trains from Norwich to London?
Departure train station: Norwich Station will be your departure station. There is a walkable distance between Norwich Station and Norwich City Centre, St Stephens Street and Norwich Bus Station. Some of the facilities available at Norwich Station include bicycle hire (PlusBike) and parking, a cash point, payphone, postbox, refreshments, seating, toilets and shops.
Arrival train station: You will arrive at London Liverpool Street Station. This is a busy commuter station situated in the north-eastern corner of London. There are buses situated outside the station. London Liverpool Street Station lies within a roughly 10min walking distance of the city centre. Facilities available at the station may change at any time but can include; toilet and baby-change facilities, cash points and bureau de change, telephones, a left-luggage office, Wi-Fi, photo booths and water fountains.
Which train companies travel from Norwich to London?
More than one train travel company operates on the route from Norwich to London. These companies include Greater Anglia, Great Northern, East Midlands Railway, South Western Railway, and others, as you can find by searching this route online. Greater Anglia generally offers faster train services from Norwich to London than most train travel companies.
Night trains London
This connection offers night train departures until around 22:00. Trains that leave very late in the evening may be sleeper services. In most trains, duvets, pillows and sheets are available in the sleeper cabin. Cabins with showers have bath towels, and cabins having no showers have sinks with running water.
Greater Anglia trains from Norwich to London
Trains from Norwich to London have direct trips at roughly 30min frequencies, from early morning to mid-evening from Monday to Saturday, with most journey times lying approximately between 1h 45min and 1h 50min. Great for day trips from Norwich to London are the two morning train services, at around 08:00 and 09:00, taking about 90min. Provider services are differentiated by new, higher-capacity trains, with hourly Sunday frequency alongside extra services at critical times of the day. Greater Anglia provides most direct train services from Norwich to London.
Great Northern Trains from Norwich to London
With Great Northern Trains, there are no direct trains from Norwich to London. As a traveller, you may depart from Norwich to Ely using East Midlands Railway. To transport you from Ely to London Kings Cross, you can change to another train service provider, Great Northern. Then, another service provider called London Underground will take you from London Kings Cross to London Liverpool Station.
Trains from Norwich to London: Sustainability travel
Indeed, taking the train is a sustainable way of travelling. Compared to other means of transport such as cars and aeroplanes, travelling by train is more environmentally friendly. According to a study in 2014, of all Europe's carbon-dioxide emissions caused by transport that year, railways produced only 1.6%, whereas cars produced 73.4% and aviation produced 12.6%. So, what makes train travel sustainable? Trains are associated with less noise pollution as compared to cars on roads. Since trains pass by fewer times than a continuous fleet of vehicles, they are generally quieter. Rail lines occupy less space as compared to roads, and trains can occupy three times less space per unit as compared to vehicles. Nearly all trains in the UK today operate on electric power. The advantage of using electric trains is that they no longer produce the same air pollutants. Although electricity still must be created to keep the trains moving, minimal sulphur and carbon monoxide is formed as they travel around. Most trains today use regenerative braking. This helps them to recover energy when they are coming to a stop. This is very useful for trains, making regular stops at various stations.
Train Norwich to London: Services on Board
Greater Anglia's first-class off-peak tickets are available for travellers from Norwich to London. Greater Anglia also offers standard-class tickets or second-class services. You are free to reserve a space for your bike on the Greater Anglia intercity service. Bike spaces are allocated on a first-come, first-serve basis. You can opt to journey on the Greater Anglia train with up to 2 small domestic animals at no cost, provided that they don't occupy a seat. If you intend to travel with more pets, you will incur fees for them.
For more information about bike and pet policies, visit the company website. You can book assisted travel in advance with Greater Anglia. In addition, trains are fitted with ramps, wheelchair space and accessible toilets. Great Northern Trains offer first- and second-class carriage services from Norwich to London. Wheelchair spaces are available within second-class carriage only. Feel free to take up to two domestic pets on Great Northern Trains; any domestic pet without a lead must be carried inside a basket that isn't larger than 33 x 23 x 23 in (85 x 60 x 60 cm). If you own a folding bike, you can take it folded onto any of the Great Northern Trains and at any time. This provider can't always accommodate non-folding bikes. Check the company website for updated information regarding services on board Great Northern Trains.
How to find cheap train tickets from Norwich to London?
Book in advance to save money. It's wise to book your train tickets 10-12 weeks before travelling; however, booking as late as a week beforehand can still help you save money. Also, be flexible with travel dates. Whenever possible, search for cheaper train tickets on different times and dates. You could also choose connecting trains or slower journeys, and it may even be favourable to check the price of booking each leg of the trip separately. Bringing your own snacks and drinks will help too, as the meals sold on trains are typically overpriced.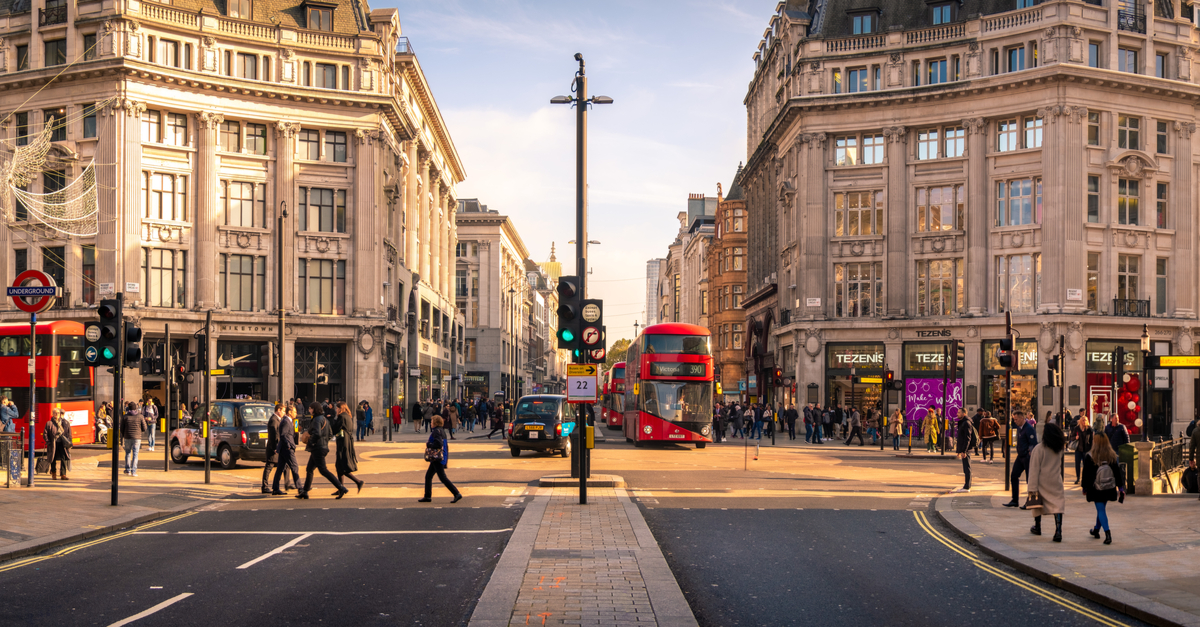 Trains from Norwich to London: man checking the schedules at the station in London. Source: Shutterstock
To London by train—travel tips
London is one of the most scenic and famous cities in the world. For decades, it has been a tourist attraction for many people, and many great events have taken place there, including the 2012 Olympic Games. Whether you're searching for art or architecture, food or football, London has been sharpened into a truly incredible city through its 2,000-year history. For more ideas, check out our online travel magazine, The Window Seat.
Go sightseeing.
Go shopping in high-end shops and markets.
Watch Shakespeare at the Globe Theatre.
Drink some beer at a traditional London pub.
Attend London fashion week.