Trains from London to Norwich
Trains depart every day from Norwich station to London, including at weekends. Generally, a train departs for London every half an hour from early in the morning late into the evening. The journey takes just under 2h to complete. There are always direct trains available from London to Norwich which make several short station stops on the way, while indirect services with a change of train also run frequently.
London to Norwich Train Time: Daily Departures
Multiple trains run every day between London and Norwich, with around 2 trains departing every hour. The trains run very regularly, departing every half an hour. Trains depart from early in the morning (before 4.00 a.m.), with the last train departing late in the evening at around 11:30 p.m. Regular trains are also available at weekends with a similar timetable to weekdays.
How long is the journey by train from London to Norwich?
A direct journey from London to Norwich has a duration of under 2h. Although the trains make several stops on the way, there is no need to change trains for these direct journeys. Indirect services depart less regularly from London to Norwich, with a total duration of around 2h 30min including the changeover time.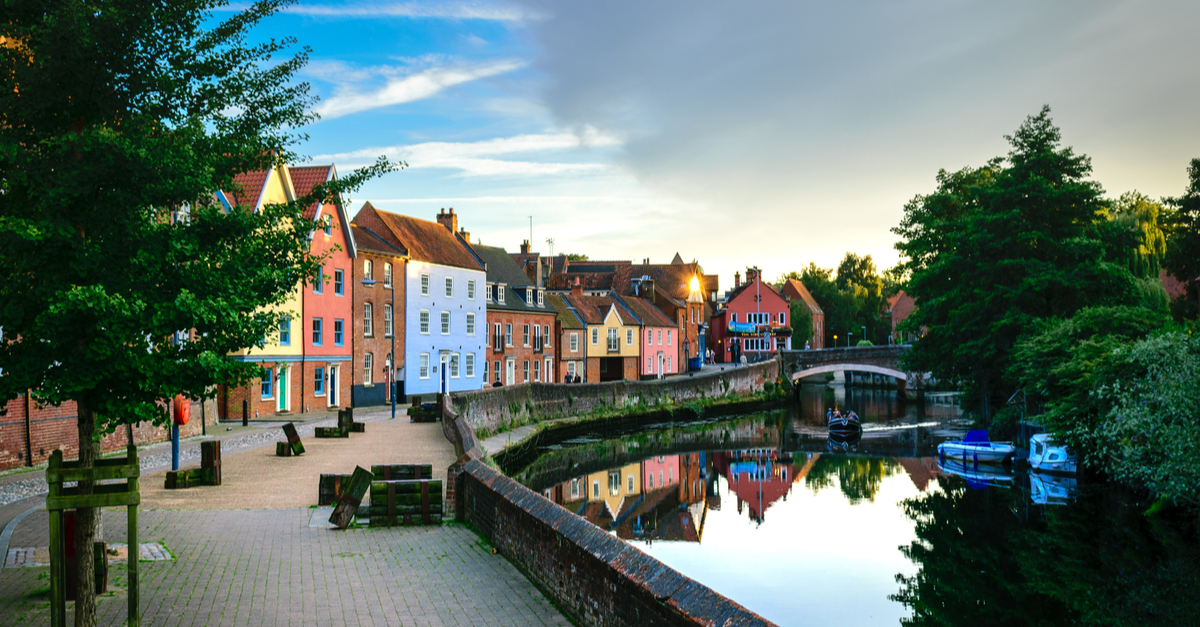 Norwich Canal. Source: Shutterstock
What is/are the departure and arrival stations for trains from London to Norwich?
Departure train station: The departure station for direct services between London and Norwich is London Liverpool Street station. This large station in central London provides access to London Underground services, city bus services and a taxi rank. There are several several food outlets, coffee shops and small grocery stores available for passengers on the station concourse. Some indirect train services may also depart from London Kings Cross station, on of the UK's largest stations with further access to great customer facilities and public transport including the London Underground and other national rail services.
Arrival train station: All trains from London to Norwich arrive at Norwich station, which is the terminal station for the rail services. The small station has access to local rail services, a bus service and a taxi rank. It is a short walk or bus ride from the city center, with several large retail outlets and a supermarket nearby. The station itself has several coffee shops, a news agent and customer services on hand at all times. Bus services depart every 10min, travelling a few stops to the city center and onwards to the the local university campus.
Which train companies travel from London to Norwich?
Abellio Greater Anglia are the sole operator for the direct rail services between London and Norwich, from London Liverpool Street to Norwich station. Indirect services from departing from London Kings Cross Station are run by Great Northern and East Midlands Train services, running a slower service with a changeover at generally made at Ely station.
Abellio Greater Anglia trains from London to Norwich
Abellio Greater Anglia services run all direct journeys between London and Norwich. They are the major provider for trains in East Anglia, running trains between London and Norwich every half hour from early until late in the day. Trains with Abellio Greater Anglia take just under 2h to complete the journey from London to Norwich, with several stations stops on the way but no changes necessary. The trains have facilities suitable for long-distance travel with the distance between London and Norwich coming in at around 120 miles (190 km). Travelling with Abellio Greater Anglia rail services is the quickest way to complete your journey from London to Norwich.
Great Northern and East Midlands trains from London to Norwich
Indirect services from London to Norwich are also available, provided by Great Northern and East Midlands trains which come together to complete your journey. Trains run by Great Northern depart from London Kings Cross station and arrive at Ely station, where passengers change to trains operated by East Midlands services. Departing from Ely, passengers subsequently arrive in Norwich with the entire journey taking around 2h 30min. The trains run by these operators are suitable for middle distance travel with comfortable seats and toilet facilities available to customers. These indirect services run less frequently than Abellio Greater Anglia's direct trains, with an average of 3 indirect services departing from London to Norwich each day.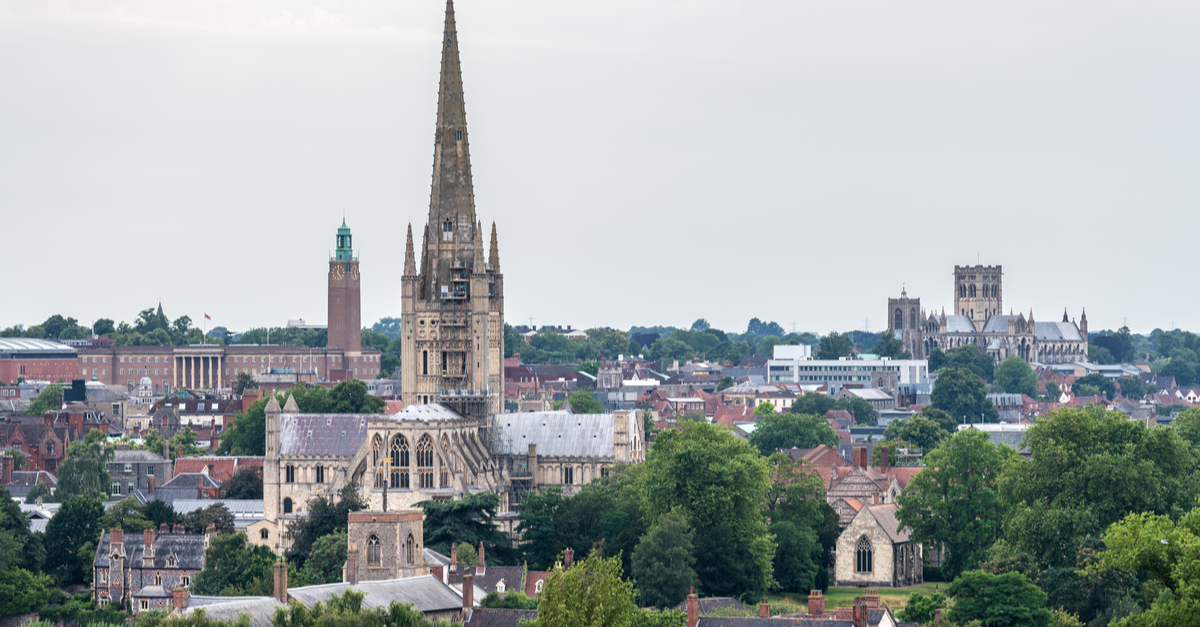 Norwich Town. Source: Shutterstock
Train London to Norwich: Services on Board
Abellio Greater Anglia train offer passengers a choice of first and second class travel, with tickets bookable in advance or on the day of travel. Quiet coaches are also available on many Abellio Greater Anglia trains for a more peaceful travelling experience, while you can find Wi-Fi available in most other carriages. Luggage storage in available in each part of the train, as are toilet facilities.
Passengers with disabilities can find assistance from station customer services or train staff, and trains have designated spaces for wheelchair users. Dogs are welcome on board, as are bicycles which can be safely stored in designated areas with assistance from train staff. Abellio Greater Anglia trains have the luxury of either a buffet area on the train, or a drinks and snacks trolley for passengers to access from the comfort of their seats, while first class travellers are entitled to a complimentary hot drink alongside their ticket.
How to find cheap train tickets from London to Norwich?
One great way to find cheap tickets from London to Norwich is by booking in advance. Tickets are generally more expensive on the day of travel, so booking a few days before your planned journey can save you some money. You can also book online, to find the cheapest time or day to travel at a glance.
If you're able to be flexible about the date or time you plan to travel, you can save money by travelling at off-peak times or on days when rail travel is less popular. Indirect travel can often be a cheaper option as they reach their destination in a slower time than direct trains, so choosing a journey plan which includes a change of train may enable you to save money on your tickets.
To Norwich by train—travel tips
Norwich is a fantastic city to visit for a day trip, a weekend or even a week away. With its small city center, you can easily access all the sights on foot, or use the city buses which connect landmarks in the center of the city with those outside, including the university campus. Norwich is famous for its arts and culture scene, with its many theatres and small music venues providing a wide range of entertainments suitable for any taste.
You can also visit the stand-out attractions like Norwich Castle, which has looked over Norwich for hundreds of years, or the city's football ground. There are two shopping malls in the city, as well as many retail outlets and small boutiques to try out, and you can find a host of independent restaurants and cafes dotting every street corner.
The open air market in the middle of the city is certainly not to be missed, boasting many interesting independent shops and street food outlets. Norwich is also well connected to its surrounding countryside and the Norfolk coast, which can be accessed by bus or train in around 30min.