Travel from London city centre to London Euston train station
London Euston is the main train station in London, offering intercity rail connections, high-speed intercity services, and regional and commuter train services. It serves as a gateway from London to North West England, Scotland, West Midlands, and North Wales and is a key connection point for ferries to Dublin. Euston Station is the base for many local and regional destinations. If you are travelling by train from Euston Station, be sure to check the rail, underground, and ferry timetables to plan your itinerary and to arrive at the station early enough to find your platform.
There's plenty to see in and around the station, with the British Museum and Bloomsbury Theatre being just a short walk from the station. Moreover, getting to and from the station is pretty easy, with there being many transportation options available. You can get to the station from the city centre using a car, taxi, bicycle, bus, train, the London underground and Overground trains. Using Omio, you can easily book trains to and from Euston Station.
How far is it from London city centre to London Euston train station?
Euston Station is about 1.6 miles (2.5 km) from London city centre. There are many ways of travelling from Euston Station to London city centre, with walking being one option. The buses and taxis are some ground transportation options available at Euston Station's doorstep, whilst the London Underground and Overground tube services are one of the best ways of getting to the city centre. Bicycles and cars are other great options for getting to the centre of the city. The trip from London city centre to Euston Station takes about 13min via the A4200 and about 18min via the A400.
What is the best way to get to London Euston train station from London city centre?
Euston Station is just a short distance from the centre of London, and there are plenty of ways to get there. The best way of getting to London city centre from Euston Station is by taking the London Underground, or tube as it's also known. The tube is the cheapest way and the Northern line should get you to the city centre in about 6min. There's a train departing the station every 5min, and it's a reliable way of getting to the centre. However, the tube gets very busy during the morning and evening hours and it would be quicker taking a bus or taxi.
Two bus companies provide services from Euston Station to the centre of the city. London Buses, such as numbers 68, 91, 168 and 59, or bus number 748 by Arriva UK, will get you to the centre. The trip to the centre of London takes anywhere from 14min to 17min, and it's another cheap method of getting to your destination. The other method of getting to the centre is taking a taxi. There's a taxi rank beneath the station, with several companies providing journeys to the centre of London that should take about 5min.
Where are the airports in London and how to get there?
London has two main airports, London Heathrow Airport (LHR) and London Gatwick Airport (LGW). Heathrow Airport sits 17.8 miles (29 km) west of London Euston station. There are several methods of getting to and from the airport, including taking the tube, taxi, and shuttle. There are two London Underground options to Heathrow Airport. The first is taking a short walk to Euston Square Station and catching the Circle or Hammersmith & City lines to Paddington Station, where you'll transfer to the Heathrow Express that will get you to the Terminals 2 and 3 stations at the airport. The whole trip takes about 32min. The other option is walking to Russell Square Station, about 10min away, and taking the Piccadilly Line, which departs every 10min heading for Heathrow's Terminals 1, 2, and 3 stations. This journey takes about 1h 54min, but it's the cheapest. Taxis are available from the side of the road and they'll get you to Heathrow in about 30min.
You'll have the same options for getting to London Gatwick Airport, which sits about 30 miles (48 km) south of Euston Station. From Euston Station, take the Victoria Line to Victoria Station, where you'll transfer to the Gatwick Express, a train departing every 30min, for London Gatwick Airport. This train journey takes about 45min. Option B is walking to London St Pancras Station, about 10min from Euston Station, and boarding the Thameslink train to Gatwick Airport. This trip takes about 1h 12min. Lastly, we have taxis available at the taxi rank at Euston Station, from where you can get to Gatwick Airport in about 55min.
How accessible is London train station for those with limited mobility?
Euston Station is very accessible for those with limited mobility. First, you can easily access the main station with three step-free access points. Platforms 1 to 16 at the station also offer step-free access, with ramps provided, and it's recommended that people with limited mobility ask for assistance when visiting Euston Station.
If you wish to access the London Underground, you can use the lifts or escalators. The same lifts and escalators will give you access to all floors at the station, the first-class lounge, and the balcony. The same services are available to the visually and hearing impaired. There are tactile warning strips along the platforms for the former, and the latter can get hearing loops at the ticket office. If you need special assistance at the station, you can get it from the Assisted Travel Lounge on the main concourse. You can also book in advance with your train provider, and 'turn up and go' services are also available within normal station hours. However, it would be best to book in advance.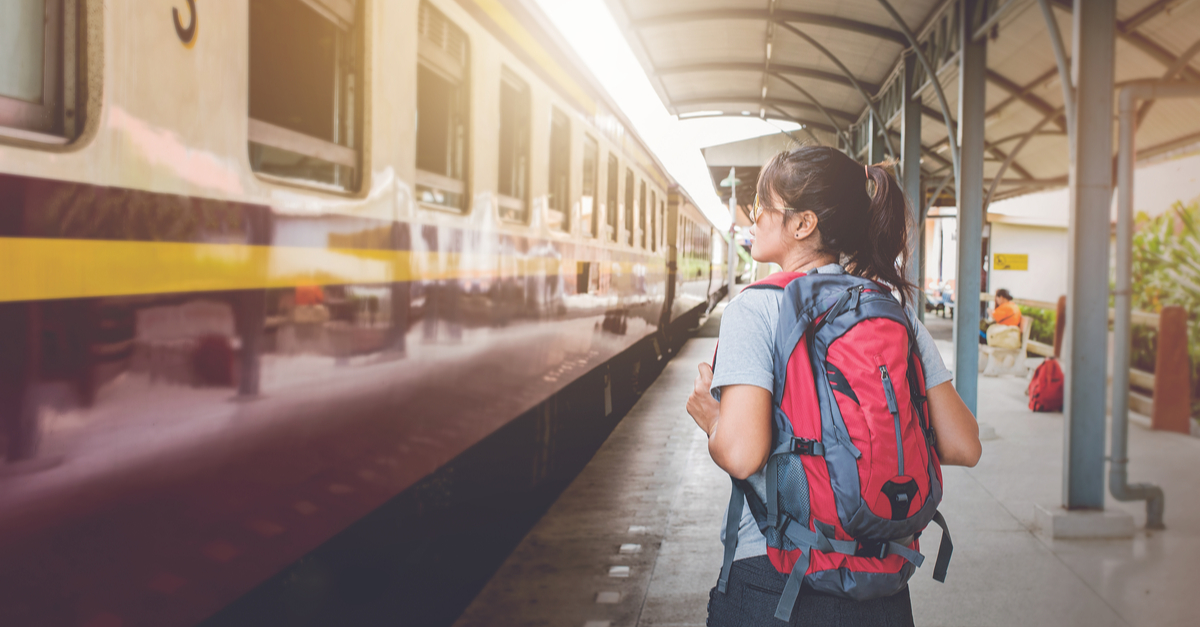 . Source: Shutterstock
Night trains to/from London Euston
If you wish to catch a night train, London Euston Station is usually operational until late on most days, and you can get late-night trains for most routes. The station's operational hours are 4:30 a.m. to 2:00 a.m. weekdays and Saturdays, and 5:15 a.m. to 1:30 a.m. on Sunday. During these hours, you'll have trains available for all of the routes.
Travelling by train in London: Sustainable journey
After walking and biking, trains are the most sustainable way of travelling. Most trains use regenerative braking, meaning they save energy as the train is coming to a halt. It is beneficial for trains making regular stops. Trains also cause less noise pollution than other modes of transport since they pass fewer times than cars or buses. Moreover, since most of the UK's trains are now electric, travelling by trains no longer produces the pollution it once did. Moreover, train tracks make better use of land since they use less space. Finally, you can book trains to London Euston using Omio and store the ticket in your account, without needing a printed ticket, saving on paper.
Local tips: London Euston train station points of interest
Euston Station has lots of facilities to enjoy. There are ticket offices at the station and automated ticket machines. There are also toilets and changing facilities, with both male and female accessible toilets at Euston Station. If you wish to take a shower, you can do so at the first-class lounge, whilst there are also several cashpoints and payphones available at the station. The station also provides free Wi-Fi, and there's also a photo booth. You'll also find a left luggage point at the station and several trolleys to help you with your luggage. For more local tips, you can check Omio magazine.The station is also home to several shops and restaurants, and here are a few things to do in and around London Euston Station:
Get a history lesson at the British Museum
Learn about Egyptian history at the Petrie Museum of Egyptian Archaeology
Enjoy a live performance at Bloomsbury Theatre
Take a step back in time and learn about Charles Dickens' home in London at the Charles Dickens Museum
Take a breather at Euston Station's first-class lounge
Visit the Foundling Museum to see some paintings, sculptures, and art made by local artists
.
What to do in London
There's a lot to enjoy in London, so don't miss the best things to do and iconic places to visit in this great metropolis. From sightseeing tours to soaking up culture and history in museums and galleries, London has it all. You can shop till you drop at famous shopping streets or enjoy a world-class show at the many theatres, whilst there are also several free things you can enjoy in London. Visit the London Eye, one of London's most famous landmarks slowly rotating by the River Thames for some unforgettable views. If you love Harry Potter, get on the Warner Bros. Studio Tour London to see the sets and costumes used in the Harry Potter films.
The Tower of London is one of the most famous buildings in the country. Get to see this historic building that has served as a dungeon, royal palace, place of execution, arsenal house, jewel house and zoo. And if you want to get the best out of London, get on one of those hop-on-hop-off bus tours that take you through iconic sites with a live guide or audio tour.