Trains from Leeds to London
You can get trains from Leeds to London easily, with many running on a daily basis. There are generally about 32 trains daily between Monday and Saturday, with about 23 on Sundays. Trains normally leave from early in the morning to late at night, so there should be a suitable train to match your schedule. On average, trains to London from Leeds take in the region of 2h 10min to arrive. However, there are also slightly faster trains which take under 2 hours and slower ones that take approximately 2h 25min.
Leeds to London Train Time: Daily Departures
During the week, Leeds to London trains run regularly, so you will be able to complete your trip with ease. From Monday to Saturday, the first train normally departs at around 05:00, whilst on Sundays this is slightly later at about 08:00. The last departure on weekdays and Sundays is at approximately 20:45, whilst on Saturdays, it's a bit earlier at around 20:15. There are roughly 32 trains daily on weekdays and Saturdays and about 23 on Sundays.
How long is the journey by train from Leeds to London?
Trains from Leeds to London have an average journey time of about 2h 10min. The fastest train takes about 1h 59min, whilst the slowest needs around 2h 24min. All trains on this route are direct.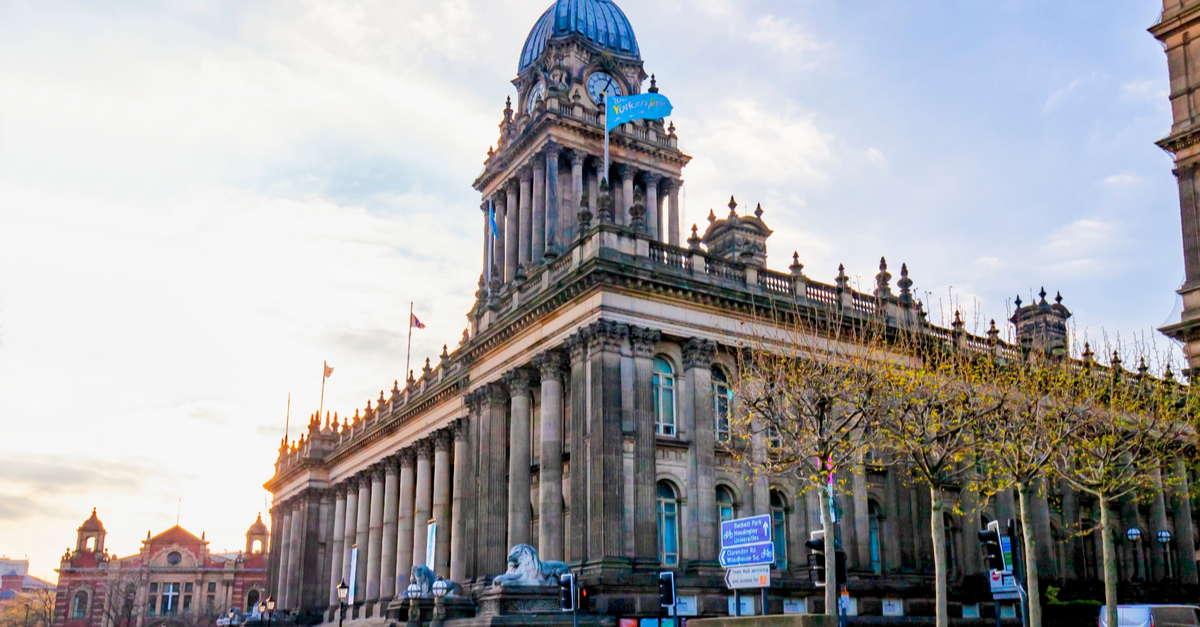 Trains from Leeds to London: City Hall building in Leeds. Source: Shutterstock
What are the departure and arrival stations for trains from Leeds to London?
Departure train station: All trains to London leave from Leeds train station, which is conveniently located in the heart of the city. You can travel to the train station from popular sites in the city, such as the Royal Armouries Museum, in about 17min on the number 444 Max bus. There are lots of facilities at the train station, such as cash points, coffee stalls, food shops and toilets.
Arrival train station: Trains arrive at London Kings Cross train station, which is located in the heart of the city. You can get to popular tourist attractions like Charles Dickens Museum in around 14min on the number 17 bus. The train station is very busy and has plenty of amenities for travellers. With food outlets, drinks stalls, ticket machines, cashpoints and toilets, you'll be all set for the rest of your journey.
Which train companies travel from Leeds to London?
There is one train company providing the train from Leeds to London. LNER runs a frequent and reliable service, so you can get to your destination quickly. There are about 215 trains in total operating throughout the week. On average, trains from Leeds to London take about 2h 10min. All trains on this service are direct unless there is rail maintenance taking place, in which case you might need to change on the way.
Night trains Leeds
You cannot get a night train from Leeds to London. However, there are trains that leave early in the morning at about 05:00, arriving in London at around 07:30. You can also get trains that leave at about 20:45 and arrive in the capital at around 23:00.
LNER trains from Leeds to London
LNER Leeds to London trains depart regularly throughout the week. There are about 160 trains between Monday and Friday and a further 55 trains operating at the weekend. The earliest train on weekdays and Saturdays departs at approximately 05:00, whilst running slightly later on Sundays at approximately 08:00. The final departure each day is at around 20:45 on weekdays and Sundays and about 20:15 on Saturdays. The average journey time for LNER trains from Leeds to London is roughly 2h 10min, but there are also trains that complete the journey in approximately 2h. All trains that travel this route are direct, so you can just relax and enjoy your journey.
trains from Leeds to London: Sustainability travel
If you take a train from Leeds to London, you will be engaging in greener travel. Travelling by train travel is more sustainable than going by bus, car or plane, due to its lower carbon emissions per passenger than the other modes of transport. This is great news for your carbon footprint, something we all should try to reduce. In addition, train travel causes lower levels of noise pollution, beneficial for the general well-being of people as well as local wildlife.
Train Leeds to London: Services on Board
When you get a train from Leeds to London, you can enjoy a range of top-quality facilities. LNER have both First- and Second-Class carriages, so you can choose to travel in style. You can take three items of luggage on board the trains with you, which can consist of a large suitcase, a small bag and a hand luggage item. Suitcases must be a maximum of 80cm x 57cm x 30cm, and hand luggage items must fit into the overhead compartments. You may stow small bags under your seats. A bicycle can be taken on board too, but you must make a reservation as there is limited space on LNER trains for non-folding bikes. You can also take two pets on board with you for free, but you must ensure that they are on a lead or in a pet carrier for the entire journey. If you have a disability or a mobility issue, you can contact the provider to arrange for assistance.
How to find cheap train tickets from Leeds to London
Cheap tickets from Leeds to London are easy to find. The earlier you book your ticket, the more likely it is to snap up a cheaper fare as prices tend to increase the closer you get to the departure date. If you are able to be flexible with your journey, this may also help you find a lower-cost ticket. Look for trains a few hours either side of your preferred travel time as they may be cheaper. Using a railcard can also help you make savings of up to one-third off the regular cost. If you want to find out about other locations in the UK you can travel to with cheap tickets, you should check out the Window Seat magazine for inspiration.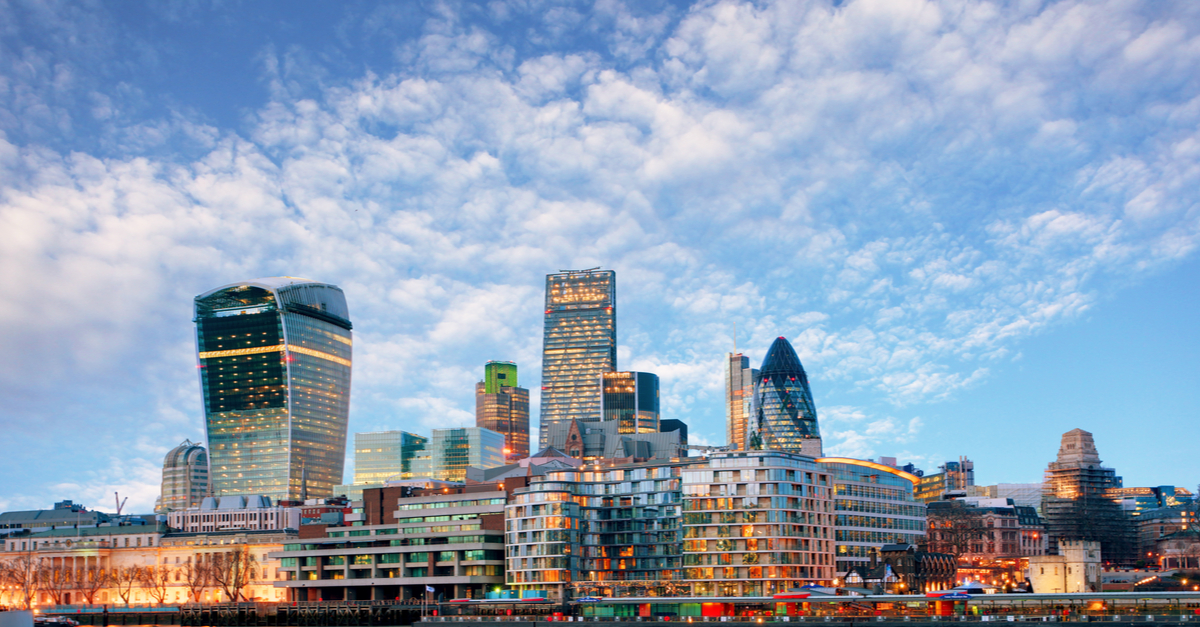 Trains from Leeds to London: cityscape of London. Source: Shutterstock
To London by train—travel tips
London is a fantastic city for tourism, as there is loads to see and do. If you want to experience some of the top Royal sites, why not head over to The Tower of London, Her Majesty's Fortress. Then take a trip to Buckingham Palace, the Queen's official residence in the city. Close by, you will find Hyde Park, great for escaping the hustle and bustle of the city. You can cycle around the park, enjoy a coffee at a café, or lounge about in one of the vast green spaces. Next up, head over to the Millennium Wheel or the London Eye, giving you unobstructed views of the city. If you are travelling with kids, you should check out the SEA LIFE Centre, with its wonderful marine life. A trip to London wouldn't be the same without a good old-fashioned English meal. So try out a pie or fish and chips at one of the excellent restaurants the city has to offer.
Stroll along the South Bank and peek at the Thames
Head up The Shard for panoramic views of the city
Explore Spitalfields Market to see if you can find a bargain
Take a look at the impressive Houses of Parliament
Check the time at Big Ben