Trains from London to Leeds
On weekdays, you can catch about 35 trains from London to Leeds per day, with about 25-28 on weekends. They run pretty regularly at roughly half-hour intervals, with a few trains added during peak times, when you can catch one every 15min or so. The journey takes between about 2h 15min and 3h 20min on weekdays, with weekend trips taking around 3-4h.
London to Leeds Train Time: Daily Departures
You can board a London to Leeds train roughly every half an hour from early in the morning until late at night during the week and mid-evening on weekends. The first trains from Monday to Saturday typically depart at just before 05:30, with the first Sunday trains at around 09:40. The last trains during the week leave at around 23:30, with those on Saturdays and Sundays leaving at about 20:15 and 21:35, respectively.
How long is the journey by train from London to Leeds?
The fastest trains to Leeds from London during the week take just under 2h 15min, and the longest trips last around 3h 20min. They're roughly equally split between direct and one-stop journeys throughout the day. At weekends, you can get to Leeds in roughly 3-4h, with most trips making one change on the way. The changes don't add any significant travel time to your journey.
Trains from London to Leeds: child on a train station in London. Source: Shutterstock
What are the departure and arrival stations for trains from London to Leeds?
Departure train station: London to Leeds trains depart either from London King's Cross Station or London St. Pancras Station. From the centre of London, you can catch the tube on the Piccadilly Line, taking about 13min, or a Line 91 or 73 bus to get there in the same amount of time. St. Pancras Station is roughly 6min from Central London, also on the Piccadilly Line. Both stations have full accessibility amenities, including all-round step-free access. There are showers, baby care rooms, a few cafés, coffee shops and convenience stores.
Arrival train station: The train route from London to Leeds ends at Leeds Railway Station. You couldn't get closer to the centre of Leeds if you tried, so from here you can simply take public transport to wherever you're ultimately heading. Passengers with limited mobility are assisted by the station's Journey Care service, and the entire station is wheelchair-accessible. There are a few shops, a kiosk selling snacks and drinks, and baby care rooms.
Which train companies travel from London to Leeds?
Several operators offer trains from London to Leeds. East Midlands Railway, LNER and Grand Central Trains operate the route at weekends, with the former two offering the most trips. During the week, EMR and LNER operate the majority of the trains between the two cities, with First Hull Trains contributing a few. Most of the LNER trains travel directly to Leeds, while East Midlands Railway trains usually make one change on the way, as do First Hull Trains. There's not much difference between LNER and First Hull Trains when it comes to travel time: both are on the quicker side of the average at around 2h 15 min and about 2h 30, respectively. East Midlands Railway trains tend to take a bit longer at around 3h to 3h 20min.
Night trains London
There is a night train from London to Leeds once a day on weekdays. Operated by LNER, it leaves at just past 23:30 from London Kings Cross and travels directly to Leeds. The journey only takes about 2h 45min, so this isn't an overnight train – you'll arrive at Leeds Railway Station at roughly 02:30.
LNER trains from London to Leeds
LNER trains to Leeds from London are the ones to choose if you're looking for the fastest journeys. Most travel directly to Leeds in around 2h 15min, while others stop in York for a change and take about 2h 40min. Departures start at around 06:00 and leave every 30min or so until about 21:30. After a short gap, the last two trains of the day then leave between 23:00 and 23:30.
East Midlands Railway trains from London to Leeds
East Midlands Railway runs two trains from London to Leeds in the early morning peak hours, and then a couple in the afternoon. It takes them between about 3h and 3h 20min to make the journey. They leave from London St. Pancras Station and make one stop for a change of train in Sheffield. This won't add a significant amount of time to your trip, only taking about 10min for the switch.
First Hull Trains from London to Leeds
From Monday to Friday, there's also a single London to Leeds service operated by First Hull Trains. It leaves mid-morning from Kings Cross Station and first heads to Selby for a train change of about 5min before continuing to Leeds Railway Station. The total travel time on these trains is about 2h 40min. This train company doesn't run any trains on this route at weekends.
Grand Central Trains from London to Leeds
Grand Central Trains offers two services from London to Leeds on weekdays, leaving late afternoon and early evening. Trains depart from London Kings Cross and stop once in Doncaster, where you'll also switch trains. There are two trains available at weekends, one at around midday and one in the late afternoon. They take about 2h 25min to reach Leeds.
Trains from London to Leeds: Sustainability travel
A train to Leeds from London is a far better way of travelling than by car or even by bus, in terms of carbon emissions, as many trains run on electricity rather than diesel. The other big factor in their favour is that so many people can travel on a single trip at the same time, significantly reducing the per-person emissions. As train companies introduce more efficient engines, trains also use less and less energy every year. All of the carriers on this route conform to the principles of the UK Rail Sustainable Development Programme.
Train London to Leeds: Services on Board
All London to Leeds train providers have Assisted Travel programmes of one sort or another, with staff trained to cater for passengers with limited mobility. All trains have wheelchair spaces on board, although these are limited, so book further in advance if you want one of these. Suitcase-sized luggage is stowed near the inter-coach doors, with space once again limited, so you'll generally only be allowed one baggage item here. All other luggage goes either in the overhead compartments, which can take smaller luggage, or you can keep hand luggage on your lap or under your seat. Up to two domestic pets are allowed with you, as long as they're on a lead or in a travel container and don't disturb other passengers. LNER, First Hull Trains and Grand Central Railway have a few bicycle spaces that you can book, while East Midlands Railway only allows foldable bicycles. All four train companies also offer First-Class tickets over and above these amenities.
How to find cheap train tickets from London to Leeds?
One good way of finding cheap tickets for a train from London to Leeds is to look at the schedules well ahead of time when you can sometimes find tickets that come with appreciable early-bird discounts. If you're not planning that far in advance, and you're not too particular about the day on which you travel, wait as long as you can before booking. This will allow you to benefit from last-minute cancellations when train companies often resell tickets at discounted prices. On some routes, you can book longer trips or itineraries with several stops in-between, which are sometimes cheaper too.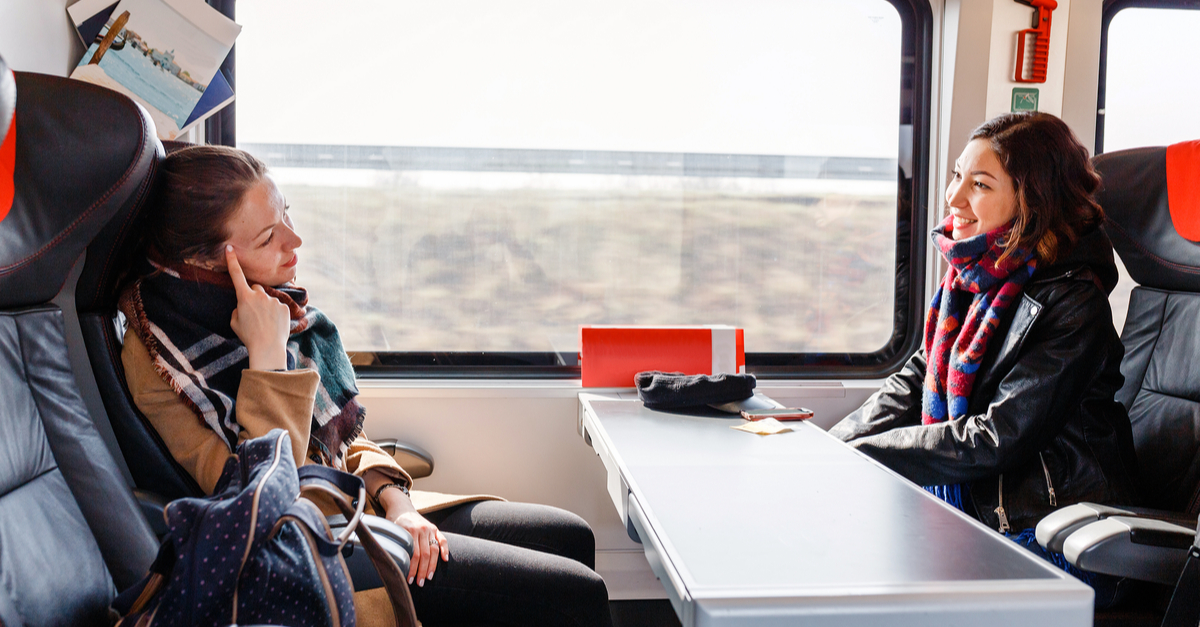 Trains from London to Leeds: friends taking a train to Leeds. Source: Shutterstock
To Leeds by train—travel tips
Once your train to Leeds from London arrives, you can visit city landmarks like the City Quarter. It's fully pedestrianised and surrounded by attractions, including some of the city's most famous statues. The Leeds Art Gallery is also in this part of the city, as is the Leeds City Museum. For shopping in a Victorian-era arcade, head to Briggate with its expansive stained glass covering, located on Queen Victoria Street. St. John the Evangelist's Church is the religious and architectural centrepiece of the city, and another famous historical landmark is the Leeds Corn Exchange, a Grade I listed building where you can now find boutiques and chic cafes. Harewood House is renowned for its ceiling and wall paintings and also features fine collections of original Chippendale furniture. In addition, there are displays of porcelain, including some by El Greco. You can also head to Leeds Industrial Museum at Armley Mills to explore the region's textile and clothing production history. Our online travel magazine, The Window Seat, has more ideas.
The Headrow
Thackray Medical Museum
Temple Newsome House
The Royal Armouries Museum
Lotherton Hall
Abbey House and Museum