Trains from Edinburgh to Leeds
Trains run from Edinburgh to Leeds from roughly as early as 06:00 onwards during weekdays, with services beginning later in the day, around 09:00, on Sundays. You can find about 36 trains running this connection during regular weekdays. Some services travel directly, while others do require a changeover.
Edinburgh to Leeds Train Time: Daily Departures
Monday through Saturday, trains generally begin running at just before 06:00 from Edinburgh Waverley Station. Sundays show trains departing from Waverley Station later in the morning, beginning at about 09:00. Trains run very frequently between Edinburgh and Leeds, with connections usually departing for Leeds between two and four times every hour.
How long is the journey by train from Edinburgh to Leeds?
Depending on if you require a changeover or not, the duration of your journey can vary from approximately 3 hours to 5h 20min. Your total travel time depends on waiting times between trains; some services require an upwards of half an hour wait between connections. Direct trains cover the roughly 163 mile (262 km) distance in about 3h, whereas non-direct journeys can take upwards of this duration.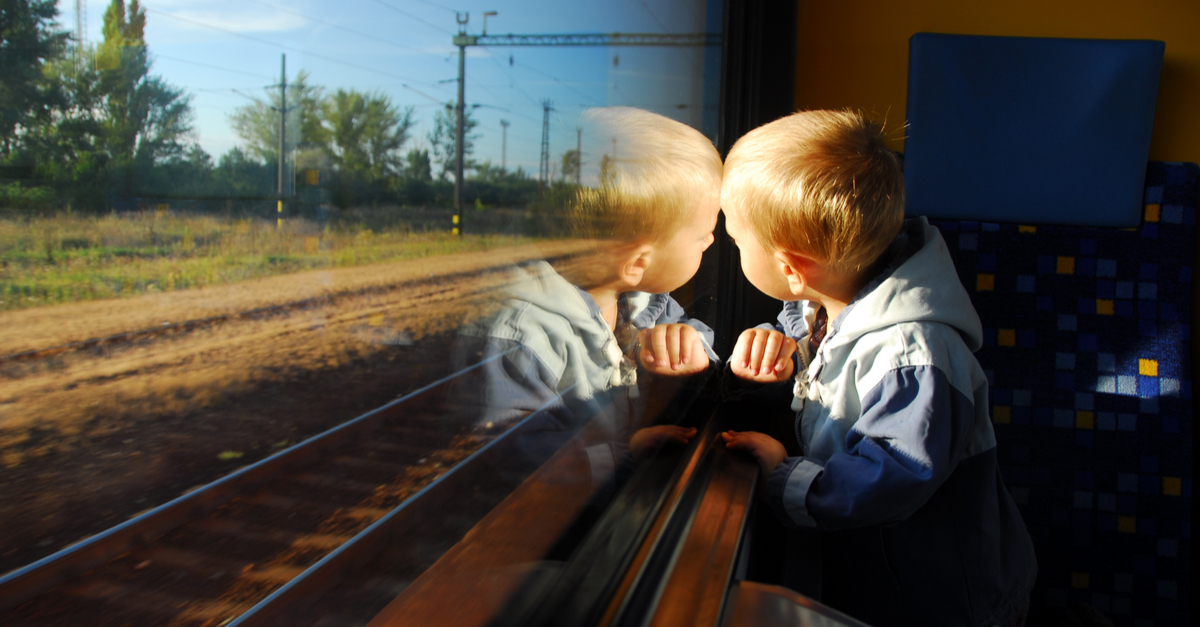 child on a train from Edinburgh. Source: Shutterstock
What are the departure and arrival stations for trains from Edinburgh to Leeds?
Departure train station: You will depart from Edinburgh Waverley Station. Edinburgh Waverley is located very centrally in Edinburgh, making it easily accessible. You can also find a bus station nearby, if you are travelling to the station by bus. If you travel by car, there is a car park that can facilitate around 509 cars. Inside the station, you will find public toilets with baby-changing facilities, as well as access to cashpoints, public payphones and water fountains. The station also offers free Wi-Fi.
Arrival train station: Leeds Railway Station will be your arrival point in Leeds. This station is also located very centrally. Just outside the station, you can find a taxi rank as well as the public bus service, should you need it. Within the station, you can find public toilets with baby-changing facilities, a tourist information office, public Wi-Fi, a number of shops as well as a cashpoint.
Which train companies travel from Edinburgh to Leeds?
There are four train companies travelling from Edinburgh to Leeds. These are CrossCountry, TransPennine Express, London North Eastern Railway and Northern Rail. CrossCountry offers the fastest transport between the two cities. Most of their trains travel directly; however, a number do also require a changeover, and the wait time between these changeovers is often not long. TransPennine Express only has a few services to Leeds, and all of these require one changeover. All of the London North Eastern Railway services to Leeds also require one changeover, this is commonly in either Newcastle or York. Northern Rail services the smallest number of trains from Edinburgh to Leeds and also has no direct trains between the two cities.
Night trains Edinburgh
There are no trains departing Edinburgh Station for Leeds later than about 19:00. These trains will get you into Leeds at around 23:00. The earliest trains depart just before 06:00 and arrive at Leeds Railway Station by roughly 09:00. If you need to reach the city earlier than 09:00, unfortunately, this is not possible. We would, therefore, recommend travelling a day earlier and spending an extra night in the city.
CrossCountry trains from Edinburgh to Leeds
CrossCountry is the only train provider that offers direct trains from Edinburgh to Leeds. Their trains run approximately 18 times a day, and the average travel time is around 3 hours. Their trains can reach up to 125 mph (200 km/h).
TransPennine Express trains from Edinburgh to Leeds
TransPennine Express trains from Edinburgh to Leeds only run, on average, four services a day. The travel duration varies but is on the higher end of the scale, most often upwards of 4 hours travelling time. This is due to the necessary transfer at either Manchester Piccadilly or York Station.
London North Eastern Railway trains from Edinburgh to Leeds
London North Eastern Railway runs the most frequent trains from Edinburgh to Leeds, with an average of 19 trains departing Waverley Station for Leeds daily. Their travel time is close to the 3 hour mark but not as fast as the CrossCountry service, as a changeover is still required during the journey. Their trains run roughly once per hour, at around the half-hour mark, while there's an additional few trains in the early morning.
Northern Rail trains from Edinburgh to Leeds
Northern Rail runs the fewest services between Edinburgh and Leeds, with only an average of two trains departing Waverley Station on weekdays. Their service also has long travel times, nearing a 4-5 hour journey, the discrepancy between travel times being due to long waiting durations between transfers.
Trains from Edinburgh to Leeds: Sustainability travel
Travelling sustainably can be difficult, but converting from driving a car to taking the train for the distance between Edinburgh and Leeds is a great start. Rail transport emits less carbon into the atmosphere than transport by car, so if you are looking for ways to lower your own carbon emissions, then taking the train is a good option. Many of the train companies servicing the journey between Edinburgh and Leeds are also committed to further lowering their carbon emissions and so decreasing their impact on the environment.
Trains Edinburgh to Leeds: Services on Board
The Edinburgh to Leeds rail service offers the option of a standard ticket or a first-class ticket for most of their journeys. With first class, you have the option of travelling in more comfort, this includes wider seats and more legroom. All passengers have access to free WiFi, and most trains come with power points, should you need to charge your phone or laptop. Each passenger has an allowance of three items of luggage; this includes one small item plus two large pieces of luggage. There are over-head storage facilities available. If you wish to travel with a pet, there is a two animal maximum allowance per passenger, and your pet may only travel with you if they are kept on a leash or in a carrier for the duration of the journey. Should you require assistance on your travels, due to a disability, this is not a problem. All train companies connecting Edinburgh to Leeds offer an assisted-travel option; just be sure to contact the train company in advance, to allow for preparation. Assisted travel includes aid with boarding and disembarking the train, help with finding your seat and wheelchair ramps. Should you require other services, this should not be an issue either, as long as you contact the rail service prior to your journey.
How to find cheap train tickets from Edinburgh to Leeds
When looking for cheap tickets from Edinburgh to Leeds, it is helpful to search and book your tickets in advance. You most often find the best deals for your journey this way. If you are flexible with your date and time of travel, you can also save a great deal on your costs; some companies offer cheaper fares for travel during off-peak hours. Searching for your tickets through our website can show you which fares are the cheapest for your planned day of travel. It's also useful to travel with the Omio app, which keeps your ticket handy and offers updates and reminders for your journey.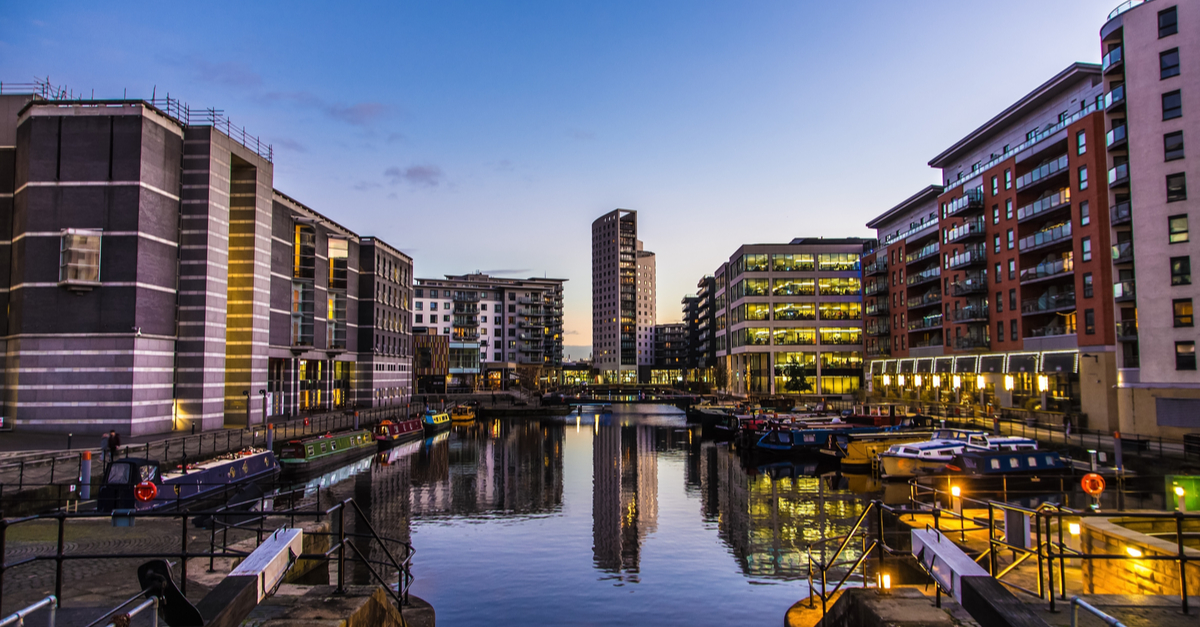 Clarence dock in Leeds. Source: Shutterstock
To Leeds by train—travel tips
During your train journey between Edinburgh and Leeds, kill some time by reading an article from our The Window Seat magazine. Once you reach your location, why not head to The Arcades, roughly 10min walk from the station, made up of the Victoria Quarter, Grand, Queens and Thorntons Arcade. Windowshop the high-end designer shops and enjoy the sights, even if you don't plan on buying anything. Or, a bit further outside the city, wander through Roundhay Park. You can catch the park train there in the summer, which will take you on a loop around the park, setting off every 15min or so.
Explore the ruins of Kirkstall Abbey
Take a Brewtown tour
Visit the Royal Armouries
Look around Temple Newsam House, a Tudor-Jacobean mansion
Enjoy the scenes at Harewood House