Trains from Edinburgh to St. Andrews
Rail travel from Edinburgh Waverley station to St. Andrews offers convenient and flexible journey times. As the trains run rather frequently, approximately every half an hour, you won't need to worry about planning your journey around train departure times too heavily. The train journey usually takes just less than an hour to reach Leuchars station, where you will require a bus change. The bus from Leuchars will then take you to St. Andrews bus station, a roughly 12min journey, for a total of 1h 15min approximate travel time. Keep in mind, travelling at certain hours does require two changes, switching trains at Edinburgh Haymarket and then continuing on to Leuchars station.
Edinburgh to St. Andrews Train Time: Daily Departure
Trains begin running from Edinburgh Waverley Station to Leuchars Station at about 05:30. Then, from roughly 07:00 onwards, they run at regular intervals of half an hour or so. The latest train leaving Waverley Station, bound for Leuchars Station for your bus connection, runs at around 22:11. You can catch your connection at roughly 23:48 and arrive at St. Andrews by approximately 23:59. The trains run less frequently on Sundays, with around five possible departures throughout the day, beginning at around 09:08 till about 12:41, lunchtime.
How long is the journey by train from Edinburgh to St. Andrews?
The total time spent travelling by train during your journey from Edinburgh to St. Andrews, excluding the time spent on the bus from Leuchars to St. Andrews, varies very little. Train times range from roughly 55min to 1h 6min. However, the total travel time can vary from around 1h 14min to 1h 33min. This includes the bus journey between Leuchars and St. Andrews, as well as the time between the train arrival and bus departure. During your journey, why not take a look at our online magazine, The Window Seat, to kill some time.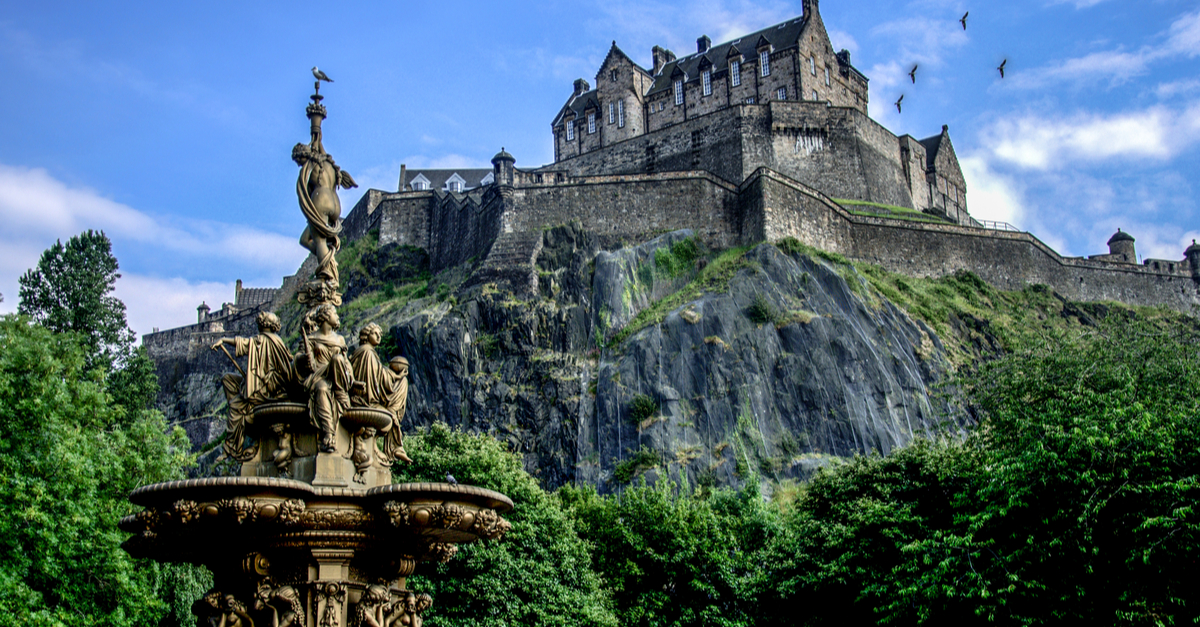 Edinburgh castle in summer. Source: Shutterstock
What are the departure and the arrival stations for trains from Edinburgh to St. Andrews?
Departure train station: You will depart Edinburgh from Edinburgh Waverley station. The station is located quite centrally, between the Old and the New Town. It's within walking distance from Edinburgh Castle and can be reached by public transport. North Bridge bus station is located around the corner from the entrance to Waverley station, and if travelling to the station by car, you can park it in the Edinburgh Waverley station car park, very near the railway.
Arrival train station: Leuchars train station will be your arrival point in St. Andrews. From here, you catch the bus to St. Andrews bus station. Leuchars is located 6 miles (10 km) outside of St. Andrews and is the nearest train station to the town coming from the direction of Edinburgh. The bus station in St. Andrews is located centrally and most of the town can be accessed by foot. If you require a car, it is possible to drive through St. Andrews; however, you most often won't have to walk for longer than about 30min to reach anywhere from the centre of town; the city is very walkable.
Which train companies travel from Edinburgh to St. Andrews?
The most common train company travelling from Edinburgh to St. Andrews, via Leuchars station, is ScotRail. London North Eastern Railway also services the train journey to Leuchars station; however, this company runs less frequently. Both travel at similar speeds with little difference in arrival times. Both also require a rail-to-bus change in Leuchars, as there are no train lines to St. Andrews.
Night trains Edinburgh
Reaching St. Andrews from Edinburgh later than around 23:06 is a difficult task. Unfortunately, the train network in Scotland has not fully been developed. However, the earliest train leaves the Edinburgh Waverely station at roughly 05:30, allowing early-morning commuting to St. Andrews a possibility, for anyone who requires to travel for work or simply to arrive in the town early.
ScotRail trains from Edinburgh to St. Andrews
ScotRail runs almost all train services from Edinburgh to St. Andrews, averaging about 28 services throughout the day on regular weekdays. Services are far less frequent on Sundays. The remaining services throughout the day are run by London North Eastern Railway. Conveniently, both ScotRail and London North Eastern Railway run direct services to Leuchars.
London North Eastern Railway trains from Edinburgh to St. Andrews
London North Eastern Railway services very few trains from Edinburgh to St. Andrews. This service also requires a train-to-bus transfer in Leuchars, and your overall journey will take approximately 1h 30min. There are no options for first-class tickets; with a standard ticket, you have access to free WiFi and power points for charging your electronics.
Trains from Edinburgh to St. Andrews: Sustainability travel
Train travel is a simple way to reduce your carbon footprint. The rail is an easier and more convenient form of travel, also paired with a shorter or similar travel time than the use of a car. It, therefore, pays to take the train, rather than driving the distance from Edinburgh to St. Andrews individually. The difference in carbon emissions between cars and rail is significant and, if you're curious about the numbers, you can compare these emissions on the ScotRail website.
Train Edinburgh to St. Andrews: Services on Board
Both ScotRail and London North Eastern Railway do not have first-class ticket options for their service between Edinburgh and St. Andrews. However, on board their commuter trains, you can find the basic services such as a public toilet and priority seating for the elderly and the disabled. With all providers, you will find space for your luggage – two pieces of luggage per passenger. You're permitted to bring a bike on the train for free, but some services may require you to reserve a space for it, so be sure to double check when booking your tickets. Domestic pets are also allowed on both railway providers, as long as they are kept on a leash or carried in a travel cage. Up to two animals can travel with a passenger for free. Additional pets may cost up to around £5 more.
How to find cheap train tickets from Edinburgh to St. Andrews
You can find train tickets from Edinburgh to St. Andrews through our website. The site will show you the cheapest fares available at the time you require, as well as which option will bring you to your destination the quickest. For questions about this service, check out the FAQ page to see if your query has already been answered. You can save money by booking your tickets online and in advance. Different travel dates may show cheaper fares, so it helps to be flexible with your time and date of travel. Keep in mind that direct journeys may cost more, and so choosing travel routes with connections and changeovers can help reduce the cost of your travel.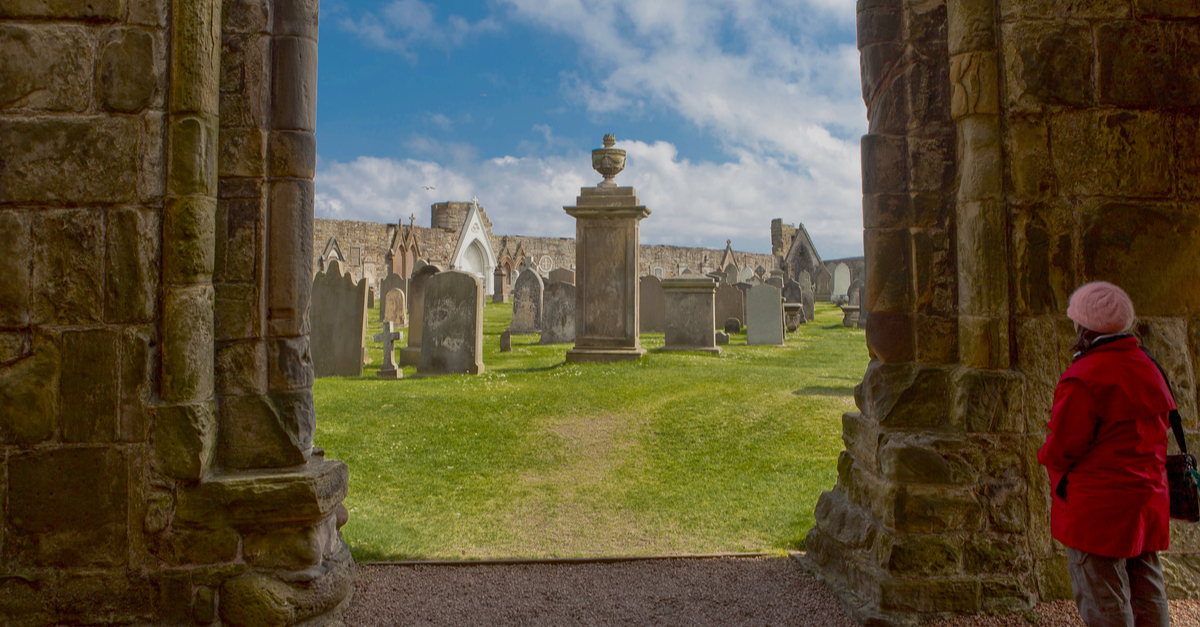 woman looking at the ruins in St Andrews. Source: Shutterstock
To St. Andrews by train–travel tips
St. Andrews has a lot of cultural sites to offer. With a medieval history, there are a number of family-friendly spots as well as fantastic parks, beaches and walks to make your way through in the city. St. Andrews Cathedral is located a roughly 14min walk from the bus station. Here, you can find many medieval sculptures, and upon climbing St. Rule's Tower, you'll find an incredible view of St. Andrews and Fife. St. Andrews is located on the coast, if you're looking to spend some time walking its lovely beaches, such as West Sands Beach, East Sands Beach and Kingsbarns Beach.
St. Andrews Museum
St. Andrews Ghost Tours
St. Andrews Aquarium
St. Andrews Castle
St. Andrews food tours
Golf history tours