Trains from Edinburgh to Inverness
There are about 10 trains from Edinburgh to Inverness every day from Monday to Saturday, and a reduced service of about six trains a day on Sunday. They run roughly between 06:30 and 19:30 on most days, with a train leaving Edinburgh once every 1h 30min on average. You can choose between direct and indirect journeys: the shortest direct journey is about 3h 15min, while indirect journeys can take up to 5h in total.
Edinburgh to Inverness Train Time: Daily Departures
The first Edinburgh to Inverness train of the day departs around 06:30, and there's a service operating every 1h 30min or so until about 19:30. There may be fewer trains operating on Sundays, when the first service of the day is around 09:30 and the last one at about 18:00. On any given week, there are around 66 trains from Edinburgh to Inverness. Generally, trains depart Edinburgh at a similar time every day.
How long is the journey by train from Edinburgh to Inverness?
The shortest direct journey gets you from Edinburgh to Inverness in about 3h 15min and is typically run by ScotRail. Indirect trains can take as little as 4h or as long as 5h, with the longer journeys mostly operated in the afternoon, after 15:00. There's a mix of direct and indirect journeys every day to choose from. Changes usually take place in Perth and Aberdeen, and you can experience waiting times anywhere between 13min and 1h 30min. Be sure to check for alternative connections to Inverness, should the first leg of your journey be delayed.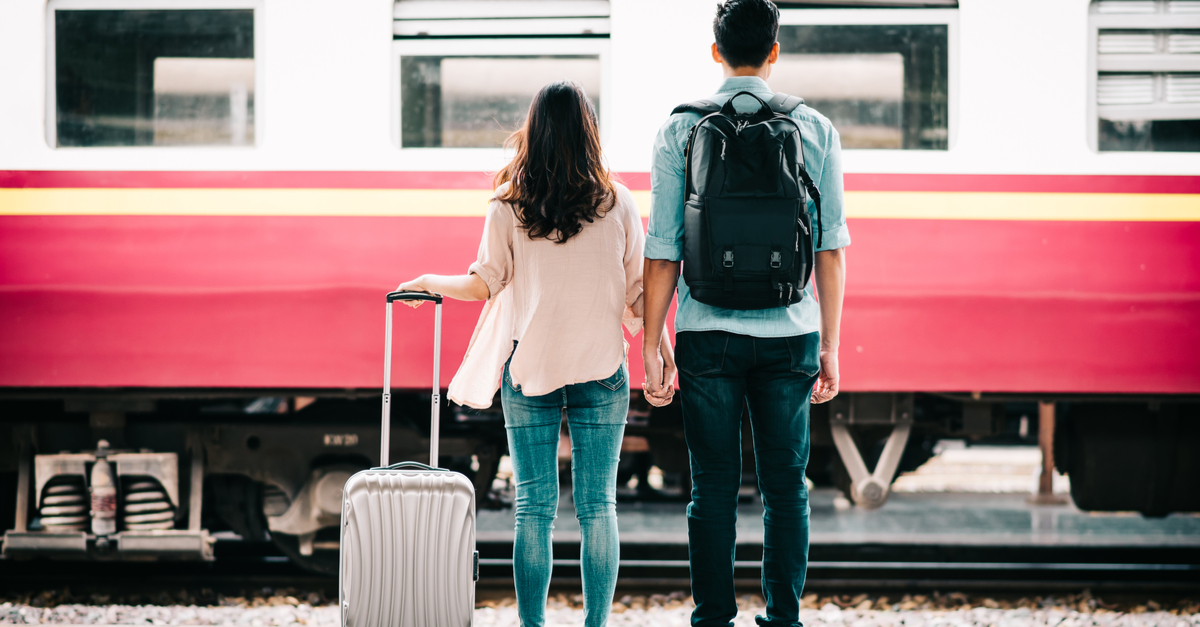 couple on a train from Edinburgh. Source: Shutterstock
What are the departure and arrival stations for trains from Edinburgh to Inverness?
Departure train station: The journey from Edinburgh to Inverness starts at Edinburgh Waverley, which is one of the city's largest train stations. It's positioned in the centre of Edinburgh, around 0.3 miles (0.5 km) or a roughly 7min walk from the Scottish National Gallery, and about 11min away by bus from the University of Edinburgh. The station has accessible toilets and baby-changing rooms, paid shower facilities and free Wifi. There are cycle and car parking spaces available, as well as wheelchairs and mobility vehicles for getting around the station. You could also depart to Inverness from Edinburgh Haymarket Station, which is based in West Edinburgh, about a 5min train ride from Waverley Station. Haymarket Station is about a 1 mile (1.6 km) or a roughly 23min walk away from Edinburgh Castle, in Old Town. Facilities include step-free access, accessible toilets and baby-changing rooms, free Wifi and wheelchairs available for use. There are bike storage facilities at Edinburgh Haymarket, but no car park.
Arrival train station: Trains from Edinburgh arrive at Inverness Station, which is in close proximity to main attractions in Inverness. It's situated around 0.5 miles (0.8 km) or an approximately 12min walk from Inverness Castle. Additionally, there are buses available to local golf clubs, such as Kings Golf Club, about 14min away by bus. Inverness Station has accessible toilets, baby-changing rooms, step-free access and wheelchairs and ramps on site.
Which train companies travel from Edinburgh to Inverness?
The two main companies operating Edinburgh to Inverness trains are ScotRail and LNER. ScotRail runs most direct and indirect journeys, while LNER typically runs the daily train at around16:30 direct train only. The LNER train is quite fast, averaging about 3h 30min per trip, but some Scotrail journeys are quicker, at about 3h 15min. Both companies operate every day of the week, Monday to Sunday. Indirect ScotRail trains tend to stop in Perth or Aberdeen.
Night trains Edinburgh
There aren't any night trains available on this route. The latest train departs Edinburgh Waverley around 19:00 and reaches Inverness Station at about 23:00. The earliest train departs around 06:30 and arrives at Inverness around 22:00.
ScotRail trains from Edinburgh to Inverness
ScotRail operates trains from Edinburgh to Inverness every day of the week, every 1h 30min or so, between 06:30 and 19:30. On Sundays, ScotRail services are limited between 9:30 and 17:30 approx. ScotRail operates the fastest direct journeys on this route, which take about 3h 15min. There are also indirect journeys to Inverness, lasting between 4h and 5h, which could be helpful if your schedule doesn't permit departing on a direct train.
LNER trains from Edinburgh to Inverness
LNER usually operates one service per day from Edinburgh to Inverness, around 16:30. This is a direct service that takes about 3h 30min, available every day of the week, including Sundays. LNER does not offer indirect journeys on this route.
Trains from Edinburgh to Inverness: Sustainability travel
Choosing to travel by train from Edinburgh to Inverness involves fewer emissions than, for example, travelling by car, particularly as ScotRail exclusively uses electric trains. To travel even more sustainably, you could cycle to your departure station, as Edinburgh Waverley Station has bike-storage facilities. Alternatively, you could use bus services to get to and from the train stations.
Train Edinburgh to Inverness: Services on Board
If travelling from Edinburgh to Inverness with ScotRail, you can choose between standard and first-class tickets, with the latter including power points and larger seats. You can bring two suitcases and one item of hand luggage on a ScotRail train, as well as carry a bike if you book space for it in advance. Up to two pets are allowed, if they're restrained on a lead or in a pet carrier. Accessibility requirements on ScotRail trains must be booked in advance as well, with services including platform and ontrain assistance, ramp access and wheelchair and mobile scooter storage. On LNER trains, you can travel with a suitcase, one carry-on bag and a personal item (like a handbag). Travelling with bikes must be booked in advance, and up to two pets can ride with you on leads or in carriers. You should book assistance with LNER in advance, by 22:00 approx. the night before you travel, for services including platform guidance, wheelchair and mobility scooter designated spaces and accessible toilets on board.
How to find cheap train tickets from Edinburgh to Inverness
To get cheap tickets for your train journey between Edinburgh and Inverness, it's a good idea to be flexible with your date and time of departure. While prices don't vary a lot on this route, you may find a bargain deal for indirect journeys or trains later in the day. You may also find that prices differ between providers; for example, LNER journeys are sometimes cheaper than those run by ScotRail. Always book as far in advance as possible to secure better prices. For more travel tips, you can check out the Omio Window Seat magazine.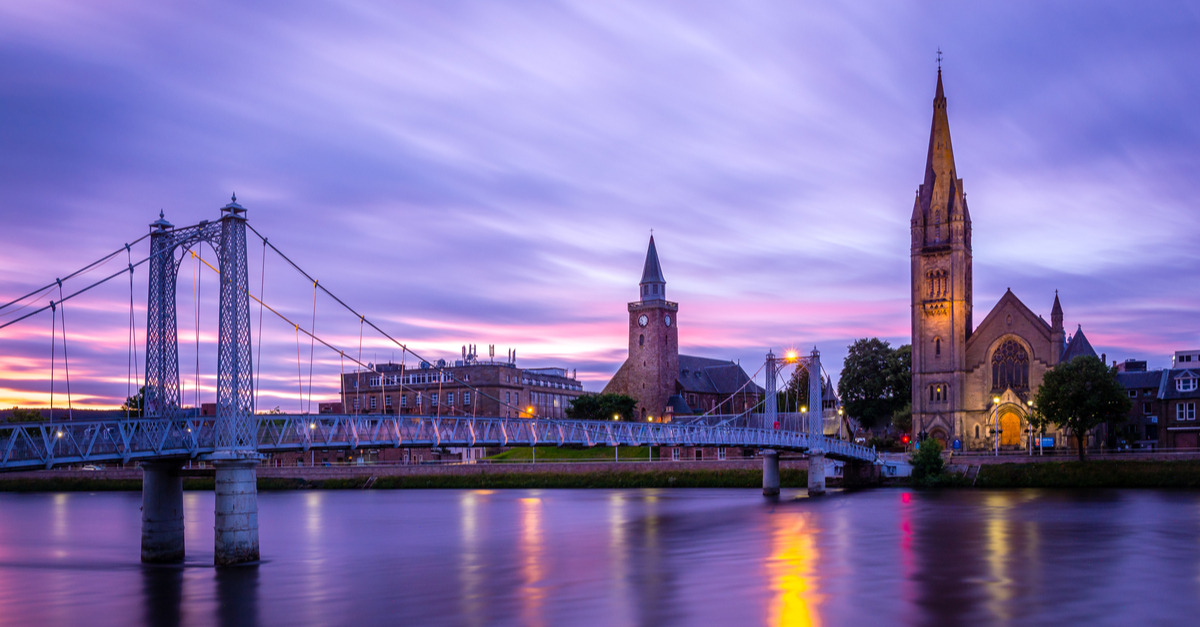 Ness river at sunset in Inverness. Source: Shutterstock
To Inverness by train—travel tips
You can't go to Inverness without visiting one of the most well-known landmarks in the world: Loch Ness. Located on the River Ness, the town of Inverness is about 8 miles (13 km) north of the lake, which is said to be the home of the Loch Ness Monster. Getting to Dores Beach, for example, on the north shore of Loch Ness, is about a 15min journey on bus 16 from Inverness Station. Loch Ness is huge, and it's worth visiting its many attractions, including Urquhart Castle, Clava Cairns and the Highlanders Museum. You can even book a cruise and try to spot the elusive monster yourself. While staying in Inverness, check out these other sights and activities in town:
Ness Islands
Dolphin Spirit
Utopia Cafe
Ness Walk, along River Ness
Inverness Golf Club