Trains from Nottingham to London
Trains from Nottingham to London cover a 109 miles (175 km) journey and take an average of two hours. Normally, 17 trains operate every day, including direct services and routes with at least one change over. Nottingham to London is a popular route for both locals and visitors to the city. Due to the route's popularity, the frequency of the trains departing from Nottingham Train station is high.
Nottingham to London Train Time: Daily Departures
Thanks to the popularity of this route, several trains run from Nottingham to London daily. Each day trains start at around 05:30 in the morning and depart each hour until the last train departs at 15:30. You'll find about 30 trains operating the route every day. East Midlands Railway offers the most trains, with around 20 trains per day. London North Eastern Railway operates fewer than ten trains a day, while First Hull Trains usually offer fewer than four trips daily.
How long is the journey by train from Nottingham to London?
Your travel time between Nottingham and London will vary with the route you choose to take and if it includes a changeover. The distance covered between Nottingham and London is 109 miles (175km), and the average trip is around 1 h 45 min and changeovers. LNER operates the longest trip with a changeover in Grantham, and a travel time of 2 h 15 min, while the fastest trip is a direct train between Nottingham Station and St Pancras, which is around 1 h 32 min.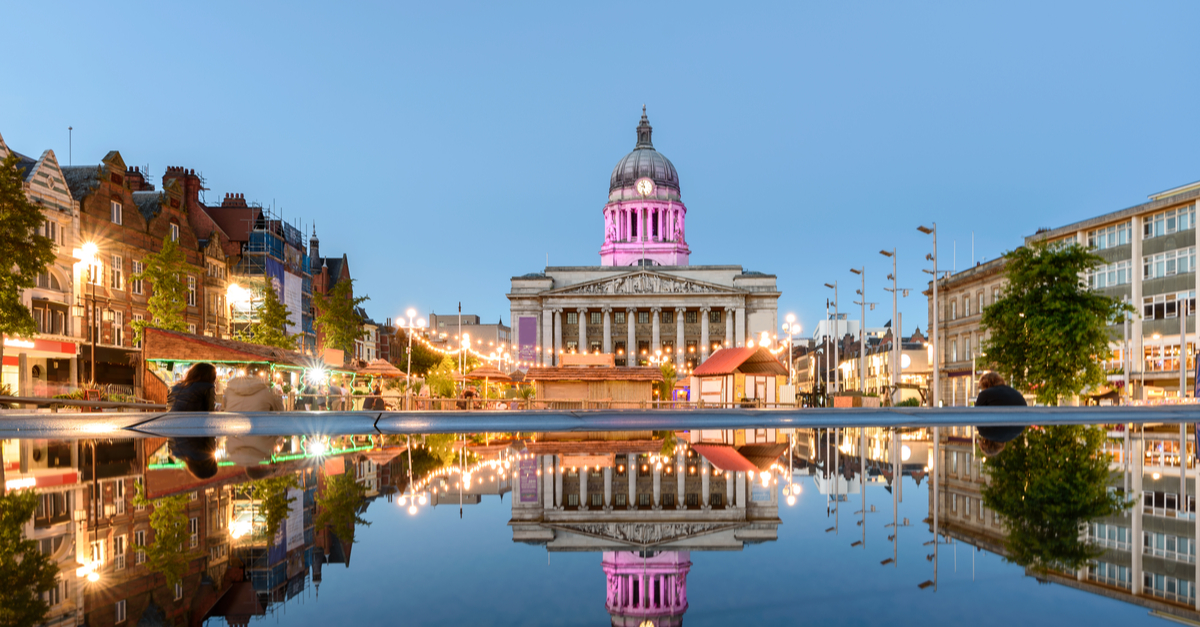 Trains from Nottingham to London: Nottingham Council at night. Source: Shutterstock
What is/are the departure and arrival stations for trains from Nottingham to London?
Departure train station:When booking train tickets between Nottingham and London, you will be departing from Nottingham station. Nottingham Station is the main station serving the city and is a short walk from the centre of Nottingham. It's easy to access with buses and taxis. If you catch the bus, you are looking at about an extra 30 min. Catching a taxi will cut the time in half. You'll find several amenities and services at Nottingham Train Station, including bicycle storage facilities, a car park for quick access to taxi drop-offs, toilets and baby-changing facilities, cash machines, shops, a first-class lounge, and disabled access throughout the station.
Arrival train station: When choosing a train from Nottingham to London, you'll have the choice of two arrivals stations. London Kings Cross or London St Pancras International. Both stations are northwest of the city centre, and a taxi takes around 20 min from either station to the city centre. Both Kings Cross and London St Pancras have great amenities to use after your journey, including information points, baby-changing facilities, luggage storage services, water fountains, and trolleys. If you are hungry after your trip, you'll find a wide variety of shops, bars, and eateries.
Which train companies travel from Nottingham to London?
Three different train companies operate routes between London and Nottingham. East Midlands Railway (EMR) operates to the highest number of trains running along this route. LNER is the second most frequent operator. The third company running this route is Hull Trains, offering two or three trips per day. All of the trips run by EMR are between Nottingham Station and London St Pancras International. EMR trains are all direct trains. LNER provide several trains operating between Nottingham Station and London Kings Cross with one changeover in Grantham.
Night trains Nottingham
Thankfully, the trip from Nottingham to London by train is not too long, and for this reason, you will find that there is no dedicated night train service available for this route. Trains run at night to make the journey, but they are part of the same train service as the earlier running trains. East Midlands Railway is responsible for providing late-night trains from Nottingham to London.
London North Eastern Railway trains from Nottingham to London
London North Eastern Railway offers at least ten trains per day on this route. The earliest departing train is at 06:30 each morning. You will find LNER trains continue to run until 15:30 each afternoon. All trips offered by this company have a single changeover included in the route at Grantham Station. Your average travel time for these trains is around 2 h 05 min.
First Hull Trains from Nottingham to London
First Hull Trains are the operators that offer the fewest amount of departing trains along this route. They have between two and three trains running from Nottingham to London each day. All their trips include a change over at Grantham Station. These trains follow the same route as the LNER trains and take a similar time to complete the trip.
Trains from Nottingham to London : Sustainability travel
Depending on the rail line, type of train, and the distance of your journey, travelling by train reduces your carbon emissions by up to 90% compared to other modes of transportation. Trains also are a high capacity method of transport, meaning they can hold more people and cargo than a car or a truck, and they use less fuel than buses or planes, making train travel a much greener option in general.
Train Nottingham to London: Services on Board
When booking trains with East Midlands Trains, you should remember that each passenger is allowed three pieces of luggage. One small item of hand luggage and two larger bags in the baggage hold. The size and shape of your luggage will be considered before boarding the train. Dogs, cats, birds and other small, domestic animals can travel onboard East Midlands Trains without a fee. Travelling with your bike will not be an issue, but you will need to book it onto your train in advance. East Midlands trains are fully wheelchair friendly. You can also ride the train if you are using a mobility scooter. Please let the company know before you board, and they will give you a special area for your scooter or wheelchair with easy access to the exit and convenient access to the onboard bathrooms.
If you're travelling with LNER, you will have the option to upgrade your seat to a first-class ticket. The first-class benefits include spacious, comfortable seats that come with a table, quieter carriages, and plug sockets at each seat. Complimentary food and drinks are a first-class luxury. In terms of luggage allowance, each passenger is allowed one medium to large bag and one piece of hand luggage. If you're trying to take a bicycle with you, you're strongly advised to call ahead and reserve your bike space on the trains. You will be allowed to bring up to two pets with you for this trip. There's no fee for them, but you will need to keep them in a suitable carrier at all times. All stations and train companies provide accessible services. Contact the company 48 h in advance to arrange assistance.
How to find cheap train tickets from Nottingham to London?
There are numerous ways to make sure you pick up the best ticket deals and travel efficiently. Start off by paging through the Omio Magazine for some travel tips that'll help. You will find that train tickets are available up to six months in advance. Travelling during the week is cheaper than on the weekend, so having a flexible schedule when booking your tickets is highly recommended if you are looking for cheap tickets. It will help if you are also flexible with the times you travel, as booking a rush hour ticket will be more expensive than an off-peak time ticket. Train trips from Nottingham to London that include at least one changeover are generally cheaper than those that are direct.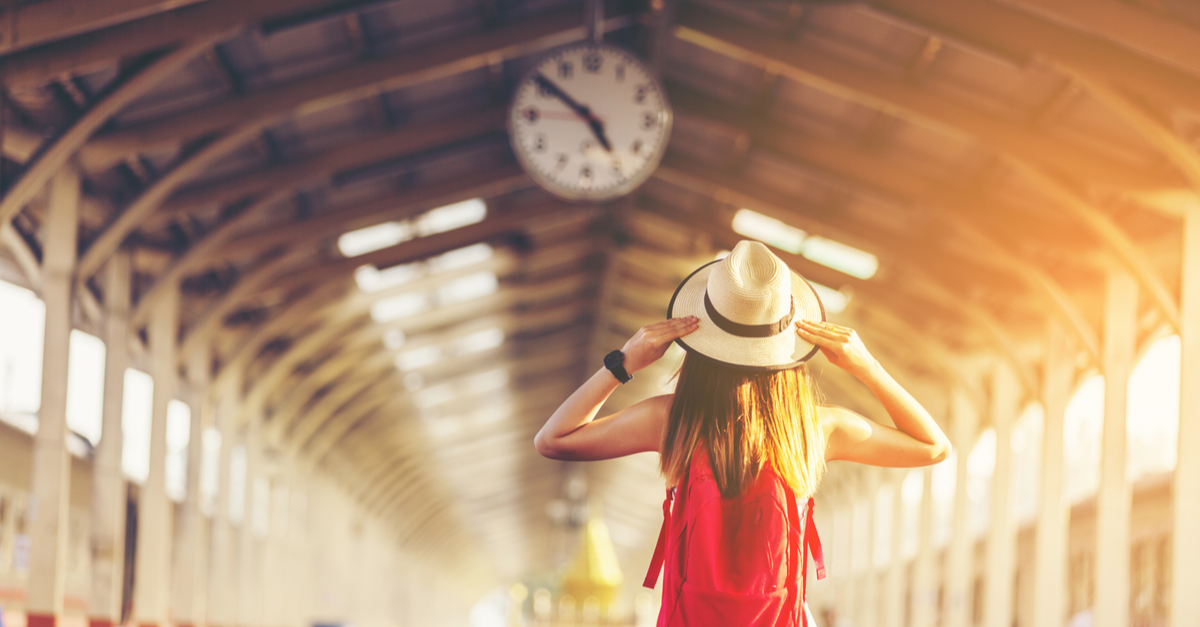 Trains from Nottingham to London: girl on a train to London. Source: Shutterstock
To London by train—travel tips
London is one of the most popular places to visit in the world, with millions of tourists each year. London's appeal lies in its ability to overload your senses with food, culture, architecture, fashion, football, history, nightlife and bars, like only a first-class place can do. A perfect opening activity for new visitors to London is a tour through The Tower of London. The tower is home to the world's largest diamond and is considered an architectural odyssey due to its medieval grandeur. London is famous for its fish and chips wrapped in newspapers. Stroll the streets and try this traditional food if you want to immerse yourself in how the locals live.
If you are looking for a sit-down experience, book a table at the famous Poppies Fish & Chips. Take a stroll along with the South Bank and catch a ride on the London eye to get a birds-eye view of the entire city, most enjoyed at night where you will see the whole city come to life through movement on the streets sparkling lights. There is so much to do in the way of historical, cultural exploration. Make sure you add a trip to MadameTussauds. A great time out for anyone at any age. Take a black London cab back in time and tour the decaying streets of London during the time of the plague, or pose with your favourite sports players and members of the royal family. Try not to be too star-struck at the celerity hall of fame!
Warner Bros. Studio Tour London The Making of Harry Potter
Emirates Air Line cable car
London Transport Museum
Aqua Spirit
Berners Tavern