Trains from Oxford to London
Oxford and London have roughly 51 miles (82 km) between them. As you traverse the stretch between these cities, trains will provide you with a low-cost yet fast travel means. The Oxford-London route is usually busy, with 89 to 103 trains servicing it daily. On weekends, the number of daily departures dips to roughly 80. Most of the trains are direct, and you can sit back and enjoy a relaxed trip. However, some journeys will require you to switch once, at Reading. An Oxford to London train takes about 50min to arrive; however, your journey's duration may lengthen to almost 2h 30min if you board one of the indirect trains.
Oxford to London Train Time: Daily Departures
Weekly trains for the rail route from Oxford to London amount to nearly 670 trains. Trains start travelling from around midnight. Over one hour, three to six trains can leave Oxford for London, at a frequency of one train every 10-20min. The last train to London from Oxford starts transiting around 23:00. The weekend's earliest departure also leaves around 00:00, with the last train of the day having an exit time about 22:30.
How long is the journey by train from Oxford to London?
Direct trains from Oxford to London have the shortest durations. If you board them, you can get to Oxford after about 50min. If you prefer taking a cheaper train with one changeover, your travel time from Oxford to London can be roughly as much as 2h 30min.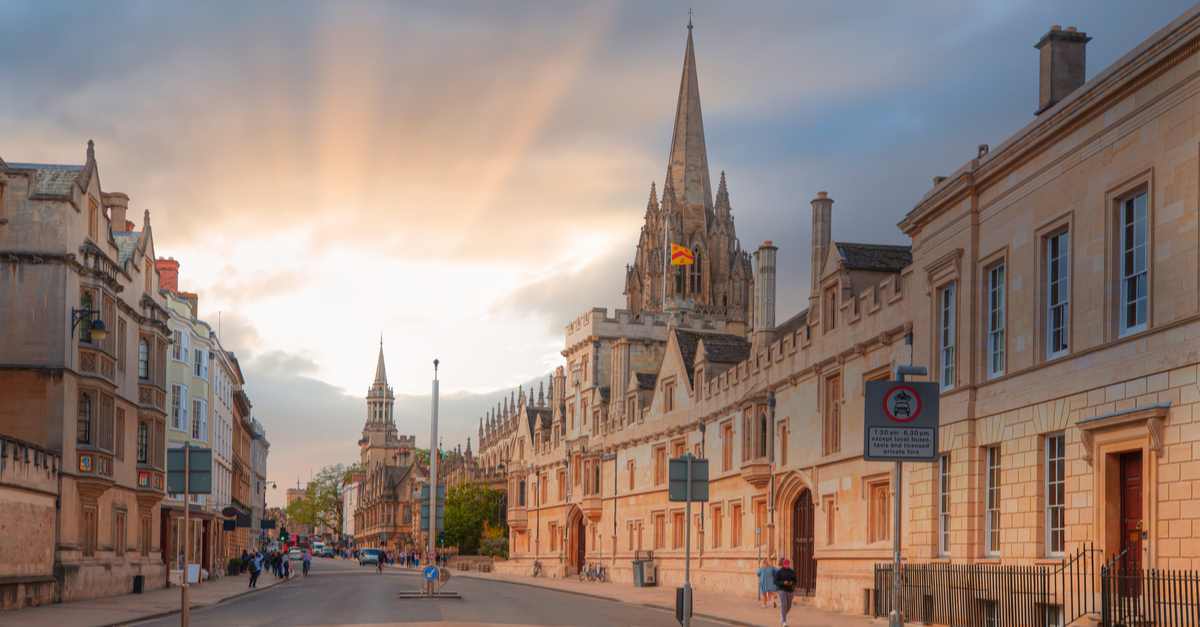 sunset over the highstreet in Oxford. Source: Shutterstock
What are the departure and arrival stations for trains from Oxford to London?
Departure train station:The starting point of any train from Oxford to London is Oxford Railway Station. You can find the terminal in the western part of the city centre, approximately 0.6 miles (0.9 km) away. If you're in Oxford's downtown area, there are several ways to access the terminal. Companies like Stagecoach in Oxfordshire, Oxford Bus Company, Arriva in Beds & Bucks and Oxford Bus Company operate affordable buses that can get you to Oxford Railway Station in about 5-10min. Taxis, which take roughly the same duration, are also available. If possible, you can walk to Oxford Railway Station from the city centre in around 10min. You can use facilities like toilets, with baby-changing rooms, for free at the departure terminal. There is also free Wi-Fi, cashpoints, shops, a station buffet, postbox and an information desk. Disabled travellers may find it easy to access Oxford Railway Station, owing to step-free access pathways and assistance from staff.
Arrival train station: London Paddington and London Marylebone are the primary receivers of trains from Oxford to London. Most trains dock at London Paddington, which operates nearly 4 miles (6.5 km) from downtown London. After getting off the train, you can hop on the buses run by Transport for London and reach London city centre in about 30min. If you board a Chiltern Railways train, you may arrive at London Marylebone Station. About 3.7 miles (6 km) separates this railway terminal from central London. There are buses offered by Transport for London, which can get you to London's downtown area in 20-30min. The two arrival terminals supply passengers with toilets, cashpoints, public Wi-Fi, payphones, postboxes and luggage storage services. If one has impaired mobility, they can ask for assistance from the staff at the stations.
Which train companies travel from Oxford to London?
Trains from Oxford to London are available through Chiltern Railways, CrossCountry and Great Western Railway. While CrossCountry and Great Western Railway operates intercity trains with speeds of up to 125 mph (200 km/h), the cheap Chiltern Railways trains have an average speed of almost 100 mph (160 km/h).
Night trains Oxford
The Oxford-London route is usually busy at night, with about 20 trains. The earliest night train departs from Oxford at roughly 19:00. If you are still in Oxford late, you can board the last train a few minutes after 23:00 and arrive in London at approximately 01:00. Note that you can board three more trains before daybreak. These comprise two midnight trains and another with an exit time around 04:00.
Great Western Railway trains from Oxford to London
Almost 55 daily Oxford to London trains are under Great Western Railway. Some trains allow no changeovers, while a few switch once, at Reading. During a trip offered by Great Western Railway, you can spend roughly between 50min and 2h 30min travelling.
Chiltern Railways trains from Oxford to London
Chiltern Railways furnishes the Oxford-London route with approximately 30 daily trains. You may find the trains by this company to be relatively affordable compared to the other providers. All trains are direct and make a final halt at London Marylebone Station. Before reaching here, they require about 1h 30min to travel from Oxford.
CrossCountry trains from Oxford to London
CrossCountry trains are suitable for travellers who wish to connect Oxford and London in approximately 1 hour. The company offers about two trains every day. Usually, one leaves in the morning, while the other exits in the evening hours. Both departures are indirect and require one transfer, at Reading.
Trains from Oxford to London: Sustainability travel
The three providers of Oxford-London trains present passengers with a sustainable travel means. CrossCountry works with environmental preservation organisations to set objectives that lead to greener transit means. Chiltern Railways follows a similar path, and, in recognition of its fruit-bearing efforts, the company received the Sustainable Development Award, while Great Western Railway launched Express and Electrostar locomotives, which are set to cut noise pollution and carbon emissions.
Train Oxford to London: Services on Board
Depending on your budget and travel requirements, you can board either the Standard or First Class sectors of the affordable trains from Oxford to London. However, Chiltern Railways only offers the Standard class. The Standard cabin offers accommodating chairs suitable for long trips. There are power points and Wi-Fi; however, if aboard CrossCountry's Standard section, internet access is paid. First Class cabins on Great Western Railway and CrossCountry feature free Wi-Fi and comfy, laid-back seats. There are also medium-sized tables where you can place a phone, laptop or read our online travel magazine. You can order drinks and light dishes on board if you need some food. Some of the items that you don't have to pay for during your Oxford to London trip include two or fewer pets, up to two bags and a folding bike (you may bring only a single suitcase on board CrossCountry). All train providers highly consider accessibility on their trains and assist when required.
How to find cheap train tickets from Oxford to London
Buying tickets seven days before the departure date is amongst the easiest ways to get cheap trains from Oxford to London. Also, you can save on transport costs by travelling on slower trains. You may spend nearly 30min more compared to the faster trips, but your travel expenses can reduce considerably. Finally, ticket prices are lower when you avoid travelling during rush hours. Off-peak times regularly feature low-priced trips.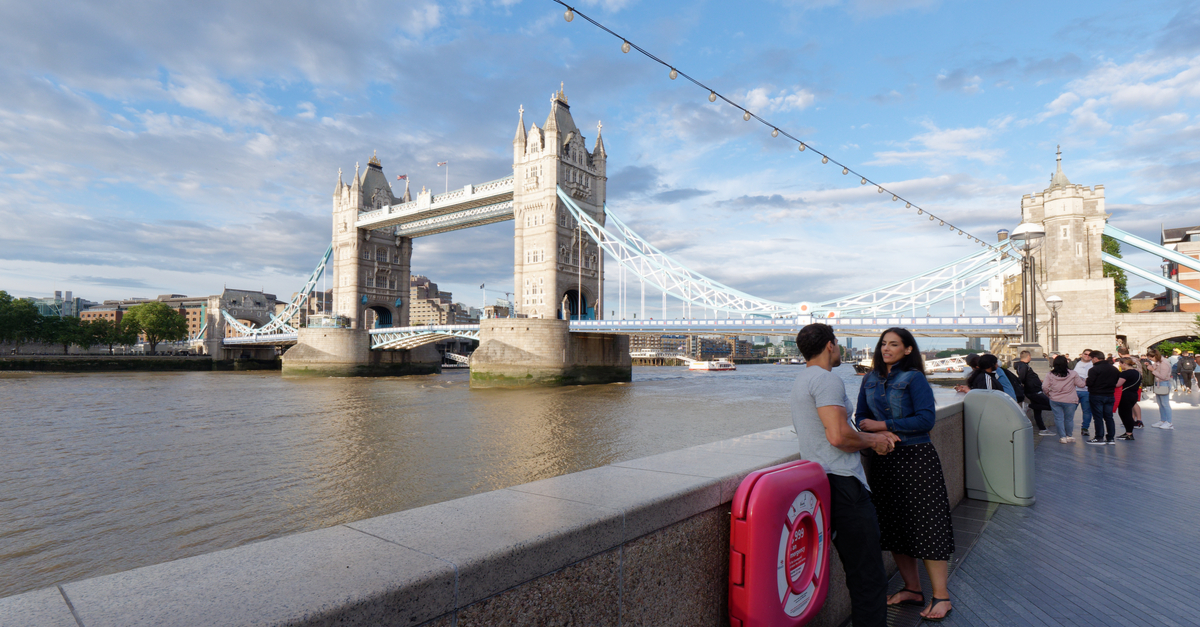 couple on the Tower bridge in London. Source: Shutterstock
To London by train—travel tips
You are welcome to explore myriad attractions that make London amongst the most attractive urban centres to tour. Kick off your outing with the ancient side of the city, at structures like the Tower of London, the Houses of Parliament and the nearby Westminster Abbey. You can alternate touring these antiques with visits to modern attractions like the London Eye, which gives you a 360-degree view of the city. Better yet, you can consider going up to The Shard's 95th floor and observing London's skyline. Using the hop-on, hop-off buses, you enjoy a more intuitive tour of London. While at it, be sure to enjoy a cruise along the River Thames that incorporates watching the soothing London sunset. Before waving London goodbye, tour some of its museums, such as the British Museum and the Natural History Museum. Also, you may find it fun to check out some London shopping spots, like:
Camden Market
Maltby Street Market
Borough Market
Brick Lane Market
Old Spitalfields Market
Portobello Road