Trains from Leeds to Liverpool
Passengers will find that there is frequent travel to Liverpool from Leeds with approximately 1 train running per hour for the main operating hours throughout the day. A passenger can find either direct routes or connecting routes on their journey to Liverpool. The estimated duration for a direct train is 1h 47min whereas a duration for a trip with 2 connecting trains, including layover time, is 2h 13min, and a trip of just 1 change to be 2h 11min.
Leeds to Liverpool Train Time: Daily Departures
Trains to Liverpool from Leeds don't follow a fixed schedule during the day but on average, passengers looking for tickets will find 20 trains running per day with approximately 1 train running per hour. The earliest departing train in the day is at 6:30 a.m. with a duration of 1h 32min and no changes need. The last departing train in the day is at 10:05 p.m. with a duration of 2h 21min and 1 change via Manchester Piccadilly Station.
How long is the journey by train from Leeds to Liverpool
A journey from Leeds to Liverpool can differ in duration depending on certain types of factors. These factors include when you decide to travel and how many connecting stops if any, you choose to have on your journey. A journey will average between 1h 32min to 1h 50min for a direct route. Alternatively, connecting routes are a lot longer. An average duration for a train with just 1 change is between 2h 11min to 2h 21min. Otherwise, a train with 2 changes is commonly 2h 13min in duration.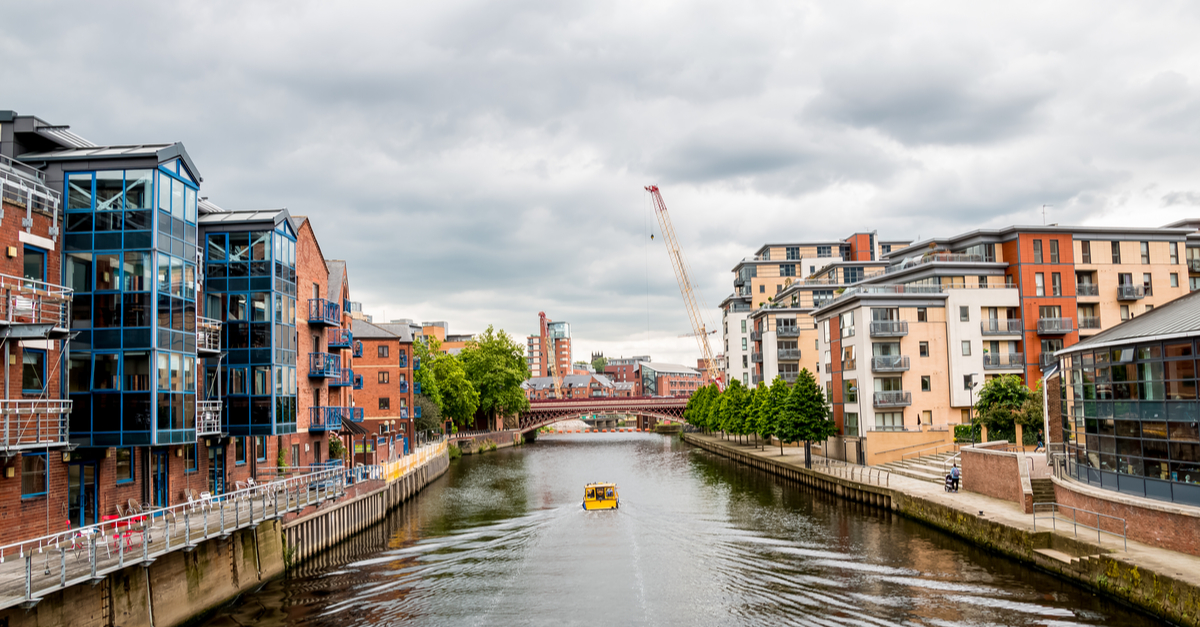 Leeds River. Source: Shutterstock
What are the departure and arrival stations for trains from Leeds to Liverpool
Departure train station: Your train towards Liverpool will always depart from the main railway station, also known as, Leeds Railway Station. This station is well located and is gifted with useful facilities like ATM machines, toilet facilities, eateries, and more. The railway station is just 0.3 miles (0.5m) from Leeds's city centre and can be reached by just a short walking distance. The 5min walk is quickest via Park Row.
Arrival train station: No matter if you choose to have a direct train to Liverpool or a journey that requires up to two stopovers, your journey will always reach Liverpool Lime Street Station. This station serves all of Liverpool and is highly popular with some of the leading railway providers around the UK. Liverpool's city centre is less than 1 mile (1.6 km) from its main railway station. Walk the journey in just 5min or public transport will take 4min. Take transport like the Merseyrail towards Chester directly from the station. You must then depart at Liverpool Central where it's just a 2min walk from the city centre.
Which train companies travel from Leeds to Liverpool?
Passengers onboard trains from Leeds to Liverpool will find that the main train provider travelling the journey is Transpennine Express. This provider does the majority of travel whereas Northern Rail will travel just twice a day. Transpennine Express and Northern Rail offer a selection of great onboard services, as well as great service from staff. Some of the popular stopovers on their journeys include Manchester Piccadilly Station, Manchester Oxford Road Station and Manchester Victoria Station. Depending on your stopover location, your duration of journey can differ. Passengers aboard these trains can benefit from the environmentally friendly use of an e-ticket, also known as a mobile ticket. These tickets can be shown on your mobile device or any electronic device of your choosing. Omio makes mobile tickets extremely easy to manage by storing your tickets within your Omio account, making filing and sourcing future tickets easy.
Transpennine Express trains from Leeds to Liverpool
Transpennine Express has a frequent service between Leeds and Liverpool with an average of 1 train running per hour during the main operating hours. A passenger can choose from either direct trains or a train that requires either 1 or 2 stopovers. These trains differ in duration and will most likely stopover in popular railway stations throughout Manchester. The quickest duration is from 1h 32min and the longest duration is 1h 50min. In addition, passengers can find themselves customers to a provider with great service and good facilities.
Northern Rail from Leeds to Liverpool
Passengers will commonly find only 2 trains that run to Liverpool via Northern Rail per day that depart from Leeds. Both of these trains will include a minimum of 1 stopover and will most likely stop at a popular train station within Manchester. An average duration for a train with 1 connecting location will vary from 2h 14min to 2h 21min, depending on when you choose to travel.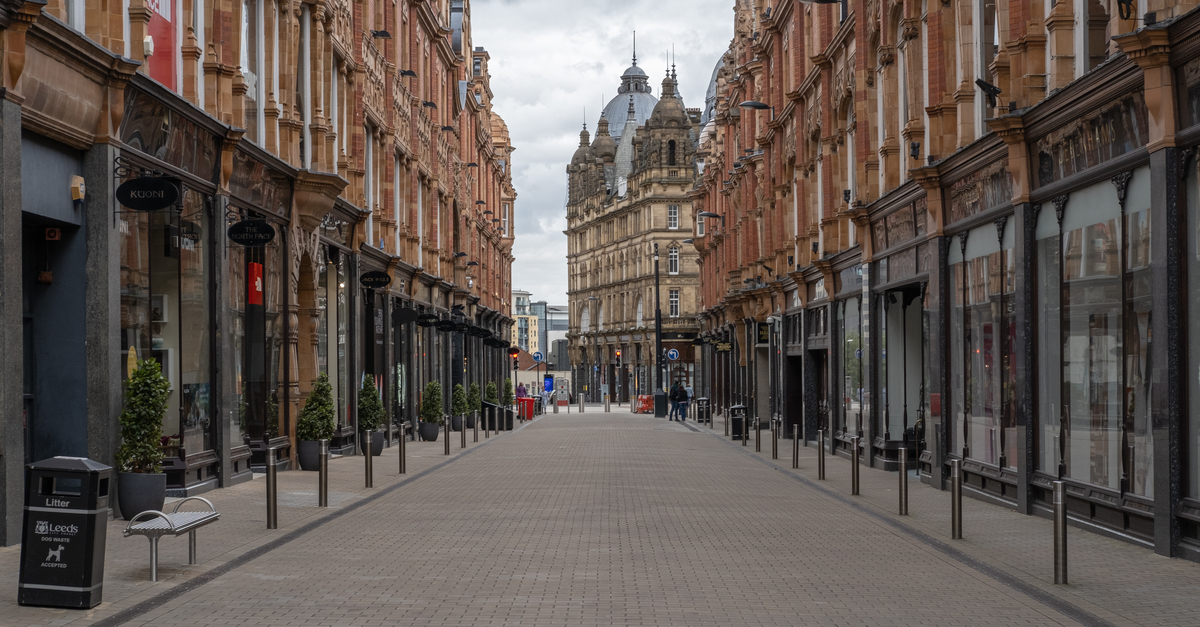 Leeds Streets. Source: Shutterstock
To Liverpool by train – travel tips
Liverpool is extremely versatile in its offerings and has lots in store for all kinds of visitors, tourists, and residents. No matter if you're planning to visit Liverpool with your family or friends, you'll find lots available to see and do.
If you're choosing to visit some of the top family-friendly attractions or you want to see the top and leading venues like the best bars, clubs, and restaurants, you'll be spoilt for choice. Just some of the top attractions and landmarks that are family and child-friendly include Tate Liverpool The Beatles Story, Walker Art Gallery, World Museum, Liverpool Cathedral, Museum of Liverpool, Merseyside Maritime Museum, Liverpool Metropolitan, Knowsley Safari, Crosby Beach, British Music Experience, and more.
Otherwise, the top and most popular clubs in Leeds include LEVEL Nightclub Liverpool, Ink Bar Liverpool, Heebie Jeebies, Kingdom Liverpool, Popworld Liverpool, Modo Liverpool, Fusion, Flares Liverpool, Haven Nightclub Liverpool, Mansion Nightclub, The Camel Club, among others. No matter how you choose to spend your time in Liverpool, you'll be quickly anticipating your return.
Train Leeds to Liverpool
A passenger aboard the train to Liverpool from Leeds can choose from either first-class or standard class tickets with either provider. Whilst both tickets have good offerings with the inclusion of great service and facilities, first-class tickets provide that little bit of extra luxury. The first-class service includes spacious and comfortable seats, generous legroom, free Wi-Fi, power sockets and charging points to accommodate all your electronic devices, as well as much more. No matter which class that you're travelling with, all passengers can find themselves accessible to extra service with passengers travelling with those with reduced mobility access.

All additional services must be pre-booked to guarantee availability. Assistance includes help onto the train, wheelchairs, priority seating, along with more. If a passenger is looking to travel onboard with pets, then passengers will be happy to know that pets can travel for free. All dogs must be kept on a lead for the duration of the journey. Passengers with Transpennine Express and Northern Rail can travel with up to 3 items of luggage during their trip, one at a handheld size, with the other 2 not exceeding the maximum required of 30 x 70 x 90 cm.
The short distance between Leeds and Liverpool is already fairly cheap but there are still a few simple money-saving tips that can make sure that passengers looking for tickets can find the best prices at budget-friendly and low costs. The provider, Transpennine Express, offers both direct routes as well as routes that require up to 2 stopovers. However, passengers will commonly find that routes that are merely direct and do not require changes are the cheapest in price.

In addition, a passenger should also consider altering their ticket search. Changing your dates by just a few days could lower the price of your ticket. Certain days of the week can also increase the cost of the ticket with the most expensive days commonly being on Saturdays and Sundays. A final money-saving and useful tip are by booking your trip in advance. By preparing for your trip for up to weeks and months in advance, you're sure to not face last-minute price inflation.