Trains from Leeds to Amsterdam
The journey from Leeds to Amsterdam by train should have a minimum duration of 8hr, although it make take you a few hours more because the journey involves changing trains. Four trains depart each day from Leeds which will allow you to get to Amsterdam within the same day, with departures beginning around 6:00 a.m. The total distance between Leeds and Amsterdam is 283 miles (457 km), and you must travel by indirect trains as a direct route between Leeds and Amsterdam is not available. Discover more about your journey from Leeds to Amsterdam here.
Leeds to Amsterdam Train Time: Daily Departures
If you want to complete your journey to Amsterdam within one day, you should choose a departure time which will allow you to reach London St Pancras Station in time for one of Eurostar's two daily departures to Amsterdam. At least 4 trains depart from Leeds early each morning, and catching one of these train before approximately 7:30 a.m will allow you to reach London in good time for the second half of your journey. Departure times at Leeds Railway Station remain consistent between weekdays and weekends, but departure times from London St Pancras sometimes change at weekends.
How long is the journey by train from Leeds to Amsterdam?
The journey durations for rail travel between Leeds and Amsterdam can vary day by day, and can depend on the time you choose to travel. The fastest journeys on weekdays are around 8h, but can extend by several hours because you will need to change from your Leeds to London Kings Cross train and transfer to London St Pancras where the train to Amsterdam Centraal departs. Travelling at weekends can be more complex and involve a longer journey time, as you may be required to make a further change on train at between London and Amsterdam, for example at Brussels-Midi station. The fastest journeys at weekends may take around 10h.
What are the departure and arrival stations for trains from Leeds to Amsterdam?
Departure train station: Leeds Railway Station. Serving the city of Leeds and the surrounding areas, Leeds Railway Station is one of the biggest stations in the UK. With the Leeds Interchange located just outside, it provides a major transport hub for travellers who can accept public transport including city and county buses and a 24h taxi rank. The railway station also has a cycle hub for travellers who want to repair, rent or store a bike on the go. The station is just 5min walk from the city centre, but you can access facilities such as shops, buffet areas and ATMs onsite. Leeds Railway Station also provides disabled access throughout the station.
Arrival train station: Amsterdam Centraal. Acting as a major travel hub for domestic and international travellers, Amsterdam Centraal is within walking distance of the city centre and provides access to many public transport options. There are express airport trains departing every 10min in peak times, and you can access city buses and trams departing from the station's city side. A large taxi rank is onsite. In the station itself, you can find information desks to help you with whatever needs you might have, cafes and buffets and a large shopping sections. There are convenient facilities for travellers like lost luggage and self service tickets machines. The station is also accessible to travellers who are disabled.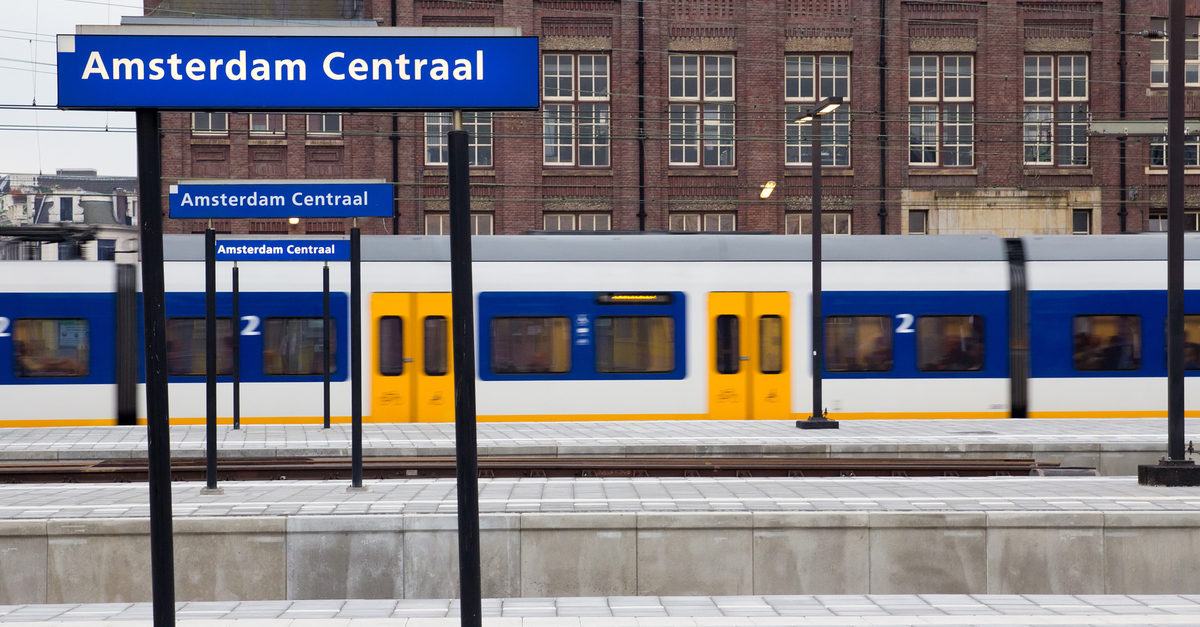 Amsterdam Train Station. Source: Shutterstock
Which train companies travel from Leeds to Amsterdam?
Your journey from Leeds to Amsterdam by rail will generally be served by two providers. The first half of the journey from Leeds to London Kings Cross is run by London North Eastern Railway (LNER). LNER run trains every day from Leeds to London, with two trains usually departing every hour. Trains by LNER cover large parts of the North East of the UK including York, Harrogate and Edinburgh. The second half of the journey from London St Pancras Station to Amsterdam is run by Eurostar, which operates all services between the UK and the continent. Two trains generally depart for Amsterdam each day, and the operator also serves trains to Paris and Brussels.
London North Eastern Railway trains from Leeds to Amsterdam
London North Eastern Railways (LNER) run a frequent service between Leeds and London, with around two trains departing each hour from morning to evening. The journey between Leeds and London by rail takes around 2h 20min, and this part of the journey is direct and travels at a high speed. When you arrive in London Kings Cross and depart from your LNER train, you will need to travel to St Pancras Station to complete your journey from there.
Eurostar trains from Leeds to Amsterdam
Eurostar are the major operator of rail travel between the UK and the rest of Europe. Two trains depart from London St Pancras to arrive in Amsterdam each day, with one train usually in the morning and one in the afternoon. The duration of travel between London and Amsterdam is 4h 10min. This is a high speed middle distance journey, and facilities on board will accommodate your needs.
Train Leeds to Amsterdam: Services on Board
London North Eastern Railways (LNER) offer both a standard class and a first class for passengers travelling from Leeds to London, while Eurostar trains have three coach classes to choose from as you complete your journey from London to Amsterdam. Both operators have specified areas set aside for luggage storage, including places to store foldable pushchairs or bicycles. While LNER may accept pets on board for short distance journeys, Eurostar do not allow any animals to travel except for assistance dogs. LNER also accept assistance dogs for all journey types. Provisions are made by all providers to help disabled travellers have a safe and enjoyable trip, including designated spaces for wheelchairs and ramps.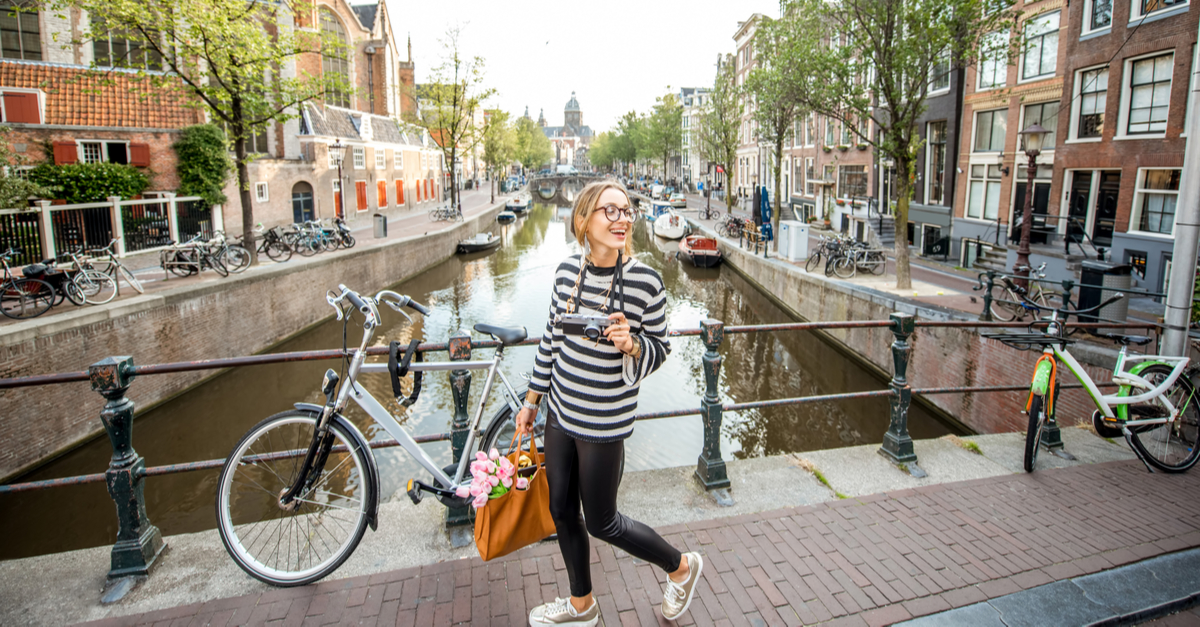 Amsterdam Canal. Source: Shutterstock
How to find cheap train tickets from Leeds to Amsterdam?
There are some quick and easy ways to find cheap tickets from Leeds and Amsterdam. Firstly, try booking your tickets in advance of your journey. Prices rise the closer you get to your chosen date of departure. You can also save by being flexible with your travel dates and choosing to travel on a day or time thats less popular. Tickets at off peak times tend to be cheaper and more easily available. Choosing trains that take longer to reach your destination may also save you money.
To Amsterdam by train—travel tips
Amsterdam is a bustling city at the heart of Europe, with something for every traveller to see or do. With numerous museums, you can soak up culture from the Netherlands and beyond as you view the famous works of Van Gogh or Rembrandt. You can visit the houses of both of these artists in Amsterdam, or explore their works in the many galleries scattered across the city.
If you're feeling inspired by these cultural highlights, why not rent a bicycle or explore on foot as you make your way around the city and it's famed waterways. You can finish your day by sampling delicious Dutch food at the restaurants and cafes which line the streets, or eat on the go after making a stop at a street market. Whether you're in Amsterdam for a day or a fortnight, there's something amazing waiting for you.