Trains from Ipswich to London
Trains from Ipswich to London run frequently throughout the week, including weekends. All trains are direct and take approximately 1h 15min to reach London. Every day, there are 3-4 trains per hour on average, except for early or late hours, when this is reduced to 1-2 trains per hour, and on Sundays, when there are two trains every hour to Ipswich from London.
Ipswich to London Train time: Daily Departures
There are about 50 daily trains from Ipswich to London except on Sundays, when there are approximately 30 trains. On average, there are 330 trains per week on this route, giving you plenty of options to choose from. The first train of the day is a little after 05:00 and the last one of the day is a night train that departs after 22:30. On Sundays, the first train of the day leaves after 07:00.
How long is the journey by train from Ipswich to London?
You will not have to make any transfers on the trains from Ipswich to London. These direct trains reach their destination on average in 1h 20min. The fastest trains cover this journey in 57 minutes, and the slowest do not take more than 1h 30min. For this 66-mile (107 km) journey to London from Ipswich, you can find many options for both the fastest and the cheapest trains every day.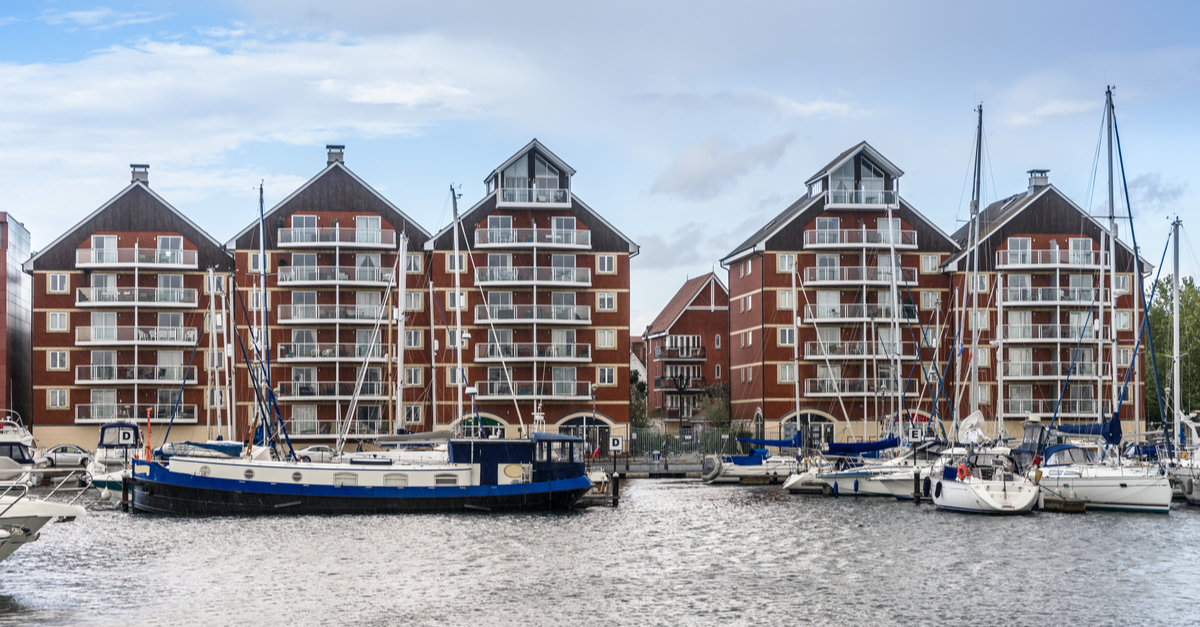 Ipswich waterfront. Source: Shutterstock
What are the departure and arrival stations for trains from Ipswich to London?
Departure train station:Trains from Ipswich to London depart from Ipswich Train Station, located just a short distance south of the city centre. You will find buses and taxis right in front of the station, and there is a network of frequent buses which serve the towns and villages around the city on a daily basis. The train station has many amenities, including cafes, a multi-storey car park and ATMs, and it is fully accessible for travellers with disabilities.
Arrival train station:You will arrive at London Liverpool Street Station on your train from Ipswich. The station is located in Central London and is connected to the London Underground network, making it very accessible and easy to get to other parts of the city. Liverpool Street Station has extensive facilities, including free Wi-Fi, photo booths, drinking water fountains, Left Luggage facilities, Passenger Assist, as well as plenty of food and shopping options. Buses and cabs are available right outside the station.
Which train companies travel from Ipswich to London?
Ipswich train station is managed by the Greater Anglia company who operates all trains from Ipswich to London. The frequent trains on this route run direct and every day. On weekdays, there are trains from around 05:00 to about 23:00. Sometimes, you can find very cheap fares throughout the day with this provider on this route. The high-speed Greater Anglia trains that get you to London in less than an hour operate at off-peak hours, taking between 1h and 1h 30min to cover the distance.
Night trains Ipswich
There is one night train per day from Ipswich to London during the week. It is always a little after 22:30 and travels directly to London without connecting en route. This train can also be one of the cheapest of the day. It usually takes about 1h 25min an average to reach its destination.
Greater Anglia trains from Ipswich to London
The trains from Ipswich Train Station to London Liverpool Street Station are operated by the Greater Anglia train provider. It takes the company's the high-speed trains less than an hour to complete the distance, whilst the slowest trains take about 1h 30 min to reach their destination. There are only direct trains, so commuters do not need to make any transfers on their journey. On average, there are 3-4 trains per hour from Monday to Saturday, whilst on Sundays, the service is reduced to two trains per hour.
Trains from Ipswich to London: Sustainability travel
The most sustainable choice of taking public transport is travelling by train. When you take the train from Ipswich to London, you are contributing towards less environmental pollution and less noise pollution. In addition, you help to save non-renewable resources. A journey made by a high-speed train generates far less CO2 emissions per passenger than other transport options. The Greater Anglian train service provider with its route from Ipswich to London is part of numerous green initiative programs, working with communities to promote sustainable travel by train.
Train Ipswich to London: Services on Board
Greater Anglia is the main train provider on the route from Ipswich to London. Both Standard- as well as First-Class tickets are available from Monday to Saturday. On Sundays, you can reserve only Standard-Class tickets. Free Wi-Fi, power sockets and food are available in both classes on Greater Anglia trains, while complimentary refreshments are provided to First-Class passengers. Each person is allowed to bring two pets on board for free. You can also bring your bicycle on the train, provided you have made a prior reservation for it as space for bikes is limited. There are also designated quiet coaches where you can rest without being disturbed. The trains have ramps for easy access for travellers with wheelchairs and mobility scooters, and priority seating and designated wheelchair spaces are also available on board. Assistance dogs can travel with passengers on any part of the train.
How to find cheap train tickets from Ipswich to London?
To find good deals and cheap tickets for your journey by train from Ipswich to London, make sure to look a week or two in advance. If date and time are not an issue, you can find comparatively cheaper tickets for Sundays. Off-peak tickets are also sometimes cheaper than rush hour tickets. A train that takes a little bit longer to get to Ipswich may also cost less than the high-speed trains. Search frequently if you want to find cheap tickets because last-minute cancellations lead to cheaper tickets being made available as the train provider aims to fill the train. You can search for cheap train tickets from Ipswich to London here on Omio.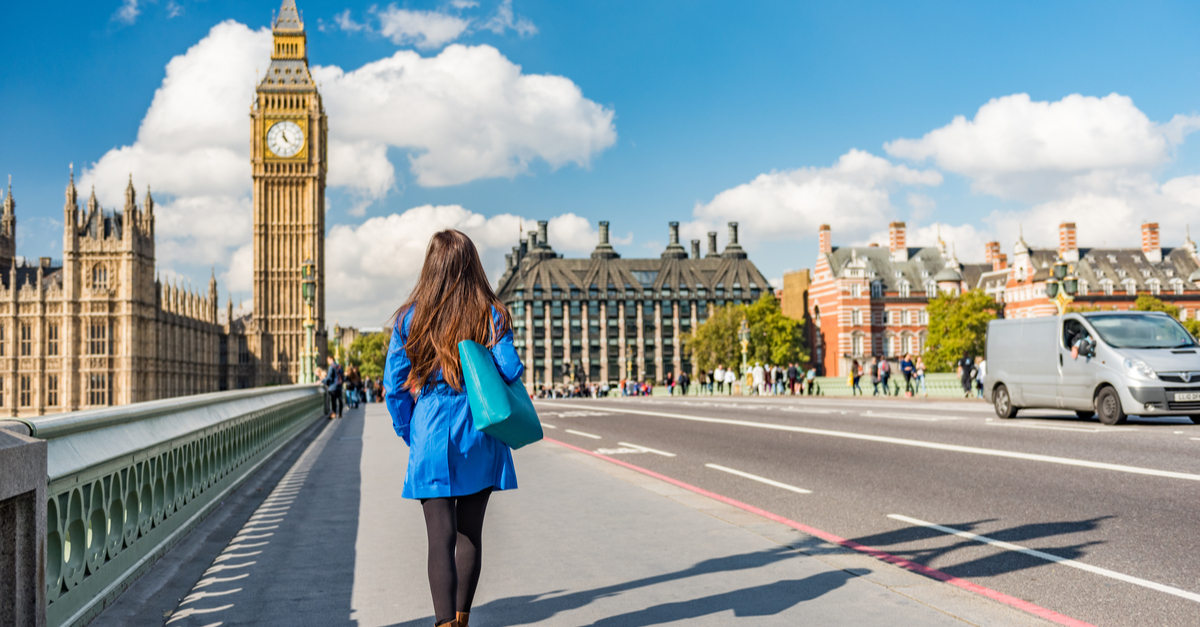 Woman walking in London. Source: Shutterstock
To London by train - travel tips
One of the most sought-after tourist destinations, London has something for everyone. You can take a tour of Buckingham Palace, one of the few working palaces in the world. The gardens, the State Rooms, the artwork, and the Throne Room are some of the highlights of the guided tour. If you are a history buff, make sure you include a visit to the Churchill War Rooms military and history museum for a glimpse of life during the Second World War. For art lovers, The National Gallery Art Museum at Trafalgar Square displays paintings in Western-European tradition from the 13th to the 19th century. Westminster Abbey, a Gothic building from the 13th century and final resting place of 17 Kings, houses a treasure trove of paintings, stained glass pavements and many other artefacts spanning over a thousand years. If you want to plan a trip to London, do visit the Omio online travel magazine The Window Seat.
Covent Garden
Houses of Parliament
Regent's Park
London Eye
Oxford Street