Coaches to Berlin
Berlin is a great and beautiful place to visit. The capital city offers beautiful and intriguing views to tourists and has many attractions on offer and is attractive to all age groups. Coaches to Berlin will most commonly reach the main coach station that serves Berlin, Berlin Central Coach Station. There are many other coach stations that accompany the city of Berlin, but this is the main station that will see are some of the biggest major coach companies. Those wanting to travel from the UK will most likely benefit from getting a coach from central London. Passengers will commonly find that they will have to transfer coaches in Lille, France.
MegaBus to Berlin
Coaches to Berlin can be done so with MegaBus. MegaBus serves the UK as well as the majority of Europe. They pride themselves on great services and all for a low cost. MegaBus is one of the leading coach companies and all of their tickets are affordable. Accompanying to all types of passengers, MegaBus treats all passengers well and are accommodating to any needs. Not only do they offer good service on their transportation coaches across the UK and Europe, but they also offer other attractions that are attractive to men, women, and children alike. If you enjoyed the views on your trip to Berlin and you're hoping to experience the beauty of Berlin, then consider a MegaBus exclusive sightseeing trip. The MegaBus attraction is known as 'MegaBus Sightseeing Trips.' This attraction with MegaBus can be found in most major points in Berlin and tickets are available at low costs.
FlixBus to Berlin
FlixbBus is a great choice of coaching if you're looking for the promise of low-cost travel and fares. Their coaches to Berlin are efficient and punctual. You will most likely find that you have to transfer coach at destinations like Lille, France. FlixBus serve the UK as well as the majority of Europe. They pride themselves on their eco-friendly travel and environmentally friendly travel. All coaches are efficient and come with an excellent carbon footprint which is essential if you're travelling across countries. Those travelling with FlixBus can benefit from their on board facilities that come at the price of a low-cost ticket. Experience the use of free and unlimited 4G Wi-Fi service, comfortable seating with extra legroom, charging points for all of your electronic devices, and much more!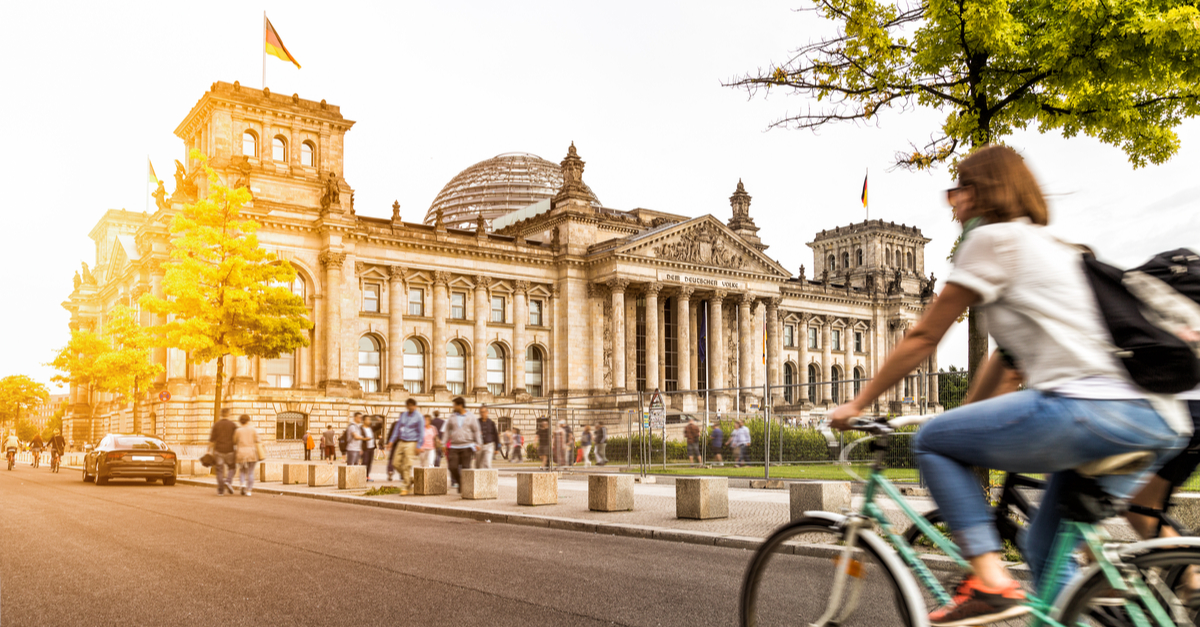 Berlin Reichstag. Source: Shutterstock
Main bus stations in Berlin
Coaches to Berlin will normally depart at one of many bus and coach stations in Berlin. All coach stations are in your coach will reach the main bus and station in Berlin, Berlin Central Coach Station (ZOB.) This is the close proximity of one another and are easily accessible and conveniently placed. You will most likely find that largest coach station in the whole of Berlin with 35 embarkation and disembarkation bays. This coach station will see in coaches and buses from most major cities and towns around Europe. Although it is probably quite common that you will have to transfer along your journey with the intention of reaching Berlin. Those who are worry, Omio makes it easy to keep track of any changes or transfer that you may have with your route to Berlin. travelling from the UK won't commonly find a direct route to Berlin and will have to transfer coaches. But don't
Onboard facilities to Berlin
Coaches to Berlin will commonly offer similar facilities on board the coach but true onboard facilities are dependent on the company that you're travelling with. All companies that travel to Berlin promise to deliver low-cost fares at budget-friendly prices. If you're coaching with MegaBus then benefit from their free Wi-Fi, charging sockets for all of your electronic devices. They also allow up to 44 pounds (20 kg) worth of luggage. FlixBus offer similar facilities, like free Wi-Fi and charging sockets. They also offer extra legroom to accommodate their comfortable seeking. Passengers who are looking for snacks and beverages will be able to find them on board at a low cost.
Bus tickets to Berlin: Useful to know
Coaches to Berlin will commonly need a transfer mid-journey to take you to your ending destination in Berlin. You will most commonly see coach transport from popular companies like MegaBus, FlixBus, and Sinbad. Some companies are based in Europe since some UK coach companies don't travel directly to some points in Europe. If you're travelling with MegaBus you can benefit from a paperless e-ticket that can be shown on an electronic device of your choice.
Alternatively, with companies like FlixBus and Sinbad, you will need a physical copy of your ticket. If you purchase tickets through Omio they make e-tickets easy with the efficient sorting of future tickets directly in your Omio account to keep everything organised. When travelling with MegaBus you will need to make sure that you bring a legitimate form of identification that matches the name of your ticket, otherwise, you might be refused access on the train. Companies like FlixBus and Sinbad do not require that you have to show ID along with your ticket.
Berlin Shopping Street. Source: Shutterstock
To Berlin by bus – travel tips
There are many attractions that are on offer to those who are visiting Berlin. It's a city that's gifted with attractions to all kinds of visitors with facilities and amenities that will suit every age group. One of the most popular reasons to visit Berlin is the sights that are available to view. Consider visiting the attraction, Tiergarten, which provides a beautiful sight. Bathing lakes in Berlin are a great tourist attraction and is beautiful no matter your season of visit.
Appreciate the views that are on offer with this attraction of alternatively, why don't you swim or sunbathe? If you're looking to discover more about the Nazis and Cold War history then attractions like Temeplhofer Feld is a great choice. It provides the perfect entertainment, as well as a history lesson as you discover more about the city. Alternatively, Reichstag, holds secrets about the Cold War, along with Nazis, fire, bombs, and politics. Make sure to visit this intriguing attraction when you come to visit Berlin!
Berlin is truly a beautiful place to visit. This exciting and buzzing city is attractive and accommodating to men, women, and children alike. There's a lot to do and there's a lot to see. It's the perfect holiday summer destination or ideal for a relatively quick weekend trip. The city is full of exciting history that's waiting to be discovered.
Visit attractions like the many museums that are accessible in Berlin to find more about the Cold War and the history that lies behind some of the ancient ruins, attractions and building in the city, as well as the outskirts. As well as museums that are available to tourists and residents alike, there is also a wide range of delicious cafés, restaurants and coffee shops that are awaiting visitors.
Alternatively, if you're looking to appreciate the city life at night then why don't you explore some of the many bars and nightclubs that are available. No matter how you choose to spend your time in Berlin, you're guaranteed to leave with a smile on your face and the hope that you're coming back extremely soon.