Flights to Dublin: Overview
Cheap flights to Dublin can be booked easily with Omio and depart direct from many airports across England and Scotland. Dublin Airport is about 10km from the city centre and easily reached by bus, coach or taxi. Approximately 60,000 passengers pass through daily, budget airlines with regular direct Dublin flights include Ryanair, Aer Lingus and British Airways. Dublin is one of the busiest European airports, coach or bus services to a variety of local destinations are operated by Airport Hopper, Airlink and Aircoach and it's easy to reach local hotels and Dublin Bus or Rail Station using these services.
Main Airlines and routes flying to Dublin from the UK

From £12
From £9
From £13

From £58
From £61
From £70
Flights to Dublin from the UK: Airlines & Departure Airports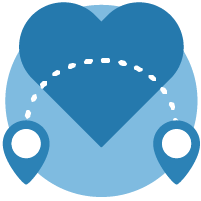 Who flies to Dublin from the UK? British Airways, Ryanair, and Aer Lingus are the main airline providers that fly from within the UK to Dublin.
Which airports have direct flights to Dublin? Most of the London airports including Stansted and Gatwick as well as from Manchester and Edinburgh. The main airport in Dublin is Dublin Airport which all airlines departing from inside the UK arrive at.
Tips for booking cheap flights to Dublin

How far in advance to book flights to Dublin? The best time to book flights to Dublin in advance is about 2 months before your ideal date of departure.
What are the cheapest and most expensive months to book flights to Dublin? The cheapest month to fly to Dublin is in November. The most expensive flights to Dublin are between June and October.
Days of the week to travel? The cheapest day for flights to Dublin is usually Wednesday.
What are the cheapest airlines for flights to Dublin? Ryanair is the cheapest airline to fly to Dublin with.
Airport info and getting to the city centre

What are the main airports in Dublin? The main airport is Dublin Airport.
How to get from Dublin Airport to the city centre? Once travellers have arrived at Dublin airport it is a straightforward journey into the city centre. There is no train station at the airport, so passengers with an ongoing journey including the train should get the bus to the nearest station. The bus runs from the airport to the city centre every 15 minutes, and takes about 20 minutes to the centre.
Find more popular flight destinations here.