Buses from London to Brussels
It is easy to take a bus from London to Brussels, with there being several bus providers offering buses throughout the week. You can enjoy a scenic journey through the south of England, France and Belgium as you make your way to the capital city, Brussel. There are about 18 buses that operate this route throughout the week, so you should find it easy to get a bus that matches your schedule. The fastest bus completes this route in about 6h 30min, whilst the longest journey is around 16h. Some of the buses are direct, but there are also indirect ones, so it's best to check your journey before you book.
London to Brussels Bus Time: Daily Departures
There tends to be 18 buses that depart from London to Brussels each week, with them spread out on weekdays and weekends. On Mondays there are normally four buses that leave between the hours of 6:30 p.m. and 10:30 p.m. On Tuesdays, Wednesdays and Thursdays there is normally one bus that departs at 8:30 p.m. On Fridays there tends to be six buses leaving London for Brussels between the hours of 11:00 a.m. and 10:30 p.m. On Saturdays approximately three buses depart, with the earliest being at 8:30 p.m. and the latest at 10:30 p.m. Whilst on Sundays there are normally three buses which complete this route, leaving between the hours of 11:00 a.m. and 10:00 p.m. Some of the buses arrive on the same day, whilst others are overnight routes.
How long is the journey by bus from London to Brussels?
The travel time for buses from London to Brussels varies depending on which bus company you travel with and the time of day you depart. BlaBlaCar Bus tends to take around 15h 45min to 16h 4min. Flixbus journeys operate journeys that take between 8h 5min and 11h 20min. Union Ivkoni International buses often take about 9h. Whilst RegioJet buses are often the fastest way to travel, taking approximately 6h 30min. All buses tend to leave from London Victoria coach station, but they arrive into various parts of Brussels. Flixbus, BlaBlaCar bus and RegioJet buses arrives into Gare du Midi, whilst Flixbus and Union Ivkoni International buses arrive into Gare du Nord.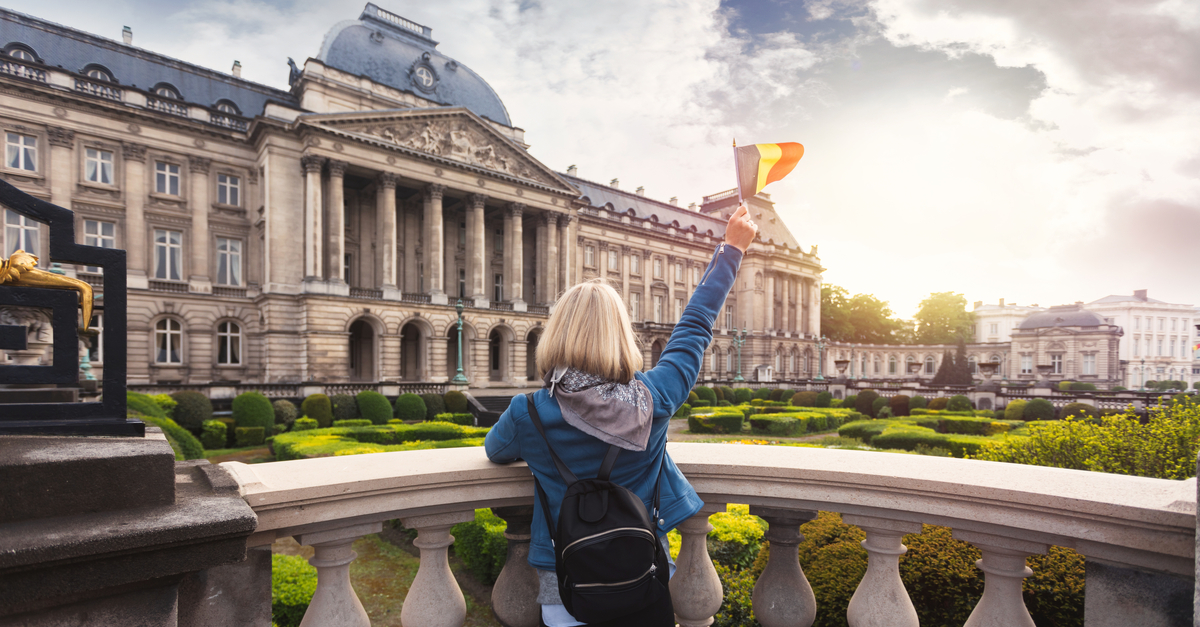 Brussels Real Palace Flag. Source: Shutterstock
What are the departure and arrival stations for buses from London to Brussels?
Departure bus station: All buses on this route depart from London Victoria coach station, which is located centrally in London. You can get to the station from popular tourist attractions, such as Victoria Palace theatre in about 9min by foot. At the station you will find all the facilities you need for your journey. You can use toilets, ticket machines and waiting rooms ahead of your trip. Whilst you will also find cash points, food outlets and gift shops too.
Arrival bus station: There are two bus stations that you can arrive into in Brussels, both of which are well located. Gare du Nord is about 15min by foot from Kaaitheater, whilst Gare du Midi is about 7min by train to Mont des Arts. At both stations you will find a range of facilities which you can use. There are toilets, information points, cash points and also food outlets, so you'll be all set for your onward journey.
Which bus companies travel from London to Brussels?
There are four bus companies that operate the route from London to Brussels, with two of them being more regular throughout the week. Flixbus and BlaBlaCar bus operate the most frequent service, whilst Union Ivkoni International buses and RegioJet operate a couple of journeys each week. All the companies tend to operate this route overnight, except RegioJet, which operates a day service. RegioJet also tends to be the fastest of the options, with BlaBlaCar Bus taking the longest. RegioJet, Union Ivkoni International and FlixBus provide a direct service too, whilst BlaBlaCar Bus (and Flixbus on occasion) requiring a transfer along the way. This change is most likely to be in Paris or Antwerp, depending on which operator you travel with.
Flixbus buses from London to Brussels
Flixbus London to Brussels service is one of the most frequent providers throughout the week, offering eight buses between Monday and Sunday. On Mondays and Fridays, there are three overnight buses each day that depart between the hours of 6:30 p.m. ad 10:30 p.m. These tend to take between 8h 5min and 11h 20min depending on which time you travel. Whilst on Saturdays, Flixbus also operate two buses that depart at 10:30 p.m. One of these is direct and arrives in 8h 5min, whilst the other is indirect and takes around 8h 45min. Whether it's a one-way journey or a round-trip journey that you are taking, it won't take you long to arrive into your destination.
BlaBlaCar Bus buses from London to Brussels
BlaBlaCar Bus London to Brussels is the other provider which offers the most journeys throughout the week. With a total of seven buses that depart from London Victoria coach station, you'll have a great timetable to pick from. Operating one service each day, you will be able to take an overnight bus with this provider that departs at 8:30 p.m. on a regular basis. The length of the journey is either 15h 45min or 16h 4min, so you will arrive into the capital of Belgium in the early afternoon of the following day. The BlaBaCar Bus journey tends to require one change along the way, which is often in Paris. This transfer time normally takes in the region of about 2h 30min.
Bus London to Brussels: Services on board
On all the buses that you take from London to Brussels there isn't an option for First Class seating. That being said, all the seats are comfortable and have additional leg room, charging points and Wi-Fi. BlaBlaCar Bus has a maximum baggage weight of 55 lbs (23 kg), Union Ivkoni International and Flixbus allows bags to be a maximum of 44 lbs (20 kg), whilst RegioJet allows luggage to weigh up to 66 lbs (30 kg). Whilst pets are not allowed on board these buses, assistance dogs are permitted to travel with you. If you are a wheelchair user, it is worth contacting the provider before you book to ensure that the buses is able to cater for you, with only some buses having spaces for wheelchairs and lifts. Bikes are not allowed on buses except for Flixbus, which can cater for bikes in the hold at an additional cost. Folded bikes can also go in the hold on all the buses.
How to find cheap bus tickets from London to Brussels?
It's easy to get cheap tickets from London to Brussels, especially if you know where and when to look. One of the best ways to travel cheaper is to look for your ticket as far in advance as possible. As tickets go on sale quite far in advance of the travel date, you are much more likely to get a reduced fare if you book early as ticket prices tend to get more expensive the nearer you get to the departure date. It's also helpful to be flexible with your journey. For instance, if your desired travel date is on a Wednesday, consider travelling on a Tuesday or Thursday too, as these might provide cheaper options.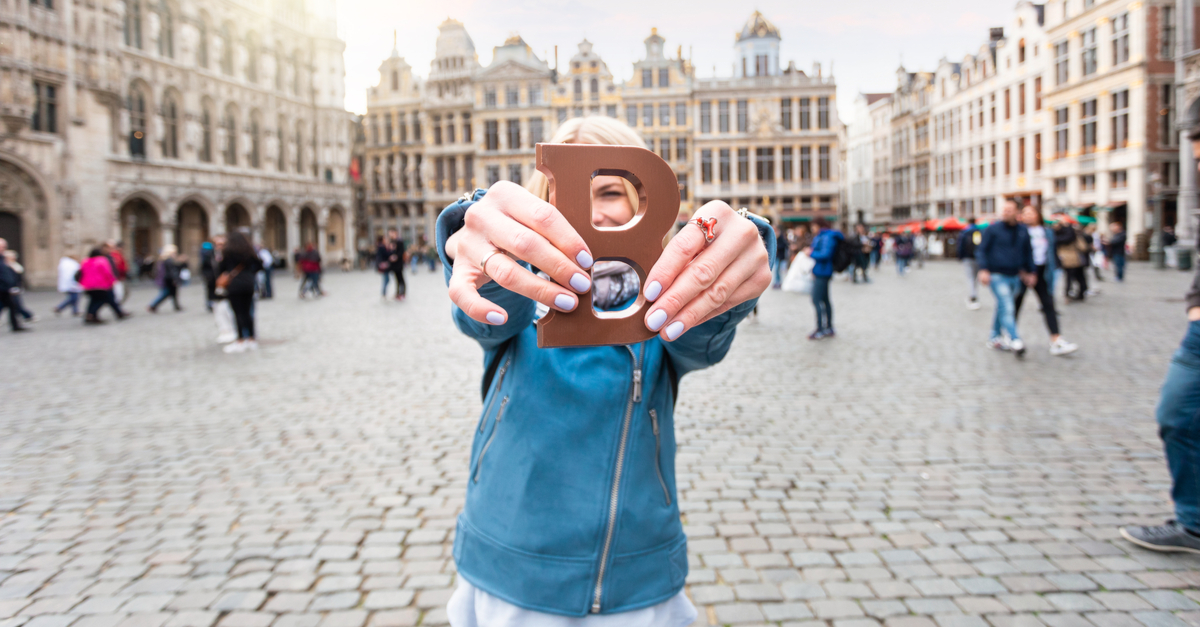 Brussels Plaza Tourist Chocolate. Source: Shutterstock
To Brussels by bus – travel tips
Brussels is a great city with lots for tourists to do, so it's always a good idea to have a itinerary in place prior to travel. Start your trip at the Grand Palace, which is steeped in history and provides the location for the Brussels market too. Then check out Musee des Beaux-Arts d'lxelles, which has many great pieces from 19th and 20th century artists. Then head over to Train World, which is a unique experience taking a look at the history of this great mode of transport.
If you are looking for some peace and tranquillity, then head over to Park Malou, where you can enjoy great scenery and a beautiful lake. After grabbing some local cuisine at one of the restaurants in the centre, finish off your trip at Musee Constantin Meunier, which is an art museum that has paintings, drawings and models from the Belgian artist.