Buses from London to Stansted
Passengers who are looking for buses from London to Stansted will find a frequent service. This service runs every hour from 03:00 a.m. to 8:00 p.m. The average duration for a bus to Stansted from London takes approximately 1h 40min, depending on when you choose to travel. A passenger will always find transport with the leading coach company, National Express. Offering great services, and good onboard facilities, a passenger can also make use of a mobile ticket. The main departing location in London is London, Victoria Coach Station whereas the main arrival destination in Stansted is London, Stansted Airport Station. Both stations are well located with good transportation links to take you to destinations of your choosing.
National Express from London to Stansted
National Express is the only company which offers buses from London to Stansted Airport Station. With 18 trains running daily, it's easy for a passenger to find a ticket with this frequent service. National Express offers direct trains which does not require changes. The first departing coach of the day is at 03:00 a.m. with a duration of 1h 32min and an arrival time of 04:32 a.m. The last departing coach of the day is then at 8:00 p.m. and has a duration of 1h 45min and an arrival time of 9:45 p.m. Any train which passengers board can be used with an eco-friendly e-ticket, also known as a mobile ticket. These tickets can be shown on any electronic device of your choosing are extremely easy to manage. All of National Express' trains offer great service, on and offboard, as well as good facilities and amenities during your travel. Depending on when you choose to travel in the day, expect different durations of travel. The quickest train is 1h 32 min whereas the longest coach is 2h long. Trains will always depart from London, Victoria Coach Station and will always reach London, Stansted Airport Station.
How many coaches are there from London to Stansted?
The 24-hour timetable for coaches from London Victoria includes an hourly service late at night, with frequency increasing to departures every 15 minutes throughout the day the day and evening. The majority of the daily departures are National Express services, with Airport Bus Express coaches departing roughly hourly.
Main bus stations in Stansted
The station serving all your coaches from London is London, Stansted Airport Station. This is the main airport within Stansted and sees leading companies depart and arrive from the station. The station is just 38 miles (61 km) from London's city centre and besides buses, it can be reached easily with the use of taxis and trains. Directly from the airport itself, passengers can make just of the Stansted Express which reaches locations like Liverpool Street Station in just 50min. The coach and bus station at Stansted Airport Station includes some great facilities like waiting facilities, onsite coffee shops, onsite newsagents, payphones, toilet facilities, car parking, ticket machines, as well as much more. The operating hours of this station are 08:00 a.m. to 5:45 p.m. These times do not affect the service of your journey. However, some of the facilities may only be operating during the opening hours.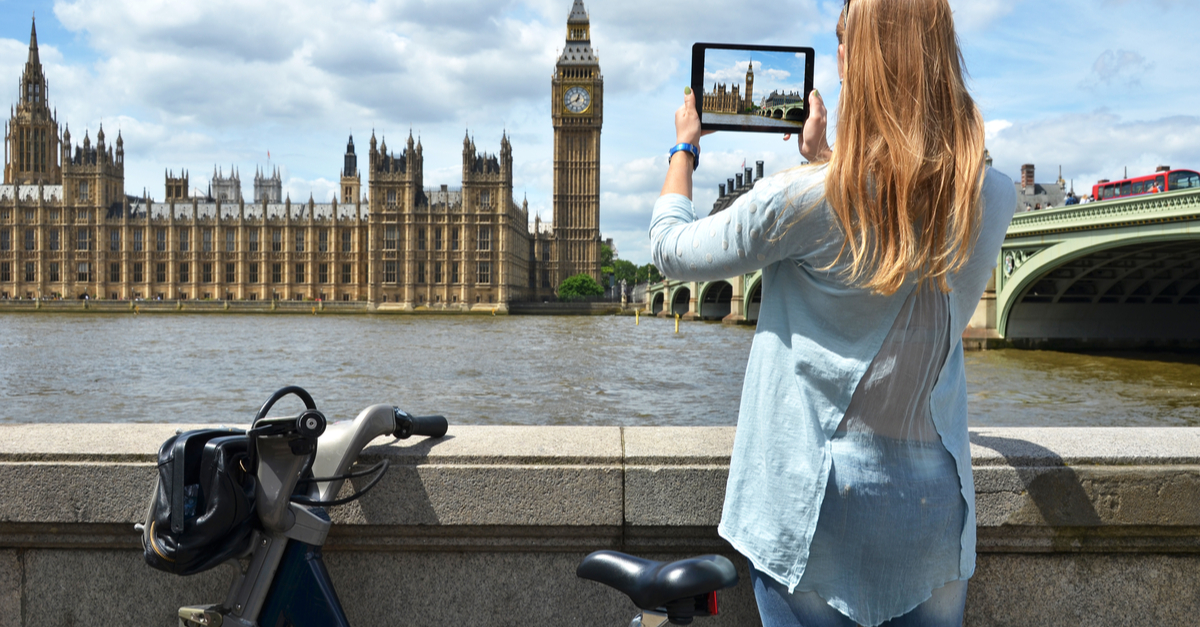 London Shots. Source: Shutterstock
What are the departure and arrival stations for coaches from London to Stansted?
Departure Station: Coaches depart from London Victoria Coach Station. Situated south-west of central London, Victoria Coach Station is served by three Underground lines from the nearby Tube station and bus routes across the city from stops on Buckingham Palace Road. The coach station facilities include coffee shops, a bakery, left luggage office and a currency exchange bureau.
Arrival Station: Coaches arrive at Stansted Airport. Buses arrive at the coach station located at the arrivals terminal, next to the rail station. Local buses link the airport to Bishop's Stortford and Stansted Mountfitchet. The airport departures hall has a wide range of restaurants, duty-free shops, pubs, business lounges, and free WiFi.
Onboard facilities from London to Stansted
Even before stepping onboard a coach with National Express, passengers will be happy to know that they're travelling with the most sustainable intercity network in the whole of the UK. On and offboard your coach, you will be faced with great service from staff. They also offer additional help for those with reduced mobility access. Any additional help must be pre-booked in advance to secure availability. In addition, some of the useful onboard facilities on the coach include free and unlimited Wi-Fi access, plug sockets and charging points to accommodate all of your electronic devices, comfortable seating, lots of additional legroom, as well as much more. Those who are looking to bring baggage aboard their coach with National Express will not be able to bring a bag weighing more than 20 kg (44lbs.) A large case can also not exceed the side of 75 cm x 50 cm x 32 cm.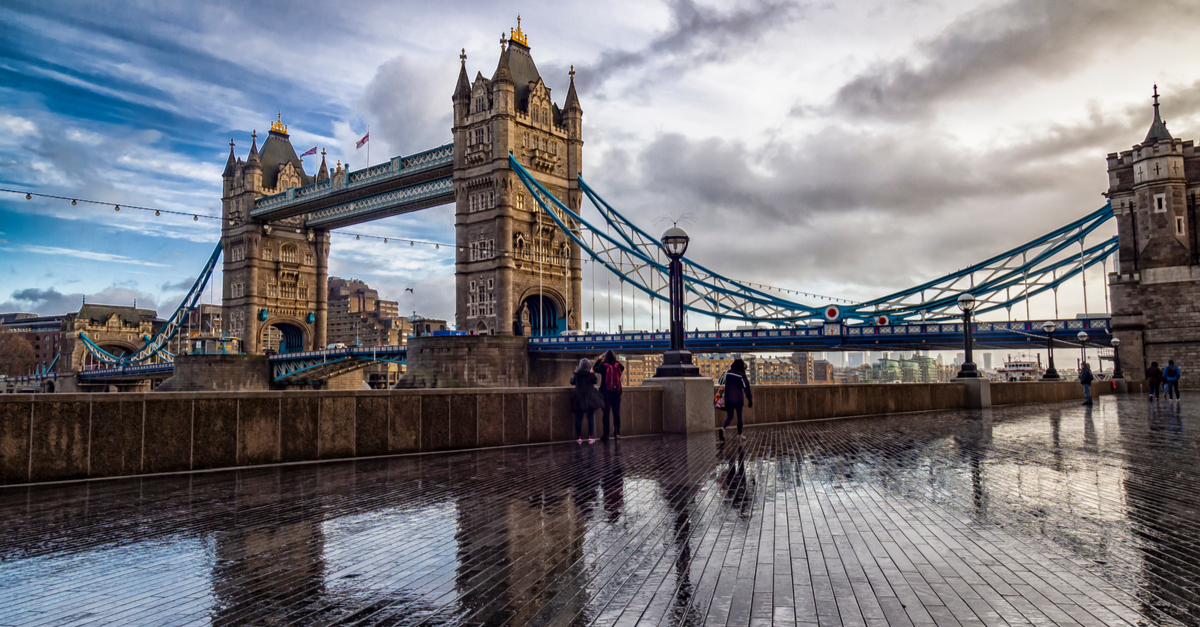 Rainy London. Source: Shutterstock
To Stansted by bus – travel tips
Passengers who are intending to reach Stansted from London will find a selection of transport that's easy and frequent that will take you to any destination of your choosing. No matter if you're wishing to board a plane to a faraway destination or looking to make use of public transport to reach nearby locations, you'll find multiple options of choice to choose from. At Stansted Airport, you'll find a taxi rank and car rentals immediately outside the arrival's terminal. Alternatively, the most frequent option of travel and the easiest from the station is the Stansted Express.
Passengers can expect to reach destinations like London Liverpool Street Station in just 50min. This is the fastest option of travel and runs frequently. Whilst there are many attractions and suitable venues, eateries, bars, and more for people to enjoy their time, its top attraction that draws people in is Stansted Airport itself. Serving flights internationally, as well as across the UK, the airport is gifted with great facilities like duty-free shopping, restaurants, bars, wheelchair accessibility, ticket machines, currency exchange, and much more. The airport is popular with some of the world's leading airlines like British Airways, Ryanair, easyJet, Iberia, Jet2, Eurowings, KLM, Vueling, and more.
As well as Stansted Airport, there are lots of exciting attractions to keep every visitor, tourist, and resident occupied during their stay. If someone visiting Stansted Airport is looking for suitable accommodation nearby, they will find a selection of appropriate places to stay to make their stay in Stansted easy and stress-free. Appropriate accommodation is even available directly on-site at the airport itself.
In addition, those who are wanting to explore the area of Stansted can enjoy some of the great attractions like Mountfitchet Castle, Mountfitchet Castle & Normal Village, Hatfield Forest, House on the Hill Museum, The Gardens of Easton Lodge, Aubrey Buxton Nature Reserve, South Mill Arts & Bishop's Stortford, Thorley Wash Nature Reserve, Prior's Hall Barn, Stansted Raceway, as well as much more. Alternatively, people passing through Stansted can also enjoy a great selection of bars. These bars include MIX Wine Bar, The Cork House, The Queen's Head, Kings Arms, The Rose & Crown, The Dog & Duck, The Ash Pub, Stansted Mountfitchet Social Club, The Cock Public House, Bear & Eden, Wetherspoon Express, The Old Bell Hotel, Halo, The Illustrious, among others.
Bus tickets from London to Stansted
Passengers who are looking for buses from London to Stansted Airport Station will always find that they're with the provider, National Express. The company offers a frequent service with a selection of great facilities. In addition, a passenger can make use of the environmentally friendly use of an e-ticket. An e-ticket, also known as a mobile ticket, can be used on any electronic device of your choosing and is easy to manage, thanks to Omio. Omio allows you to store all of your mobile tickets in your Omio account, making future ticket sourcing and filing easy to manage.

Alternatively, a passenger can instead request printed tickets for no additional charge. When travelling with National Express a passenger must make sure to show proof of legitimate identification that matches the name on their ticket. Appropriate identification includes a passport, a full driving licence, a provisional driving licence, a bank card, among others. Any additional requests with other companies might differ but National Express is the only provider that offers service to Stansted from London.