Buses from Stansted to London
The city of London is the capital of the UK, the home to Big Ben and Buckingham Palace and one of the most visited cities in the world. The national currency is the Pound sterling. London also has the most extensive public transport system in the United Kingdom. It includes a comprehensive intercity and commuter network rail system, the London Underground and local buses. The city also has an intercity bus (coach) network administered by Transport for London (TfL) employing London Victoria Coach Station as the central terminal for routes to and from the city. This is the endpoint for all service from Stansted to London operated by National Express, the main provider of intercity coach services in the city.
How long is the coach from Stansted to London?
Getting from Stansted to London shouldn't take long. Coaches take between one hour 20 minutes and two hours to reach London Victoria. Generally, buses take around one hour 40 minutes.
National Express from Stansted to London
National Express is the principal provider of intercity coach services in the country and uses Birmingham Coach Station as its base of operations. National Express offers 18 daily trips between London Stansted Airport and London Victoria Coach Station with the earliest departure occurring around 00:00 a.m. and the last around 11:00 p.m. You can get multiple trips at select hours during the day, for example there are two during the 09:00 a.m. hour and three between 1:00 p.m. – 2:00 p.m., with at least one night coach around 11:05 p.m. The route from Stansted to London is an express service which usually takes about 50min though some coaches can take as long as 2h 5min to reach their destination.
Main bus stations in London
London Victoria Coach Station is the primary coach terminal in London and is located about 2.5 miles (4 km) by car, about 15min on the metro (depending on the line) and approx. 1.5 miles (2.5 km) or about 30min by foot from Central London. It is used as the intercity London terminus by several coach operators such as National Express, Megabus, FlixBus, BlaBlaBus and Eurolines among others. Victoria Coach Station offers several facilities for travellers arriving into the city from Stansted Airport including a Bureau de Change and cash dispensing machines, toilets with facilities for babies. You can also find a left luggage office, photo booth, several refreshments facilities in the Arrivals/Departures terminals and luggage porters if needed. This location is fully accessible to persons with reduced mobility and provides complimentary Wi-Fi services.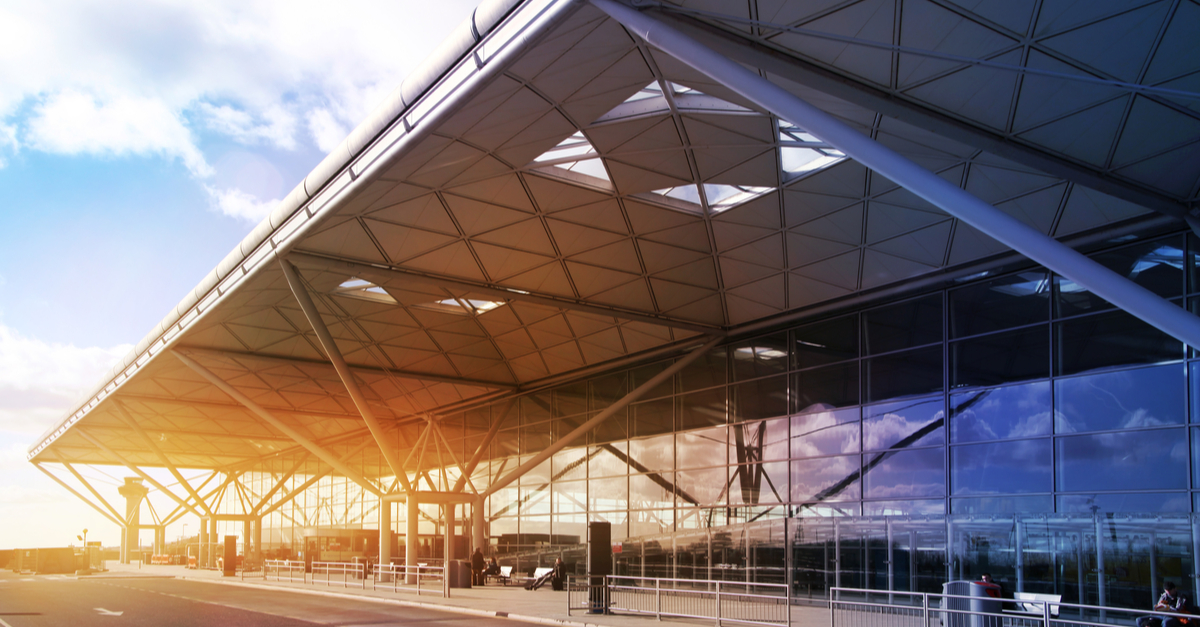 Stansted Airport. Source: Shutterstock
Onboard facilities from Stansted to London
Arriving passengers at Stansted Airport enroute to Victoria Coach Station via National Express are allowed two pieces of luggage weighing not more than 45 lbs. (20 kg) each as well as one carry bag per person. Luggage should be stored in the hold while your carry bag should fit under the seat, in the overhead compartment or in your lap if necessary Unfortunately, pets are not allowed to travel on National Express coaches, but there are exceptions made for assistance animals. National Express coaches provide air-conditioning during the summer months and heating during the winter months for your comfort and convenience. Additional onboard facilities include comfortable seating with head and foot rests, charging points at every seat, toilet with washroom facilities and complimentary Wi-Fi.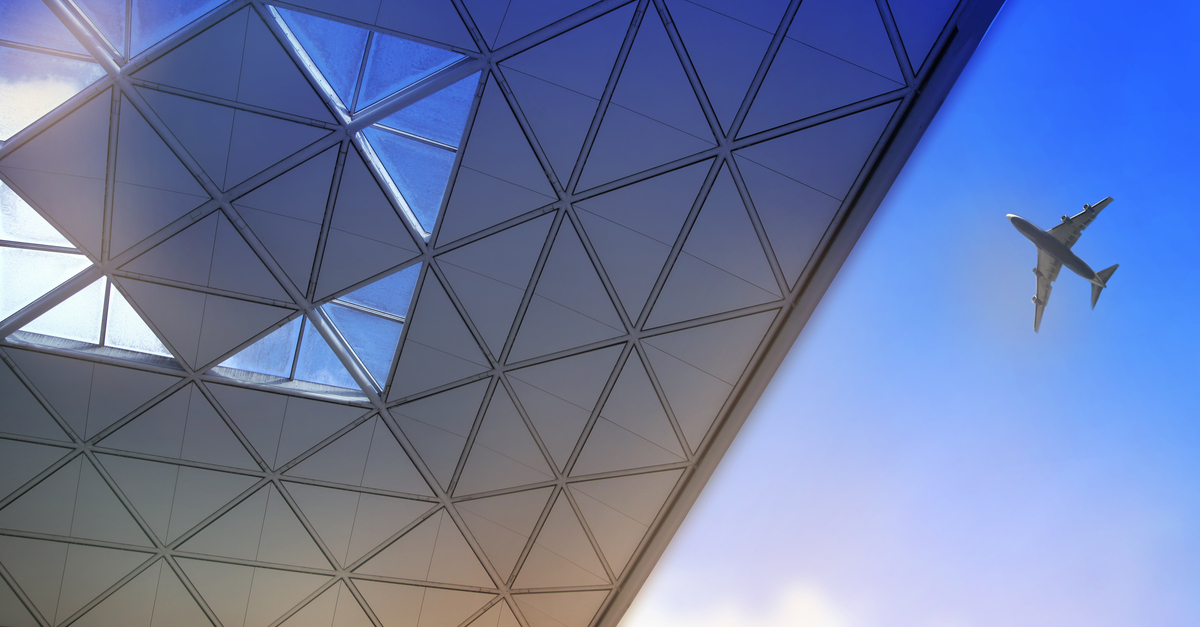 Stansted Plane. Source: Shutterstock
To London by bus-travel tips
London offers some of the most iconic attractions in the world ranging from museums (Tate Modern, British Museum) to historic landmarks (Nelson's Column, Big Ben) to royal residences (Buckingham Palace, Tower of London), and that's barely scratching the surface. The square mile of the inner city is a mecca for retail shopping with institutions such as Harrods and the Oxford Street district as well as world-famous parks such as Regents Park, Hyde Park and Royal Botanical Gardens Kew, not to mention the multitude of bars and restaurants or its vibrant nightlife scene. One of the great things about London is the ease with which you can navigate the city by foot or by public transport. In fact, public transport is the cheapest option for travelling within the square mile and throughout the greater metro area beyond. An Oyster card is convenient carry for riding the bus, metro or commuter trains and can be topped up when it runs low at any metro or rail station and at some petrol outlets. You can also download a London Underground Tube map to your mobile device or grab one of the many pocket maps from Victoria Coach Station when you arrive. Passengers from Stansted to London should know the city is also infamous for its unpredictable weather and a brolly is a good investment to guard against unexpected rain showers as you go.
If you're in town for a few days the best plan of attack is a well-thought out itinerary so you can check off as many items on your bucket list as possible. The Royal Observatory/Royal Museums Greenwich is an excellent place to start your day's explorations. You can discover all about Greenwich Mean Time and tour some of the earliest timepieces then walk the Prime Meridian Line which literally sets the standard for time the world over.
From there a boatride along the River Thames into Central London is a treat and it only takes about 20min to arrive at Tower Pier and the historic Tower of London. This royal residence is infamous as one of the world's great prisons but it also guards the royal crowns, regalia and other treasures of the royal family and is a perennial favourite among the millions who visit London each year. From the Tower head west following the Thames to three of the city's most important museums: Tate Modern, the National Gallery and the British Museum before taking a ride on the London Eye to view the city skyline and the Thames like never before.
If you're visiting London in the summer get set for a raft of festivals and outdoor events. The Caribbean festival otherwise known as Notting Hill Carnival held on August bank holiday weekend remains one of the largest street events in Europe and is an annual rite of passage. The annual Hampton Court Palace Festival in the same month at the former home of King Henry VIII is perhaps the most awesome venue for a music festival anywhere in London.
Bus tickets from Stansted to London
You can use mobile tickets on National Express coaches without a printed copy and it is recommended to have some form of photo ID for boarding purposes if requested by coach staff. Standard tickets are non-refundable but can be changed up to one day before the travel date for an amendment fee plus the price difference if any. Fully Flexible tickets offer security in terms of refunds and cancellations with unlimited amendments which is useful for delayed flights.

National Express provides a Change & Go Add-on which allows you to ride any coach up to 12h. before or after your originally scheduled time, free of charge. It also has a cancellation and refund feature if revoked within 24h. On National Express coaches from Stansted to London you can purchase tickets from the driver, but making an advanced reservation (e-ticket) is the only way to guarantee seating on the coach of your choice. The company offers special prices for children under the age of 15 years as well as season and multi-ride tickets for those making frequent trips along this route. On Omio buying bus tickets to Birmingham is fast and easy and it's possible to store all your tickets in your Omio account.