Trains from London to Stansted
The train journey to Stansted from London runs frequently. There are 42 trains that operate between the two locations per day, making travel easy with the constant running trains, and also meaning that train tickets to Stansted Airport easy to find. The average duration for the train journey is around 51min but can vary depending on when you choose to travel. Passengers should always expect that their departing station is London Liverpool Station and will always arrive at Stansted Airport Station (SSD.)
London to Stansted Train Time: Daily Departures
There are multiple train journeys that operate per day from London to Stansted. Passengers who are looking for tickets will find that trains operate every 30min and commonly depart at 10min past the hour or 40min past the hour. The first train departs at 4:10 a.m. and the last train departs at 1:25 p.m. with approximately two trains running every hour. The regularity of these trains means that they run at a tight and reliable schedule that you can rely on.
How long is the journey by train from London to Stansted?
Reaching Stansted Afrom London can be done by a quick train journey of approximately 50min. Depending on what hours that you choose to travel, the duration of your train ride can differ. During the early hours of the morning, at 4:10 a.m. your journey will take 47min. However, during peak times your journey can take up to 59min. Those who are planning to travel in normal hours and around mid-day can expect that their journey will average at either 50min or 52min.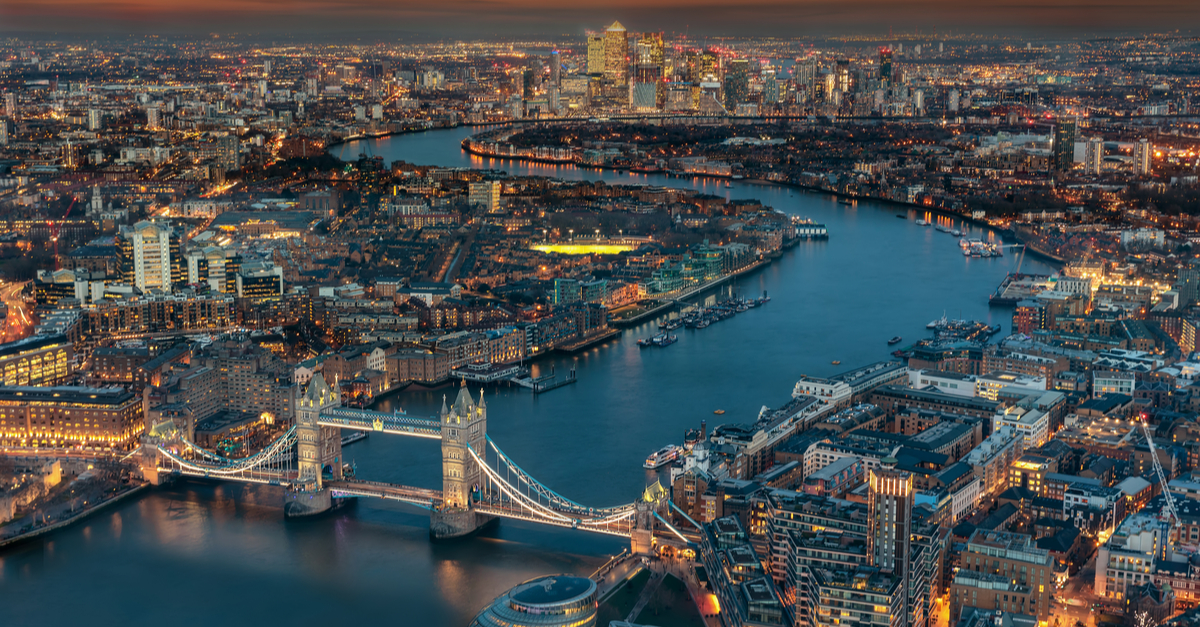 London Panoramic View. Source: Shutterstock
What are the departure and arrival stations for trains from London to Stansted?
Departure train station:strong> The station that will serve all of your trains to Stansted will always be from London Liverpool Street Station. This station is just 1.5 miles (2.4 km) from London's city centre and can be reached with just a short journey on the central line. The journey will take around 7min if you catch the underground line towards West Ruislip and disembark at Bank Station. The journey is then only 4min on foot.
Arrival train station:strong> Your arrival station in Stansted will always be Stansted Airport Station (SDD) when you travel from London Liverpool Street Station. A train is the quickest option of route to reach London's city centre from Stansted. It stands at a distance of just 34 miles (55 km) Stansted Airport Station is gifted with lots of public transport options that can take you to desired destinations of your choosing. The most common form of public transport is either by bus or use of the airport shuttle.
Which train companies travel from London to Stansted?
The only train company that offers routes from London to Stansted is Greater Anglia. Greater Anglia is not only the only company that travels the distance between the two locations, but it also only offers direct routes, making train tickets to Stansted Airport easy to find. The duration of your journey alters only in 12min from its slowest running train to its fastest running train. Passengers that travel to Stansted Airport with Greater Anglia means that they're a customer of great service, good onboard facilities, and a provider that offers punctual and reliable travel.
Greater Anglia trains from London to Stansted
Direct trains with Greater Anglia to Stansted from London run frequently. These trains run on a tight schedule of every 30min. They will always arrive at Stansted Airport (SSD) and depart from London Liverpool Street, both of which are well located. Expect that the duration of your journey to be no more than 59min and to average at approximately 51min during mid-day. Greater Anglia is one of the leading train journeys in the UK, meaning that you're travelling with a reliable and excellent provider.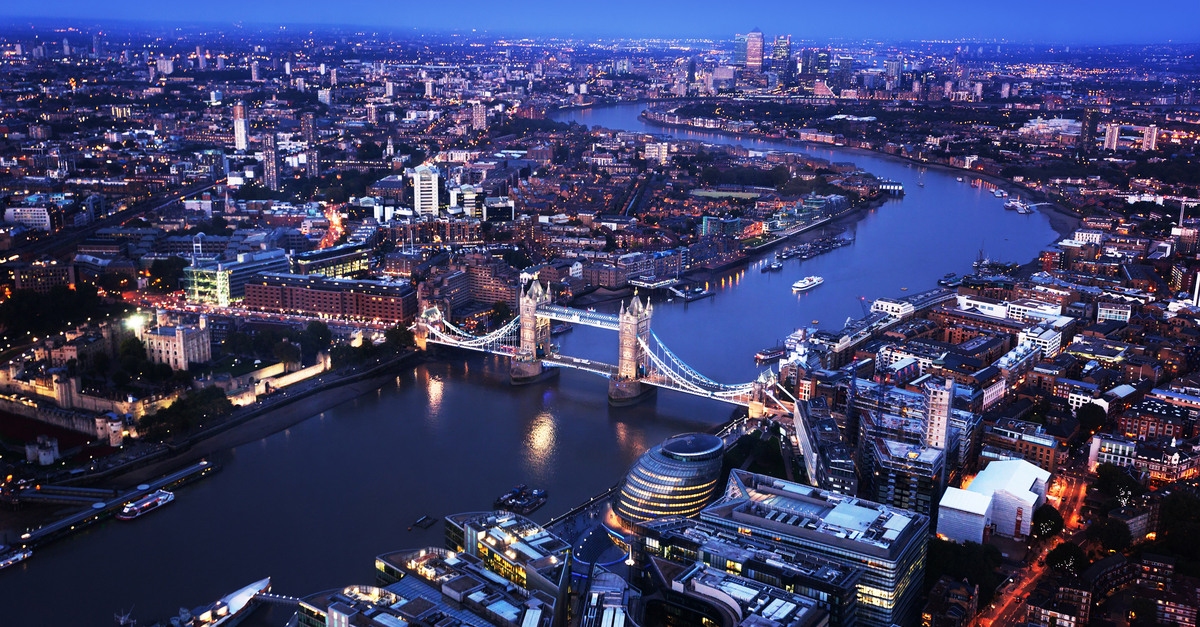 London Parliament. Source: Shutterstock
To Stansted by train – travel tips
There are lots of exciting attractions and opportunities that will allow you to experience Stansted in its optimism. Whilst Stansted Airport is one of the leading places that draws people into Stansted, there's still lots to do that everyone visiting can enjoy.
If you're visiting with children then consider some of the top attractions like Mountfitchet Castle, National Trust – Hatfield Forest, Mountfitchet Castle & Normal Village, House on the Hill Museum, The Gardens of Easton Lodge, Bishop Stortford Escape Rooms, and more. These exciting attractions that are suitable for all members of the family are easily accessible by just a quick journey by taxi or public transport from Stansted Airport Station (SSD.)
Alternatively, if you're looking for suitable attractions in the evening whilst you're in Stansted then enjoy either the top bars, clubs, or restaurants. Just some of the top restaurants include Brohmon, Bombay Butler, Crimson 8, Café Yeomans, The Lower Street Brasserie, The Cork House, Wood Grill, The Cock Public House, Pino Pizza & Grill, Lams, China Garden, The Margos, among others. Otherwise, you might be visiting Stansted solely for the purpose of using Stansted Airport and if you are, you have lots of suitable accommodation options during your stay. Some accommodation can be found directly on-site Stansted Airport or are only a convenient commute away.
Train London to Stansted
Greater Anglia trains offer great onboard facilities, no matter what class that you're travelling with. Both first-class and second-class tickets are able to be purchased for your journey between the two locations. First-class passengers can benefit from extra spacious legroom, the ultimate privacy, a table at every seat, free Wi-Fi, complimentary refreshments like coffee (freshly brewed), tea (Yorkshire Tea, Earl Grey, Green Tea or Peppermint), speaking or still water, snacks (selection of pretzels or biscuits), as well as much more.

Greater Anglia prides themselves in their great service to all guests and going above and beyond in their efforts to accommodate passengers with reduced mobility access. Disabled assistance is available but must be booked with a minimum of 12h before travel. Passengers are allowed to bring two locations items on board the train like suitcases along with one small piece of hand luggage. However, this may be difficult during peak travel.

Travellers can bring up to two dogs, cats, or other small domestic animals on board providing that they don't take up a seat. Bicycles can be brought onboard the train free of charge. However, spaces are subject to availability and your chosen time of travel.
Passengers who are looking for cheap train tickets to Stansted Airport Station should try a variety of money-saving options to guarantee the best price for their travel. Some of the most useful tips include the fact that you should book in advance. Tickets are usually budget-friendly but you can save even more money by booking with appropriate time beforehand.

Alternatively, passengers should be flexible with their dates as a specific day that they choose to travel could include the price of their ticket. Changing a travel date with a difference of only a matter of days could mean that you're able to benefit from a cheaper price of ticket. Another money-saving option is to choose from slow or connecting trains but as trains to Stansted Airport from London Liverpool Street Station are always direct, passengers are always guaranteed the best price in that respect.