Trains to Stansted
Situated about 35 miles (56 km) from Central London, Stansted Mountfitchet (hereafter referred to as Stansted) is a village in the county of Essex not far from Hertfordshire. Stansted is a medieval town dating back before the Norman Conquest and is home to some excellent examples of Norman architecture and culture. The town is served by a single station – Stansted Mountfitchet Railway Station - which sits on the West Anglia Main Line. Greater Anglia is the main operator providing trains to Stansted from its central terminal at London Liverpool Street Station which call at Stansted Mountfitchet Railway Station along the route to Cambridge North.
As the fourth busiest airport in the UK, Stansted airport has frequent and efficient train services running from the east of England and London. Those wishing to catch a connecting train to Stansted airport should catch the Stansted Express, which runs directly from London Liverpool Street to Stansted airport. Trains to Stansted depart every 15 minutes throughout the day and every 30 minutes outside peak time. It is also possible to catch the train to Stansted from the East Anglia towns of Sheringham, Great Yarmouth, Lowestoft and Felixstowe. All that is required is a change at Ely in nearby Cambridgeshire by simply crossing the platform for trains to Stansted Airport.
Greater Anglia to Stansted
Greater Anglia manages all railway service lines and several of the railway stations across East Anglia, principally along the Great Eastern Main Line and the West Anglia Main Line routes with service originating from its central terminal at London Liverpool Street Station. These provide customers with direct and in-direct intercity rail service on weekdays, weekends and holidays to cities such as Norwich as well as regional and commuter train services to locations such as Ipswich, Stratford and Colchester.
Greater Anglia also operates Stansted Express allowing passengers from London Liverpool Street Station to travel direct to Stansted Airport which is about 4.4 miles (7 km) from Stansted Mountfitchet. For travel to Stansted by train Greater Anglia provides direct daily service with multiple departures per hour from London Liverpool Street Station to Stansted Mountfitchet Railway Station, but you should anticipate a reduced timetable on weekends and holidays for trains from Stansted to Central London. The earliest weekday departures from London Liverpool Street Station occur in the early morning hours before 6:00 a.m. with the latest train departing from Central London in the late evening hours generally between 11:00 p.m. and 00:00 a.m.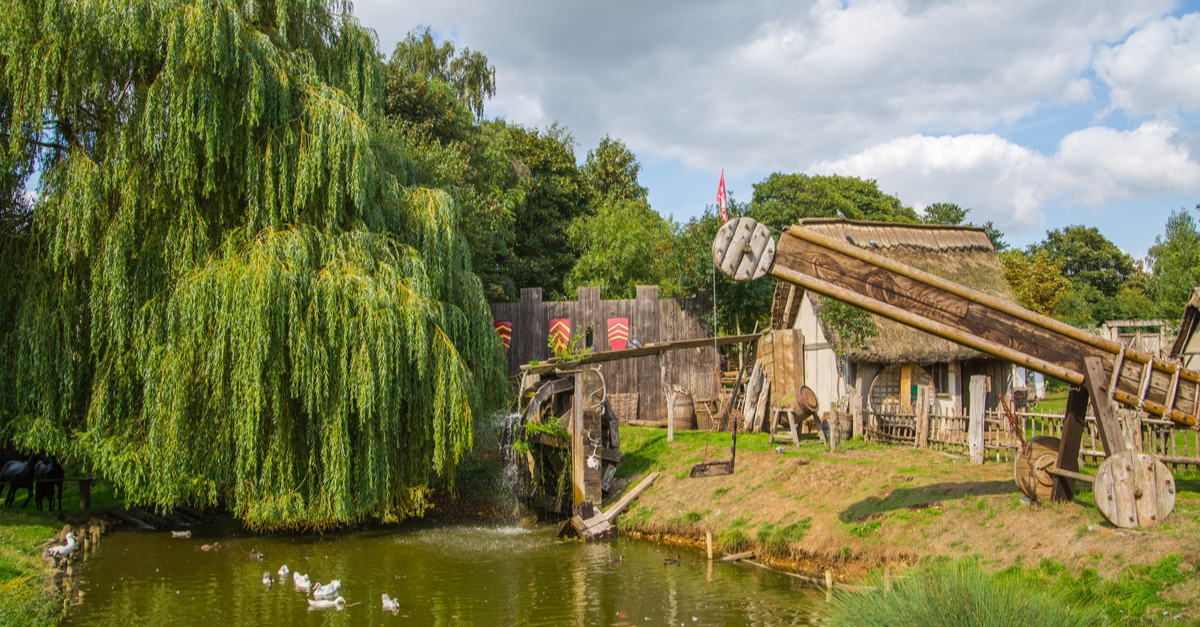 Stansted Water Mill. Source: Shutterstock
Main train stations in Stansted
Stansted Mountfitchet Railway Station is the sole railway terminal in the town and accepts service to and from London Liverpool Street Station. If you plan on travelling to Stansted by train you should know that the station offers basic facilities such as ticket office with ticket vending machines, WC (with baby changing facilities for passengers travelling with infants), free Wi-Fi, refreshment facilities and public phones. Stansted Mountfitchet Railway Station is accessible to disabled passengers where there is staff onsite who can render assistance if needed during ticket office hours. The ticket office at this location has hours of operation Monday to Friday from 6:00 a.m. to 1:00 p.m., Saturday from 6:00 a.m. to 1:00 p.m. and Sunday from 8:00 a.m. to 3:00 p.m.
Onboard facilities: Greater Anglia
Greater Anglia provides a luggage allowance of two cases and one personal bag per passenger for storage in a luggage compartment, overhead rack or under your seat and this provision applies to folding bikes, buggies and prams. In the case of full-sized bicycles you must reserve them at the time of booking due to limited storage space on Greater Anglia trains which prohibits them on most trains during the peak rush hours.
You are allowed to travel with a maximum of two pets as long as pet carriers are used and dogs are kept on the lead at all times, with exceptions for cases involving service and assistance animals. Free Wi-Fi can be enjoyed on all trains and the company provides catering services should you wish to enjoy some refreshments while onboard. Greater Anglia trains are accessible to disabled passengers and provides priority seating in addition to storage space for mobility aids like wheelchairs and scooters.
Train tickets to Stansted: useful to know
If you choose Greater Anglia for your trip to Stansted Mountfitchet the company offers a range of ticket options such as Advance, Off-Peak and Super Off-peak fares in addition to Anytime, First Class and Season tickets. Be advised that refunds are not available for Advance tickets and the conditions and terms on other ticket classes vary with reference to refunds, ticket changes and train cancellations. As premium ticketholders First Class passengers enjoy improved benefits such as priority boarding, upgraded seating and greater flexibility than all other fare types.
Greater Anglia offers special incentives such as GroupSave or Rangers and Rovers which are ideal for affordable group travel along with other offers on fares for business travellers, students, children and seniors that can also result in savings. Seniors and students should be able to provide valid ID at the time of purchase or to train staff when boarding the train. For the convenience of its passengers Greater Anglia trains accept electronic tickets so a hardcopy is unnecessary, but you should carry at least one form of valid ID for security purposes or upon request by train staff. On Omio buying tickets to Stansted is fast and easy and can be stored in your Omio account.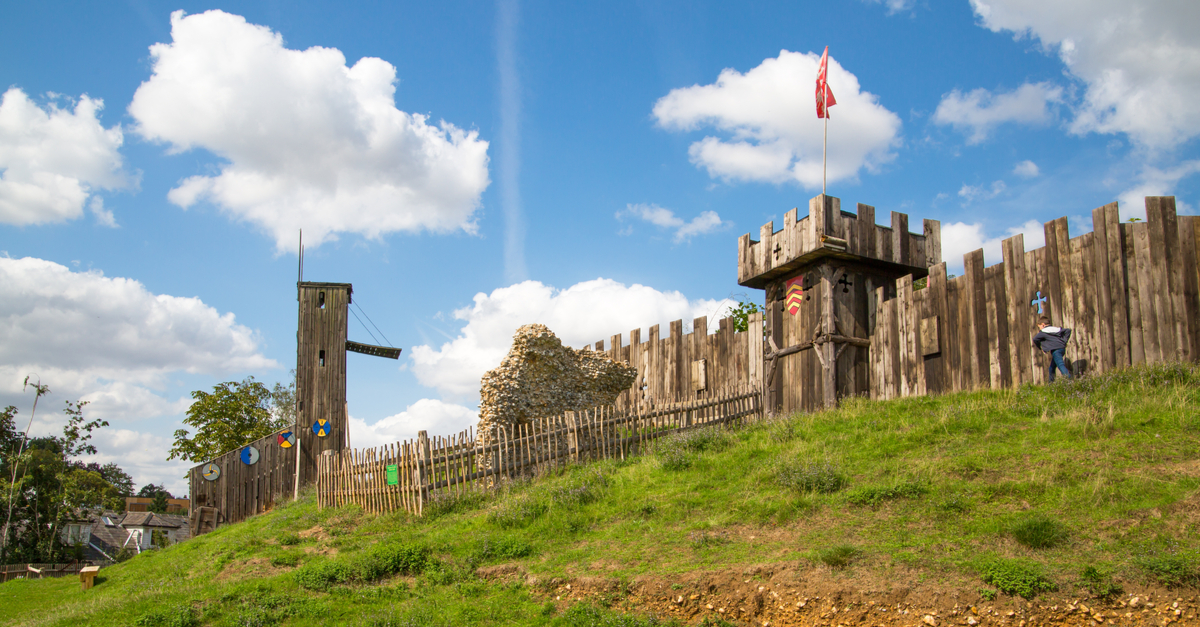 Stansted Fort. Source: Shutterstock
To Stansted by train: travel tips
Despite its proximity to London Stansted Airport, the town of Stansted enjoys relative tranquillity due to the lack of flight paths overhead, so your explorations of this small parish village won't suffer from noise pollution. You can begin your day with a visit to Mountfitchet Castle which has been renovated to its original glory and tour the keep as well as the adjoining Norman Village which is a considered a "living history" environment. Informative and educational, this is a great way to get an extensive and actual experience of life in this part of 11th century England just after the conquest.
If you wish to discover a relatively untouched piece of natural landscape, take a walk through Hatfield Forest about 6 miles (9.6 km) away which holds the distinction of being the only complete and intact royal hunting ground left in England. There are a few bus routes operated by Essex Council which will allow you to get around Stansted and other villages, parishes in the Uttlesford district as well as several coach lines including Trustybus and Arriva Herts and Essex which can connect you with locations farther afield.
Vying with Mountfitchet Castle for the title of most iconic landmark in Stansted would have to be Stansted Mountfitchet Windmill. This well-preserved five storey tower mill is one of the few surviving examples to have much of its original machinery in place and is open for tours so you can get an up-close and personal perspective. Saunters around Stansted may not rank high on the list for tourists but among the locals these footpaths and walks are a leisurely way to take some air and experience the natural surroundings of Stansted Mountfitchet.
Afterwards you can saunter over to The House on the Hill Museum which is a curiosity shop filled with over 70,000 toys of all varieties, shapes and sizes. Sit down for a traditional pub lunch at The Rose and Crown or The Dog and Duck when a hearty meal is just the thing to replenish your energy reserves. If dining in a more contemporary setting is what you're after then try The Cork House Bar Bistro or the Lower Street Brasserie which are also popular places to eat with great food according to the local cognoscenti. There are also a number of pubs in Stansted where you can enjoy hot or cold beverages to quench your thirst after a full day on your feet. The Ash at Burton End is an historic thatched-roof pub serving beverages with garden seating.
Most popular trains connections to Stansted
| | |
| --- | --- |
| Trains to Stansted from London | |
| Trains to Stansted from Bristol | |
| Trains to Stansted from Nottingham | |
| Trains to Stansted from Manchester | |
| Trains to Stansted from Birmingham | |
Trains to Stansted - FAQs