Buses from London to Sofia
Enjoy a sightseeing journey from London to Sofia, with a long-distance bus ride between these two great cities. With only one bus per week, taking on average around 40h and 44min, you can sit back, relax and take in the scenery between Britain the Balkans. During the journey you'll be required to take a ferry across the English Channel on the bus too, giving you time to get some fresh air along the way.
London to Sofia Bus Time: Daily Departures
Due to the duration of the journey, the London to Sofia bus only departs on one day of the week. As it takes nearly two days to travel from origin to destination, you will depart London on Sunday evening at approximately 8:00 p.m. and arrive into Sofia at around 10:30 a.m. on the following Tuesday.
How long is the journey by bus from London to Sofia?
The total journey time from London to Sofia is fairly long by bus with it taking nearly two whole days. You can expect the travel time from London to Sofia to be approximately 40h and 44min, depending on traffic throughout the drive. Due to the journey time being so long, you can enjoy taking in the scenery of Europe along the way.
What are the departure and arrival stations for buses from London to Sofia?
Departure bus station:The departure station is London Victoria coach station, which is very conveniently located in the centre of the city. It's one of the main bus station in London, with many companies such as National Express departing on a regular basis.You can get to London Victoria from Buckingham Palace, for example, in around 10min by foot. At the station you will find lots of amenities too, such as food outlets, shops, ATMs and toilets. The bus station is also accessible to people travelling with disabilities or with mobility problems.
Arrival bus station:The arrival station is Serdika bus station, which is the central station in Sofia. You can get to Cathedral Saint Aleksandar in around eight minutes by taxi, so it is very well located. Within the bus station you will find ticket offices, banks and a medical centre. In addition there are many food and drink outlets. The station is also accessible for those travelling with a disability, so you should be able to move around the station with ease.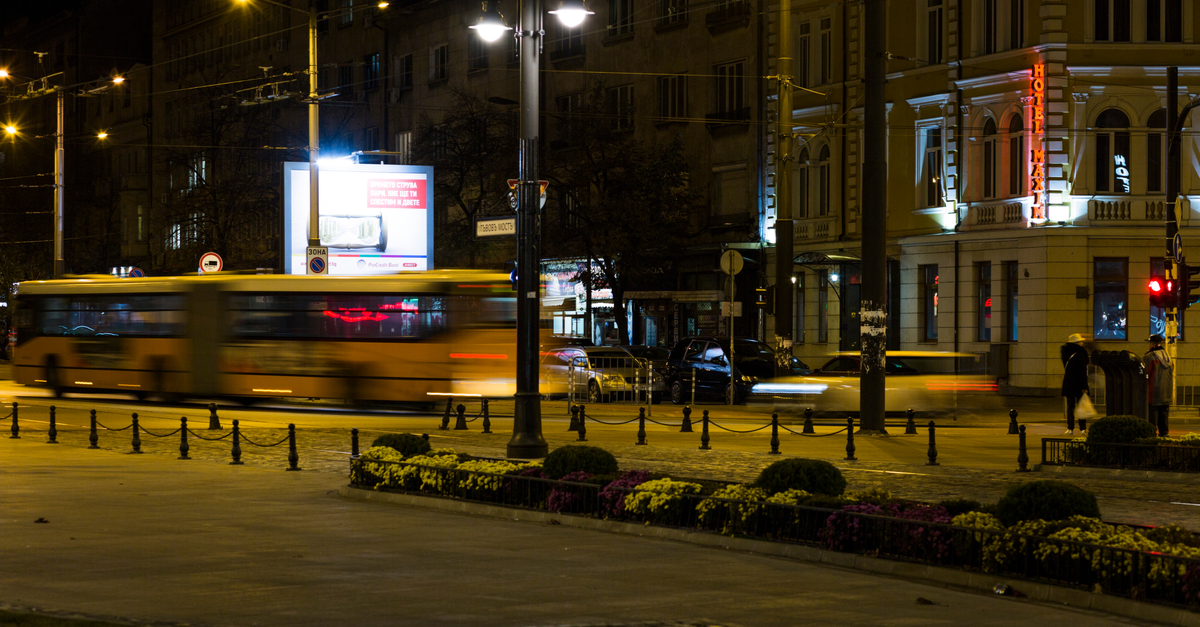 Bus Sofia. Source: Shutterstock
Which bus companies travel from London to Sofia
The only bus company that you can travel from London to Sofia with is Balkan Horn, which completes the distance in just under two days. It is a long-haul bus journey that takes you through several other European countries. Whilst it is direct, you will be required to get off the bus during the ferry crossing of the English Channel. As the journey is between Sunday and Tuesday, you will be expected to spend two nights sleeping on the bus during the trip.
Balkan Horn buses from London to Sofia
Balkan Horn London to Sofia departs London once each week to drive to Sofia in Bulgaria. Leaving at around 8:00 p.m. every Sunday, it takes just under two days to arrive into Sofia at about 10:30 a.m. on the following Tuesday. In total the journey time is approximately 40h and 44min so it is a long-distance bus. The bus is direct, although you will need to get off of it during the ferry crossing from Dover to Calais.
Bus London to Sofia: Services on Board
The Balkan Horn buses are very comfortable, so you can relax for the duration of your trip. All seating is the same, with there being no first class option. All the buses are fitted with air conditioning for your comfort so you do not get too hot or cold. There are also reclining seats, so you can get a good rest when it comes to night time. There are also seat belts on every seat, which you should wear throughout the journey. DVD, video and audio systems on the bus also offer entertainment for your long-distance journey. There is a toilet on board too, which can be helpful to journeys of this length. There is also a tea and coffee service too. Bikes cannot be taken on board the buses, although you can put a folding bike in the hold should you wish. You can take luggage on board that weighs a maximum of 32kg. This must also not exceed the dimensions of 25cm x 60cm x 80cm.
In addition to this you will be entitled to one piece of hand luggage. Should you need more room for luggage there is an additional charge you can pay. Pets are not allowed on the buses due to the length of the journey. Whilst the buses may be suitable for those travelling with disabilities, it is suggested that you call up in advance to find out if this journey is the best option for you, as you may find faster and more convenient alternatives by a different mode of transport.
How to find cheap bus tickets from London to Sofia?
It's easy to find cheap tickets for the bus from London to Sofia, with just a few simple tricks and tips. One of the best ways to ensure you get the cheapest price for your journey from London Victoria to Serdika bus station is to look for your journey as far in advance as possible. Bus journeys are normally available to book several months before they depart, so the earlier you find your ticket the cheaper it is likely to be. There may also be a promotion on, offering early bird prices to the first few customers. Another way to get a great price for you bus from London to Sofia is to have flexibility around travel. For instance, if you do not have to depart on a specific week, you might find that the bus a week either side of your desired departure date is cheaper.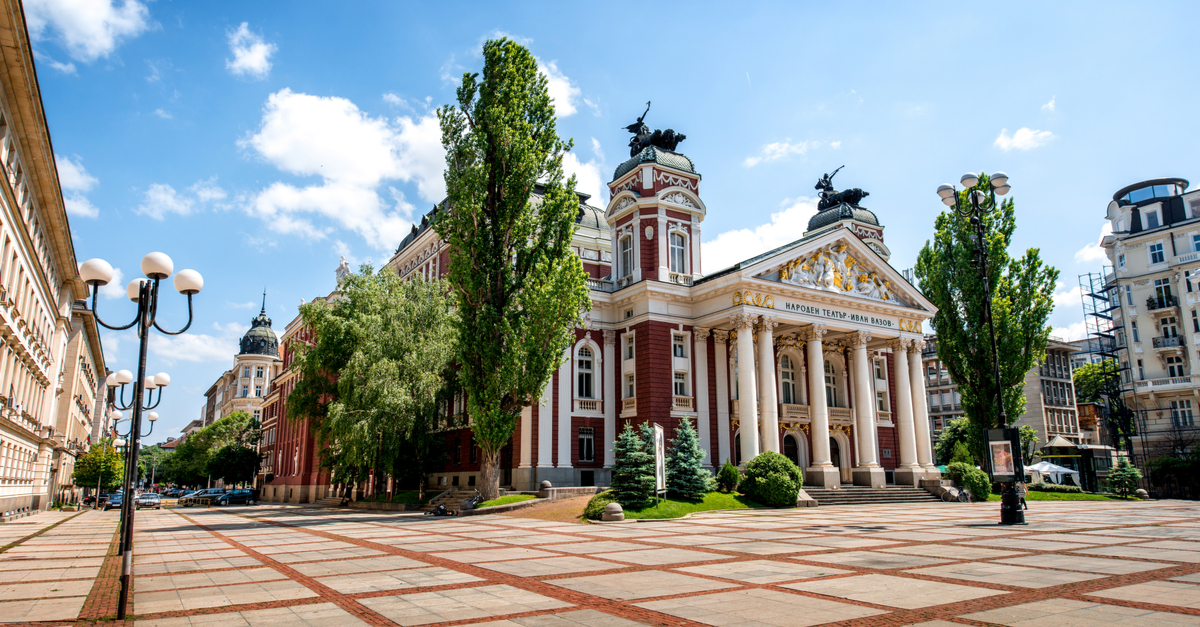 Bus Theater Sofia. Source: Shutterstock
To Sofia by bus—travel tips
Sofia is a great city to visit, with so much to offer tourists. If you want to make the most out of your trip, it's a good idea to have an itinerary in place for your arrival. A great place to start your trip is by visiting Saint Alexander Nevski Cathedral, which was the first ever fully constructed temple in the Balkans. Then head up Vitosha Mountain, which is great for skiing and snowboarding in the winter, but also provides superb views over the city in the summer. Saint Nikolas Russian Church is another religious site worth visiting, which is more than 100 years old. Staying with religious architecture, you can head over to Boyana Church, which is a world heritage site, and Catedral de Sveta-Nedelya, where thousands of people go to worship.
Boyana waterfall is also a must see. Located just outside Sofia, it's a great way to get away from the hustle and bustle of the city. The National Museum of Military History is a great place to go to if you want to take a step back in time, with exhibitions that take visitors through the history of the country to modern times. After grabbing some local food, why not treat yourself to some evening entertainment at the Ivan Vazov National Theatre, which showcases some of the world's best talents. Finish off your trip at the National Institute of Archaeology Museum, which has a colour show of ancient Rome as one of the highlights.