Bus to Birmingham
Making the journey by coach from London to Birmingham is a stress-free way of travelling the 126 miles between the two cities. There are up to ten or more departures a day every day of the week. All of these are direct and take between three and 3.5 hours depending on departure time and traffic conditions. The first coach leaves London Victoria Coach Station early in the morning. The last departure is late evening. All routes terminate at Birmingham Coach Station.
Birmingham is a major metropolis in the West Midlands of England and is considered the second most important city in the UK after London. Birmingham also has the second busiest public transport network in the UK, part of which is its intercity bus (coach) system operating from Birmingham Coach Station, the central bus terminal. Among the major UK cities connected by bus to Birmingham are London, Belfast and Dublin.
National Express to Birmingham
National Express is the largest operator of long-haul bus (coach) services in the UK and is headquartered in Birmingham at the same address as Birmingham Coach Station which it uses as its national base of operations and central terminal for all UK coach traffic. National Express operates daily service with multiple departures from London Victoria Station in Central London enroute to Birmingham with a minimum of 15, a maximum of 17 trips or approx. 115 trips per week.
These are direct journeys lasting between 2h 45min – 3h 20min with the first departure around 7:30 a.m. and the last occurring around 11:30 p.m. In between, the daily bus schedule includes two departures each during the hours of 9:00 a.m., 1:00 p.m. and 3:00 p.m. with at least one night bus at 11:30 p.m. National Express operates as many as 17 bus trips from Friday – Monday and as few as 15 during the middle of the week (Tuesday – Thursday) between London and the National Express Bus Station in Birmingham.
Megabus to Birmingham
Megabus is the other major operator and provider of intercity bus services with 11 daily or about 80 weekly departures from London to Birmingham using several routes in contrast with National Express. For example, of the 11 daily Megabus coach service departures from London, six of them originate from London Victoria Station in Central London and five from Heathrow Central Bus Station at Heathrow Airport. The destinations for these coaches are either Birmingham Hill Street/Railway Bridge bus stop or Birmingham International Station at Birmingham Airport.
The earliest and latest departures from London Victoria and Heathrow Central occurring at approx. 00:10 a.m. and approx. 11:30 p.m. are the only coaches destined for Birmingham Airport. All other Megabus coaches to Birmingham will terminate at the Hill Street/Railway Bridge bus stop. Megabus trips from Heathrow Central to Birmingham Airport takes between 2h 20min – 3h 10min while the journey from London Victoria to Hill Street/Railway Bridge takes between 3h – 4h travel time.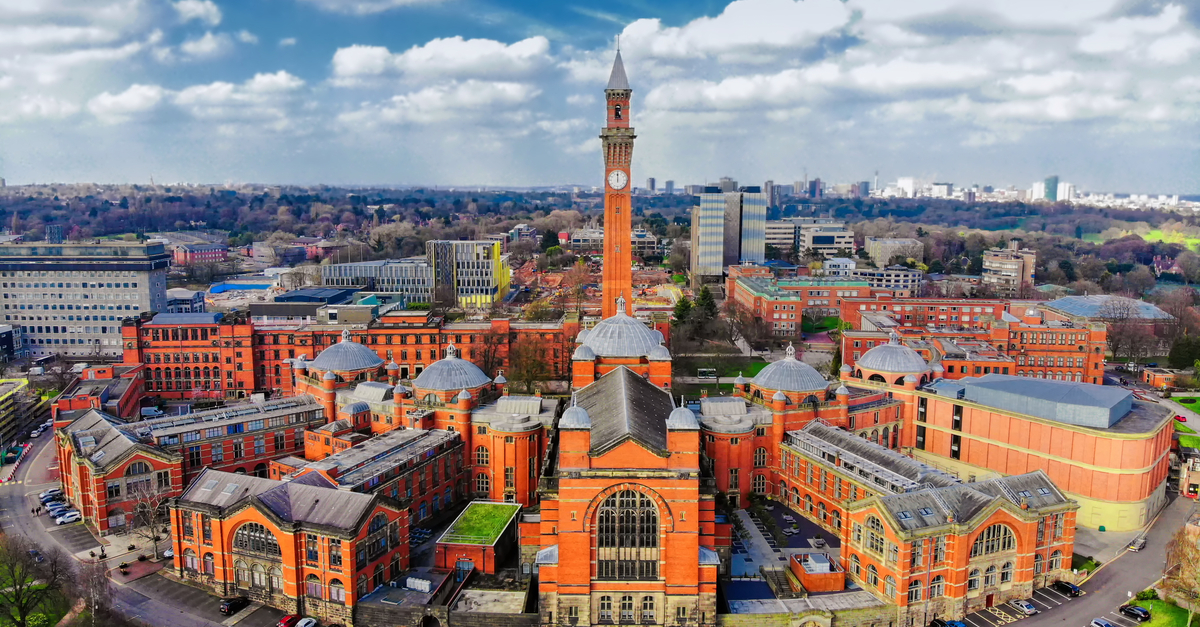 Birmingham Aerial View. Source: Shutterstock
Main bus stations in Birmingham
Birmingham Coach Station is the central bus (coach) terminal and the destination for most of the bus services from London locations to the city. It is located about 3.1 miles (4.8 km) or 12min by car, 7min via metro and approx. 7min by foot from downtown Birmingham. Among the facilities at National Express Bus Station Birmingham are ATM machines, waiting rooms, photo booth, newsagents and short stay parking.
Birmingham Hill Street/Railway Bridge bus stop is actually closer to the city centre at 1.9 miles (3 km) or 9min by car, 7min by metro and approx. 10min by foot from the city centre. Birmingham International Station is the farthest of the three local bus stations from the downtown area at 14 miles (22 km) or approx. 21min by car and about 20min via metro away. Birmingham Hill Street and Birmingham International are essentially pick-up/drop-off points so there are no major facilities available.
Onboard facilities Birmingham
For your trip from London to Birmingham, National Express allows each passenger two pieces of luggage of about 45 lbs (20 kg) each to be stored in the cargo hold and one carry bag which should fit under the seat or in the overhead compartment. All coaches are temperature controlled to provide air-conditioning or heat depending on the season and are equipped with a few other onboard facilities and services such as toilet and washroom, charging points at every seat, comfortable seating with head and foot rests and available Wi-Fi.
There is a luggage allowance of about 45 lbs (20 kg) plus one small carry bag per passenger on Megabus coaches which can be stored either in the overhead compartments or in the cargo hold. All coaches are temperature controlled to provide air-conditioning in the summer months and heat during the winter months for a comfortable journey from London to Birmingham. Additional onboard facilities include toilet with washroom, charging points at every seat, seats with extra legroom, foot and head rests as well as complimentary Wi-Fi.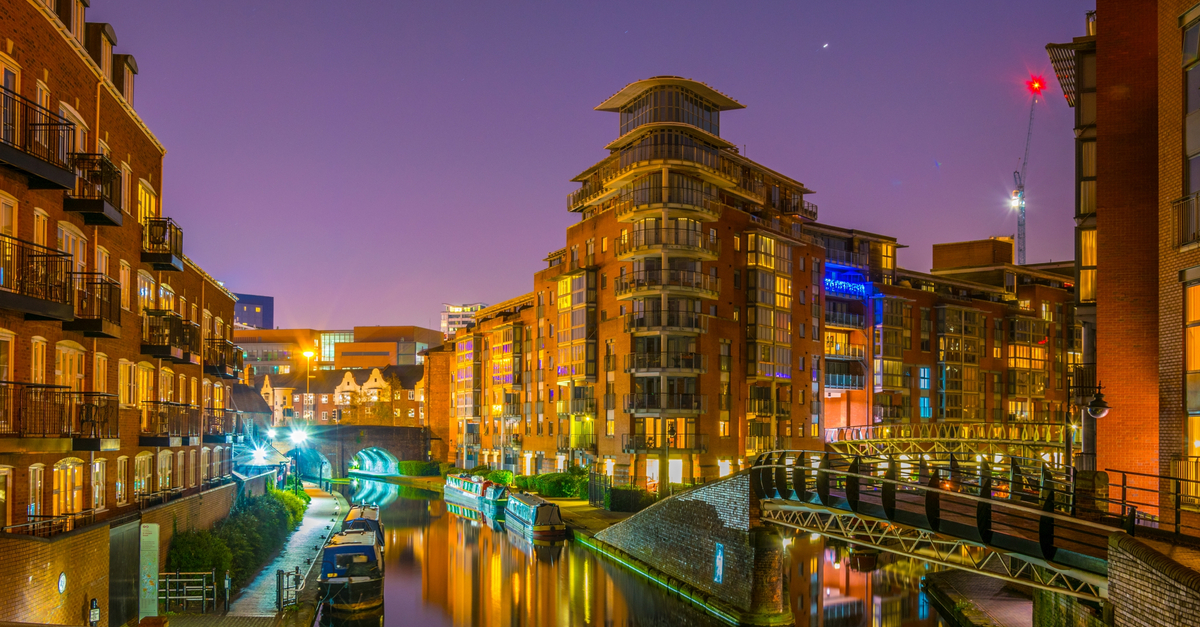 Brimingham Night Shot. Source: Shutterstock
To Birmingham by bus-travel tips
The UK second city is reputed to be the birthplace of the Industrial Revolution and you can still find vivid reminders of its mighty past as an industrial powerhouse. Black Country Living Museum, the reconstructed mining community in Dudley, is a fine example of life in Birmingham during that time. The city is also said to have more miles of canals than Venice and you can put that boast to the test with your own exploration of its waterways.
A few of them such as Worcester and Birmingham Canal, Grand Union Canal and Stratford Canal converge in the downtown area and are easy to discover. A Swift card is your key to the municipal bus, metro and commuter rail systems and is the best way to navigate the plentiful landmarks and attractions in Birmingham including LEGOLAND Discovery Centre which is a great day trip for the entire family.
Birmingham is a city brimming with history and culture, where the old blends seamlessly with the new and where there's a bit of something for everyone to enjoy any season of the year. There are some fabulous walking tours like the Birmingham Heritage Walking Tours which introduce you to aspects of the city's historic past like the Jewellery Quarter and the Canal Quarter. The suburb of Edgbaston is famous for its cricket grounds but it's also home to the Botanical Gardens which is spread over 15 acres with aviaries, glasshouses and exotic flora and fauna indoors as well as out.
To sample some of the city's diverse culture check out a couple of festivals while you're in town. The Magical Lantern Festival kicks off Chinese New Year in Jan/Feb while BE FESTIVAL in July is one of the highlights on the calendar and Simmer Down Festival in August at Handsworth Park is a family-friendly celebration of cultural variety that is free for all. From Afternoon Tea to dinner at a Michelin-starred restaurant, there are several fine dining options in Birmingham such as Recess and 1565 – Park Regis Hotel. For something a bit more pedestrian, try the pub menu at The Victoria or the Caribbean jerk chicken at Jamaya.
Bus tickets to Birmingham
Electronic tickets are accepted on both National Express and Megabus coaches so there's no need to print a hardcopy, but you should have one form of picture identification in case it's necessary for boarding purposes. Most standard tickets are non-refundable but you can change up to one day prior to date of travel for an amendment fee and the difference in price if applicable.

Both operators offer Flexible ticket fares but National Express versions offer unlimited amendments, are fully refundable and can be cancelled free of charge if you are unable to travel. Tickets may be purchased from the bus driver on National Express coaches but you'll have to purchase your Megabus tickets online since this service is not available on the route from London to Birmingham.

Both operators also offer discounted fares for children (up to age 15 on National Express and age 14 on Megabus) while National Express provides additional offers for season and multi-ride tickets. On Omio buying bus tickets to Birmingham is fast and easy and it's possible to store all your tickets in your Omio account