Coaches to Birmingham
The city of Birmingham is intriguing to all and offers a lot to tourists and visitors alike who are looking to enjoy everything that the city has to offer. With attractions that are available to adults and children alike, the city is definitely worth visiting. Those who are looking to travel to the city will most commonly find that all coaches to Birmingham will reach the main coach station of Birmingham, also known as Birmingham Coach Station. Most coaches to Birmingham will most commonly be arriving from either London Victoria or London King Cross.
As the second largest city in the UK and one of the main transport hubs in the West Midlands, Birmingham is very well connected by bus services. Most major cities in the UK have direct bus routes to Birmingham, including London, Manchester, Liverpool, Glasgow and Cardiff. There are also plenty of buses travelling from a number of smaller cities and towns around the country. National Express operates regular services, with buses to Birmingham running on a daily basis.
FlixBus, MegaBus and National Express to Birmingham
Coaches to Birmingham will commonly be from either of the three companies, FlixBus, MegaBus or National Express. They're all unique and individual in their own way. Their endpoint of destination for reaching Birmingham will most likely be Birmingham Coach Station. You can find direct routes from London Victoria or London King Cross. Alternatively, if you're visiting from places like Brighton, you will most likely have to transfer trains to either of the London destinations.
FlixBus to Birmingham
FlixBus prides itself on some of the best low-cost and budget-friendly fares. Not only do they offer coaches to Birmingham but FlixBus can also be found in other destinations in Europe. Benefit from FlixBus' frequently running trains and efficient-friendly coaches. FlixBus have an excellent carbon footprint, a promise of on-time travel, as well as a large bus network. Those using FlixBus' coaches are able to benefit from their large range of onboard amenities on offer. Benefit from their free and unlimited 4G Wi-Fi service, seating's that are extremely comfortable with a lot of legroom, power sockets to charge your electronic devices, as well as much more on offer.
MegaBus to Birmingham
MegaBuses are one of the coach companies that provide great coach service to the city of Birmingham. They pride themselves on low-cost travel, despite a commuter's destination. Not only do they offer onboard amenities and good service, but they also offer sighting activities, also known as 'Mega Sightseeing Trips.' Those wanting to benefit from this service can find this exciting activity at most major UK destinations. Those travelling with MegaBus to Birmingham can benefit from their free Wi-Fi, as well as their 44 pounds (20 kg) luggage allowance.
NationalExpress to Birmingham
Those travelling with coaches to Birmingham with NationalExpress will find faultless service. They pride themselves on on-time travel and frequently running coaches to and from all of their locations in the UK. Users of the NationalExpress coaches will find a lot of onboard amenities. Along with budget-friendly fares, they pride themselves on their commitment to doing their part to help the environment. They are the most sustainable intercity network in the whole of the UK.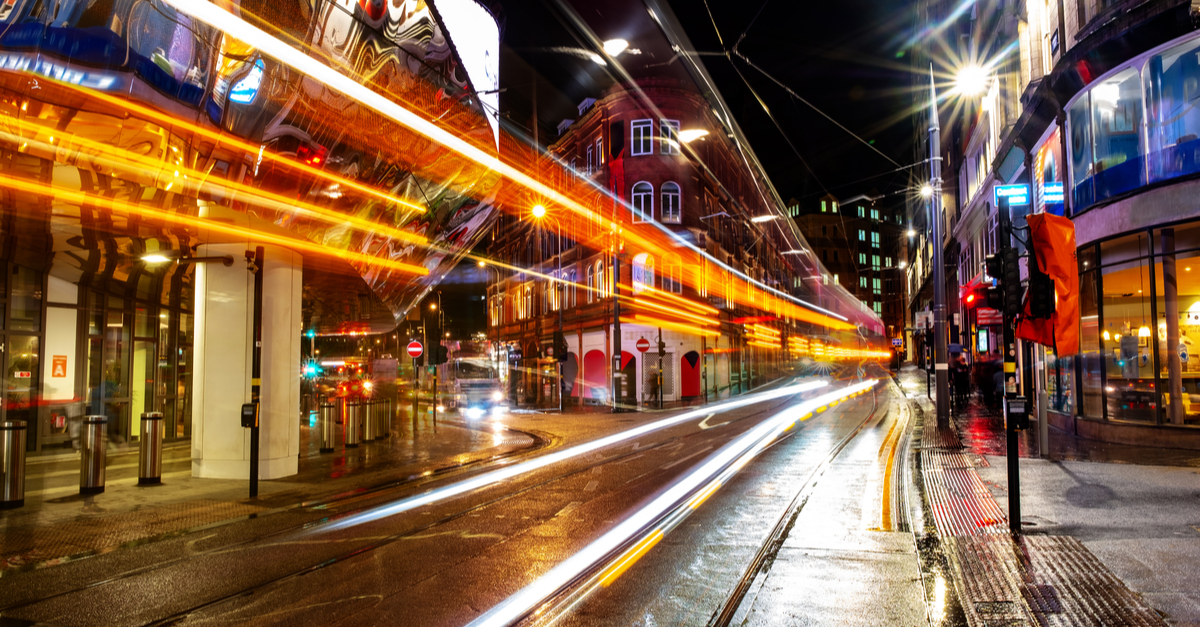 Birmingham Night Lights. Source: Shutterstock
Main bus stations in Birmingham
Coaches to Birmingham will commonly always reach the main coach station, Birmingham Coach Station, at the end of the line. The coach station services the city of Birmingham as the reaching point for all coaches who are travelling into the city. The Birmingham City Station can be found on Mill Lane, Digbeth.
A short walk from the coach station, you'll find some of the city's leading attractions. And if you're looking to use other forms of public transport to travel around the city of Birmingham, then you'll find Birmingham New Street Station at a short walking distance of Birmingham Coach Station. Visitors and users of Birmingham Coach Station will find the opening hours of Monday through to Sunday, 07:00 a.m. to 8:00 p.m.
Onboard facilities to Birmingham
No matter what company you choose to coach with, there's a variety of onboard facilities to enjoy. Coaches to Leeds offer an enjoyable ride with amenities and facilities, some of which are free of charge and some that come at a slightly extra cost.
Travellers with FlixBus can benefit from low-cost travel, free Wi-Fi, low-cost snacks and beverages, extra legroom with their seats, as well as plug sockets for their electronic devices. MegaBus offers similar facilities and amenities like free Wi-Fi and charging points for your devices. They also allow a 44 pound (20 kg) luggage allowance. If you coach with National Express, benefit from the comfy seats with extra legroom, free Wi-Fi, and also a variety of charging points.
Bus tickets to Birmingham: useful to know
Those travelling with coaches to Leeds can find companies like National Express, FlixBus and MegaBus. Those using either National Express or MegaBus can benefit from using a mobile ticket and save paper from printing. Whereas passengers travelling with FlixBus will need to print a ticket in order to use the train's service. Companies differ on whether you need valid and photographic ID along with your ticket.
FlixBus does not require that you have to bring a legitimate form of ID with your ticket and to board the train. However, both National Express and MegaBus ask that you bring a form of legitimate ID that state your name that matches your mobile e-ticket. Despite which company you choose to coach your trip to Birmingham, purchasing tickets through Omio is fact and easily accessible. Omio gives you the option to store all of your tickets in your Omio account for easy access and a tidy way of documentation.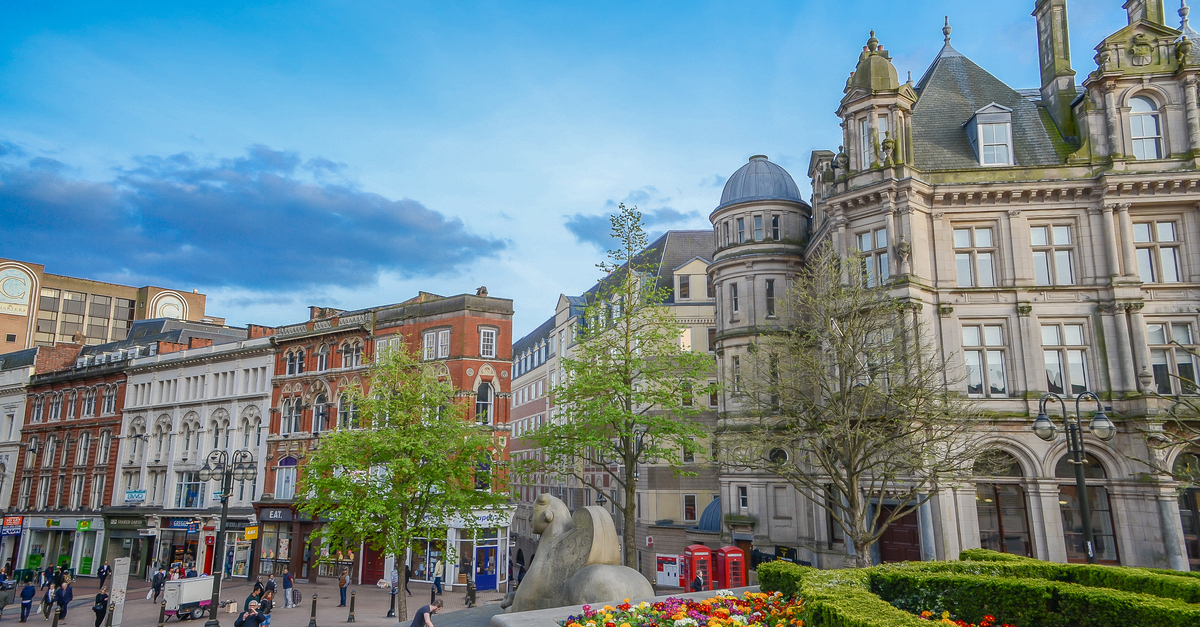 Birmingham Square. Source: Shutterstock
To Birmingham by bus – travel tips
There are many attractions and offerings that attract people and encourage them to visit the city of Birmingham. Perhaps, the biggest attraction to the city is its wide variety of shopping opportunities. Along with big-high street brands, those visiting Birmingham will also have a large opportunity of boutiques available.
With world-class shopping offerings, Birmingham is worth visiting just for the opportunities to shop to your heart's content. Roman the city streets of Birmingham to enjoy the maximum shopping experience or visit the Bullring & Grand Central shopping centre. It's easy to get to and is only steps away from the large railway station, Birmingham Moor Street.
When your coach of choice has reached the main coach station in Birmingham, also known as Birmingham Coach Station. You'll want to take the 50 Platinum towards Digbeth, departing at Part St, Moat Lane, to reach the large shopping centre. The journey via bus will take you less than 1min.
The city of Birmingham is a great place to visit. It has a lot of attractions on offer and sights that attract people into the city. With famous landmarks and beautiful architecture, Birmingham is also home to canals, trendy cafés and bars. No matter what is attracting you to the city of Birmingham, you're promised to have a great trip.
Perhaps you're planning on visiting Birmingham for its top sights. Why don't you look at visiting attractions like Cadbury World, National SEA LIFE Centre Birmingham, or even Birmingham Museum & Art Gallery? The Museum & Art Gallery in Birmingham is home to some beautiful art and is a must-see to complete your trip to Birmingham. Or perhaps, you're planning on travelling with kids and you're looking to appreciate some of the city's attractions like the Thinktank Science Museum, Dudley Zoo and Castle, or even LEGOLAND Discovery. Whether you're travelling with children or you're visiting with a small group of friends, Birmingham is accommodating to all.