Coaches to Bristol
Bristol is one of the largest cities in the South West of England, and as such is easily accessible by coach from most major hubs in the UK. A coach from London Victoria will take around 2h 45min depending on traffic and from Cardiff you could expect the journey to take just over an hour. Coaches to Bristol are operated by companies such as National Express which arrives at Bristol Bus and Coach Station on Marlborough Street, and FlixBus with stops in Bristol city centre and Bristol Uni of West England.
Bristol is connected to London, Cardiff, Swansea and Bridgend by FlixBus while the National Express links the city to these and other main locations in the UK such as, among others, Birmingham, Plymouth and Edinburgh. For trips closer to home the First Group runs coaches between Bristol and Bath. Megabus is another operator that provides coaches to Bristol from main points in the UK including Manchester, London Heathrow and Oxford.
Coaches to Bristol: Overview
As the largest city in England's west-country region, Bristol is extremely well connected to other parts of the country by bus. Companies operating buses to Bristol include Megabus and National Express, while First Group also runs regional buses to Bristol from nearby towns like Bath.
National Express to Bristol
National Express operates a number of coaches to Bristol on a daily basis from a wide variety of locations around the United Kingdom, including services from main hubs such as London, Manchester and Birmingham to name a few. The services all terminate at the Bristol Bus and Coach Station which is the main bus and coach terminus in the city.
Megabus to Bristol
Megabus provides direct coach services to Bristol from cities all over England and Wales including Leeds, Cardiff and London. Megabus services terminate at Bond Street in Bristol, one of the main streets running runs through Broadmead, the central shopping area in the city. Megabus also operates services between Bristol Bond Street and Bristol Airport for any onward journey requirements.
FlixBus to Bristol
FlixBus, which operates coaches within the UK as well as around Europe, provides coach services to Bristol from London and from the larger cities in Wales such as Swansea, Bridgend and Cardiff. FlixBus services have two main stopping points in Bristol – one at Bristol Uni of West England and the other at Bristol City Bond Street, near the main shopping area of the city.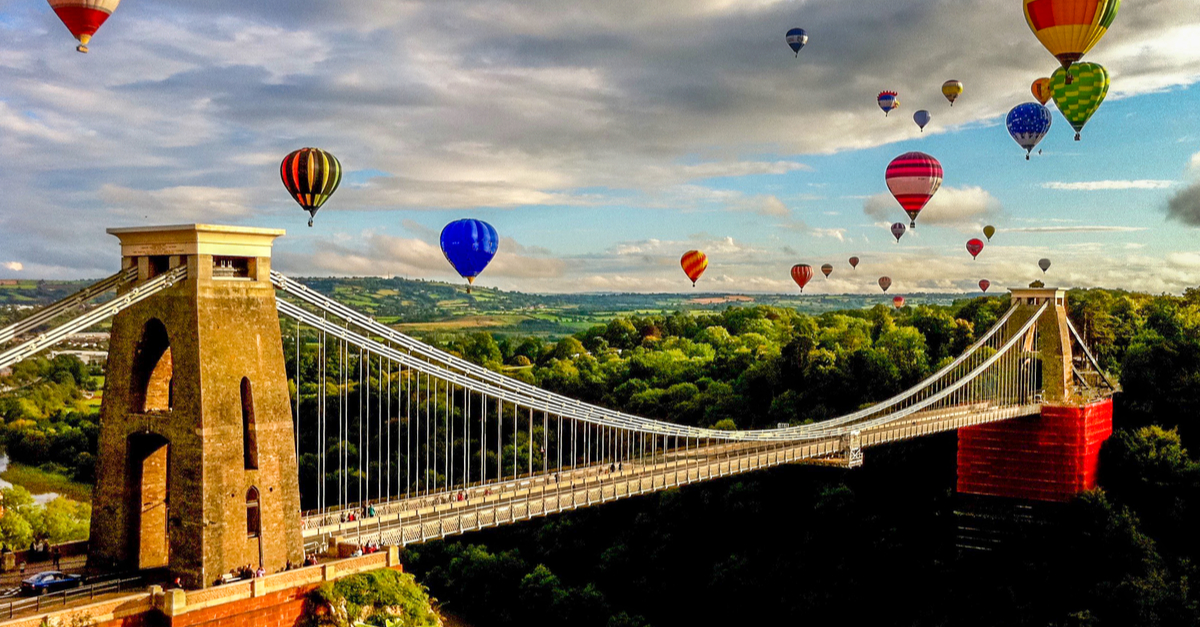 Bristol Bridge Airbaloons. Source: Shutterstock
Bristol's main coach stations
The main coach terminus in Bristol is the Bristol Bus and Coach Station which is situated on the Marlborough Road. This coach station is within a 10min walk of the city centre and has good links with the public transport network of Bristol if you need to transfer to the airport or the train station for onward travel. The coach station has automatic ticket machines, opening during station opening hours, so you can purchase your ticket before travel. A passenger waiting room, also open during opening hours is located within the building as well as a coffee shop and newsagent where you can purchase snacks and reading material for the journey. The coach station also has toilet facilities for passengers.
Onboard facilities Bristol
National Express and FlixBus coaches to Bristol offer passengers onboard amenities such as free Wi-Fi, USB ports to charge your devices and comfortable seats with ample legroom. There are toilet facilities on board the coaches. Both service providers allow for a generous luggage allowance of two 44 pounds (20 kg) bags and one piece of onboard luggage. On longer journeys, FlixBus offers onboard snacks and drinks. Most Megabus coaches have USB charging points and free Wi-Fi as well as onboard toilets and air conditioning. There is a 44 pounds (20 kg) luggage allowance on Megabus routes and there is the option to reserve a seat with extra legroom for an additional cost. All these coach companies ensure you have a guaranteed seat on board as soon as you have purchased a ticket.
Coach tickets to Bristol: useful to know
Once you have booked your National Express ticket you will receive email confirmation of the booking containing a e-ticket that you can show to your coach driver on your smartphone or tablet. There will also be an option to print your ticket. Remember that if you have booked your ticket using a valid Coach Card (Young Person, a Senior Traveller or Disabled traveller) remember to carry this card with you when you travel.
Similarly, Megabus will send a confirmation email with a booking number which you can use to board the bus. You have the option to print this out or you can show the driver your confirmation email on your phone. FlixBus has an app where you will be able to receive your ticket and you will be able to show this to the driver upon boarding the bus. Buying coach tickets to Bristol on Omio is straightforward and simple. Once you have bought your tickets you can store them all in your Omio account for easy access.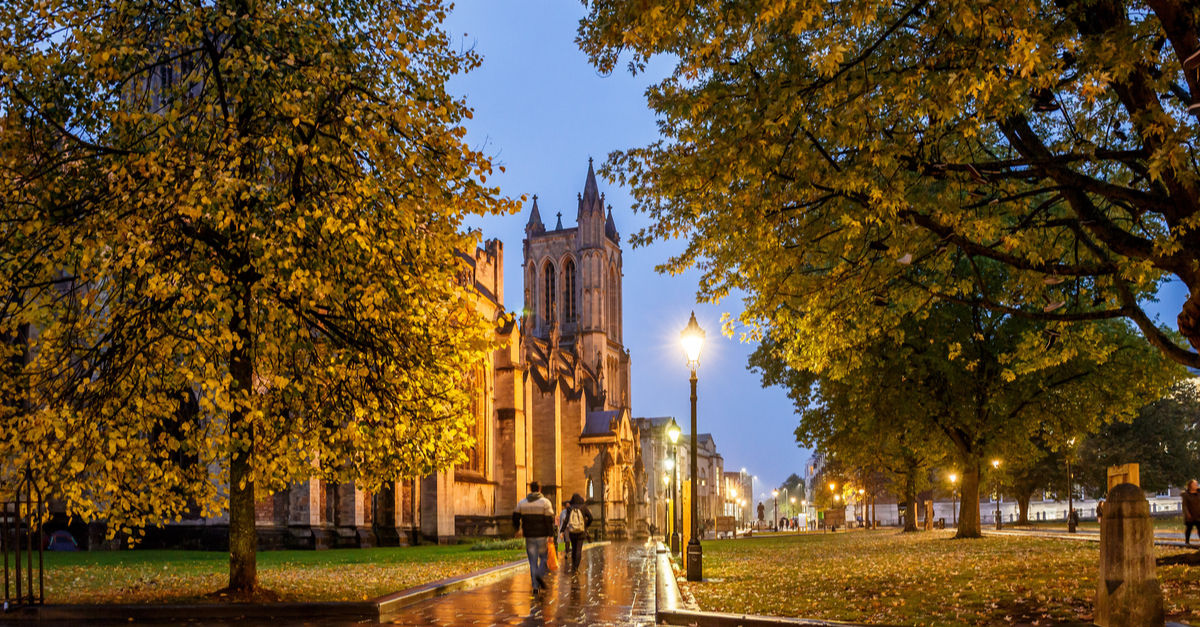 Bristol Autumn. Source: Shutterstock
To Bristol by coach—travel tips
Bristol Bus and Coach station is one of the main transport hubs in the South West of the UK and coaches run on a daily basis to Bristol from other main cities both in the region and from around the country. Whether you are travelling for business or pleasure it is worth arriving by coach in the centre of Bristol and taking in some of the sights of the Old City with the narrow, cobbled streets and the medieval buildings or stroll through Queen Square, a Georgian park that links the harbour area with the old town.
The coach station is ideally located to give you easy access to this historical area of the city. There is a new city bus network – metrobus – which provides fast, direct public transportation links within the city as well as to the outer suburbs and runs new buses with a ticket machine at each stop so you can buy your ticket before you board.
First Bus also operates a network within the city as well as covering routes to regional destinations such as Bath, Weston-super-Mare and Northern Somerset. The main station of Bristol is around 20min walk away from the coach station and from here you can catch trains to the surrounding region.
Bristol, a city located on the River Avon and nestled amongst the hills, is rich in history and culture, providing a wide variety of activities, culinary delights and opportunities to explore the heritage of the area. The Harbourside area is famous for the SS Great Britain, one of the world's first ocean-going liners, built around 1840 by Brunel and which is now open, on a dry dock, as a museum housing information about Bristol's maritime history. Around this area there are plenty of bars and restaurants serving food from all over the world from Asian cuisine to steaks and burgers.
To tickle the cultural taste buds you could visit the Watershed Theatre which hosts independent film festivals and various digital film events and the Arnolfini – an arts centre that is home to a variety of contemporary dance and theatre performances. Visit the footbridge – Pero's Bridge - that crosses the floating harbour or take a boat trip from the Harbourside to see how the harbour of Bristol has been constructed.
To inspire your creative side get involved in the interactive experiences at We The Curious – an education arts and science centre that has been created with science and collaboration in mind. With around 300 different exhibitions, this is a space where people can interact with various experiments and learn through doing. This is a great day out for all the family and aims to mix science with the arts and creativity – a must-see if you are in Bristol.