Bus to London Heathrow Airport
London Heathrow Airport (LHR) is a major international airport in the west of London. It's a popular airport for both tourism and business travel, which is located very close to top attractions such as Thorpe Park Resort. Heathrow Central is the bus station which directly serves terminals 2 and 3, with those travelling to terminal 4 or 5 able to use free airport connections for their onward journey. One of the largest bus stations in the UK, it operates buses to and from over 1000 destinations. About 40min from the centre of London by bus, London Heathrow Airport is conveniently located for millions of residents of the capital city and beyond. London Heathrow Airport is about 2h from bath by bus too, with Bristol being a similar journey length away of approximately 2h.
National Express to London Heathrow Airport
National Express is one of the main bus operators that provides services to London Heathrow Airport from across the country. With National Express serving the airport from key cities such as London, Bristol and Bath, it makes it a good provider to travel with. With some origin bus stations being on a short journey away, such as London Victoria coach station (40min), Bristol bus and coach station (2h 5min) and Bath bus station (2h 25min), it doesn't take long to reach your destination at Heathrow. Offering direct routes, National Express is a great option for those who are want to reach the airport in a fast and efficient manner, with there being numerous direct routes each day.
Megabus to London Heathrow Airport
The other main bus provider that operates routes to London Heathrow Airport is Megabus, with there being a range of origin cities that it departs from. You can get buses with this company to Heathrow from locations such as Reading, Southampton and Oxford, with direct journeys taking around 55min, 1h 25min and 1h respectively. With routes to and from a range of locations, many of which are direct, Megabus is a good option for those looking to travel on a budget. Offering a fast and efficient service, you'll get to you destination in no time at all.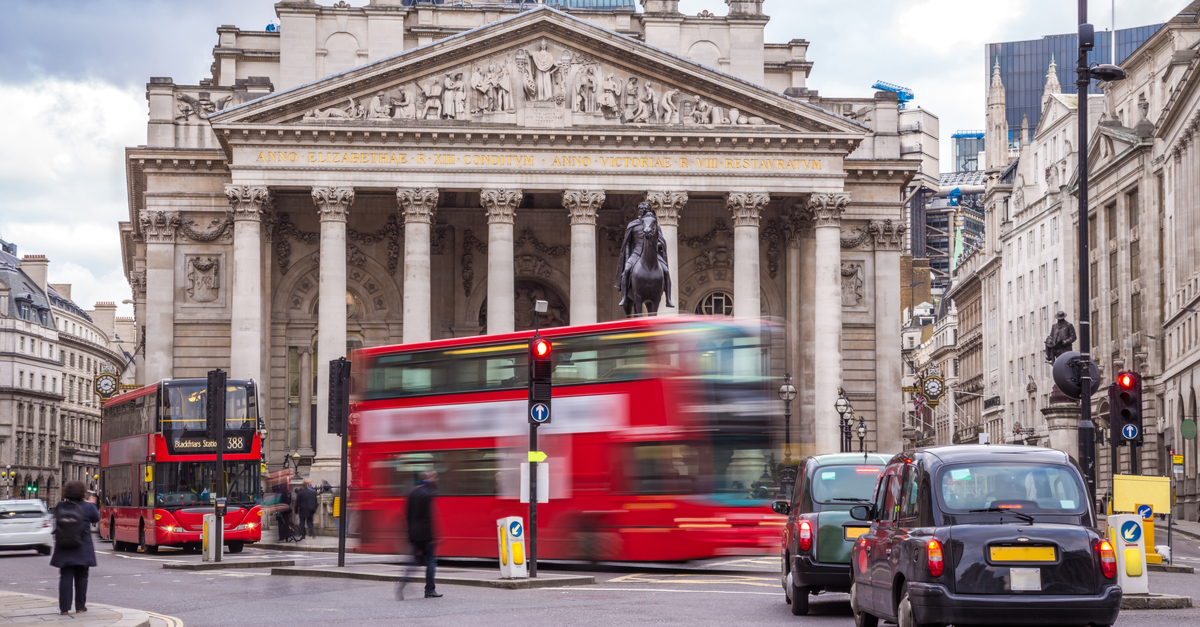 London Royal Exchange Bus. Source: Shutterstock
Main bus stations in London Heathrow Airport
The main bus station at London Heathrow Airport is Heathrow Central, which directly serves terminals 2 and 3. For those that are travelling from terminal 4 and 5, upon arrival at the bus station you can use free airport connections, such as Heathrow Express, to get to you terminal. You can get buses to London Heathrow Central from a range of locations, including London, Reading, Southampton and further afield. Heathrow Central also offers great facilities, so you'll be comfortable for your onward journey.
You can use automated ticket machines and waiting facilities, should you be connecting to another location. There are a range of eateries and coffee shops, so that you can fuel up for the rest of your trip. Toilet facilities are also present at the bus station, along with a newsagent, payphones and cash points. If you are disabled or have mobility issues then you will find that you can get around with ease, as the entire airport is wheelchair accessible.
Onboard facilities London Heathrow Airport
Travelling to and from London Heathrow by bus is a great experience, with there being a range of facilities on the buses to make your life easier. Neither of the bus providers offer First Class seating, however all the seats on board are comfortable and spacious. You'll also have access to free Wi-Fi and charging points too. National Express has a luggage policy of two bags that weigh no more than 44 lbs (20 kg) and one item of hand luggage.
Whilst Megabus allows only one checked in bag and one hand luggage. Only trained assistance dogs are permitted on any of the routes, with other pets not being allowed. Normal bicycles are not permitted on either service, with folded bikes being permitted in the hold. If you are travelling with a disability then you should call up in advance so to ensure that the bus is compatible for a wheelchair and that there are lifts are your desired stops. For those with hidden disabilities, you can call both companies in advance to get a Lanyard, so that the staff can identify you to offer you help.
Bus tickets to London Heathrow Airport: useful to know
When you are buying a ticket to London Heathrow Airport it's easy to get tickets for your journey. A ticketless service means you do not need to print off your tickets, which is great for the environment. Instead, you can just use the bus company apps, or the ticket which has been sent to you via email, to board your bus. Whilst mobile tickets are preferred, you will also be able to print the ticket at home prior to your journey. There are also automated ticket machines at London Heathrow Central bus station, should you be travelling from the airport to another destination.
You won't need to use ID when using the tickets, however, you will need to show your coachcard if you used one to get a discount on your ticket. It's easy to buy bus tickets for London Heathrow Airport through the Omio website or App, with it being an efficient way to get your trip underway. You will receive instant delivery to your account too, so you can access them with ease. Should you need assistance finding your ticket, the Omio customer service team is there to help you.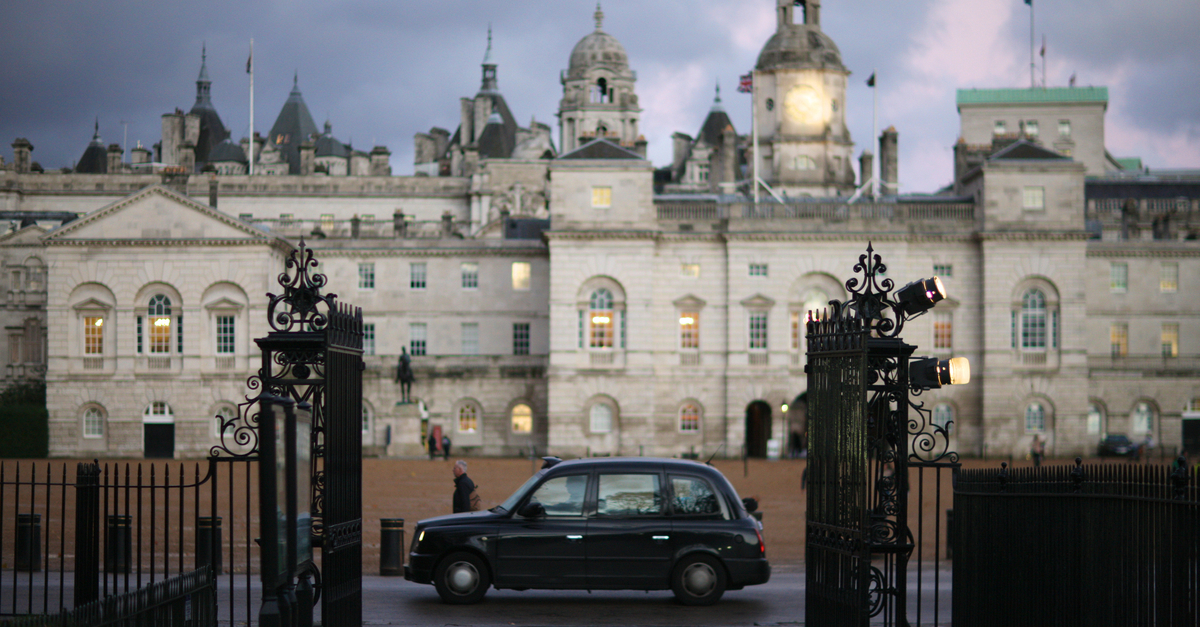 London Gate Taxi. Source: Shutterstock
To London by bus—travel tips
London is a great city to visit for those that want to experience the buzz of the capital city. With it being located so close to London Heathrow Airport, you can explore with ease. Transport around the city is easy too, so you can get to all your favourite places quickly. The London Underground is extremely comprehensive and takes you to some of the important Royal locations.
Buckingham Palace can be reached by stopping at Green Park (Piccadilly Line), The Tower of London's closest underground Is Tower Hill (District and Circle Lines), whilst Kensington Palace is closest to High Street Kensington (District and Circle Lines). With so much Royal exploration to do in the city, you'll find it easy to travel between each location. There is also a reliable bus service that you can jump on and off and pay for using contactless payment.
There is loads to see and do in London, so it's a great idea to begin your trip by creating an itinerary of what you plan to visit. Start off you trip on the HMS Belfast, which was once a Royal Navy cruiser and now is a floating museum. Then swap the water for the sky and take a trip up The Shard, where you can enjoy panoramic views of London's famous skyline.
Known for having many green spaces in the city, you should then take a breather away from the hustle and bustle of the city. Head over to Hyde Park, Victoria Park or Regents Park where you'll feel like you're in a world a long way away from the capital city of the United Kingdom. Head over to Covent Garden next, where you can enjoy a range of street performers and peruse the covered market. After grabbing a bite to eat at one of the many eateries in the city, finish off your trip over at the West End, where you can treat yourself to a performance that you'll remember.