Coaches to Southampton
Southampton is a great place to visit, and it has a lot to offer to those that are visiting here. With great attractions and landmarks available to visitors, tourists, and guests, you'll be spoilt with a choice on what to do. Intriguing to men, women, and children alike, you also have easy access to catch transport from the well-known port of Southampton. Those that are travelling here will most likely find that their coaches are from one of the leading coach companies of either MegaBus or National Express. Both coach companies will probably be found departing at Southampton Coach Station, Southampton Central Station, or even Southampton Airport Parkway. All of the coach stations are easily accessible.
National Express to Southampton
Coaches to Southampton with National Express will most likely be found departing at either Southampton Coach Station, Southampton Central Station, or even Southampton Airport Parkway. All stations are easily accessible and are made easier with National Express. Along with budget-friendly fares, you can expect that if you're travelling with National Express you can benefit from the large use of onboard facilities available.
Passengers can benefit from useful facilities like free Wi-Fi, additional legroom for your comfortable seating, and plug sockets to charge all of your electronic devices. Not only will you have these facilities available, but you'll have the comfort of knowing that you're travelling with the most sustainable intercity network in the whole of the UK. All of National Express's buses are eco-friendly and carry an excellent carbon footprint. National Express pride itself on their help to the environment, as well as their great service onboard and offboard to passengers.
MegaBus to Southampton
Those travelling with coaches to Southampton via MegaBus will find a promise of low-cost fare. MegaBus is one of the leading coaching companies in the whole of the UK, as well as Europe. MegaBus coaches that are travelling to Southampton will most likely depart at either of the three stations at Southampton, Southampton Airport Parkway, Southampton Central Station, or even Southampton Coach Station. Onboard MegaBus coaches you can find yourself with a large number of facilities available like unlimited Wi-Fi service, free of charge to passengers, 44 pounds (20 kg) of luggage, and a large number of plug sockets. If you've enjoyed the views along your trip to Southampton and are wanting to discover the sights around Southampton, then why don't you consider the MegaBus exclusive sightseeing tours. 'Megabus Sightseeing Trips.' The trip is enjoyable to men, women, and children alike, and is accommodating to all kinds of passengers. You can find these attractions at most major points in the UK, just keep an eye out!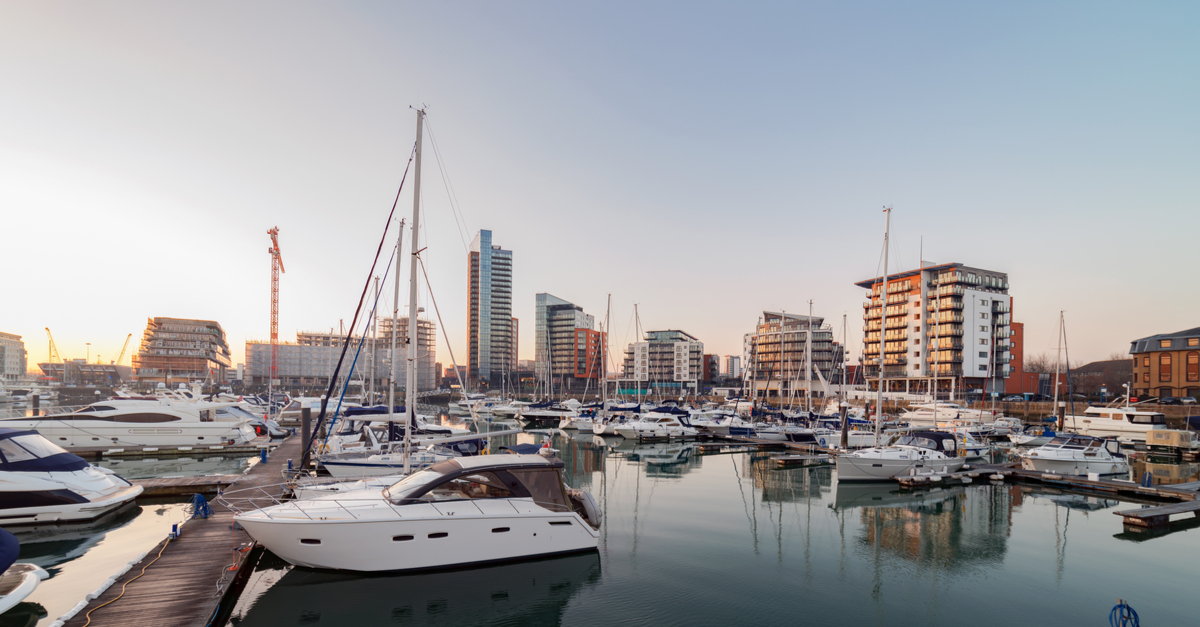 Southampton Ocean Marina. Source: Shutterstock
Main bus stations in Southampton
Coaches to Southampton will most likely be found reaching the many bus stations in Southampton. Popular coach stations are Southampton Central Station, Southampton Coach Station, and Southampton Airport Parkway. The stations are conveniently located are in close walking distance of Southampton Central Railway Station. These coach stations in Southampton will see in coaches from most major town, cities, and airports across the UK. It might commonly be found that transfers might be made from London Victoria Station. You will most likely see coaches reach Southampton from some of the UK's leading coach companies like MegaBus and National Express.
Onboard facilities to Southampton
Facilities will differ on your coach trip to Southampton, depending on who you're travelling with. All coaches offer similar facilities that are beneficial and useful to customers. If you're travelling with Nationwide then included in the price of your budget-friendly fare, expect useful facilities like free and unlimited Wi-Fi service, additional legroom to accommodate your comfortable seating, and also a large number of plug sockets to charge all of your devices.
National Express also pride themselves on their great service, onboard the coach, and also before and after boarding. Similar in their offer of facilities, those who are travelling with MegaBus can expect the use of free and unlimited 4G coach Wi-Fi service, lots of available plug sockets for your electronic devices, comfortable seating, and also the usage of 44 pounds (20 kg) worth of luggage to suit all of your transportation needs. Travelling with either of these leading coach companies will leave you pleasantly satisfied and happy customers.
Bus tickets to Southampton: Useful to know
You will find that most coach companies that reach Southampton will most commonly be from companies, National Express or MegaBus. These leading coach companies in the UK offer great facilities and a great service at low-cost prices. Those travelling with MegaBus or National Express can benefit from the environmentally friendly and paperless e-ticket. These tickets can be shown on any of your electronic devices and don't worry about your device running out because both coach companies equip their coaches with enough plugPassengers sockets to give your devices all of the battery that it needs.
Buying tickets through Omio is quick and easy. You have access to organising and filtering all of your future tickets to make them easy to handle and store with your upcoming trip to Southampton. When ready to board your coach to Southampton, make sure that you have legitimate proof of identification that matches the name on your e-ticket. Identification can be anything from a debit card, a credit card, a passport, a provisional licence, or even a bank card. Make sure to bring one of these identifications with you, otherwise, you might be refused access onto the coach.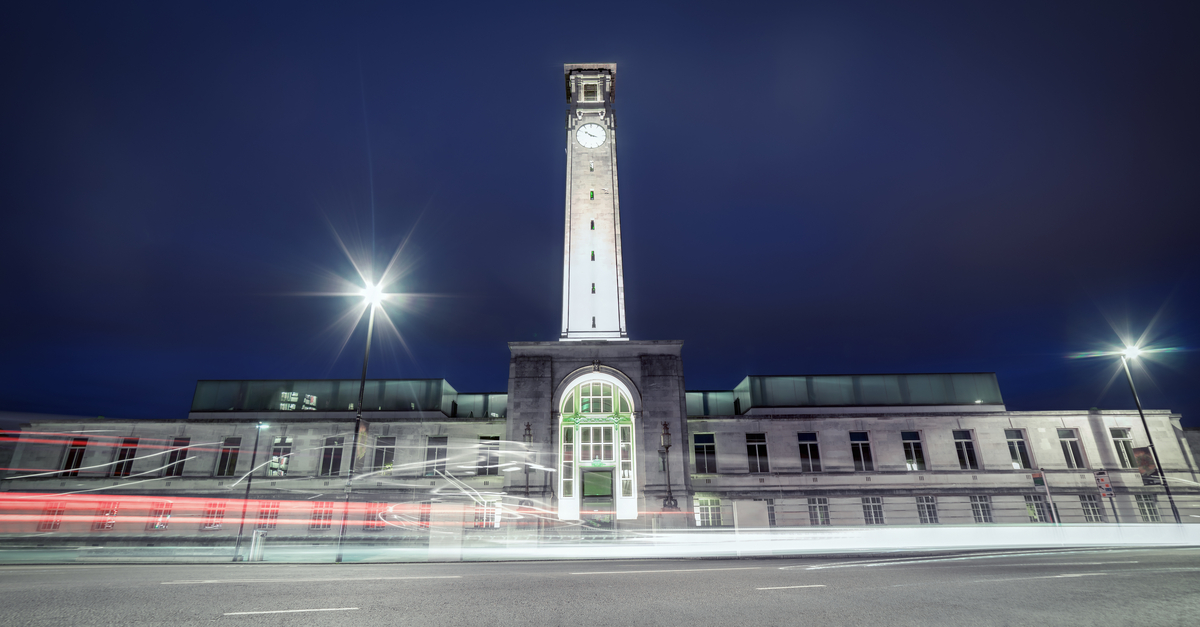 Southampton City Center. Source: Shutterstock
To Southampton – travel tips
Southampton offers a lot to its guests that are visiting here with many famous landmarks and attractions to all. Take your time visiting some of the historic sites, monuments and statues. Another great choice to spend your time is with the variety of churches that spot the city. Alternatively, enjoy a walk in one of the many parks that are available, or even perhaps walk along the coast and enjoy the view of the sea.
Or perhaps you're a huge Titanic fan and you're wanting to enjoy the Walk the Secrets of the Titanic museum in Southampton Those travelling to Southampton and wanting to get around the port city can find easily accessible transport from either the use of public buses or taxis. Perhaps, you're looking to travel a little further than Southampton then the ferries that are available from Southampton's port are a great option if you're looking for a trip across the water.
Southampton is an interesting and great place to visit with lots on offer for men, women and children alike. Perhaps you're wanting to enjoy the ferry at the port or you're looking at appreciating and visiting the University of Southampton, whatever you choose to do, you're guaranteed to have a good time. Southampton is a great city and holds lots of interesting history so perhaps you want to spend your time appreciating the landmarks around or the museums that are accessible to all members of the public.
If that isn't for you then make interest in the cafes, bars, pubs, restaurants, and a few nightclubs that align with the high-street of Southampton and promise a great time. No matter how you choose to spend your time in Southampton, you'll be wanting to book your return trip back quickly, and Southampton is excited for you to do so.