Buses from London to Southampton
You can find frequent buses from London to Southampton on Omio from early morning to late night depatures. Buses depart at least once an hour between 8:30 a.m. and 10:00 p.m.The trip length ranges between 1h 25min and 3h 45min, depending on the provider and the departure time.
London to Southampton Bus Time: Daily Departures
There are usually around 20 daily departures for buses travelling from London to southampton. Buses mostly depart at least once an hour between 8:30 a.m. and 10:30 p.m.. There are usually three departures at once at 11:30 a.m. and 12:30 p.m.. Additionally, there is often no departure between 8:00 p.m. and 10:00 p.m.
How long is the journey by bus from London to Southampton?
The trip from London to Southampton by bus takes roughly 2h on average. The shortest trip usually takes around 1h 25min while the longest trip usually takes around 3h 45min. Most trips require no changes but a few require one change.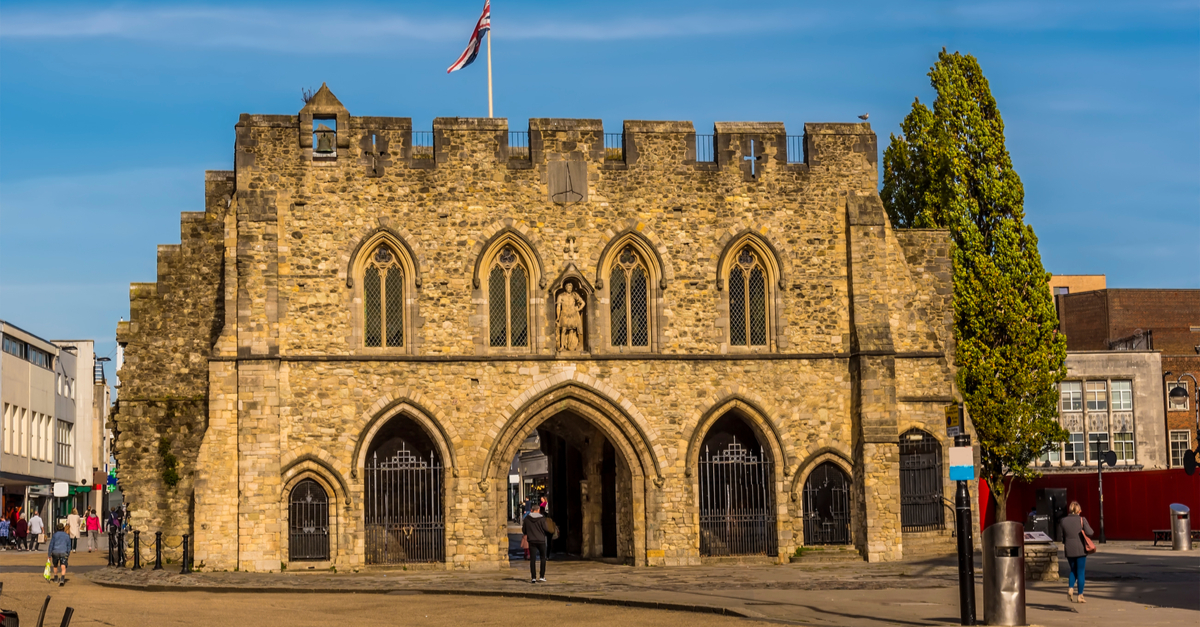 Southhampton Fortrest Old Town Tourists. Source: Shutterstock
What are the departure and arrival stations for buses from London to Southampton?
Departure bus stations: The main departure station is the London, Victoria Coach station. This station can be reached from the city centre in around 10min by car and around 16min by public transport. The station has an onsite coffee shop and newsagents. There are charging points and a cash point available onsite. Automated ticket machines operate between 7:00 a.m. and 22:30 a.m. The other likely departure station is London Heathrow Airport Terminal. You can get to this station from the city centre in around 45min by car or public transport. This departure station may be ideal for those flying in at the start of their trip.
Arrival bus stations: The most common arrival station is the Southampton, Coach Station. This station is roughly a 9min walk to the Southampton city centre. The station has charging points as well as a coffee shop and cash point on site. The station's automated ticket machines operate between 8:00 a.m. and 12:00 p.m. You may also arrive at the Southampton, East Park Terrace station. This station is around a 12min walk to the city centre. It is located just outside the Solent University Library. If your bus arrives at the Southampton, Burgess Rd stop you will be a roughly 14min walk from the city centre. The stop may be ideal for students as it is very close to the University of Southampton. The Southampton Airport Parkway station may be ideal for connecting travellers. To get to the city centre it is roughly a 13min drive or around 22min by public transport. The stop is very close to the airport Railway Station so this may be the easiest option for those flying out or travelling by train to another location after arriving in Southampton.
Which bus companies travel from London to Southampton?
You can find bus trips from London to Southampton provided by two companies, National Express and Megabus. On average Megabus trips have a shorter travel time on the bus while National Express offers more frequent services. Megabus also departs from and arrives at multiple stations while National Express usually departs from the same station and arrives at the same station on every trip. Some National Express trips require a single changeover.
National Express buses from London to Southampton
National Express buses usually run once an hour, occasionally twice an hour. Their service usually begins at around 8:30 a.m. and ends at around 10:30 p.m. This provider's buses depart from London, Victoria Coach Station and arrive at Southampton, Coach Station. The trip takes between 2h 10min and 3h 45min. They usually don't require a change but some services involve one change at either Bournemouth, Coach Station or London, Heathrow Airport Terminals.
Megabus buses from London to Southampton
Megabus buses between London and Southampton usually run around once an hour in the middle of the day between roughly 11:30 a.m. and 3:15 p.m. Megabus usually has at least two, sometimes three buses departing at the same time. The 11:30 a.m. and 2:30 p.m. buses usually depart from London, Victoria Coach Station while the 12:15 p.m. and 3:15 p.m. buses usually depart from London, Heathrow Airport Terminal. The buses arrive at three different stations: Southampton, East Park Terrace, Southampton Burgess Rd and Southampton, Airport Parkway, so you can choose the most convenient arrival station for your ultimate destination.
Bus London to Southampton: Services on Board
Both National Express and Megabus buses have complimentary Wi-Fi you can take advantage of for the duration of your journey. They also both have charging points so you can keep your devices charged. National Express allows two 40 lbs (20 kg) suitcases and one piece of hand luggage on their buses. Megabus allows 40 lbs (20kg) in luggage plus small carry on items.
National Express has Journey Assistant cards available to allow passengers to communicate any extra assistance they need, for example, if they are hard of hearing. They will also check that the journey you have booked is appropriate if, for example, you need wheelchair accessible stops. All Megabus coaches are wheelchair accessible and you can also store your mobility device with your luggage if that is more convenient for you.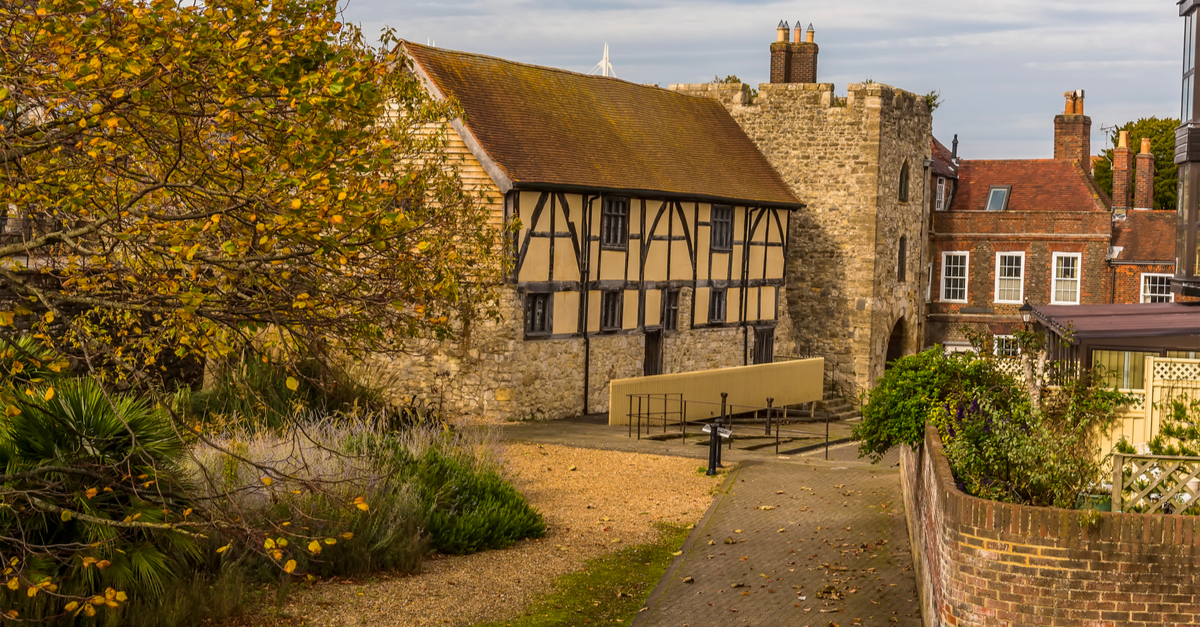 Southampton Fortrest House Village. Source: Shutterstock
How to find cheap bus tickets from London to Southampton?
You can find cheaper tickets to get from London to Southampton by bus if you book well in advance. Additionally, if you are able to be flexible with dates you may be able to travel on a cheaper day that isn't in demand. If you don't mind making changes and don't need a direct trip you can usually find cheaper options on slower journeys with multiple connections. In Omio you can check all the possibilities and compare the different prices.
To Southampton by bus—travel tips
With hidden historical gems, modern museums and a thriving nightlife, Southampton is a city to suit all travellers. History buffs may enjoy the SeaCity museum, which contains numerous nautical artifacts and has a popular section dedicated The Titanic and the role of Southampton in the ship's journey. The museum uses modern, interactive technology to immerse its visitors in the experience.
Sports fans won't want to miss a trip to St Mary's Stadium to catch a game between top level teams in person. Take the day to walk along the historic town walls, with information plaques available to help you learn Southampton's history. Tudor House and Garden holds over 800 years of history inside it with exhibitions detailing the history of its famous occupants and those who lived in the city outside.
There's no shortage of great places to catch a bite in Southampton with options ranging from the British Pub Food of The Roll Call, to the authentic mexican meals of Mexifun and the delicious indian food and relaxed, welcoming atmospher of the popular 5 Rivers Sports Bar.
To get some shopping in, check out the Westquay shopping centre with a wide range of shops, food choices and a cinema. Of course, as a port city, Southampton has ship tours and cruises available so you can experience sea life, both modern and historical.The great thing about visiting Southampton is that almost all of its many attractions are easily accessible via public transport or close by on foot.