Trains from London to Southampton
If you are looking for a fast, convenient way to travel from London to Southampton, trains are a good means to get you from the busy capital with a short travel time of approximately 1h 30min. The several trains that operate between London and Southampton are shared between the train companies South Western Railway and CrossCountry. The trains depart roughly 1h apart from the time the first train leaves to when the last train leaves.
London to Southampton Train Time: Daily Departures
The journey between London and Southampton can take anywhere between 1h 14min, and 1h 30min, depending on the date and time of the journey. The journey could be longer on specific dates and bank holidays, despite the distance from London to Southampton being roughly only 69 miles (111 km).
How long does the train from London to Southampton take?
The train service from London to Southampton, provided by South Western Railway and CrossCountry, takes approximately 1h 14min on average. These vary also according to the train type – whether direct or connecting – with some trains taking about 1h 30min.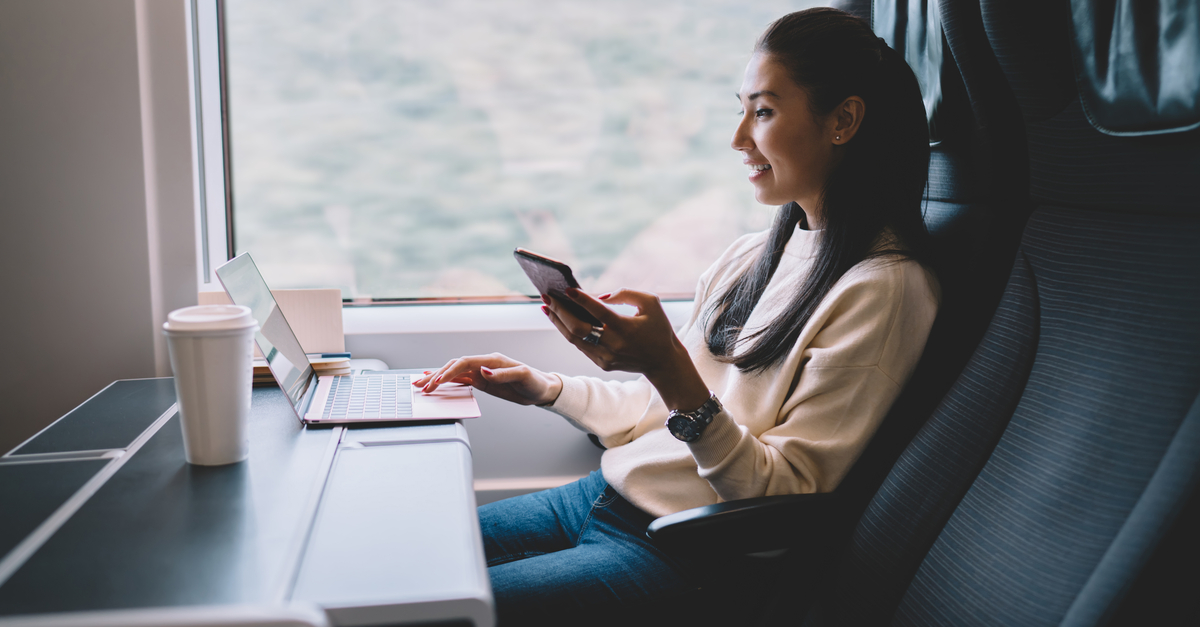 Trains from London to Southampton: woman working with her laptop on a train from London. Source: Shutterstock
What are the departure and arrival stations for trains from London to Southampton?
Departure train station: With several trains plying this route, there are several stations from which you can board a train from London to Southampton. The first and most commonly used station is London Victoria station, which is located just 1.2 miles (2 km) from the London city centre. It is accessible via the London red bus, and it has a bus station just outside (Victoria coach station) plus an Underground station connected to the Victoria, Circle and District lines. The other stations used by commuters that ply the route include London King's Cross, London Euston and London Waterloo – these are all easily accessible via bus services.
Arrival train station: The trains from London to Southampton arrive at Southampton Central station. The station is conveniently located north of the harbour where ferry services are available and easily accessible, and there are buses available at the station for ease of local transportation. At the station, you can also make use of taxi services, or there's a car park, for those being picked up. Quay Town is also just a roughly 15-20min walk from the station.
Which train companies travel from London to Southampton?
Two main companies travel the London Southampton route. One is South Western Railway, the main company catering for this route. The other company servicing this route is the company CrossCountry, the longest-serving train service in the United Kingdom. For both companies, some tickets are non refundable; however, both also offer reasonable refund policies. You can also save on both companies with advanced booking, and taking them up on various offers they have on our booking platform. Don't forget to get your monthly travel tips and updates from our magazine. Both companies offer Wi-Fi services, which lets you enjoy surfing the internet as you travel.
Night trains London
Night trains are available for this route, but most of the departures are during the day and evening. There are up to four connections an hour from roughly 07:00 to 00:00.
South Western Railway trains from London to Southampton
The main train service provider on this line is South Western Railway. Their direct service trains are relatively faster and can take less than 1h 30min, while connecting trains can come with a discount. However, they take relatively longer to arrive in Southampton.
CrossCountry trains from London to Southampton
CrossCountry trains also ply this route and provide both first-class and standard-class tickets in addition to other tickets like advance tickets. The company permits their clients to carry pets, bikes and luggage on board, and their direct trains cover the London to Southampton journey in about 1h 30min.
Trains from London to Southampton: Sustainability travel
Trains are a sustainable means of transport, being one of the cleanest forms of public transport available. The trains that ply the London to Southampton route are fast as well as convenient. The companies have also taken necessary steps to ensure they minimise carbon emissions, noise pollution and use less energy, helping become an environmentally friendly means of transport.
Trains from London to Southampton: Services on Board
The companies that offer train services from London to Southampton include South Western Railway trains – which is the most popular service provider – and CrossCountry trains. CrossCountry provides both first-class and standard tickets, with the first-class tickets having several benefits like larger seats and tables, WiFi, power points and complimentary in-seat food and drink. They also allow a passenger to carry up to one luggage item measuring a maximum of 35 x 23 x 11 in (90 x 70 x 30 cm).
CrossCountry allows passengers to travel with pets on the condition that they are kept in a cage or on a lead (a maximum of two pets per person). Bicycles are also permitted on the trains; however, a passenger will need to reserve a space online (including via social media) to book a space. The CrossCountry train provider also offers special services to persons with disabilities, whereby they provide wheelchair assistance to the elderly, injured and other mobility-limited passengers who require assistance boarding and alighting the train. South Western Railway trains offer fast-speed train services, with both first-class and standard tickets. First-class tickets have additional benefits but are relatively more expensive. They also offer luggage assistance and special attention to the disabled and elderly, and they permit their passengers to carry pets and bikes on board with the set conditions.
How to find cheap train tickets from London to Southampton
The average price of a train ticket from London to Southampton is around £24, but you can find the cheapest tickets for as low as £12. Find relatively cheap train tickets for CrossCountry and South Western Railway trains on our website, which offers the best train offers and deals. CrossCountry also offers services that can help cut the transport cost, for instance, use of advance booking and use of direct or connecting trains.
If a passenger is opting to use advance tickets, they need to book the ticket six weeks before departure in order to get the best deals and discounts. Passengers can also opt to travel during the off-peak hours, which are relatively cheap compared to travelling during the peak hours. The most expensive time of day to catch the train from London to Southampton is usually during the rush hours, like morning and afternoon commute times. Most trains offer a direct train service from London to Southampton, which is relatively convenient and saves time compared to connecting via Basingstoke.
Trains from London to Southampton: Southampton Marina the Oceane Village. Source: Shutterstock
To Southampton by train—travel tips
Southampton is a port city on England's South Coast and is a major home port for a lot of the largest cruise ships in the world. It is mainly known as the departure point of the famous Titanic ship and was also bombed during the Second World War. Southampton offers a business and trading platform, educational centres and arts and cultural centres. There are several attractions and eye-catching avenues for people visiting Southampton. Some that are highly recommend for anyone to visit include:
The Solent Sky Museum
Mayflower Theatre
Sea City Museum
St. Mary's Stadium
God's House tower
Tudor House Museum
Red Funnel Isle of Wight Ferries
West Quay Shopping Centre