Bus to Manchester
Buses to Manchester run frequently and tickets are easy to source. If you are due to travel from popular departing locations like London Victoria Coach Station, then expect an average of 23 trains running per day. Your journey will most likely be occupied by top providers like National Express and FlixBus. Whilst they're both popular, the National Express timetable is much more frequent. Expect an average duration of travel from both providers to be from 4h 20min to 6h 25min. Travelling with National Express will mean that you'll have a bus to Manchester Piccadilly Gardens whereas FlixBux will reach Manchester, Shudehill Interchange Coach Station.
Why travel by coach to Manchester?
There are lots of reasons travellers choose to take coaches to Manchester. Primarily the city of Manchester is a central hub for the North West of England, so it's very easy to get to Manchester Central Coach Station from all areas of the UK and then take the free shuttle service to Shudehill Interchange which offers regular onward bus services to towns such as Rochdale, Warrington, and Bury. What's more coach journeys from London to Manchester can take just four hours, which means they can be almost as speedy as train services from London to Manchester.
National Express to Manchester
A passenger who is travelling with National Express will always find that they will reach the main coach station of Manchester, also known as Manchester Piccadilly Gardens Coach Station. The National Express timetable is the most frequent provider that travels by bus to Manchester Piccadilly, no matter your departing location. Expect a duration to take from 4h 50min 6h 25min. This duration can alter by a number of factors like when you choose to travel.
Passengers will find that the train with the longest duration will depart at National Express's last departing train of the day at 11:30 p.m. Whereas, the first running train is at 7:00 a.m. and takes 5h. Passengers can find a number of great facilities, as well as good service. If you travel with National Express, then you can travel with the comfort of knowing that you're with the most sustainable intercity network in the whole of the UK. In addition, expect great facilities like free Wi-Fi, comfortable seating, plug sockets, as well as much more.
FlixBus to Manchester
If you are travelling to Manchester from some of the most popular departing destinations like London, you'll have 10 trains running per day. FlixBus's coaches will always reach Manchester, Shudehill Interchange Coach Station. Your journeys duration can vary on a number of factors, but you can expect a typical duration to be from 4h 20min to 4h 55min. FlixBus's first departing train of the day from popular destinations like London will tend to depart at 7:30 a.m. whereas the last departing train is at 5:30 p.m. A journey is commonly longer in length during peak times throughout the day, whereas the shorter trains will usually be throughout non-peak times like early hours or late at night, specifically at FlixBus's last departing train of the day. FlixBus prides itself on budget-friendly fares at low-cost prices with the addition of great onboard facilities for all passengers to enjoy. Coaches with FlixBus run frequently to Manchester and are easy to source. A passenger is able to choose from either first-class or standard choice of seating.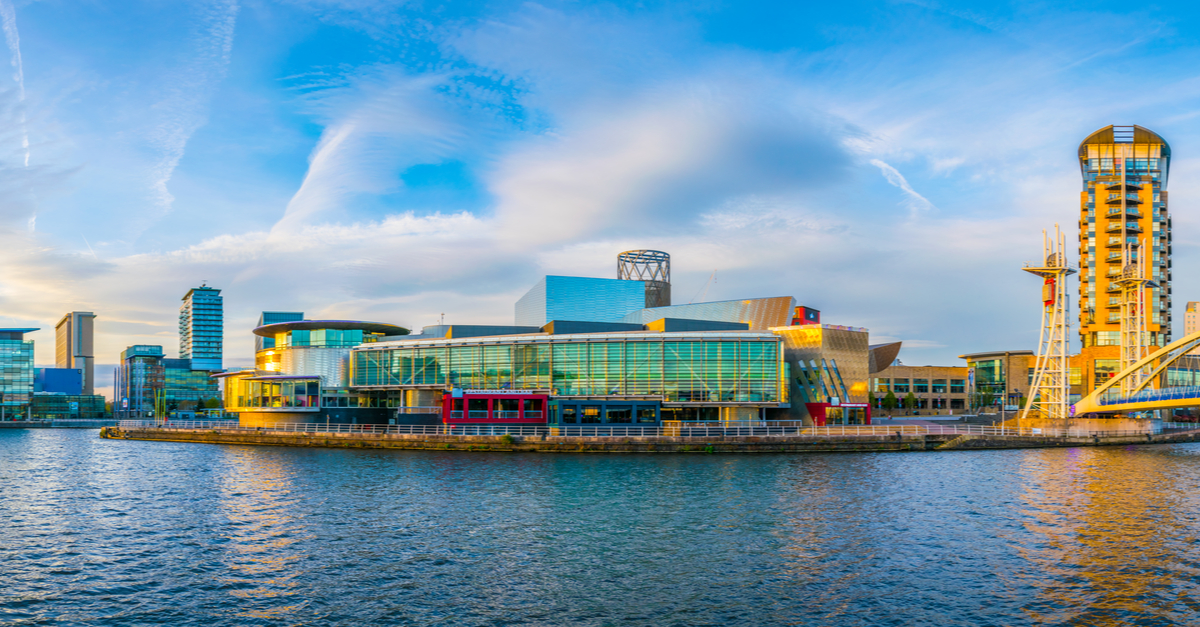 Manchester Blue Sky. Source: Shutterstock
Main bus stations in Manchester
Passengers who are travelling to Manchester will most likely be arriving at two of the most popular coach stations within the city. These stations include Manchester Piccadilly Gardens Coach Station and Manchester, Shudehill Interchange. Although both stations are popular, passengers will most likely see their coaches reach Manchester Piccadilly Gardens, Coach Station. This station is less than 1 mile (1.6 km) from Manchester's city centre and can be reached easily by taking public transport like Bus 18 towards Manchester Royal Infirmary. Facilities at this station include automated ticket machines, waiting facilities, car parking, eateries, charging points, onsite cash points, and more. Alternatively, Manchester, Shudehill Interchange is less than 2 miles (3.2 km) from the city centre and can be reached in approximately 10-12min by taking transport like the Navy Line Metro the Bus 33, among other options. Both stations are well located and are within just 10min of one another.
Onboard facilities to Manchester
If you choose to travel with either of the two providers to Manchester, National Express or FlixBus, you'll be faced with great facilities, as well as good service, onboard and offboard the coaches. FlixBus's coaches include useful facilities all within the price of your low-cost and budget-friendly tickets. You can also find access to free Wi-Fi, extra legroom with your comfortable seats, access to low-cost beverages and snacks, as well as a large number of plug sockets to accommodate your electronic devices. National Express offers similar facilities by including comfortable seats, lots of legroom, free Wi-Fi, and also charging points and plug sockets to charge your electronic devices. Both coaches also allow you to book any additional space for large pieces of luggage like bikes and children's prams in advance.
To Manchester by bus – travel tips
Manchester is a buzzing city with lots to see and do. Although the city centre has great walkability to some of the best nearby attractions and venues, you might also want to make use of the public transport. Any tourist, visitor, or resident is in luck, thanks to the good public transportation available within Manchester. Use the likes of popular trains, trams, bus, or taxis.
Alternatively, hiring or using a bicycle is a great, easy, and cheap method of travel. Whilst other options are also popular, the most useful service to and around the city is the use of the Metrolink tram network, as well as three free Metroshuttle bus routes in the city centre. Whilst there is lots to do in Manchester, if you're considering visiting one of the top attractions like Old Trafford directly from Manchester Piccadilly Gardens Coach Station then expect an approximate journey of 24min. Walk 2min to reach the Piccadilly Gardens Bus Station (Platform L) to then take the 255 Bus towards Partington and then depart at Warwick Road. You'll then be just 5min from the attraction.
Manchester is extremely versatile and has lots of exciting attractions for every potential person looking to travel. Enjoy some of the most popular attractions and landmarks like Manchester Art Gallery, Science and Industry Museum, National Football Museum, Manchester Cathedral, People's History Museum, Etihad Stadium, LEGOLAND Discovery Centre, The Quays, Victoria Baths, SEA LIFE Manchester, as well as much more.
Whilst Manchester has lots of suitable attractions that are suited for families and people travelling with children, it also has lots of potential offerings for those travelling with their friends, in groups, or as a couple, specifically for those looking to enjoy the buzzing nightlife. Just some of the leading venues include Dirty Martini Manchester, The Liars Club, All Bar One Manchester, Lock 91, Bunny Jacksons, The Font, Dusk Til Pawn, The Alchemist New York Street, as well as much more. No matter how you choose to spend your time in Manchester, you'll be quickly anticipating your return.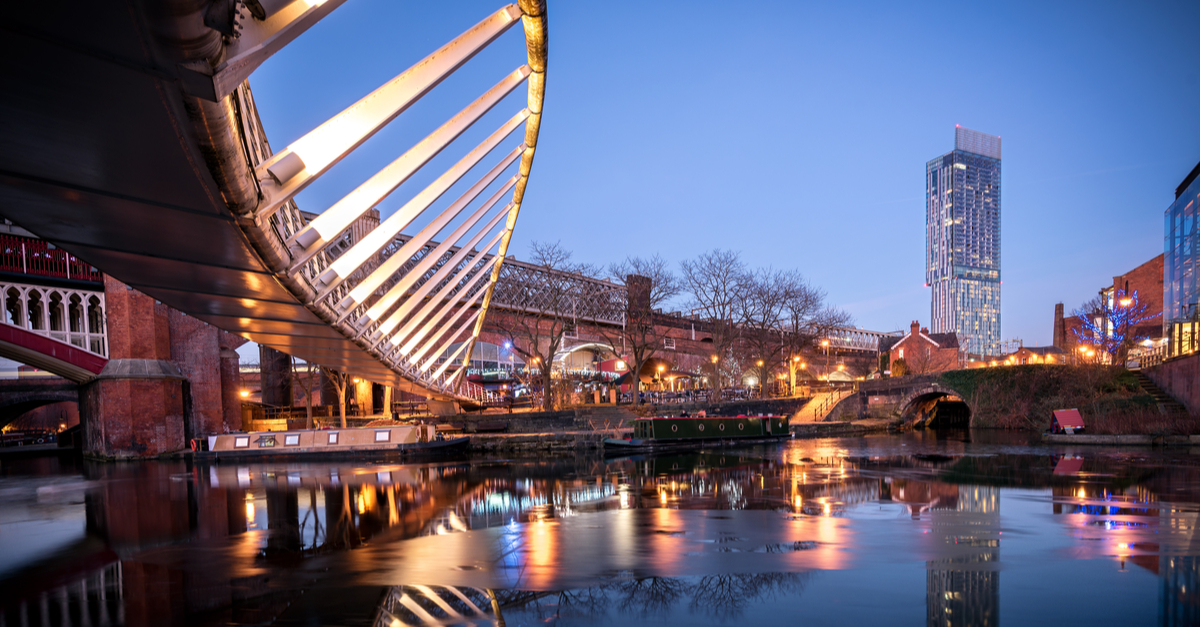 Manchester Bridge. Source: Shutterstock
Bus tickets to Manchester
Travelling to Manchester, no matter from what departing location, you're most likely to be travelling with either of the two companies, National Express or FlixBus. These two providers are two of the leading coach companies in all of the UK. Travelling with companies like National Express you can benefit from the use of an eco-friendly use of e-ticket, also known as a mobile ticket. These tickets are easy to use and can be shown on any electronic device of your choosing. Omio makes using e-tickets easier than ever before.

Passengers can simply store their e-tickets in their Omio account, allowing them to easily source and filter all tickets. FlixBus does not offer the use of mobile tickets. When travelling with companies like National Express you'll have to make sure that you have legitimate proof identification with you to board the trains. Examples of legitimate identification include a passport, a driving licence, a provisional driving licence, or even a bank card. This must match the name on your ticket. FlixBus does not require the use of legitimate identification to board their coaches.