Coaches to York
York is a beautiful city to visit. There are historic features that attract tourists and it's accommodating to men, women, and children alike. Take advantage of the independent shops that align the cobbled trips as you're promised to have a good and memorable trip, regardless of where you choose to visit. Those travelling with coaches to York will commonly find that their coach will reach the main coach station of York, also known as, York Bus Stop (RC.) This bus stop will most likely find coaches arriving from most major cities, towns, and even airports. The most popular travel is commonly from locations like London Victoria, London King Cross, London Heathrow, and also London Stratford.
National Express to York
Coaches to York with National Express is a great choice if you're looking to enjoy your trip to York to the maximum. It is one of the UK's leading companies for coaching and even with its exceptional service it still keeps the promise of budget-friendly and low-cost fares like its leading competitors. They pride themselves on doing their part and commitment to helping the environment as they are the most sustainable intercity network in the whole of the UK. National Express also promise punctual travel to and from all of their destinations. They're efficient in their travel and promise that guests are happy to have travelled with them. On board you can benefit from their free facilities included in the price of your ticket, like free Wi-Fi and extra legroom to accommodate its comfortable seating.
MegaBus to York
If you're travelling with MegaBus to York then expect really good service and all for a low price. Not only does MegaBus serve the majority of the UK but it also serves Europe as well. MegaBus promises budget-friendly and low-cost fares for those who decided to coach with them. As well as their on board facilities like free and free Wi-Fi and 44 pounds (20 kg) of baggage allowance, you'll also be able to view beautiful views all from your seat on the coach. And if you wanted to explore more of the beautiful sites of York then you should consider looking out for MegaBus's exclusive sightseeing opportunities, also known as, 'Mega Sightseeing Trips.' This sightseeing activity is able to be accessed through most of the UK and is definitely worth it! You can expect the same good service, as well as the on board facilities to passengers.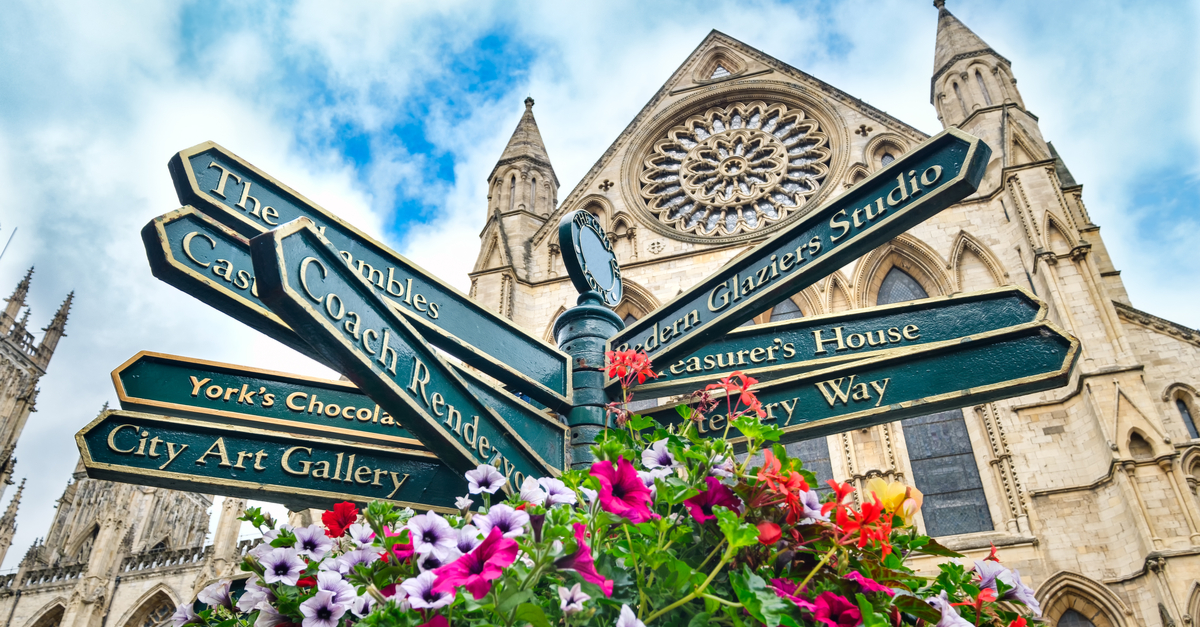 York Landmarks Signs. Source: Shutterstock
Main bus stations to York
If you're travelling to York, you will most likely find that most coaches will choose to York Bus Stop (RC.) The station sees coaches from most major towns and cities across the UK and if you're looking to transfer when you reach Huddersfield then it's extremely easy to do so but it's worth seeing what's in close proximity of this bus station first. The bus station is located only a few steps away from the main railway station in Huddersfield with direct links almost anywhere in the UK. As well at a close distance, is the city centre and can also be reached within a few minutes of walking. In the city centre, you will be able to shop and enjoy all the high-street brands, as well as independent shops that York offers to its residents, visitors and tourists.
Onboard facilities to York
Those who travel to York via coach will benefit from a lot of free on board facilities, no matter what company you're choosing to travel with. The facilities and amenities vary depending on the company but they all offer similar perks as a thank you for choosing them to coach you to your proffered choice of destination. You can experience an enjoyable ride and all for a low cost.
Travelling with MegaBus means that you are able to benefit from their access to free Wi-Fi, charging points and plug sockets to accommodate all of your electronic devices and 44 pounds (20 kg) of luggage allowance. National Express offer similar facilities, like access to free and unlimited Wi-Fi, as well as plug sockets to charge your devices.
They also promise comfortable seating to allow you to enjoy your trip to York to the maximum. Not only is the seating comfortable but it's also equipped with extra legroom to let you stretch your legs to your heart's content.
Bus tickets to York: useful to know
Those travelling with coaches to York will most likely find transport from the companies, National Express and MegaBus. Both companies are well-known for their good service, on board and off board. If you're travelling with either of these two coaches, then you can benefit from the paperless tickets by receiving your coach ticket directly as an e-ticket. It can be accessed by any electronic device of your choice and is environmentally friendly and a lot easy to organise.
If you're planning to coach with either National Express or MegaBus then make sure to bring a legitimate form of identification with you otherwise you might not be allowed on board. Identification will have to make the name given on your e-ticket, otherwise, you might be refused access. Legitimate identification can range from anything like a full and valid driving licence, provisional licence, passport or bank card.
This is applicable to all passengers. Using Omio to purchase your tickets is quick and easy. Not only are your guaranteed low fares but you also have the ability to store all of your mobile tickets in one place to keep an easy and tidy way of organising your future coach travel.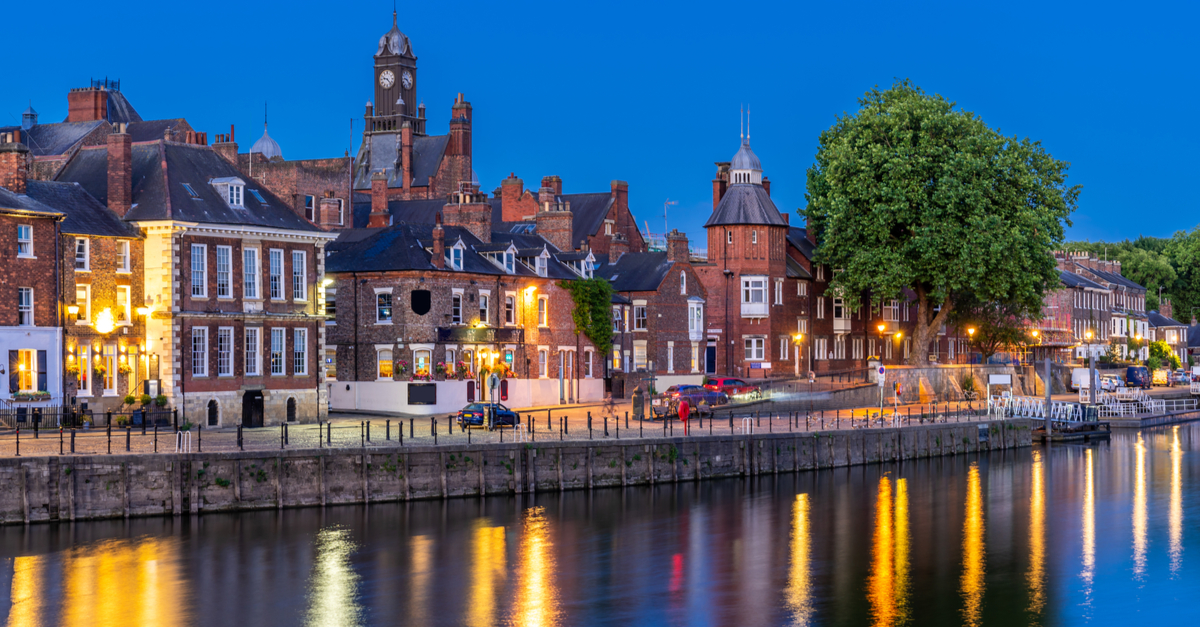 York River Night.. Source: Shutterstock
To York by bus – travel tip
There is a lot that attracts people to the city of York and it's evident as to why. There are beautiful attractions that are intriguing to all and adults and children can find themselves with lots to do if they choose to visit this city. One of the main attractions that intrigue people to visit this city is the shopping experience.
You can find many of the world's leading high-street brands if you choose to visit the indoor shopping centre but perhaps the most intriguing attraction for York's shopping is the independent boutiques that align their cobbled streets. If you haven't done so already then you need to visit Shambles, found in the heart of York.
It's aligned with the most beautiful shops and it comes with an interesting part. York has replicated similarities to Harry Potter and is one of the main attractions. The similarities are uncanny and Shambles have used it to their advantage with their dedications to Harry Potter with a potions shop and many shops that dedicate to only Harry Potter souvenirs.
Nothing quite beats the city of York. It's intriguing to all and you'll find yourself with a constant smile as you roam the streets and walk down the small, cobbled lanes. Harry Potter and The Philosopher's Stone was filmed in two of York's locations. This interesting fact intrigues people to the city of York with its similarities to the movie in almost every small street that you pass.
Those looking to visit York should use the intriguing history to their advantage by visiting attractions like York Minster, the National Railway Museum, Clifford's Tower, York Castle Museum, York City Walls, and so much more. No matter what your choice might be and what attractions you decide to visit with your choice to York, you're guaranteed to have a memorable and great time.