Bus to Sheffield
Sheffield is located in the northern English county of South Yorkshire and is well known for being one of the United Kingdom's biggest industrial cities. It has a river running through it, which the city is named for, River Sheaf. It has two bus coach stations, Sheffield Interchange and Sheffield Meadowhall Interchange, which provide bus connections to prominent cities throughout the United Kingdom such as London, Birmingham, Nottingham, Leicester, Bradford, Leeds, Newcastle-upon-Tyne, and Sunderland.
National Express to Sheffield
National Express is a United Kingdom bus company that provides long-distance coaches throughout Great Britain. It provides coaches to Sheffield along several routes, connecting Sheffield to cities throughout the United Kingdom. Sheffield connects to route 132 Nottingham to Bradford, route 465 London to Hudders, route 560 London to Barnsley or Doncaster, route 564 London to Halifax, and route 907 Bradford to Birmingham.
Megabus to Sheffield
Megabus is a British bus company that offers long-distance coaches throughout the United Kingdom. It provides buses to Sheffield and connects it to other cities of Great Britain with Sheffield as the main endpoint. Sheffield connects to route MTX London to Sheffield, M12X Mansfield/Alfreton to Sheffield, M12X Leicester to Sheffield, M39X Hull to Sheffield, M20 London North (Finchley Rd) to Sheffield, M20 Newcastle (upon Tyne) to Sheffield, M12X Sunderland to Sheffield, M20 Leeds to Sheffield, M12X Middlesbrough to Sheffield, and M39X Nottingham to Sheffield.
FlixBus to Sheffield
FlixBus is a coach company that provides long-distance bus journeys throughout Europe and the United Kingdom. It connects Sheffield to other cities in Great Britain, with Sheffield as the main endpoint. The main routes are between London and Sheffield, Leeds and Sheffield, Sheffield and Bradford, Sheffield and Leicester, Sheffield and York, Sheffield and Newcastle-Upon-Tyne, Sheffield and London Heathrow, Sheffield and Nottingham, Birmingham and Sheffield, and Bristol and Sheffield.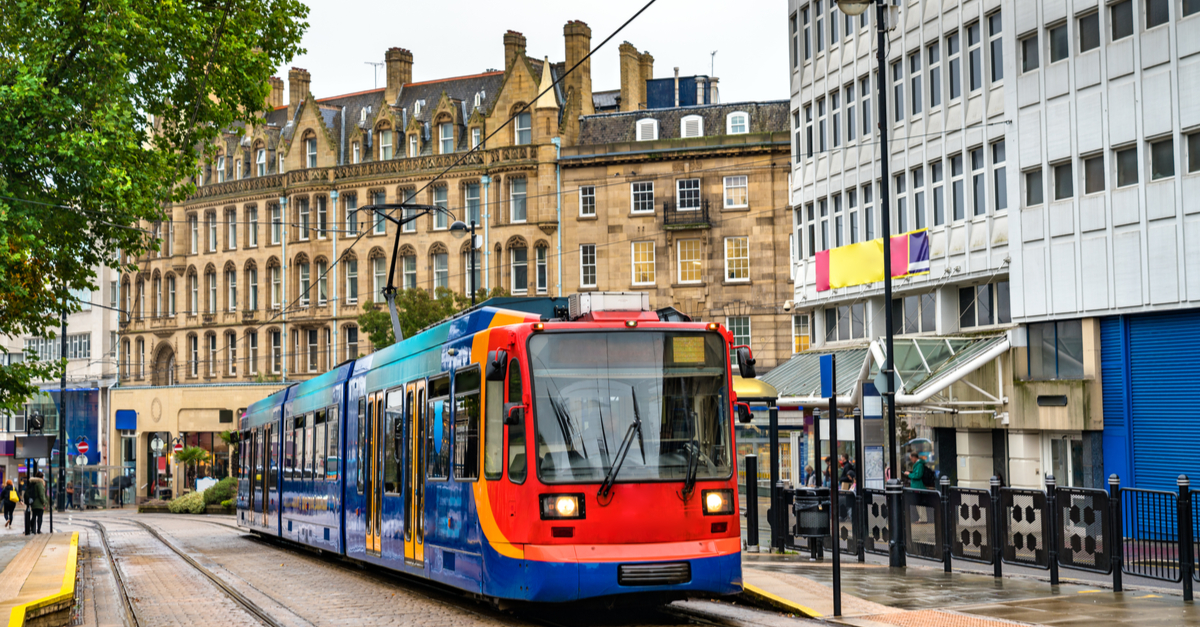 Sheffield Tram City. Source: Shutterstock
Main bus stations in Sheffield
There are two bus stations that receive coaches to Sheffield, Sheffield Interchange, and Sheffield Meadowhall Interchange. Both of these stations have daily buses with frequent departures. Sheffield Interchange is the main bus station in Sheffield, and is located on Pond Street and Harmer Lane, and is 0.6 miles (0.9 km) from the city centre. This station is easily accessible by public transport with local buses 7, 8, 8a, 9a, 18, 29, 32, 32a, 41, 50/50a, 53, 56, 57, 65, 73, 74a, 80a, 86, 95/95a, 120, 135, 208, 216, 218, 252, 257, 271/272, A1, X5, X7, X17, X54, X55, X57, X71, X74, and X78. At the station, you can find cashpoints, toilets, waiting areas, and newsagents. Meadowhall Interchange is 4 miles (6.4 km) northwest of the city and can be accessed by public transport lines 18, 65, 95, 95a, 137, A1, X1, X10, X17, and X78. The coach station is at the same location as the Meadowhall MHS rail station and provides amenities such as toilets, bicycle storage, a car park, and ticket machines.
Onboard facilities in Sheffield
National Express buses provide service such as Wi-Fi, provides wheelchair accessibility, and luggage allowance of one piece of hand luggage (soft clothed) of 22 lbs (10 kg) and you can also bring either one large luggage case or two pieces of luggage for the hold, both weighing 50 lbs (20kg). Megabus offer services such as wheelchair access, Wi-Fi, guaranteed seat and reservation, extra legroom, toilets, charging points, a luggage allowance of 50 lbs (20kg) plus a small bag. Flixbus buses offer free Wi-Fi, snacks and drinks at a low cost, extra legroom, and charging outlets. There are toilets on board, and you're welcome to bring one hand luggage with a maximum weight of 15.4 lbs (7 kg) and one luggage for the hold (underneath the bus) of 50 lbs (20 kg). You are welcome to bring your bike of up to 44 lbs (20 kg), strollers, foldable wheelchairs, and musical instruments for a small fee.
Bus tickets to Sheffield: useful to know
Journeys to Sheffield with National Express, Megabus, and Flixbus offer you a choice for mobile tickets. These tickets are very convenient as they are emailed to you upon your purchase, and you don't need to print them out. You may simply show the bus driver your ticket when entering the bus. The tickets have a barcode or QR code that can be scanned. When you travel it's best to bring a form of identification, in case of any disputes. When you purchase your coach ticket to Sheffield through Omio, the process is simple and straightforward. For a convenient journey, you can store all of your travel tickets together on your Omio account.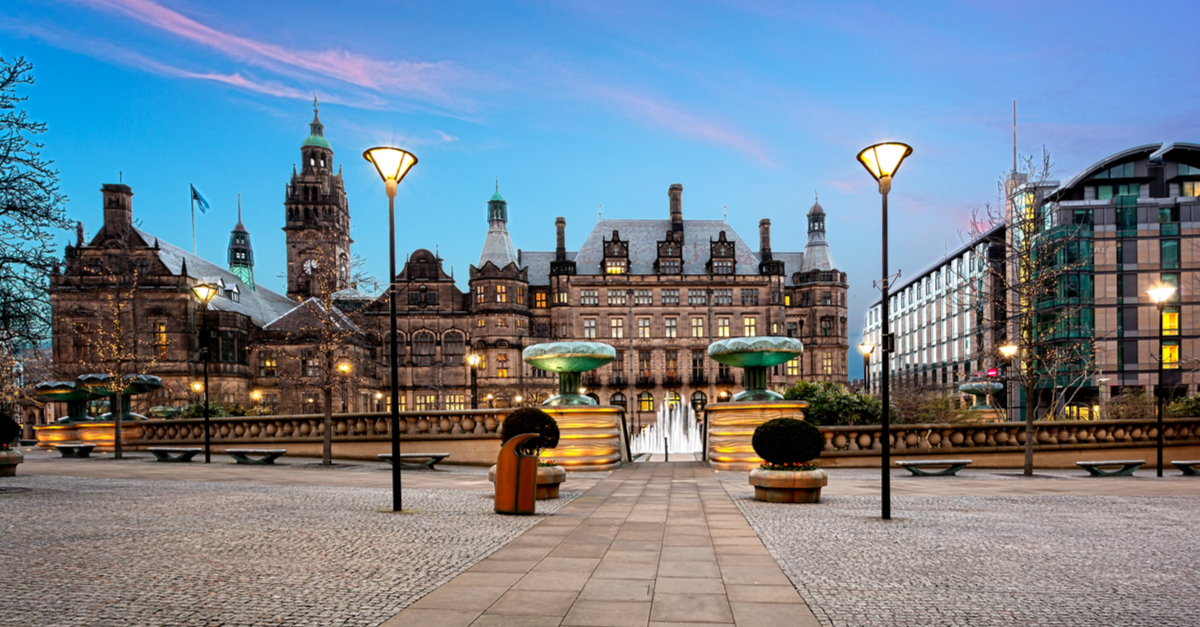 Sheffield Plaza Icon. Source: Shutterstock
To Sheffield by bus—travel tips
Sheffield is one of the United Kingdom's largest industrial cities, nicknamed the Steel City. Although this is the case, it's actually one of the UK's greenest cities. This is because Sheffield has more trees planted in the city than people in any city in the United Kingdom and Europe. The city is filled with many inner-city parks, galleries and museums, steel sites with tours and heritage walks, traditional pubs, jazz concerts, and antique shopping. Sheffield has a fairly small and easy to access city centre with a multitude of buses. To get around Sheffield with public transportation, you can make use of the local bus and tram network. The public transport system provides regular and frequent transport to all areas of Sheffield.
There is a website called Travel South Yorkshire, which provides updated information such as departures, routes, tickets, and journey planning. It can also provide you with popular destinations, and how to access destinations. Many bus and tram stops have QR codes on them that can be read with any smartphone with the correct application. These show you live departures and service disruptions for free. You can also find a smartphone application called Transported which is for iOS. It provides bus and tram updates such as nearest stops, live updates about routes, and a list of departure times for the closest hour. There is also a smartphone application called Moovit which works on both iOS and Android phones that provides services such as journey planning, live directions with 'Get Off' alerts, bike share information, and real-time arrival information.
To Sheffield by bus—travel tips
Sheffield is a thriving university city with a city centre that is easily accessible on foot. This is convenient as it has so many ongoing events, an active nightlife, live music, galleries, theatres, museums, parks, and many yearly festivals. Places worth visiting are the Millennium Gallery in the city centre to see exhibits of art and steelwork, the Winter Garden is nearby, a large glasshouse completely filled with plants, multiple inner-city parks, and the Kelham Island Museum to gain a better understanding of the industrial culture of Sheffield. You can visit a former steel mill of the area which has been transformed into a science museum, the Magna Science Adventure Centre.
If you enjoy nature and natural landmarks, Sheffield is located next to the Peak District National Park which is perfect for day hikes and discovering underground caverns and caves. There is also Stanage Edge, a destination that is popular among rock climbers. If you love history be sure to visit the Peveril Castle, a Norman ruin fort from the 11th century. Whatever you're interested in, Sheffield has plenty to offer.