Bus to Leeds
Anyone who wants to visit Yorkshire's largest city should consider taking coaches. Coach travel makes it easy to reach Leeds from all directions, whether visitors are coming from London, Newcastle, or Manchester. Arrival is usually hassle-free, with quick links to city centre hotels, and no shortage of attractions to discover in the city of Leeds itself.
Buses to Leeds run frequently and regularly. If you choose to travel from popular destinations like London, then you'll find an average of 33 trains running per day. These are with popular companies like National Express and FlixBus. The earliest departing travel is 07:00 a.m. and the last train is at 11:59 p.m. Depending on when you choose to travel, you can find that your duration can be from as little as 3h 45min and ranges to 5h 56min. Coaches of longer duration are commonly found during peak hours, whilst other faster trains are during non-peak times. Passengers can also find travel that either offers mobile and electronic tickets or just simple printable tickets.
Why travel by coach to Leeds?
Coach travel is often the best way to arrive in Leeds, for a number of reasons. For starters, National Express runs a fleet of comfortable coaches, with on-board wifi and reliable schedules. So the experience of riding with the company compares well with most rail providers. Journey times from cities like Birmingham or Manchester also compare with rail journeys, and if anything the bus station in Leeds is slightly closer to the city centre than the railway station. Buses are also much cheaper than any other form of transport, making them ideal for travellers who want to keep their costs under control.
National Express to Leeds
Travelling with National Express will mean that you'll always arrive at the main coach station in Leeds, Leeds Dyer Coach Station. This station is well located and popular with lots of leading coach companies, as well as National Express. Travelling from popular destinations like London will commonly mean that you'll depart from London Victoria Coach Station. This duration with National Express is commonly between 4h 20min to 4h 30min, depending on a number of possible factors. Onboard and offboard, passengers can expect great service. As well as great service, there are lots of good facilities available like free Wi-Fi, comfortable seating, and more. National Express are efficient in their travel and have frequently running coaches across the UK. They promise to produce budget-friendly fares, and they're committed to doing their part to help the environment. National Express prides itself on providing the most sustainable intercity network in the whole of the UK.
FlixBus to Leeds
If you choose to travel with FlixBus then you can travel with the comfort of knowing that you're with one of the leading coach companies in all of the UK, as well as Europe. FlixBus offer great onboard service, as well as low-cost expenses and budget-friendly prices. They pride themselves on environmentally friendly travel with their efficient coaches and excellent carbon footprint, punctual and reliable travel, as well as a large bus network. Passengers, onboard all of FlixBus coaches can enjoy some great onboard facilities The most popular facilities include free and unlimited Wi-Fi service, comfortable seating with additional legroom, as well as much more. Coaches will always reach the main coach station of Leeds, also known as Leeds Dyer Coach Station. If you choose to travel from some of the most popular departing locations like London then you'll find that your coach will depart from either London Victoria Coach Station or London, Finchley Road Station (Stop FK.) Both departing stations are popular, ranging from a duration of either 3h 45min or 5h 56min.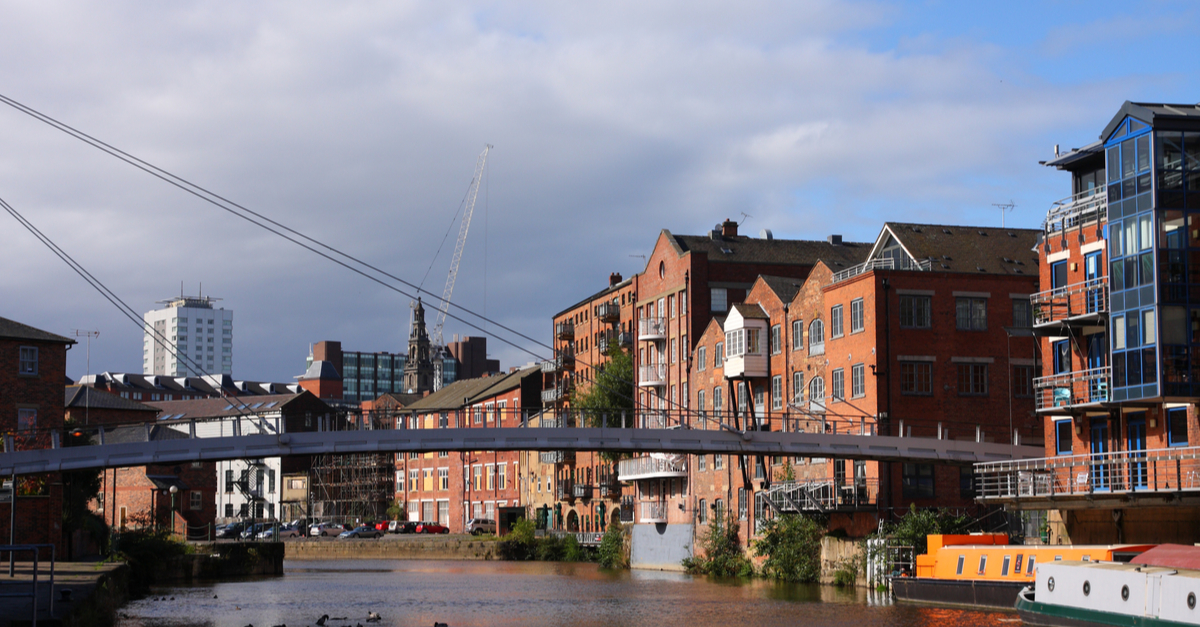 Leeds Cityscape. Source: Shutterstock
Main bus stations in Leeds
Passengers who are travelling to Leeds from any location will find that their coach will always reach the main and only station of Leeds, also known as Leeds Dyer Coach Station. The station is well located and is just 0.7 miles (1 km) from the city centre of Leeds. You can get there in just a short journey on a bus. Popular bus routes include 8 Leedscity, 34, 166 Sapphire, 201, and more. It is most popular with leading coach companies like National Express and FlixBus. The FlixBus and National Express timetable reveal frequent and reliable travel to and from Leed's coach station. The station offers good facilities like charging points, onsite cash point, automated ticket machines, waiting facilities, eatery, toilet facilities, onsite coffee shop, onsite newsagents, and more.
Onboard facilities to Leeds
Travellers reaching Leeds Dyer Coach Station will have a variety of great onboard facilities and amenities to enjoy. You will have transport with either National Express or FlixBus. Whilst the National Express timetable is more frequent, there is still ultimately good service with both leading providers. National Express offers facilities like comfy seats with lots of legroom, free Wi-Fi access, as well as charging points to accommodate all of your electronic devices. Travelling with FlixBus will mean that you're always able to find budget-friendly fares and low-cost travel. Your onboard facilities include free Wi-Fi access, extra legroom with your seat, access to low-cost snacks and beverages, as well as a large number of plug sockets to charge any and all of your electronic devices.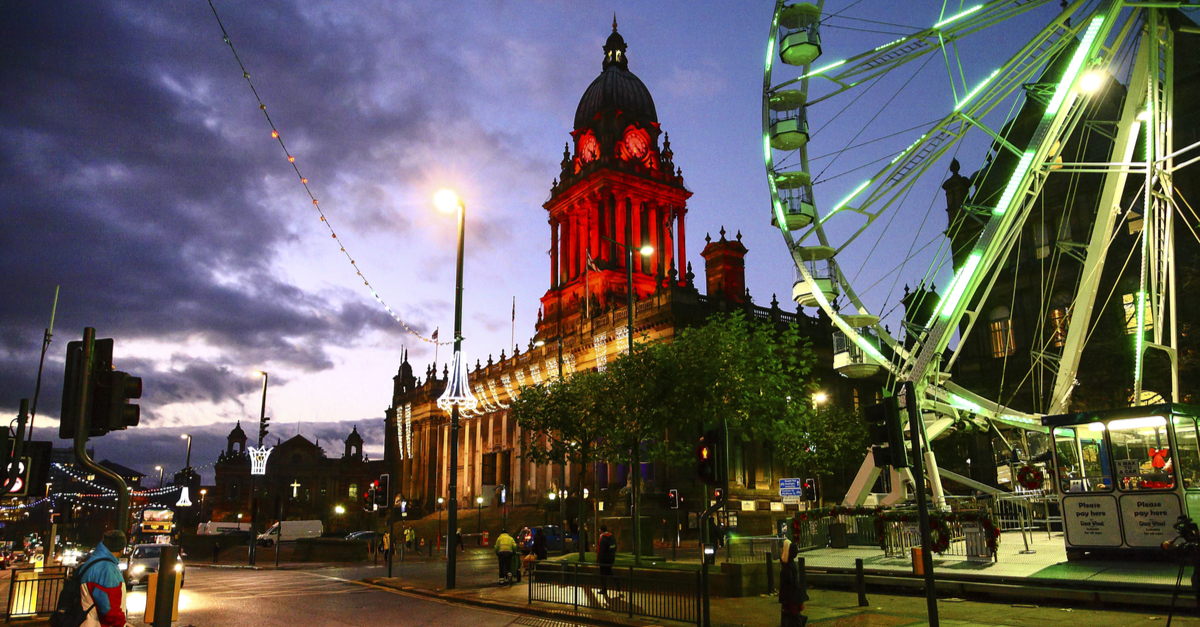 Leeds Lights. Source: Shutterstock
To Leeds by bus – travel tips
Leeds can be reached in an efficient and punctual manner, no matter what provider you're choosing to accompany you on your travel. Leeds Dyer Coach Station is well located with good public transport options to get you anywhere of your choosing. The most popular public transport options include the bus and rail networks. The city centre lies just 0.7 miles (1 km) from the coach station and can be reached in as quick as 8min. Simply pick up the 6 LeedsCity Bus towards Holt Park, directly from the coach station, and disembark at Headrow E. You'll then only be 5min walking distance from the city centre. The city centre is gifted with lots of exciting landmarks, attractions, and leading retailers for shopping. Once you've reached the city centre, you'll find that there is great walkability of the city centre, making travel easy and efficient.
No matter how you choose to spend your time in Leeds, you'll be quickly anticipating your return. The city is versatile with its offerings and offers great attractions and things to do for all kinds of people looking to visit. No matter if you're travelling with children and looking for family-friendly attractions or you're planning to travel with friends or a couple and you're looking for the leading clubs, bars, and restaurants, you'll find something to do that's assured to suit everyone.
Just some of the family-friendly attractions include Leeds Art Gallery, Royal Armouries Museum, Harewood House Trust, Temple Newsam, National Coal Mining Museum for England, Leeds City Museum, Roundhay Park, Lotherton, Abbey House Museum, as well as much more.
Alternatively, those who are wanting to enjoy the buzzing nightlife of Leeds can enjoy some of the most popular clubs like The Warehouse, PRYZM, Mint Club, The Backroom, The HiFi Club, Popworld Leeds, The Space, The Key Club, Wire, and more. Anyone who is travelling to Leeds can also find a great selection of accommodation available to accompany them during their stay in Leeds. All accommodation is well located and there are lots of possible options for those who are wanting to be only a short distance from Leeds's main coach station.
Bus tickets to Leeds
Passengers can find that the two companies, National Express and FlixBus, offers direct routes to Leeds Dyer Coach Station. If you choose to travel with National Express then you can enjoy the use of an eco-friendly, e-ticket. These tickets are also known as mobile tickets and can be shown on any electronic device of your choosing. Mobile tickets are easy to use thanks to Omio. You can easily store all of your e-tickets in your Omio account which means that you can find and source all of your tickets easily and quickly. Travelling with National Express also means that you have to show proof of legitimate identification to board their coaches which matches the name on your coach ticket. Legitimate identification includes a full driving license, a provisional driving licence, a passport, or even a bank card. Companies like FlixBus do not require identification to board their coaches.