Trains from London to Cardiff
Trains from London to Cardiff are a great way to travel between the UK and Wales, as many trains run throughout the week. There are approximately 400 trains that operate this route between Monday and Sunday, giving you a great choice of departures. Most trains take about 2h on average, so it won't take long to reach your destination.
London to Cardiff Train Time: Daily Departures
Approximately 300 London to Cardiff trains operate between Monday and Friday. On weekends there are approximately 80 trains across the two days. The first train on a weekday departs at about 05:20, whilst on the weekend; it's a bit earlier at around 06:30. The final departure is at about 23:30.
How long is the journey by train from London to Cardiff?
Train London to Cardiff takes an average of 2 hours to reach its destination. Most of the trains on this route are direct; however, some trains require a transfer along the way, which take closer to 3 hours to reach Cardiff.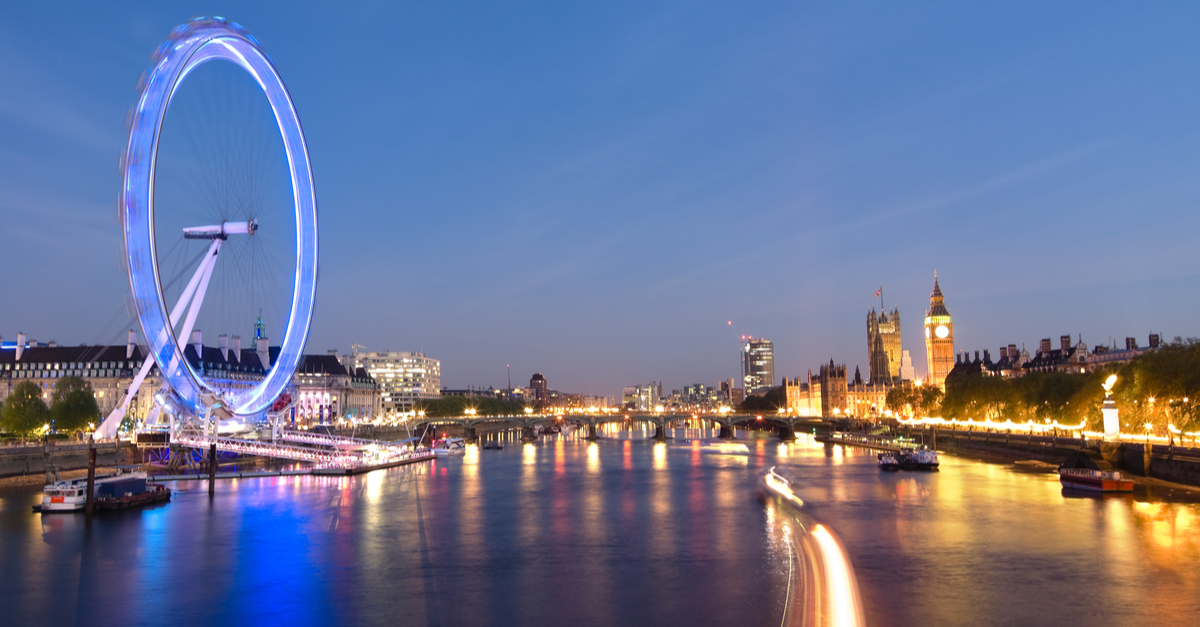 Trains from London to Cardiff: London Eye at night. Source: Shutterstock
What are the departure and arrival stations for trains from London to Cardiff?
Departure train station:When you get a train to Cardiff from London, you will depart from London Paddington train station, which is to the northwest of central London. You can travel to the train station from popular parts of London, such as the Victoria and Albert Museum, in about 16 min on the Circle Line. At this train station, there are great facilities, including supermarkets, restaurants, coffee shops, gift stores and toilets.
Arrival train station: When you get a train from London to Cardiff, you will arrive at Cardiff Central train station, which is in the south of the city. You can get to attractions from the train station, such as Techniquest, in around 12min using the number 2 City Circle Bus. When you're at the station, you can relax at a First Class Lounge, refuel at refreshment stalls or use cashpoints and toilets.
Which train companies travel from London to Cardiff?
You can get trains from London to Cardiff with Great Western Railway, which offers a frequent service between these two cities. With about 394 trains throughout the week, you should be able to find a suitable departure time to match your schedule. Most direct trains take around 2h or less, while indirect trains can take closer to 3h.
Night trains London
There aren't any night trains from London to Cardiff; however, there are trains that you can catch early in the morning and late at night. For instance, you can catch a train that departs at about 05:23, which arrives in Cardiff at around 08:03. At night, a train departs at about 23:33 and arrives at around 06:21, but it requires a long stopover of nearly 4h in Bristol during the trip.
Great Western Railway trains London to Cardiff
Great Western Railways London to Cardiff trains offer a reliable service to passengers throughout the week. There are around 63 trains that depart each day during weekdays, about 35 leaving on Saturdays and around 44 operating on Sundays. The first train between Monday and Friday is at about 05:23, whilst it's a bit later on the weekend at around 06:30 on Saturdays and 08:30 on Sundays. Throughout the week, the last train of the day is around 23:30. If you take a direct train, you can expect the average journey duration to be in the region of 2h, with some of the fastest trains completing this route in about 1h 49min. Indirect trains, which require a stop at stations like Bristol Temple Meads, take longer than 2h 30min to arrive at their destination.
Trains from London to Cardiff: Sustainability travel
As most of the trains in the UK run on an electric track, this mode of transport is an extremely sustainable way to travel. Compared to other ways to travel, such as car, bus or plane, this method of transport releases fewer carbon emissions per passenger. Rail tracks also take up less green space when being built, compared to that of roads.
Train London to Cardiff: Services on Board
On Great Western Railway trains from London to Cardiff, you can enjoy First Class seating, which provides comfier and more spacious seats. In terms of luggage, you can take three items on board the train with you. The largest must be no bigger than 25 x 40 x 70cm, the medium bag must fit the overhead luggage rack, whilst the smallest must fit under your seat. If you want to take a bike onboard the train from London to Cardiff, then reserve this in advance, as there is limited space. Two pets can board the train free of charge with each passenger. These animals must be on a lead or in a cage for the entire trip. You can also get help during your journey if you are travelling with a disability. It's best to contact the operator in advance if you require assistance on the day you travel.
How to find cheap train tickets from London to Cardiff
You can get cheap tickets on London to Cardiff trains if you book your train fare as soon as the tickets go on sale. Ticket prices increase the closer you get to the departure date. If you have flexibility with your travel date, this can help you get a cheaper fare. For instance, if you want to travel in the afternoon, it might be worth looking at morning and evening trains as well as they might be cheaper. There is also a range of railcards, such as a young person's railcard or a senior railcard, which you can use to get great discounts on all your journeys. In addition, you can get inspiration from the Omio Magazine, which has a range of other cheap UK destinations where you might want to travel.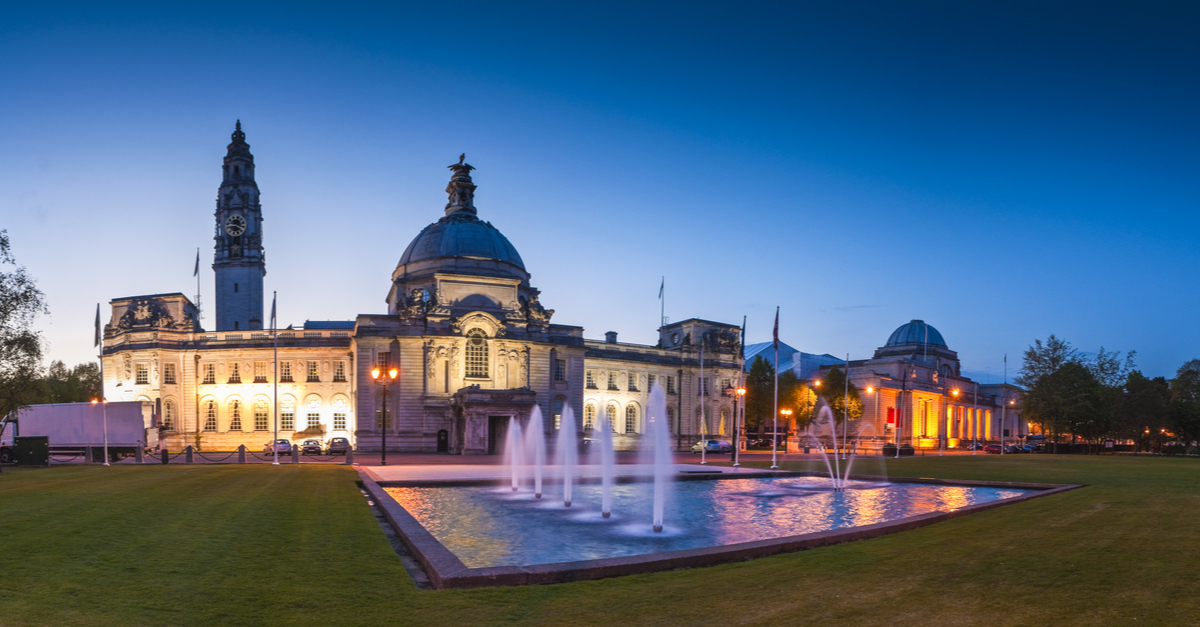 Trains from London to Cardiff: Cardiff City Hall. Source: Shutterstock
To Cardiff by train—travel tips
When you travel to Cardiff, there are loads of things for you to see and do. If you like Rugby, then you can begin your trip at the Principality Stadium. At this stadium, you can take a tour and, if you're lucky, maybe even catch a game. Next up, head over to Cardiff Castle, which is a medieval castle that hosts events throughout the year. Take a stroll along Cardiff Bay, where you can stop for a bite to eat at one of the many restaurants. The National Museum Cardiff is also a must-see, which has one of Europe's finest art collections. Then take a stroll around Roath Park, where you can feed the ducks or go for a row in the lake. There is also a children's playground and café here, so you can stop to relax whilst your kids have some fun. Finish off your trip with a visit to New Theatre, where you can relax and enjoy some great entertainment.
Head over to the Wales Millennium Centre
Step back in time at St Fagans National Museum of History
Walk and relax at Bute Park
Take your kids to the fairy tale castle of CastellCoch
Have some fun at Techniquest