Trains from Cardiff to London
You can get a train from Cardiff to London easily, with a comprehensive timetable running throughout the week. There tend to be about 188 trains operating on any given week, so you'll have plenty of departures from which to choose. Trains are relatively fast, with the average time being less than 2h. It's a direct service between these two cities too, so you won't have to transfer during your journey.
Cardiff to London Train Time: Daily Departures
There are about 150 trains departing between Monday and Friday, with the earliest departures being at approximately 05:00 and the last train leaving at around 21:20. On weekends there are about 38 trains that depart across the two days. The first train normally leaves at around 05:15 on Saturdays and about 08:20 on Sundays. The final departure of the days is at about 20:20 on Saturdays, whilst it's a bit later at around 21:20 on Sundays.
How long is the journey by train from Cardiff to London?
It doesn't take long for you to take a train to London from Cardiff. The average train takes about 1h 55min, whilst there are faster trains too. The quickest time you can complete this journey is around 1h 47min. One of the reasons trains are so fast during this trip is because they are all direct.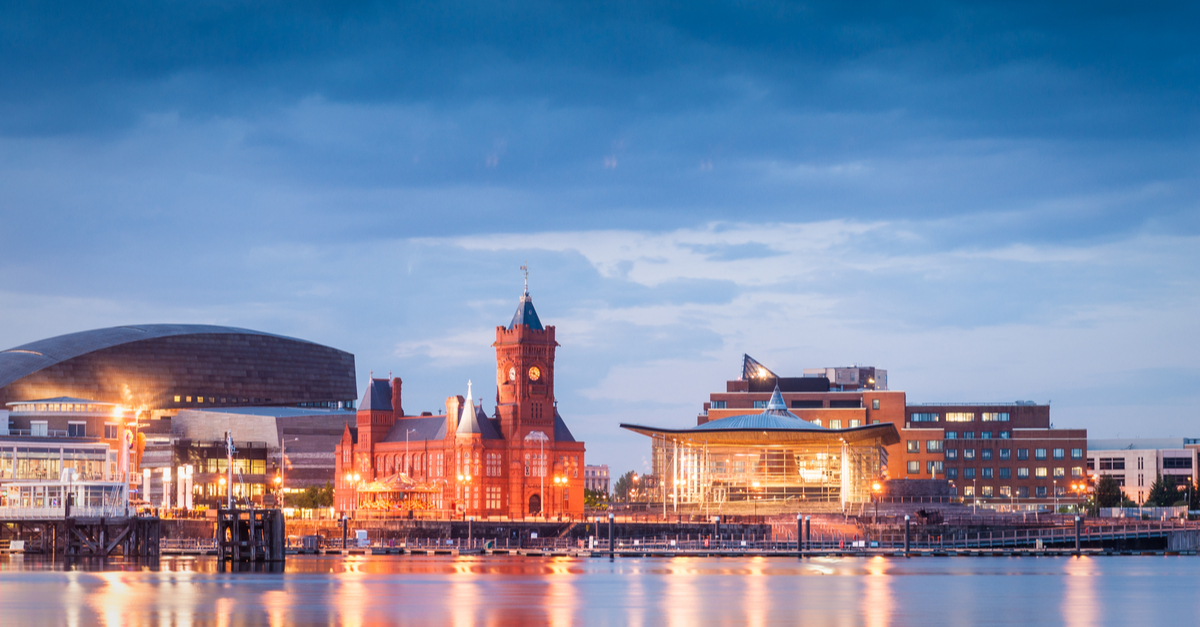 Trains from Cardiff to London: Assembly of Cardiff at night. Source: Shutterstock
What is/are the departure and arrival stations for trains from Cardiff to London?
Departure train station:Trains normally depart from Cardiff Central train station, which is located in the south of the city centre. You can reach the train station from popular tourist areas like Techniquest in about 12 min if you take the number 2 City Circle bus. There are many facilities for you at the train station, such as a First Class Lounge, cash points, refreshments, and toilets.
Arrival train station: Trains arrive at London Paddington train station, which is in the northwest of the city. You can get your sightseeing underway quickly from here, with sites such as Big Ben about a 23min journey away on the Circle Line. The train station offers many facilities, including restaurants, supermarkets, toilets and coffee shops.
Which train companies travel from Cardiff to London?
The company that operates trains from Cardiff to London is Great Western Railway. With up to 30 trains daily, depending on the day of the week that you travel, there is likely to be a suitable train to suit your schedule. Trains are also very fast, with most taking under 2 hours to arrive. The service is direct, providing there are no rail maintenance works taking place on the line.
Night trains Cardiff
You can't take a train from Cardiff to London during the night, but lots of trains depart early and leave late. For example, you can depart at approximately 05:00 on some days and arrive in London at about 07:16. Alternatively, you could catch a train at about 21:20, which arrives at around 23:09.
Great Western Railway trains from Cardiff to London
Great Western Railway Cardiff to London trains provide fast and frequent service to passengers every day of the week. There are normally 30 trains that leave the welsh capital daily on weekdays. On weekends there tend to be about 21 trains that complete the route on Saturdays and around 17 that travel on Sundays. The earliest train you can board on weekdays is normally at about 05:07. The first train is a bit later on Saturdays at around 05:14, whilst it's about 08:20 on Sundays. The last train you can normally take on weekdays and Sundays is at about 21:20, with it being a bit earlier on Saturdays at around 20:23. Trains from Cardiff to London don't take long to complete the journey either, with the fastest train taking under 1h 50min. The average journey duration is only slightly longer, though, at about 1h 55min. Being a direct service, you can just sit back, relax and enjoy the journey.
Trains from Cardiff to London: Sustainability travel
Taking a train from Cardiff to London is good for the environment compared to travelling via other modes of transport. Trains release less CO2 per passenger than if you were to take a flight or drive. Train travel is also good for local wildlife populations, as their habitats are not disturbed by high levels of noise pollution that other methods of transport can cause.
Train Cardiff to London: Services on Board
You can enjoy a range of great services on board a train to London from Cardiff, such as a First Class cabin with comfier and more spacious seating. When travelling with Great Western Railway, you can take up to three items of luggage. You can take one large item, which must be smaller than the dimensions of 25 x 40 x 70cm. You can also take one medium bag, which must fit into the overhead luggage rack. In addition, you can take a smaller bag, but it must fit under your seat. You can take bikes on these trains too, but there is limited space, so it's best to call up in advance. You can also bring your furry friend onboard the train, providing it is on a lead or in a suitable pet carrier. If you have a mobility issue or disability, you can seek assistance for your journey. It's best to contact the provider in advance to let them know of any special help you may need so that they can provide a member of staff to assist you.
How to find cheap train tickets from Cardiff to London
You can get cheap fares from Cardiff to London by making sure you book tickets at your earliest convenience. Trains tend to become more expensive the closer you get to the departure date, so book early. You may also find cheaper tickets if you are flexible about when you can travel. For example, consider booking a day on either side of your preferred travel date as this may cost less. You can also use railcards, like a young person's railcard, which offer great discounts throughout the year. When you are travelling you can read the Omio Magazine to get more inspiration about cheap travel destinations in the UK.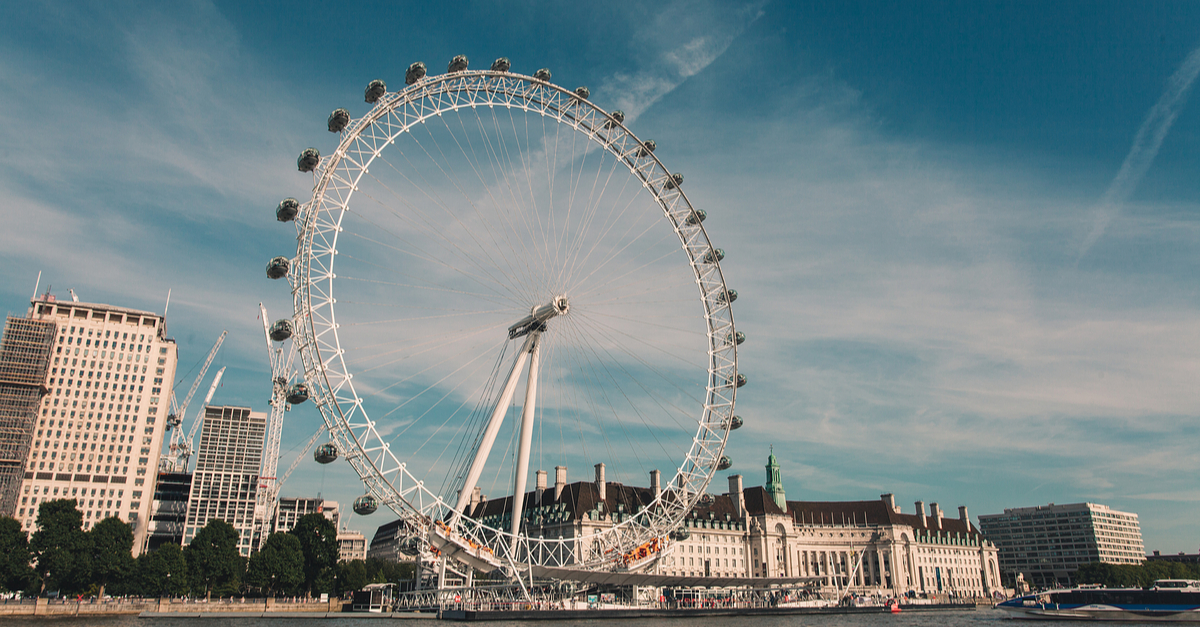 Trains from Cardiff to London: the iconic London Eye by day. Source: Shutterstock
To London by train—travel tips
London has a great range of tourist attractions for visitors to enjoy. You could begin your visit by taking a trip up The Shard, which offers unobstructed views of the city. You will find Borough Market close by, where you can enjoy a selection of great street food. From here, you should walk along the South Bank, where you can stop and browse the markets by the side of the River Thames. If you keep walking west, you'll reach the Sea Life Centre, where you can check out marine life from all across the world. Across the river are the Houses of Parliament and Big Ben, two of the most recognisable attractions in the capital. After this, grab a bit to eat in Soho at one of the many restaurants in the district. You can finish off your day by enjoying a performance to remember at the West End.
Go for a walk around Hyde Park
Take in a football game at The London Stadium
Visit the Queen at Buckingham Palace
Get your heart pumping at Thorpe Park
See someone famous at MadameTussauds